Android Tipster participates in the Amazon Affiliates program and may receive a small percentage of a sale at no extra cost to you when you click some links on our site
The Anet A8 3D Printer
Not so long ago, 3D printing was synonymous with exorbitant, cutting-edge technology that was accessible to only big corporations, multinational giants, government agencies, and the uber rich.
The common man with a passion for creating had to make do with Legos.
Breaking the mold are machines like the Anet A8 that have not only redefined 'budget 3D printers' but also combined great efficiency with affordability.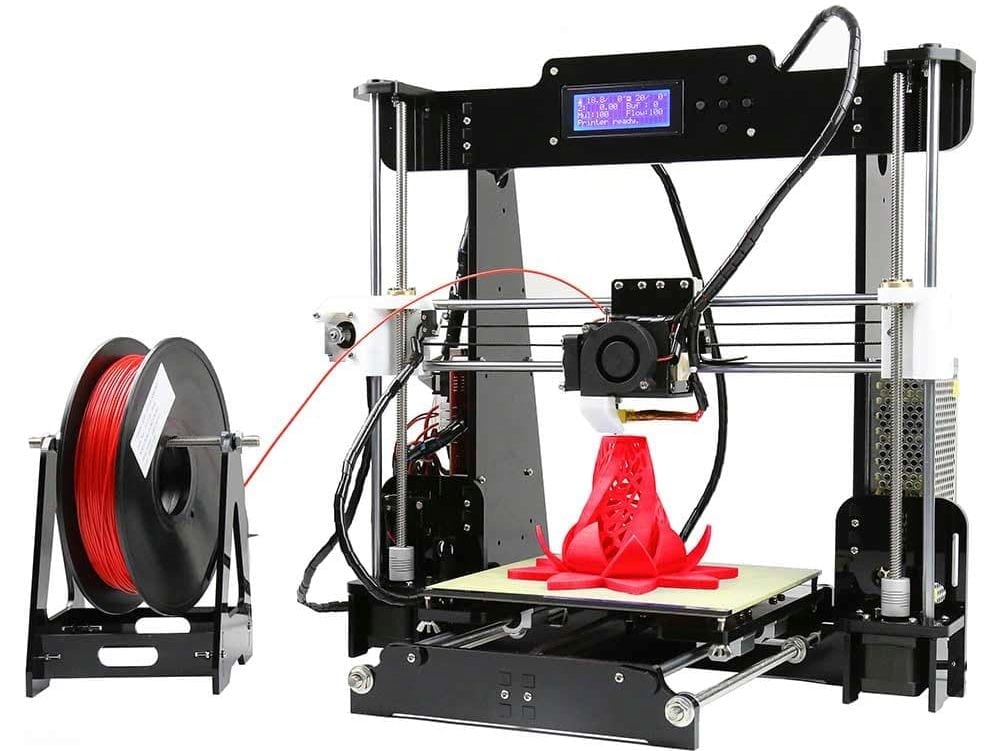 Of course, the first choice for anyone looking to foray into 3D printing would be a plug and play kind of pre-assembled 3D printer.
While these pack a great deal of convenience and are ready to get you started on your 3D printing escapades straight out of the box, these are also on the steeper side of the price divide.
For the more experimental kind, DIY Kits like the Anet A8 present the perfect alternative.
After all, you've got to have it in you to tinker around with hardware if you are invested in 3D printing enough to bring home a personal printer.
A leading name in this segment is the Anet A8. This DIY 3D printer kit is modifiable, versatile, and fun to build with.
Created as a DIY Prusa clone, this modestly priced printer enjoys a huge fan following in the ever-growing online community of 3D printing enthusiasts.
Here is what makes this a delightful budget offering worth your time and money:
Anet A8 Assembly
The Anet A8 is a quintessential DIY 3D printing kit that needs to be built from the ground up. If it is your first time assembling a printer of this kind, it can seem a bit daunting and complicated.
But it's not.
It is, however, time-consuming, and requires a great deal of concentration and patience.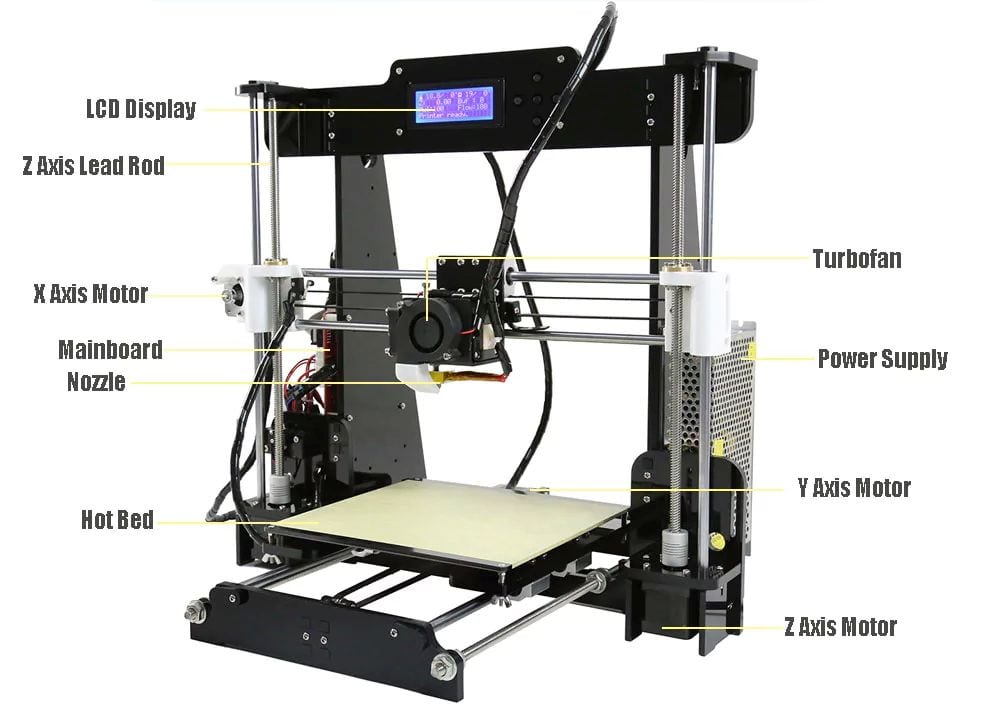 What works in the favor for the assembler is a very detailed and well-written Anet A8 assembling manual, which is also available online in video format.
Even for someone who has built 3D printers before, this can take up to 2 hours to assemble.
Beginners should be ready to allocate the Anet A8 a couple of hours just to get it ready for printing. The most time-consuming bit is unwrapping layers of protective paper from the acrylic frame pieces.
This alone takes a couple of hours.
The frame too is designed like a jigsaw puzzle, so you have to resort to hit and trial to figure out which parts go where.
Once this puzzle snaps together, you just need to lock it down with the M3 nuts and bolts.
Having put the frame place, you can move on to installing the electric components such as the end-stops, motors, and boards, which is fairly easy and nearly foolproof.
All other Anet A8's parts are well labeled and easy to mount on their designated spot in the frame.
Setting the jumble of wires in a neat arrangement takes a few more hours, however, that's entirely optional.
Build Quality and Design of the Anet A8 3D printer
The Anet A8 has a minimalistic design with simple and clean lines, minus the unnecessary faff.
To a lot of users, the build and design of this device can seem a tad too simplistic, but the print quality and accuracy more than make up for a lack of flair in its design.
One of the biggest advantages of this 3D printer is its open-ended style that makes every single nook and corner of this device easily accessible, facilitating tweaks and adjustments.
This accessibility can prove beneficial in dealing with any malfunctioning parts. For instance, it is extremely easy to disassemble the extruder in case you experience a clog.
The open-ended design does have its share of functional drawbacks too, and the overwhelming jumble of wires staring you in the open is definitely one of them.
Also, the clunky buttons make navigation a bit of a challenge at all times.
Considering the Anet A8 is a Prusa clone in the sub-$200 segments, these small flaws are not worth holding a grudge against.
Anet A8 Features and Specs
The Anet A8 sports a black acrylic frame in laser-cut and a print volume of 220x220x240 mm. It is fitted with all-metal pulleys that add to its performance and functionality.
Other key highlights of this 3D printer are the stainless steel rail bearings, rods, gears, and connectors, and the quick-release feed gears for efficient filament extrusion.
It is also a versatile machine in terms of compatibility with print materials, and support printing with PLA, ABS, Nylon PVA, Woodfill filament, among others.
The Anet A8 also offers the same kind of versatility vis-à-vis its PC compatibility, working well with just about any operating system, including Windows 7, Windows 8, Windows XP, Windows 10, Linux, and Mac.
The print bed here is made of an acrylic plate with an aluminum-based platform board. It has a single extruder with a nozzle diameter of 0.4mm, capable of offering a layer thickness between 0.1 and 0.3mm.
The 3D printer is fitted with an LCD screen and has a microSD card slot for offline printing. There is also an option to adjust the fan speed, print bed and nozzle temperature, and monitor the print jobs in progress.
The Anet A8 can scale a top print speed of 100mm per second with a material diameter of 1.75mm.
Verdict
One of the most striking features of the Anet A8 3D printer is the accuracy and finesse of prints. It is possible to print functional objects with this printer.
However, the Anet A8 needs to be calibrated before you can get to the process of extruding, which can be a bit of a trial and error process.
You may need to make a few tweaks here and there to get used to the dynamics of this printer right, so don't expect perfect results with your very first design.
Once you have found your way around it, the Anet A8 can be a delight to print with.
It is a 3D printer with immense potential, as long as you have the right kind of support and information to build with it, and a solid backing of a massive community of users and owners.
The bottom line is that Anet A8 is a device that thrives on the patience of its users. If you are prepared to stick around and figure it out, the device has what it takes to blow your mind.
The affordable price tag is, of course, the A8's strongest selling point more than makes up for all its flaws.