Android Tipster participates in the Amazon Affiliates program and may receive a small percentage of a sale at no extra cost to you when you click some links on our site
Our review of the AnyCubic I3 Mega 3D Printer
AnyCubic I3 Mega is one of those devices that you end up discovering by sheer chance and then can't stop reveling in the joy of your discovery. It is the third 3D printer to be released by the Chinese manufacturer AnyCubic and boasts of some impressive features such as a full metal frame, auto-leveling, filament detector, resumes print after an outage, and a touchscreen.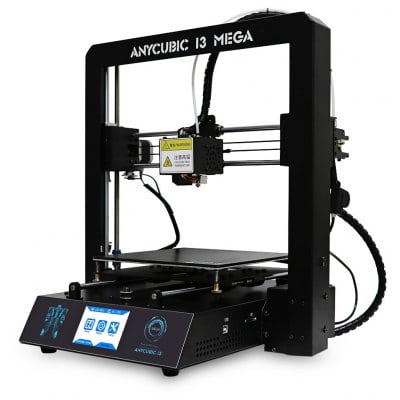 The I3 Mega has been well received in the 3D printing community. It's affordable pricing, great specs and ease of use make it a good fit for beginners.
Unboxing and Setup
The I3 Mega comes in a huge package, with all the components carefully arranged in two layers of foam trays. Everything you need to assemble the 3D printer and get it up and running is included in the package, and AnyCubic is thoughtful enough to throw in some complimentary delights such as spare parts, additional accessories and a 1kg of PLA filament roll.
The addition of accessories such as the limited switch, spatula for removing prints, gloves, and spares for key parts like the hotend and endstop shows that AnyCubic definitely knows a thing or two about customer satisfaction. Other than these added freebies, the package contains AnyCubic I3 Megabase and frame, a quick start guide, 8GB SD card and card reader, USB cable, spool holder, toolset, power cord, a pair of tweezers, screws, a pillar, and a scrapper.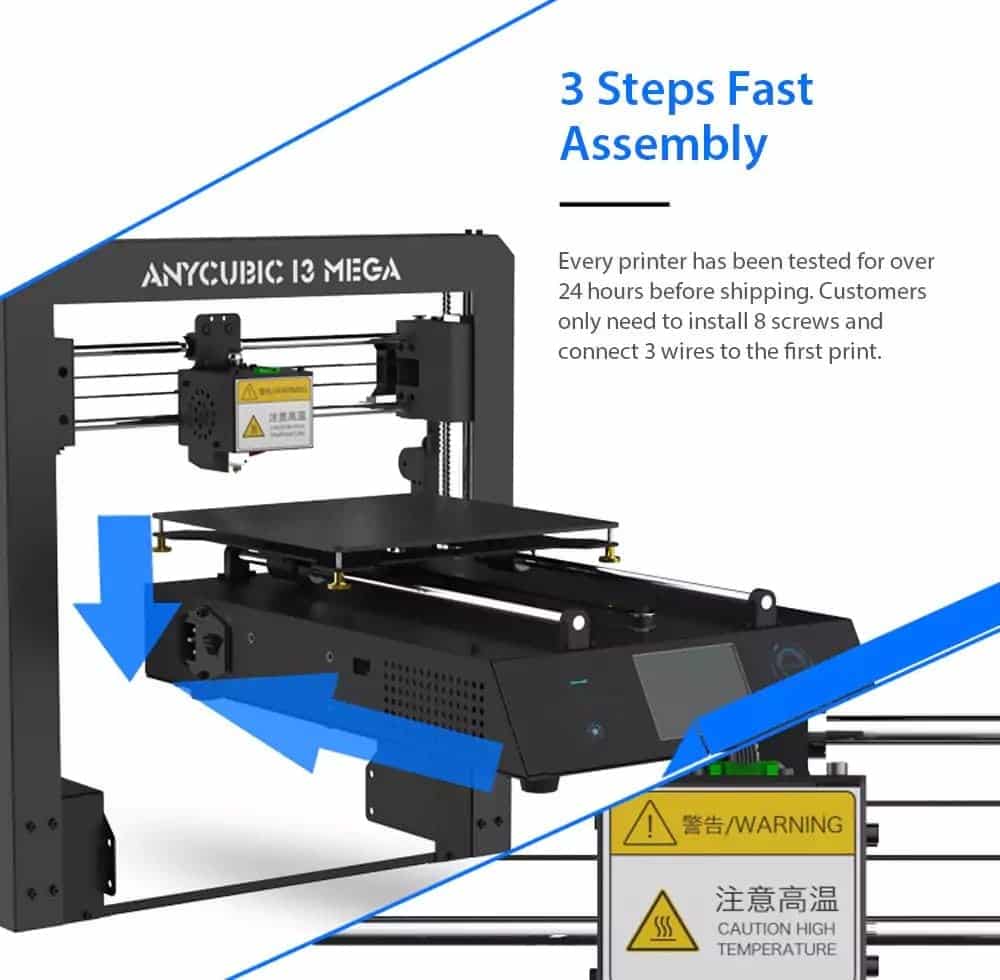 Setting up the I3 Mega is as easy as it gets, as the printer is shipped nearly fully assembled. It just requires putting together a few key components, which can take around 10-30 minutes depending on a user's proficiency. After laying out all the parts of the 3D printer kit, you need to begin by assembling the Z carriage onto the base. This involves putting in eight screws at the designated spots and fastening them tightly enough so that the Z carriage is stable and not wobbly. And that pretty much sets up your I3 Mega. Other than that, there are a few minor steps to get the I3 Mega functional, and the assembly instructions on the SD card will take you through these steps without a glitch. If it is your absolute first brush with a 3D printer, you may need to access a video guide online to get your device up and running.
Design and Build Quality
The I3 Mega is a well-engineered machine that does not look or feel cheap at all. In fact, one of its key strengths is its stable and rigid structure that ultimately contributes to the quality of prints. Another great thing about this 3D printer is that the manufacturers have invested in a well made wiring structure, a lack of which is a glaring problem in a lot of other DIY 3D printer kits. The only design element that does not look aesthetically appealing is the largish stick for placing the filament roll but that too does not negatively impact the functioning of the printer in any way.
Features and Specs of the I3 Mega
The technical specifications and features of a 3D printer convey a lot about its potential and performance. Some of the most notable characteristics of the AnyCubic I3 Mega include an all-metal frame, auto-leveling sensors, and the resume from outage feature that allows the printer to resume printing automatically after a power cut.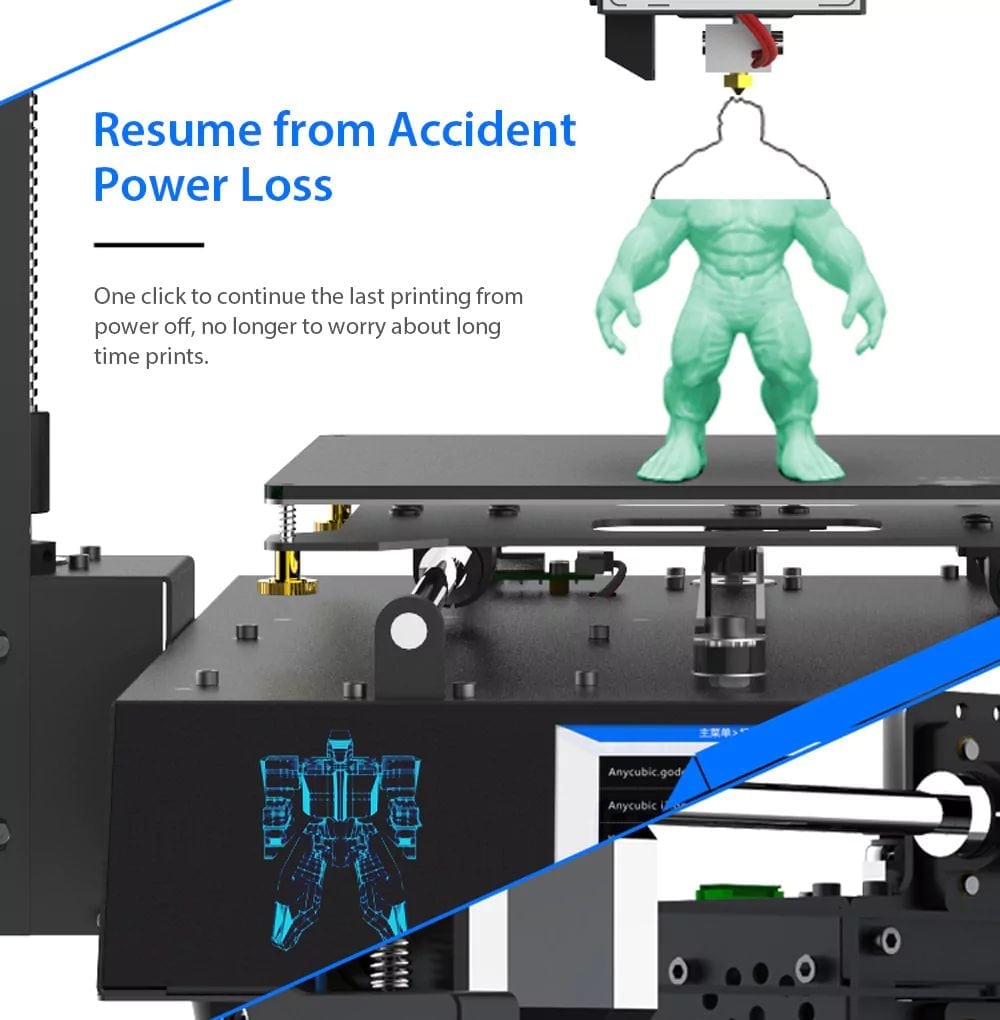 The I3 Mega is an FDM printer offering a build volume of 210x210x205 mm, which is pretty average. Since it is called the 'Mega', you expect the name to translate into the printer's build capacity. That's clearly not the case with this machine and that's somewhat disappointing. It is designed to offer a print speed in the 20-100 mm per second range, offering a layer thickness of 0.05-0.3 mm and axis positioning accuracy of 0.0125 mm for the XY axis and 0.002 mm for the Z.
It sports an aluminum platform board and comes with a Bowden extruder with a 0.4 mm nozzle. Another key highlight of this 3D printer is the addition of a 3.5 inch TFT touchscreen that makes operating and handling the I3 Mega a near seamless experience. The heated bed capable of scaling a temperature of 110 degrees Celsius makes the I3 Mega compatible with a wide range of filaments such as ABS, PLA, HIPS, and Wood.
When working with a printer that comes fitted with a heating bed, leveling it correctly is essential for optimizing the print quality. Since the I3 Mega has been largely touted as a beginner-friendly 3D printer, the inclusion of an auto-leveling sensor is a big blessing for all the newbies, as it makes the whole process a lot faster and easier as compared to manual leveling.
Printing
The AnyCubic I3 Mega is capable of printing directly from the PC as well as an offline device. The PDF manual on the SD card has detailed instructions on how to start printing with your newly assembled I3 Mega. There is even a sliced test file on the card to allow you to test the print quality of this device even before you are done with the necessary software adjustments.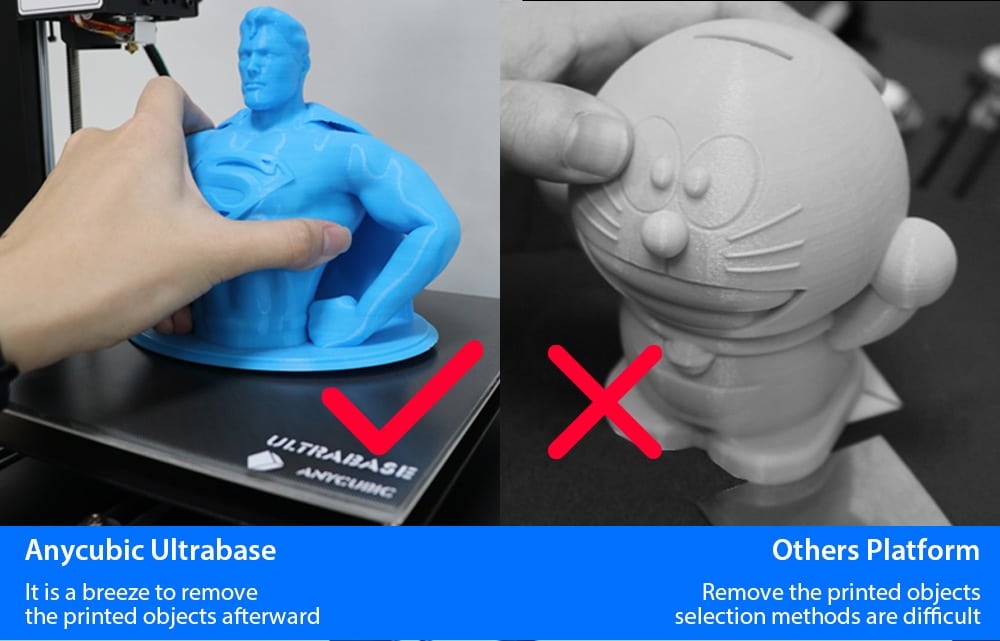 As is the case with most 3D printers, the first few prints may not turn out exactly perfect, with a few overhangs or rough edge here and there affecting the print results. With some calibration and adjustments as you go, the finesse of prints can be improved vastly. Once you learn your way around the I3 Mega, it can print some rather complex designs with great detail and accuracy. The print quality remains top-notch irrespective of whether you are working with a simple PLA or ABS filament or trickier ones like PETG, wood, and TPU.
Verdict
The AnyCubic I3 Mega can be best described as a reliable and strong 3D printer capable of delivering some impressive results. Unlike most other DIY 3D printer kits on the market today, you won't face any major problems or hiccups while printing with the I3 Mega. At a price of $349, the 210x210x205 mm print volume may be an issue for some users, as printers with large print volumes are in trend right now. However, given its numerous advanced features, sturdy build, and bankable print results, it is only a small adjustment.