Android Tipster participates in the Amazon Affiliates program and may receive a small percentage of a sale at no extra cost to you when you click some links on our site
AnyCubic entered the fray with low-cost 3D printers that are in direct competition with offerings from companies like Tronxy and Anet. Its offering, the Kossel, is a Delta construction 3D printer that ships with an auto-leveling print bed capable of printing at a 30-micron resolution. The AnyCubic Kossel is an open source 3D printing device that was originally rolled out in the Pulley version.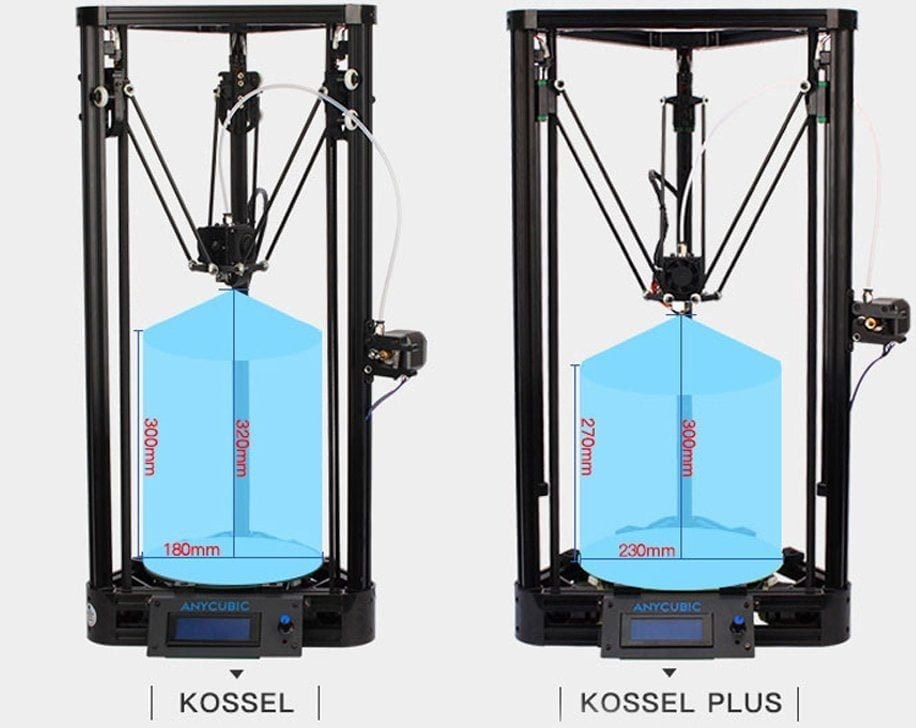 A Linear version that works on linear rails instead of wheels placed on the plastic carriage and a Linear Plus variant with a bigger diameter were released subsequently.
The pulley version has been hailed by the online 3D printing community for its high print speed, and smooth and noise-free operation. Since pulley design is at the heart of the original AnyCubic Kossel 3D printer, that's the variant we'll be reviewing here.
Unboxing and setting up the AnyCubic Kossel 3D printer
The Kossel arrives in a rather compact box, with all the elements of the 3D printer neatly tucked in foam to prevent damage. The package includes aluminum parts, buildtak and its parts, belt, fans, motors and an AC adapter, LCD screen unit, board, small plastic parts, Bowden tube, a USB cable, SD card, and screws, nuts and bolts to hold the whole thing together.
So, there are a lot of components, big and small, inside the box, and clearly, the Kossel is intended for people who like to build their DIY 3D printer kits from the ground up. It can all look a tad intimidating, especially if you are a beginner, but the AnyCubic has done a fairly good job with its instruction manual that contains detailed, easy to follow instructions. The manuals, instructions, ready-to-print test files have all been loaded on the SD card and the Kossel does not come with any printed guides or manual. Given how these are more confusing than helpful, that's not a big omission.
As long as you follow the instructions of the assembly manual to the T, the Kossel plays out to be a straightforward machine that is easy to assemble. The entire printer can be put together in a little over four hours if you know your way around DIY 3D printer kits. Some areas such as sliding the 2020 extrusions on to the plastic corner pieces can be a bit tricky and unnecessarily time-consuming. The process could have been simplified if AnyCubic had rolled with better T-nuts.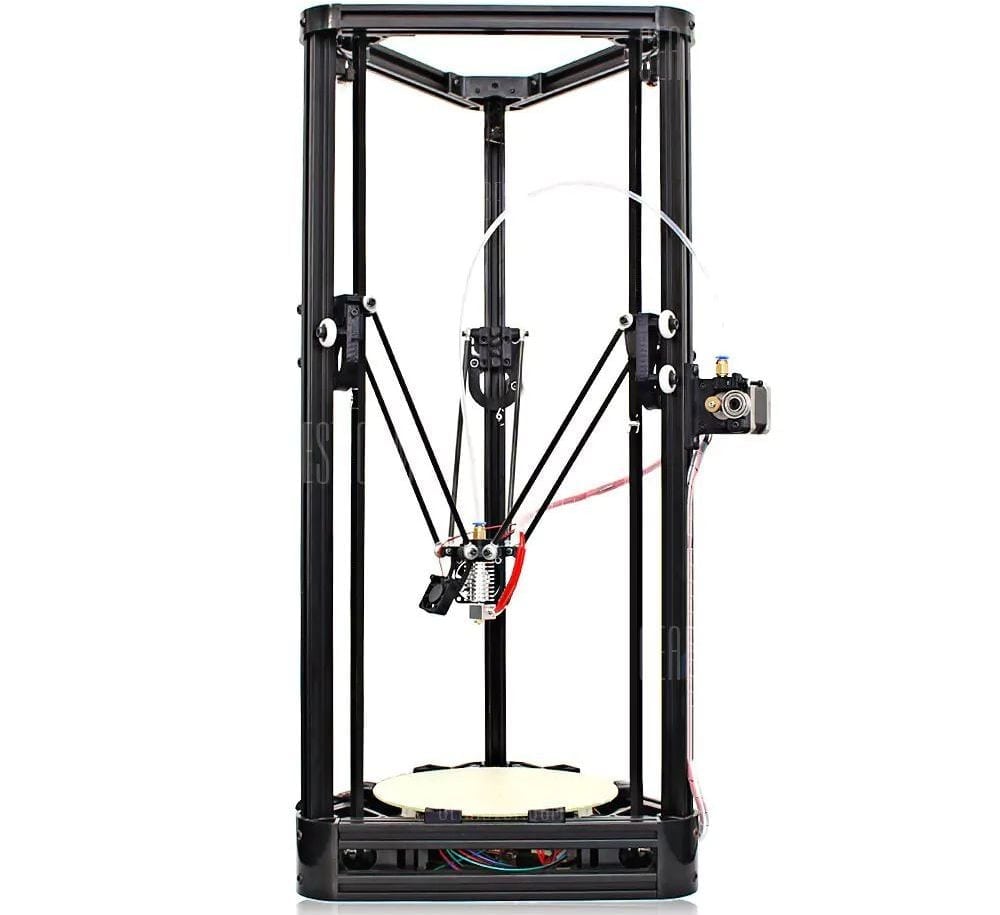 With so many wires going in and out of different parts of this printer, it is a good idea to double check the connections made to the motherboard before turning on the printer, just to make sure that you plugged in everything right, as even a single wrong connection can cause the motherboard to burn out.
Build Quality
The AnyCubic Kossel comes with a full aluminum body that looks and feels well built. It is also possible to move the Kossel around easily while it's printing, all thanks to its compact structure and hard-wearing frame. This is something you cannot even think of trying with any other DIY 3D printing kit out there without risking ruining the prints completely.
There are, however, a few things about the Kossel that could be improved. The first is the inclusion of better quality T slot nuts, as the ones supplied with the printer do not hold very securely. And the second is the addition of a cable tie down. This simple device can prevent the wires from breaking off the thermistor or heater block, thus, preventing the risk of something burning or catching fire.
Features of the Kossel 3D printer
The AnyCubic Kossel is a DIY kit FDM printer with a printing size of 180x180x320 mm and a print area of 220x220x240 mm. It sports a full aluminum frame and a TriGorilla main board. The printer comes with an auto-leveling feature for the print bed which can be modified to a heated bed with optional upgrades.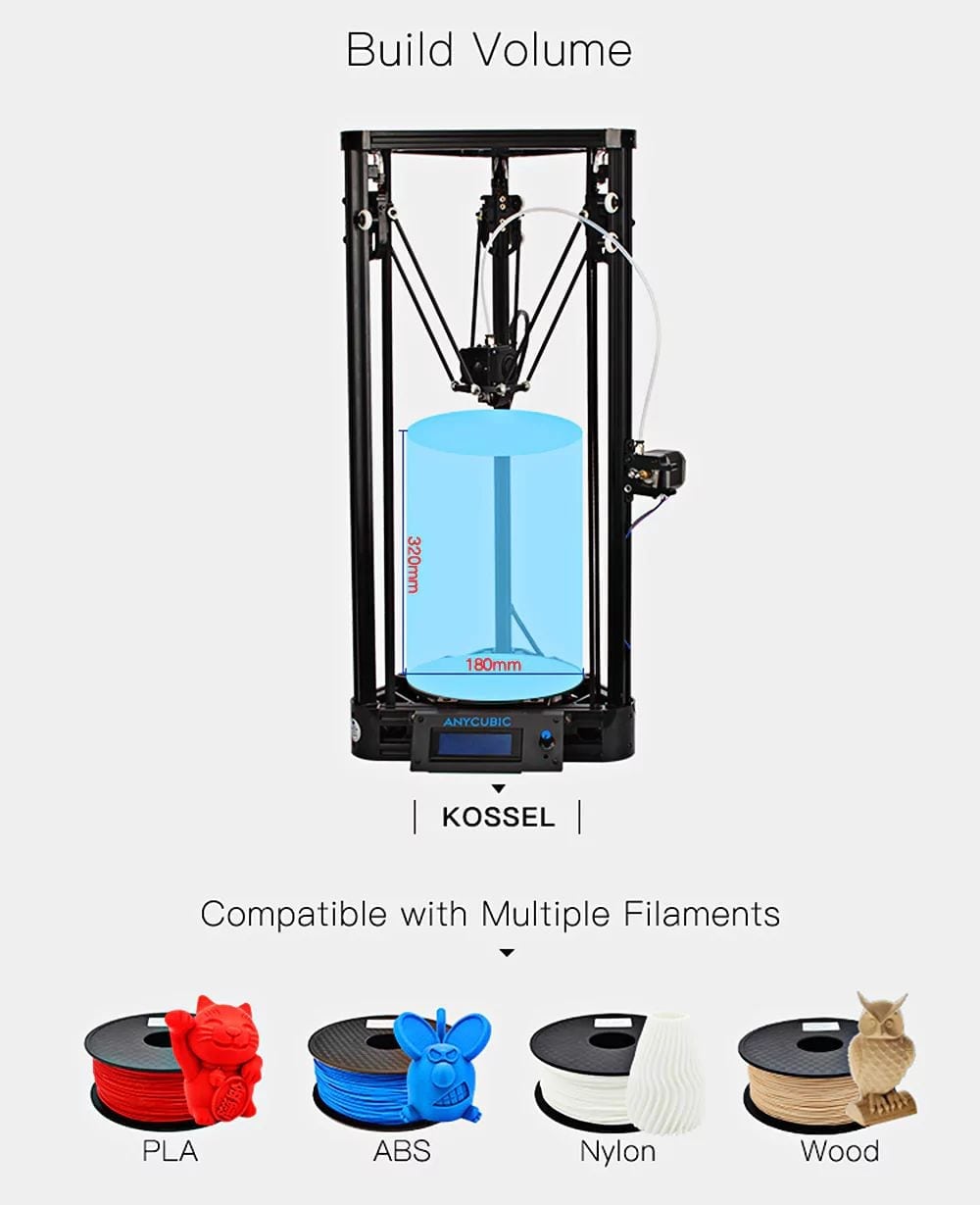 The Kossel is a single extrusion device fitted with a Bowden extruder and a nozzle with 0.4mm diameter capable of producing a layer thickness in the range of 0.1-0.4mm at a print speed between 20 and 80 mm per second.
The Kossel can print with PLA, ABS, Nylon, and Wood filament with a diameter of 1.75 mm. It comes with an SD card that supports offline printing and a USB cable for printing directly from a computer. The device is fitted with an LCD Screen for monitoring the progress of print jobs.
So, all in all, the Kossel has pretty standard specifications that are on par with most other DIY 3D printer kits, many of which are dearer by $100 or more, but does not push the envelope in terms of inclusion of cutting-edge specifications. Considering its base pricing, it isn't something you can't make your peace with.
Print Quality
The robust build quality and specs do not mean anything if a printer does not deliver in terms of print performance. The Kossel does not disappoint on the count. The print quality offered by this DIY 3D printer kit is top notch, and comparable to some of the more expensive printers in the market.
Whether you are printing test designs or actual ones, the Kossel offers a fairly high level of detail and print precision, at impressively fast speed. The only thing you need to be mindful of while working with the Kossel is leveling the delta, which can be a tad tricky if you rely solely on the manual instructions. However, online tutorials and YouTube videos can put you out of your misery in a matter of minutes.
The printer offers best print results with PLA filament, although it is compatible with a range of other materials as well. Printing with materials like the TPU flexible filament is difficult, even if you lower the print speed of the Kossel.
Verdict
The AnyCubic Kossel offers great value for money in terms of its build quality, features, and print performance. The tall build volume is another advantage when working with this machine. It does have its share of drawbacks such as the use of some sub-standard parts like the T-Nuts that dampen the overall fine structure of the printer. The missing heated bed limits its ability to furnish quality prints with materials like the flexible filament. However, this component can be added to the printer separately. In fact, there are quite a few such upgrades that can be made to the Kossel to enhance its overall performance. Even on its own, it's a device worth your time and money.