Android Tipster participates in the Amazon Affiliates program and may receive a small percentage of a sale at no extra cost to you when you click some links on our site
Best 3D Printer for Miniatures?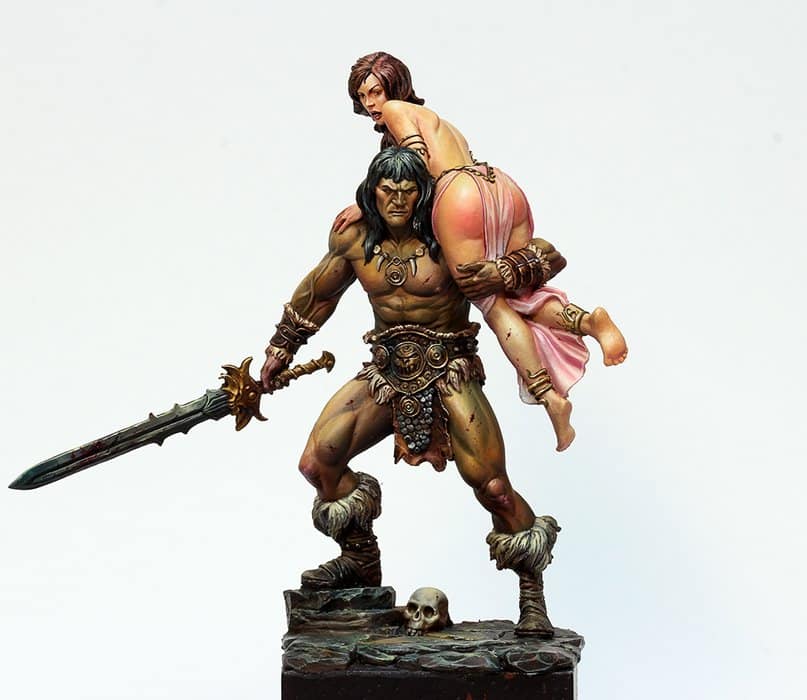 When it comes to 3D printing miniatures, you must have reasonable expectations in several areas, including quality and cost. There's more to it than just loading the material into the machine and waiting for picture-perfect miniatures to come out of the build platform.
There are two kinds of 3D printing machines you can use to print miniatures:
FDM or FFF 3D printers (filament-based) and
SLA 3D printers (resin-based). Both come with a set of advantages and disadvantages that you need to take into account.
An FDM 3D printer uses an extruder with a hot-end to melt filament and deposit it onto a build platform, creating a 3D model one layer at a time. It's easy to use and comes with a larger maximum build volume and lower operating costs than an SLA 3D printer.
Also, the post-print process is not as messy as with a resin 3D printer, although smaller models can be a pain to deal with. On the flip side, a filament 3D printer is several steps below a resin 3D printer when it comes to resolution and overall print quality, so don't expect your home-built miniatures to be on the same level as store-bought miniatures.
We Recommend the following 3D Printers for Miniatures
AnyCubic Photon

Monoprice Maker Select v2

Original Prusa i3 MK3

Wanhao Duplicator 7 v1.5

FlashForge Creator Pro
Best Pick:
AnyCubic Photon
The AnyCubic Photon is a resin-based 3D printer capable of printing miniatures with stunning quality. It's more detailed than the Wanhao Duplicator 7 v1.5, which is also in the same price range. It has a maximum layer resolution of 25 microns, the highest out of all the products included here.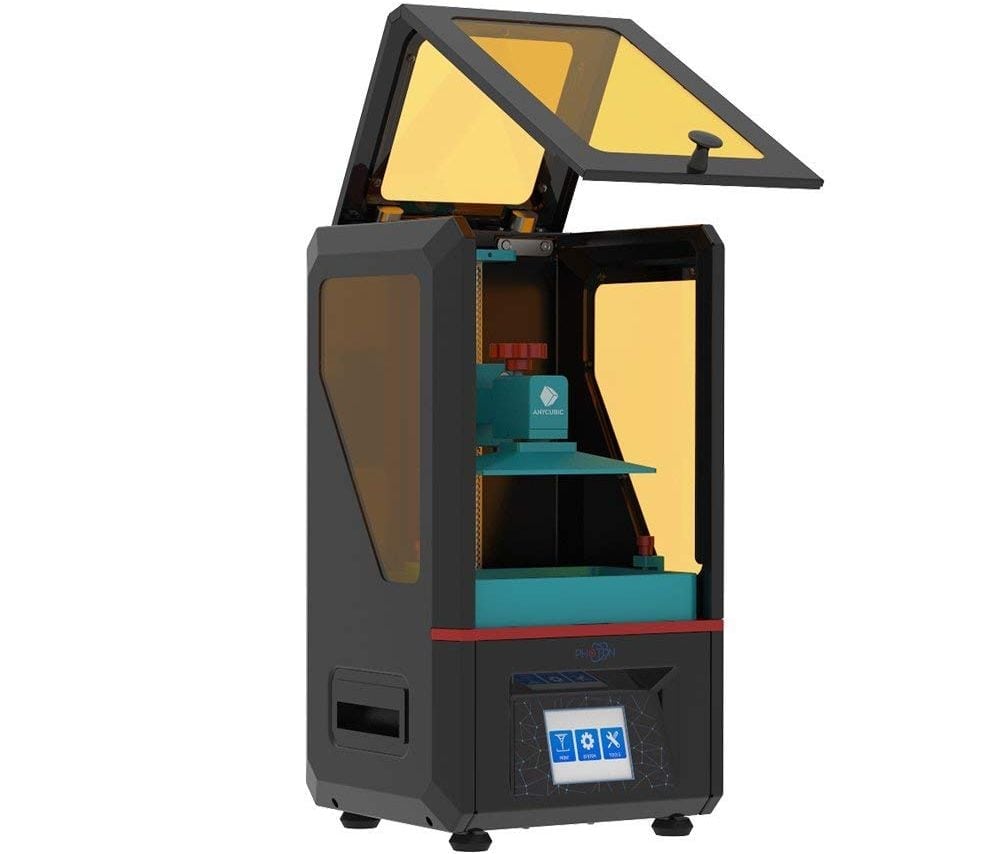 Although often called a DLP SLA 3D printer, the Photon is actually an LCD SLA 3D printer, with a UV LED light source. It prints an object from top to bottom, which is the opposite of the bottom-to-top process of an FDM 3D printer.
But despite not being a true SLA machine, the Photon can still produce extremely detailed and smooth 3D printed miniatures, including complex ones.
The Photon comes assembled and is easy to set up out of the box. It has a well-built frame, with a touchscreen interface that allows you to see a preview of the object you're about to print. It ships with a user-friendly slicer and has an easy bed leveling process.
If you want to build complex and extremely detailed miniatures, get the Photon and don't look back. It's the best 3D printer for the job.
Other than the running costs and the usual post-print processing and finishing issues resin 3D printers come with, the only drawback of the Photon is its limited build volume.
Tech Specifications
Resolution: 25 microns
Volume: 4.5 x 2.6 x 6.1 in
Filament: NA
Type: Resin
Weight: 14.6 lb
Connect: USB
The Pros
Extremely detailed print quality
Fully assembled
Relatively easy to use and maintain
Simple initial setup
Intuitive touchscreen interface
Offline printing
The Cons
Small print size
Expensive material
Best Budget:
Monoprice Maker Select v2
If you can't afford to spend over $400, the first brand you should check out is Monoprice, who is known for its budget 3D printers.
The company offers the Maker Select v2, the Select Mini v2, and the Mini Delta, all of which are under $400, with the latter two selling for $200 or less. Of the three, the Maker Select v2 offers the most value.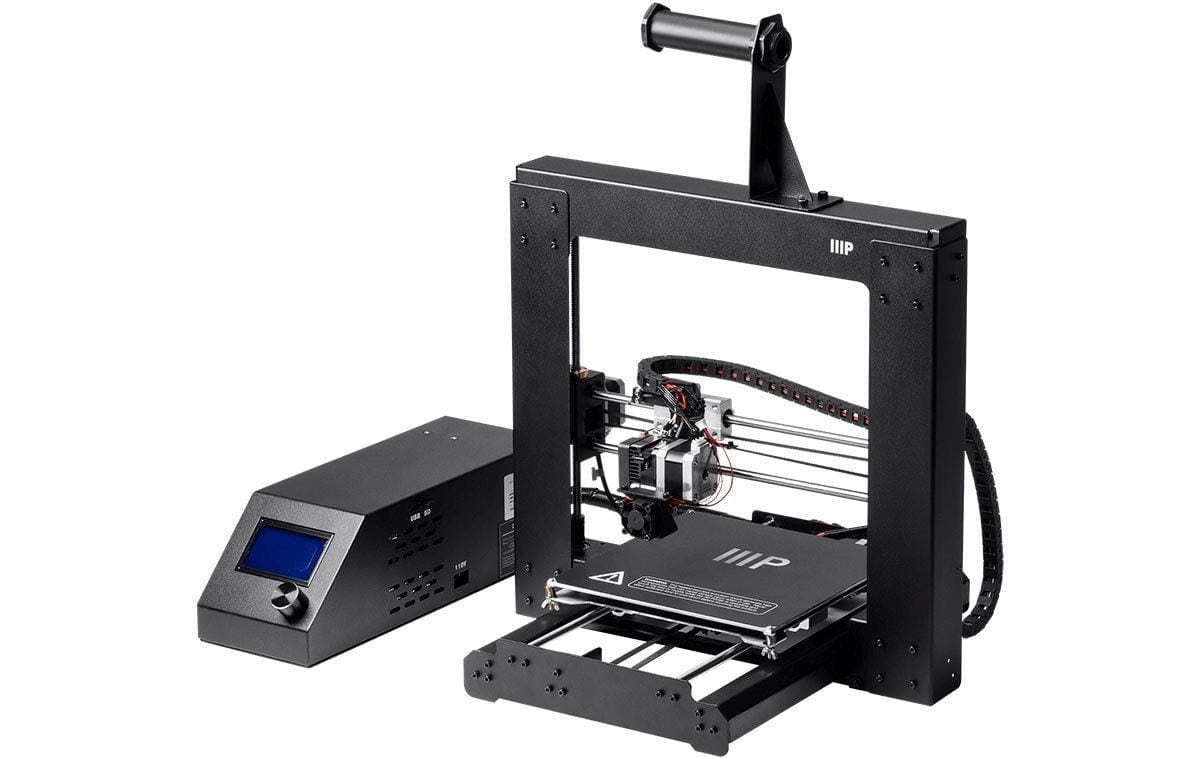 An open-frame FDM 3D printer, the Maker Select v2 is based on the Prusa i3 design. It has a sturdy aluminum frame and a separate controller box. It's equipped with a heated print bed, has an open material system, and comes with a medium-sized build volume.
For connectivity, it can connect via USB and print standalone via SD card.
The Maker Select v2 offers a simple initial setup out of the box. It's a semi-assembled 3D printer, which means you don't need to assemble it from scratch as you would with a DIY kit. Just secure the frames in place and you're good to go.
Monoprice includes sample 3D models and a free filament in the box, allowing you to start printing as soon as the initial setup is out of the way.
Although the initial setup is simple, the Maker Select v2 is far from optimized in its default form. Some upgrades are required at the onset, both for safety purposes and performance improvement, and at the top of the list is a MOSFET mod.
The good news is the Maker Select v2 has a large community, so you can easily get a shortlist of the necessary upgrades for the machine.
When it comes to print quality, the Maker Select v2 is not bad for a filament-based 3D printer. It can handle large miniatures well but struggles with small 28-millimeter miniatures. Buffing it up with a fair amount of upgrades is a good way to improve the results.
But even after that, you shouldn't expect too much out of it in regard to printing small and detailed miniatures for tabletop games.
Overall, the Maker Select v2 is a reliable budget 3D printer for miniatures. It's easy to use once tuned-up, comes with a large community, and has a heated print bed, which allows you to print with ABS.
Tech Specifications
Resolution: 100 microns
Volume: 7.9 x 7.9 x 7.1 in
Filament: 1.75 mm
Type: ABS, PLA, TPU, and others
Weight: 20 lb
Connect: USB, SD card
The Pros
Easy to set up
Large community
Lots of aftermarket support
Decent print quality
Good print size
Sturdy frame with heated bed
The Cons
Struggles with small miniatures
Requires mods out of the box
Manual bed leveling process
Best Value:
Original Prusa i3 MK3
When it comes to user convenience, the Original Prusa i3 MK3 is the best on this list. It's a smart FDM 3D printer loaded with convenient features, most notable is its automatic bed leveling technology, which is a godsend for beginners.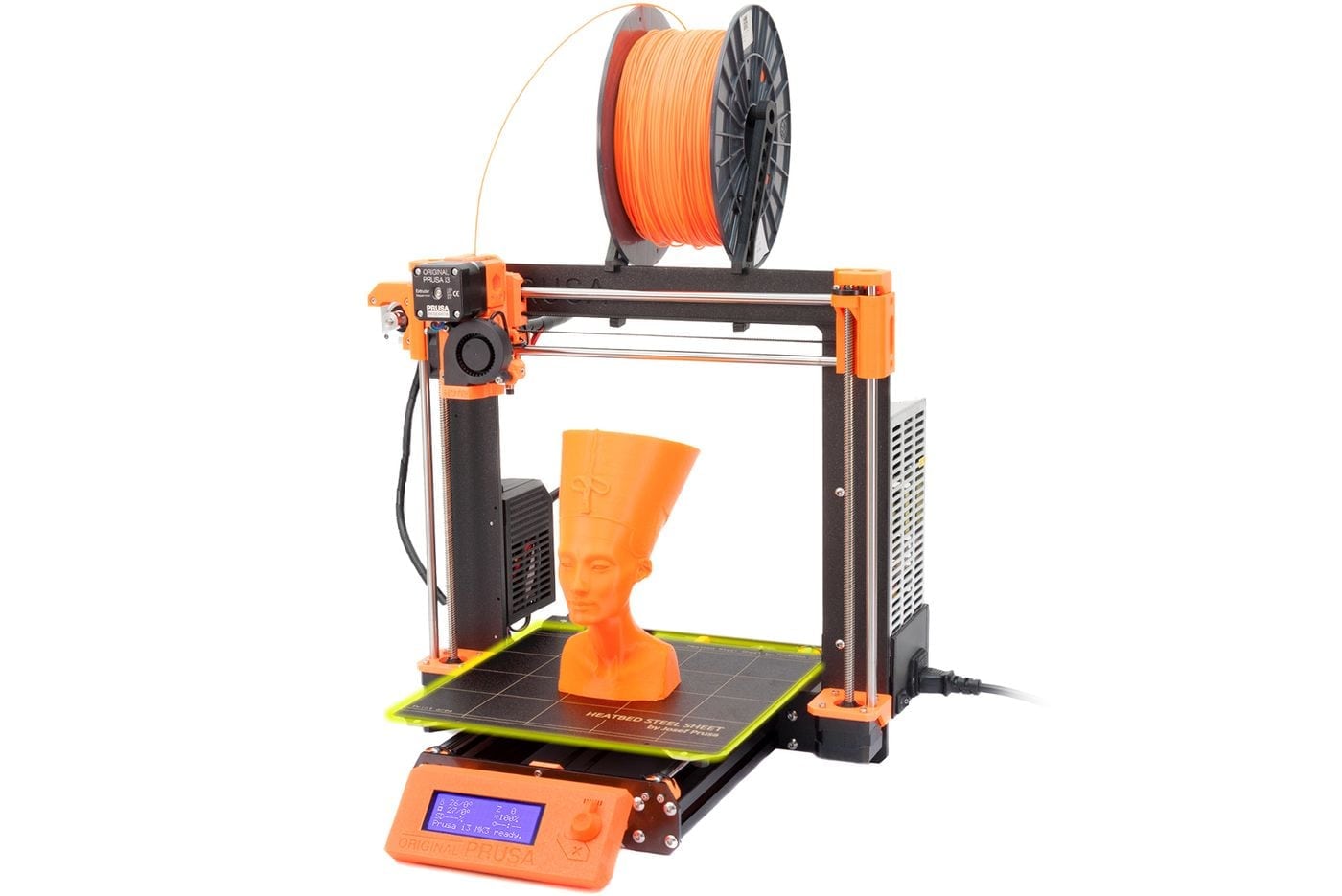 The easy-to-assemble MK3 kit sells for around $750 while the fully assembled and factory tested MK3 is about $1,000.
It ships out from the Czech Republic and takes a while to arrive, so don't expect it to arrive at your doorstep just a few days after you process your order. It's worth the wait, though, considering the overall quality of the product.
An open-source 3D printer with an open structure, the MK3 is a medium-sized machine designed for both professionals and hobbyists. It's got a rigid frame with a top-mounted spool holder and an integrated LCD controller and comes with a removable magnetic heated bed.
It has a more stable frame than its predecessor and boasts a new mainboard that allows it to keep its noise level low and detect shifted layers.
In addition to the auto-leveling system and the magnetic print bed, the MK3 has a filament sensor and a power panic function and can detect a jammed extruder.
In case of a jammed extruder, the machine pauses the print and moves the print head away from the 3D model. All of these convenient features make 3D printing easy for everyone, especially beginners.
The MK3 is the best high-resolution 3D printer you can get for $1,000 or less. With the right settings and the right nozzle size, it can print exceptionally detailed and clean miniatures. It can print large models with ease and has a decent print speed even in high resolutions.
While not on the same level as the AnyCubic Photon, the MK3 is way ahead of the Monoprice Maker Select v2 in print quality. It's also the more versatile machine, capable of printing with different materials out of the box.
In terms of overall value, the MK3 is a step above the Photon, mainly because you can also use it for other things not related to miniature printing, thanks to its material versatility and build volume.
If you want a reliable, high-resolution 3D printer that gets the job done and comes loaded with convenient features, go for the MK3. If the price is too much for you, the Original Prusa i3 MK2S is also a great choice. The MK2S has the same print quality and reliability but with fewer convenient features.
Tech Specifications
Resolution: 50 microns
Volume: 9.8 x 8.3 x 8.3 in
Filament: 1.75 mm
Type: ABS, PLA, PETG, and others
Weight: 14 lb
Connect: USB, SD card
The Pros
Superb print quality
Auto bed leveling system
Removable magnetic build platform
Filament sensor
Power panic function
Low noise level
Large community
The Cons
Filament sensor has issues with translucent materials
No enclosure
Wanhao Duplicator 7 v1.5
Wanhao is one of the most popular 3D printer brands, offering a wide selection of products, most of which are filament-based. The Chinese brand entered the SLA market with the Duplicator 7 – a desktop 3D printer designed for those who place a premium on layer resolution.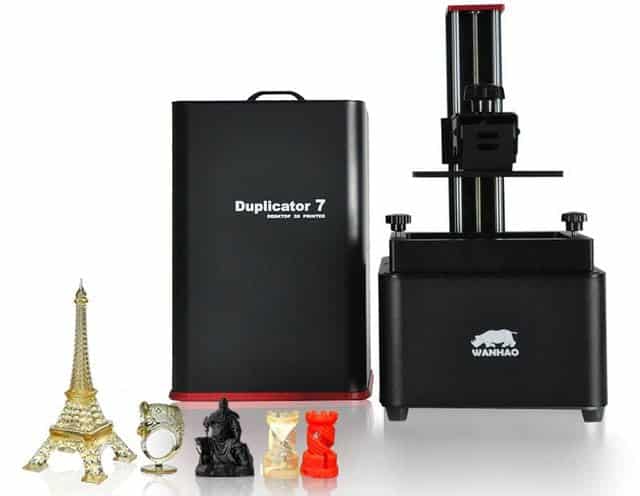 The Duplicator 7 is like the AnyCubic Photon, our top pick, which is also from a Chinese company. It's an LCD SLA 3D printer with a UV LED light source.
The most notable difference between the two models is that the Duplicator 7 offers a larger print size. In addition, the Duplicator 7 also has a slightly lower resolution (35 microns) compared to the Photon (25 microns).
But when it comes to overall print quality, the Duplicator 7 is still better than an FDM 3D printer.
The v1.5 edition of the Duplicator 7 has a number of improvements, including a better cooling system, additional vents for better airflow, a better build platform, and a more stable frame. The power button also got moved to the back of the machine.
If you fancy the Photon but want a larger build volume, the Duplicator 7 is for you. It's a reliable 3D printer for miniatures that will impress you with its ability to print extremely detailed 3D models.
It's relatively easy to use, comes with a large community, and includes a sample resin so you can start printing right away as soon as you set it up.
Tech Specifications
Resolution: 35 microns
Volume: 4.7 x 2.7 x 7.9 in
Filament: NA
Type: Resin
Weight: 26.5 lb
Connect: USB
The Pros
Extremely detailed print quality
Large user base
Sturdy frame
Low price for an SLA
Open material system
Print size is larger than AnyCubic Photon
The Cons
Expensive material
Limited build volume
Unreliable customer support
FlashForge Creator Pro
As a dual extruder 3D printer, the FlashForge Creator Pro is the most different among the FDM 3D printers included in this guide. It adds new ways for you to print with filaments, including the ability to print in dual colors without the need to pause the print to change the material.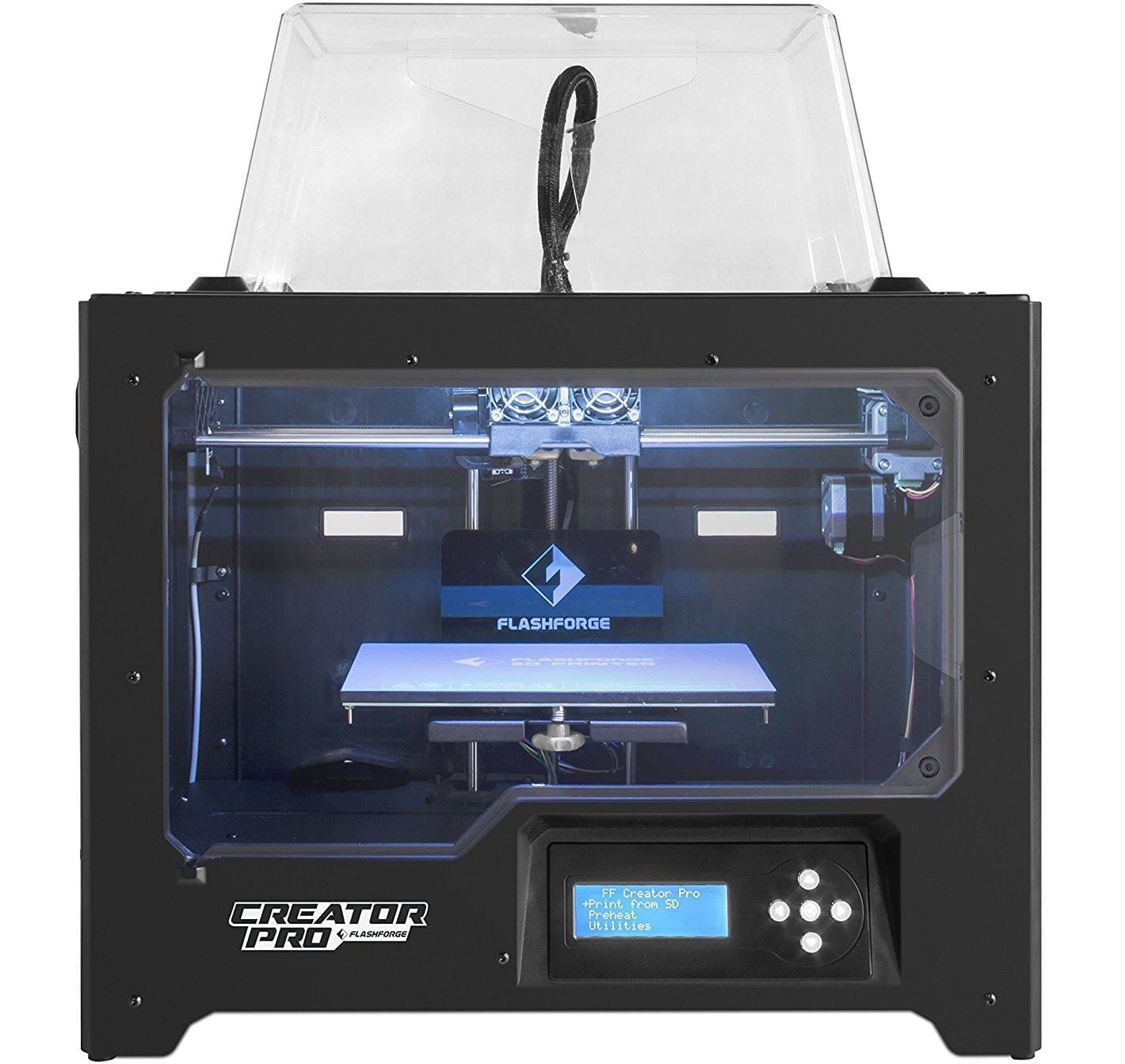 The Creator Pro is an enclosed 3D printer with a robust metal frame, making it more durable and more stable than most open-frame 3D printers.
It has a heated print bed, a couple of back-mounted external spool holders, and an LCD controller for standalone prints via SD card. The acrylic covers are removable, which makes it easy to do maintenance on the machine.
Since the Creator Pro comes assembled, the initial setup is a straightforward process, even though the instruction manual is not the most helpful. It's up and printing in just a couple of hours, but don't expect to see stellar results with the stock settings.
The Creator Pro requires a fair amount of tinkering in order to reach its true potential. It's recommended that you pair it with Simplify3D to make everything a lot smoother.
Once you get the Creator Pro tuned-up, it becomes an absolute workhorse that can print non-stop for days with minimal maintenance and with a low failure rate. It has good print quality for a filament-based 3D printer and can print with both PLA and ABS with little to no issues.
The real highlight here is its ability to print with water-soluble support materials, which allows it to handle more complex miniatures with lots of overhanging details – like a humanoid model in a complicated pose.
The Creator Pro can also print with different materials, including more advanced ones such as TPU. The full enclosure helps it keep a more stable temperature in the print area, which is crucial for certain materials.
In addition, the Creator Pro can use filaments from other brands, although you may need to build your own external spool holders as the stock ones are designed for FlashForge spools.
In all, the Creator Pro is as reliable as the Original Prusa i3 MK3, but not quite on the same level when it comes to print quality. Its list of convenient features is also not that long similar to the Monoprice Maker Select v2.
On the plus side, it's got a dual extruder setup and an enclosed frame, both of which come with advantages.
Tech Specifications
Resolution: 100 microns
Volume: 8.9 x 5.8 x 5.9 in
Filament: 1.75 mm
Type: ABS, PLA, PVA, and others
Weight: 32.7 lb
Connect: USB, SD card
The Pros
Enclosed metal frame
Dual extruder setup
Good print quality
Large community
Great aftermarket support
Can use third-party filaments
The Cons
Limited FlashForge software
Manual bed leveling
Instruction manual needs to be improved