Android Tipster participates in the Amazon Affiliates program and may receive a small percentage of a sale at no extra cost to you when you click some links on our site
The incredible development seen in 3D printers is a befitting example of the rapid development of technology that has become an integral part of our everyday life. The 3D printing industry has evolved at an astounding pace, making the concept readily accessible to the masses.
Today, even basic consumers are willing to invest in personal 3D printers to promote a hobby. However, the huge variety of options and price ranges to choose from can put you in a bit of a tight spot when deciding on the perfect 3D printer.
If you have been tempted to delve deeper into this mind-blowingly amazing creation of tech with a personal 3D printer, we recommend going in for modestly priced entry-level variants.
Here is a run-down on the four best 3D printers under 400 dollars you can find:
1st in our list of best 3D printers under $400:

Flash Forge Finder 3D Printer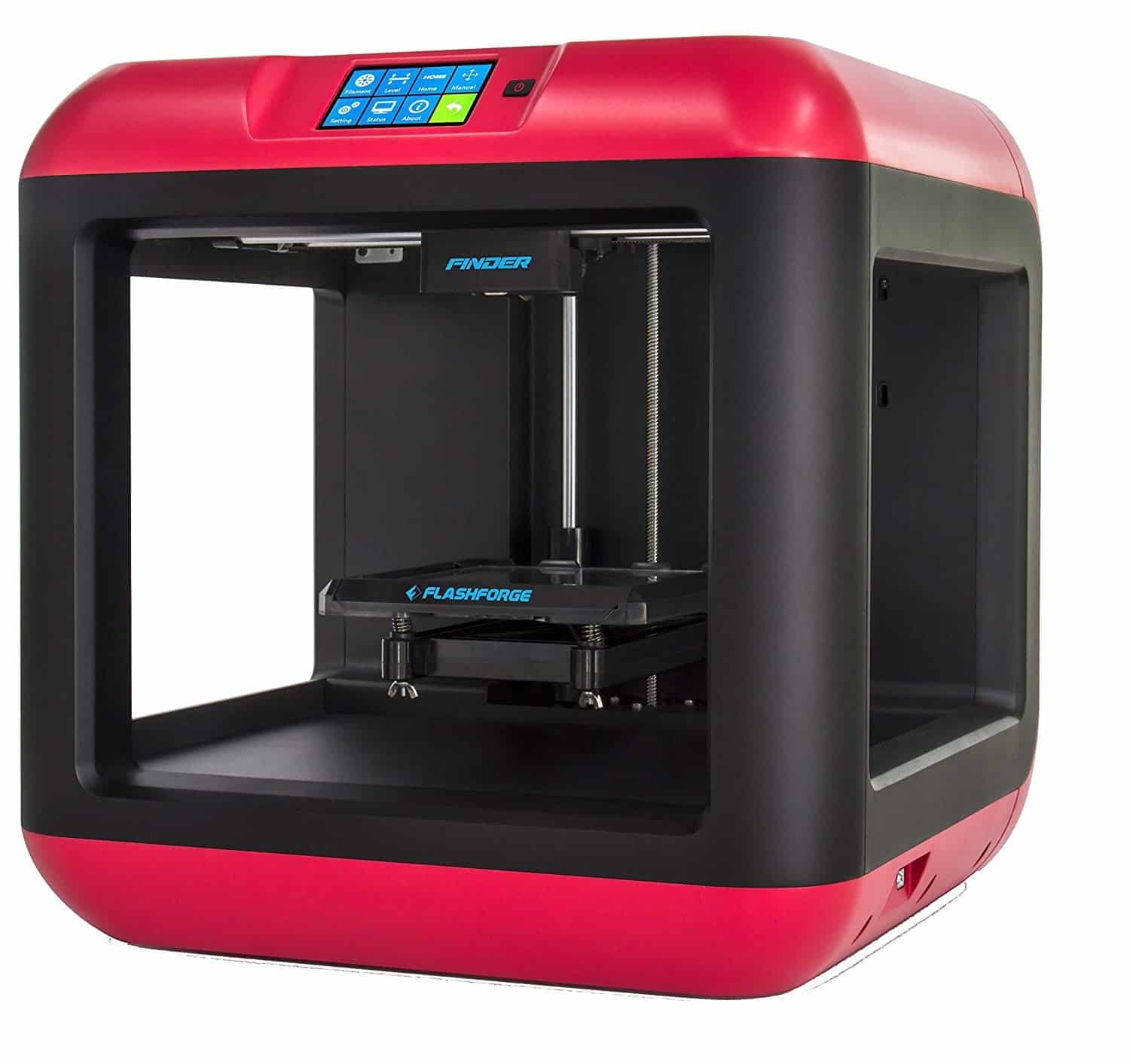 Often called the perfect starter 3D printer, the FlashForge Finder packs a lot of features and functionalities at a low cost.
Its first clear benefit is the plug-and-play design, which makes it ideal for amateurs and hobbyists looking to experiment in the comfort of their homes.
The design of this 3D printer has been kept compact and minimalistic but feels sturdy despite its plastic frame.
The print bed here doubles as a sliding tray that can be inserted and removed with ease.
The colorful LCD panel that can be used to toggle a host of options like leveling the print bed automatically, and loading and unloading filament adds to its intuitive functionality.
It is a little restrictive in terms of material use, as it only supports the 1.75mm PLA. On the other hand, the non-toxic nature of the materials makes it completely home-friendly and safe.
It offers a fairly average print speed, going between 40 and 200 mm per second.
The clear highlight here is the MK 10 brass nozzle, which works in tandem with the thermal barrier guide tube to accord an extra smooth and efficient extrusion process.
The FlashForge Finder supports USB and WiFi connectivity and comes with an internal memory of 4GB.
FlashForge Finder Specs:
Type: FDM
Materials: ABS, PLA
Build Vol: 14x14x14 cm
Minimum Layer Height: 50
Extruder: 1
Connectivity: WiFi, USB
2nd in our list of best 3D printers under $400:
Geeetech Delta Rostock Mini G2s 3D Printer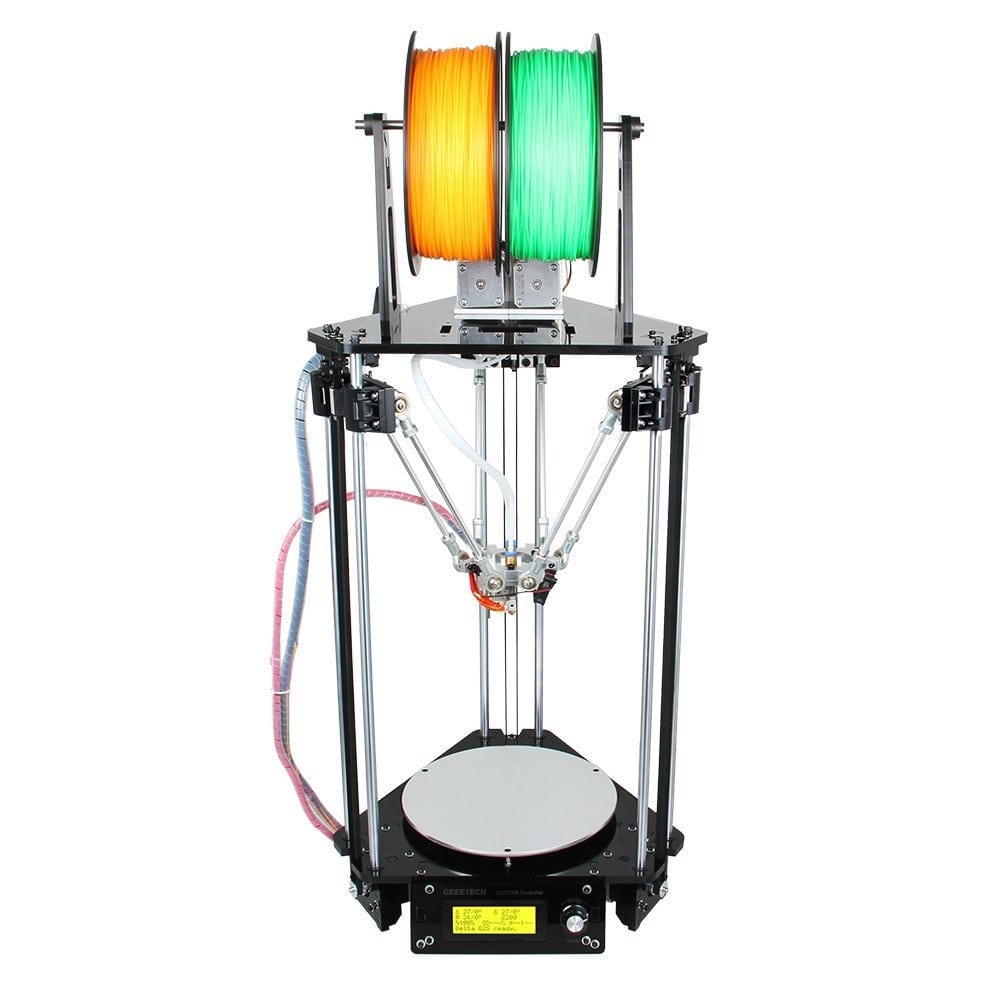 The Rostock Mini G2s is an upgrade on the Geeetech Delta 3D printer, the Rostock mini G2. The unique selling point of this entry-level 3D printer is its dual extruder, which is a rarity in its price range.
The dual extruder makes the G2s ideal for experimenting with two-color designs or printing two distinct objects in a single print job.
There is also an option to engage just one of the extruders to print a single color object, while the other extruder can be used for infill or support.
The two motors powering the extruders push the filament through two separate heads, which limits the possibility of mixing colors in a single print job, at least for now.
The auto-leveling probe in the G2s makes it a plug and play device, eliminating the need to make adjustments and tweak before every print job.
Once you have finished the primary assemble work, the G2s printer pretty much gets on on its own.
It is powered by a GT2560 control system, which does away with the complicated Mega2560+Ramps 1.4 wiring and lends the device a more ergonomic shape and design. The G2s is also a versatile machine in terms of the printing material support.
Besides the usual ABS and PLA support, it is also compatible with wood and Nylon filaments, which further enhances the scope of objects that can be 3D printed with this device.
The SD card helps supports stand-alone printing while the improved LCD control panel allows you to monitor a print job in real-time.
Rostock Mini G2s Specs:
Type: FDM
Materials: ABS, PLA, as well as wood and Nylon filament
Print Speed: 60 to 120 mm/sec
Layer Thickness: 0.1mm
Extruder: 2
Connectivity: USB, SD Card
3rd in our list of best 3D printers under 400 Dollars:
Monoprice Maker Select V2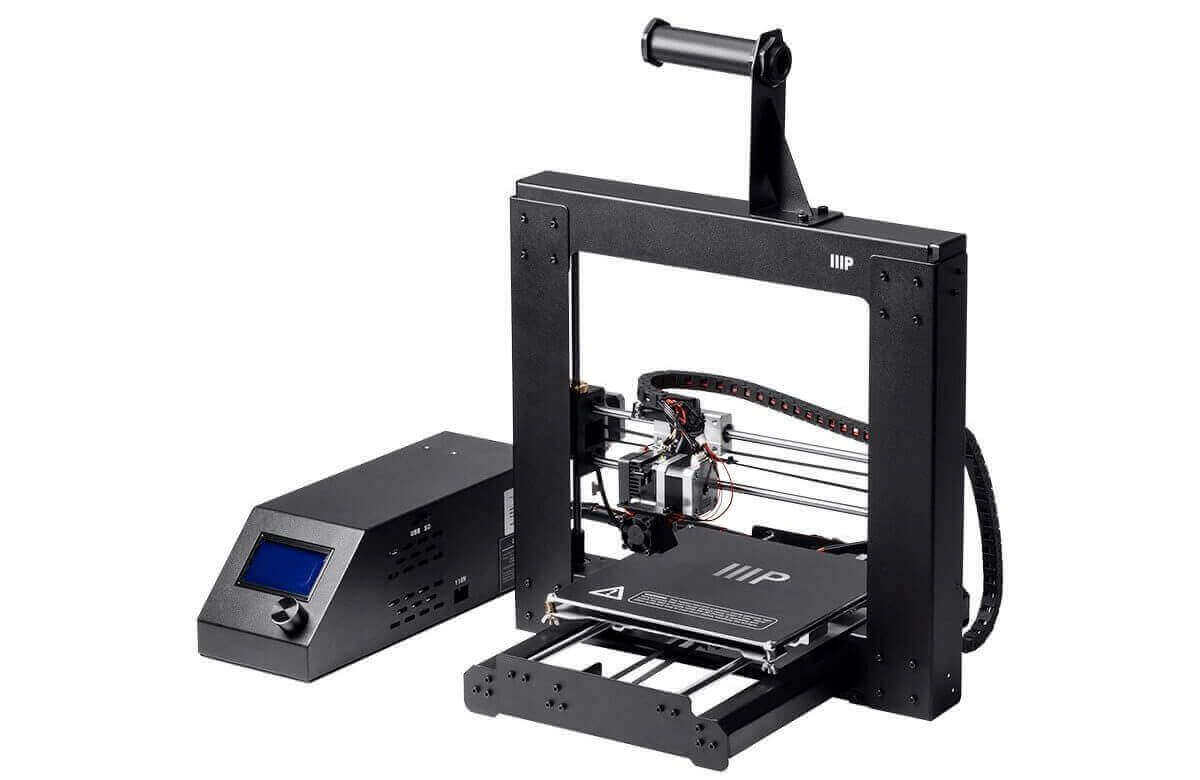 The Monoprice Maker Select V2 is a simple 3D printer with a bare-bones kind of a design but capable of producing some seriously amazing print results.
Priced just shy of $320, it makes for a great entry-level choice for people who don't want to spend a bomb on their first 3D printing machine and at the same time are not hesitant to tinker about a bit.
With a heated print bed, 200x200x180 mm build volume, and a print resolution of 100 microns, this Monoprice offering is designed to pack a strong punch in your 3D printing pursuits.
Apart from ABS and PLA, the Maker Select V2 supports a wide range of print materials, including some exotic filaments.
It is also the only 3D printer in its price range that's compatible with Repetier-Host, ReplicatorG, CURA, and Simplify 3D slicing software, which means greater versatility in design and printing outputs.
The printer supports USB and microSD cards, allowing 3D files to be loaded on directly for stand-alone functioning. The LCD panel on the power supply box allows you to keep track of the printing process.
Monoprice Maker Select V2 Specs:
Filament type: PLA, ABS
Build volume: 200x200x180 mm
Highest resolution: 100 microns
Connectivity: microSD card, USB
Heated bed: Yes
4th in our list of best 3D printers under $400:
XYZprinting da Vinci Jr. 1.0 Pro. 3D Printer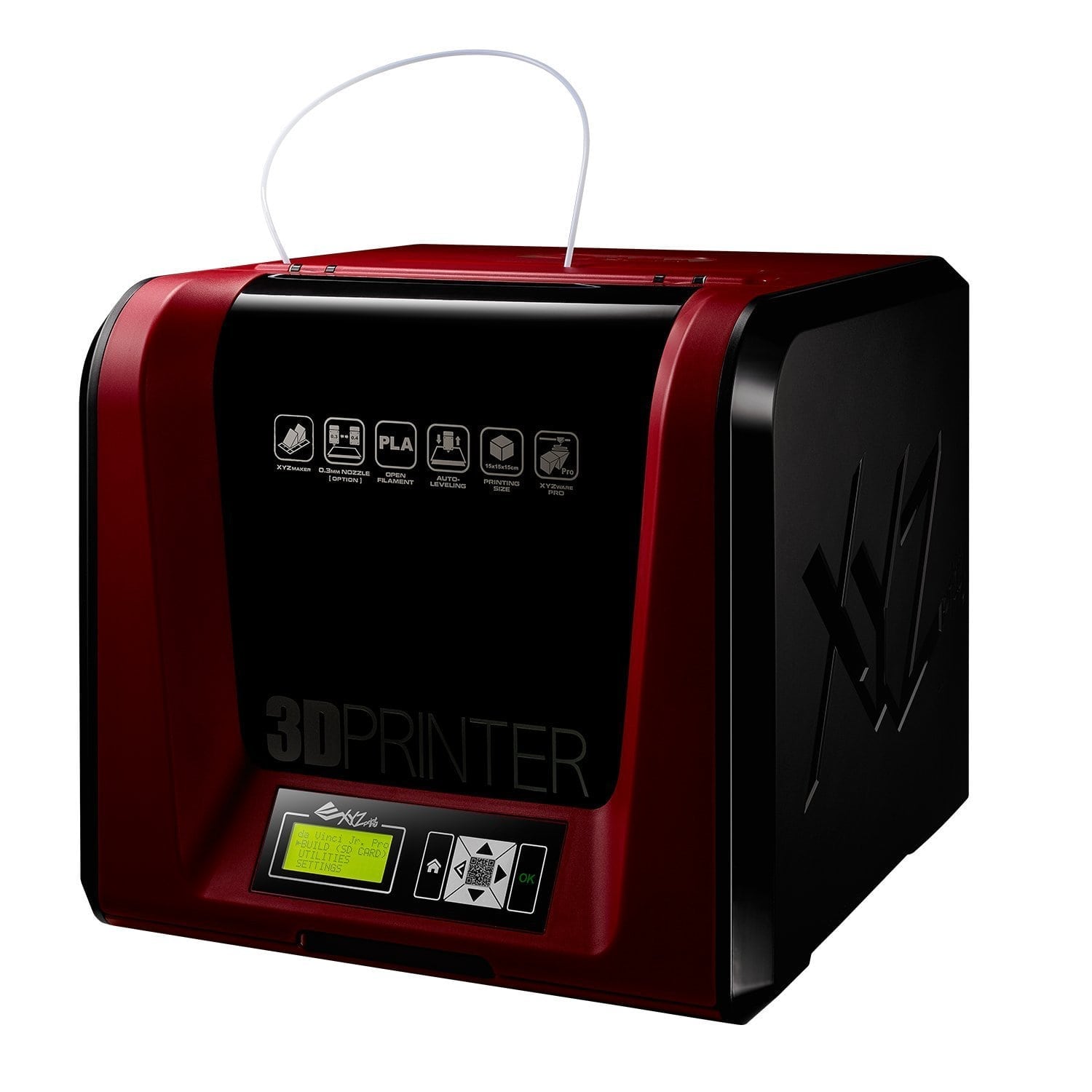 Despite its entry-level pricing, the da Vinci Jr. 3D Printer from XYZprinting is one of the most ergonomically designed and easy-to-use 3D printing devices available today.
All in all, it essentially feels like a scaled-down version of its preceding model, the Da Vinci 1.0 AiO, with the only difference of the erstwhile scanning option being replaced by a microSD card that facilitates stand-alone printing.
One of the key highlights of this device is that it does not require any manual calibration, which is a tricky process of maintaining the right distance between the print head nozzle and the print platform consistently.
It takes a brush with calibration-required printers to truly appreciate this cutting-edge feature in this budget offering.
It is also immensely easy to assemble and operate. You can go from unboxing the device to setting up your first print job in under 10 minutes.
The one little drawback is that the Da Vinci Jr. only supports proprietary filaments, which means you have got to source them from XYZprinting at a price higher than that of generic filaments.
It sports a four-line resolution LCD screen with navigation buttons for managing tasks such as loading and unloading the filament, initiating a print job, and tracking its status in real-time.
Apart from a 4GB SD card, the da Vinci Jr. also supports USBs flash drive. It can even be linked to a computer with a standard USB 2.0 cable to print directly from it.
da Vinci Jr. 3D Printer: Specs
Type: Fused Filament Fabrication (FFF) printing
Build Volume: 15x15x15 cm
Materials: ABS and PLA propriety spools
Connectivity: microSD and USB
Extruder: Single, 0.15-inch nozzle