Android Tipster participates in the Amazon Affiliates program and may receive a small percentage of a sale at no extra cost to you when you click some links on our site
If you're using Jarvee for your social media automation, you probably understand how crucial proxies are especially when you're running multiple accounts of the same platform. Proxies give your social media accounts different IP addresses so that they don't appear as though they're all active in one household.
When do you NOT need to use proxies on Jarvee?
If you have Jarvee installed on your PC and are running less than 5 accounts of the same platform (e.g 5 or less Instagram accounts) then you don't need proxies.
When do you NEED to use proxies on Jarvee?
There are 2 situations where you would need proxies for Jarvee:
When you're running more than 5 accounts of the same platform
When your copy of Jarvee is installed on a VPS.
So, what are the best proxies for Jarvee?
The proxies you would need will largely depend on the social platform you're automating on.
Best proxies for Instagram
We've written about proxies for Instagram before but things have changed since.
For instance, I have found that of all the platforms available on Jarvee, Instagram and Facebook are the strictest of them all. A few months ago, cheap proxies worked well on Jarvee but since the July update, those proxies will only get you like, follow, unfollow and comment blocks so much so, that it doesn't make sense anymore to use them.
Today, 4G and Mobile proxies seem to be the only ones working. But even with 4G and Mobile proxies, you'll still need to observe the limits set on Instagram.
Best proxies for Twitter and the rest
Twitter and the rest of the platforms on Jarvee seem to be a lot more lenient when it comes to proxies than Instagram and Facebook. I use proxies Social Media Proxies from Highproxies.com for these and I'm yet to face any problems.
Highproxies works slightly differently from other proxies providers. There's just one more simple step you need to take in order for your proxies to start working immediately.
Firstly, don't use the proxy username and password. You won't need it with proxies from Highproxies.
Go to Services -> My Proxies
check the IP Authentication option,
add the IP address of your computer (or VPS) (just google what's my IP address, copy and paste it in either the IP1, IP2 or the IP3 box and click the "Setup" button.)
You're all set!
The other good thing about these proxies is, say you buy 10 proxies to run 10 Twitter accounts. You can use the same proxies to run 10 Pinterest, 10 Quora, and 10 Tumblr accounts. Thus, you're able to save quite a bit on proxies.
How to set up your proxies on Jarvee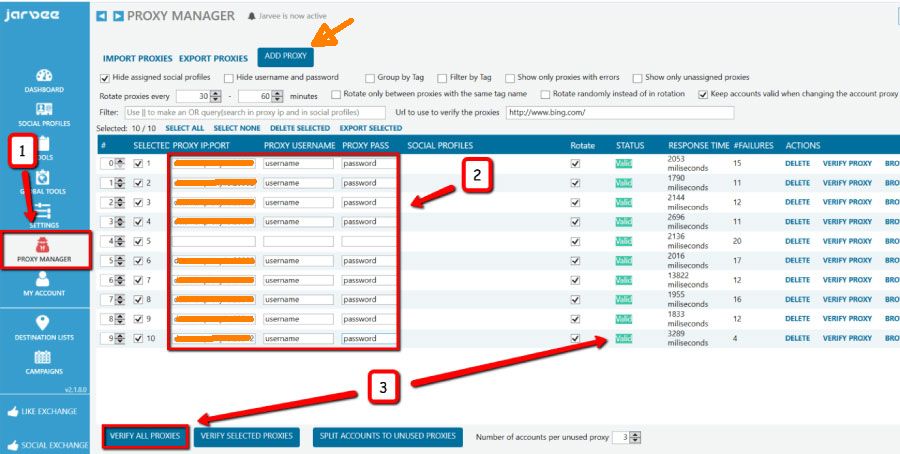 Once you have received your proxies from and have started Jarvee…
click on Proxy Manager
click on ADD PROXY
You can now add your proxies in the fields that pop up. You'll need to click on ADD PROXY for every proxy that you want to add
Once you've added all your proxies, you can click on VERIFY ALL PROXIES to check if your proxies are valid.
We're currently testing out some 4G proxies on a few of our Instagram accounts and once the test is complete and we feel like they're working properly, we'll share where we bought them from on an update of this article.
December update on best proxies for Jarvee
If you've been automating your Instagram, you might have noticed that things have become extremely difficult and expensive with the recent updates. A lot of proxies don't work anymore and you now need 4G proxies that are less known.
That's because popular 4G proxy providers have had their subnets flagged by Instagram so that when you use their proxies you're still going to experience a lot of action blocks.
We're currently using 4G proxies from a lesser-known provider AirProxy. They're working great for us and people using them are doing up to 200 follows/day but we like to play it safe and are keeping our daily follows at between 120 – 150 max.
We recommend using a maximum of 5 Instagram accounts on 1 4G proxy.
If you need proxies for other platforms such as Twitter and Pinterest, the really cheap ones (semi-dedicated proxies) from buyproxies.org are still working great for us.
PS: If you need a powerful VPS for cheap, reach me on Skype Diablo2562 and I'll connect you to a reliable provider I currently use.
Until next time!