Android Tipster participates in the Amazon Affiliates program and may receive a small percentage of a sale at no extra cost to you when you click some links on our site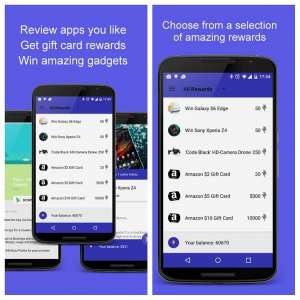 You can now win gift cards to spend at either Amazon, Starbucks, GameStop or BestBuy with a new app from AndroidPIT called Buzzinga. Buzzinga rewards you by letting you download and test cool apps and by so doing, you accumulate points that can be exchanged for gift cards. You may also take part in sweepstakes where awesome prizes are up for grabs.
Buzzinga can be downloaded directly from Google's Play Store and once you have it installed you can now start reviewing apps, giving feedback and winning prizes.
If you're wondering what prizes can be won here are just a few:
Samsung UN65JU6700 Curved 65-inch 4K Ultra HD Smart LED TV (worth $2,300)
Samsung Galaxy S6 Edge 64 GB (worth $950)
Beats Studio 2.0 Wired OverEar Headphones (worth $270)
And if you're not a fun of sweepstakes you have the option to redeem the points you've earned in exchange for gift cards for the online stores mentioned above.
You're an Android developer, so what can Buzzinga do for you?
Buzzinga offers a great opportunity for developers to gain insights from the feedback collected through this app. So this is great news for developers as well. According to AndroidPIT:
It gives incentives for people to test out your app and provide detailed, useful feedback. We can send you in-depth evaluation data on what people think of your app, to help it get more downloads and gain popularity.
AndroidPIT has set the following requirements for you to meet in order for your app to feature on Buzzinga.
You are not venture capital funded
No porn, gambling or similar related apps
Your app does not require unnecessary permissions from the user
Being able to offer premium features for the user (promo codes, more levels, ad-free versions etc) is a big plus
So if your app meets the requirements mentioned above, please keep in mind the following:
Approval process will take up to two weeks
Approved developers will be contacted via email
AndroidPIT reserve the right to decline any application
If you have any further questions or you are interested in becoming part of, and getting all the benefits of, Buzzinga, please send your application for review by AndroidPIT to [email protected]
Currently the app is available in the US only, but a global release is in the offing.