Android Tipster participates in the Amazon Affiliates program and may receive a small percentage of a sale at no extra cost to you when you click some links on our site
A Review of Creality's Ender3 3D printer
The Ender 3 has been one of the most highly anticipated 3D printer released by popular 3D printer kit manufacturer Creality 3D.
Launched in March 2018, this DIY 3D printer kit is a fine example of what a budget 3D printer must be like. Priced in sub-$200 segments, the Ender 3 sports some high-end features such as a heated bed, Bowden extruder, V-slot wheels, fully extruded aluminum frame and support for both PLA and ABS filaments.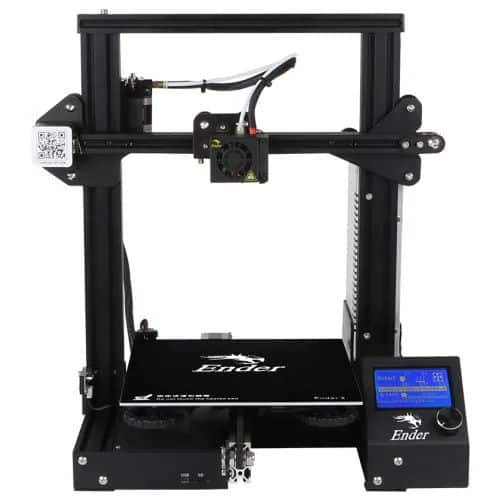 All in all, the Ender 3 3D printer is a device with great value at an economical price point – exactly what Creality 3D is known for.
When you see so many positives in a budget 3D printer, you are naturally driven to wonder if there are any inherent flaws hidden under all those impressive features. Luckily, for all 3D printing enthusiasts, there isn't much at fault in this enviable printer kit.
It is a robust machine that could have easily been pegged at a higher price point and it'd still be worth your money.
Does the Ender 3 have what it takes to rightfully claim its stake as the new standard benchmark for a full-sized budget 3D printer kit? Let's find out in this review of the Creality Ender 3 3D Printer Kit.
Creality Ender 3 Ratings
Design – 3 stars
An otherwise robust 3D printing device suffers a dent in its stability owing to a wobble in its base, which is definitely a design flaw that cannot be overlooked.
Build – 4 stars
An easy to assemble compact 3D printer with a build volume of 220x220x250mm and a heated build plate – pretty much everything you can ask for.
Performance – 4.5 stars
Ability to work with a wide range of filaments, Resume Print feature, easy and hassle-free printing process make it a desirable machine for both beginners and pros.
Overall – 4 stars
The Creality Ender 3 is a stellar 3D printer that can easily set a new benchmark for what a full-sized budget 3D printer kit should be like. Except for a small design flaw, this machine is near perfect.
What Works for Ende 3 printer
Affordable
Good print volume
Quick and easy assembly
Impressive print quality
Supports PLA and ABS filaments
Heated Bed
Open source with access to upgrades
Compact design
What Doesn't
Difficult to level due to a slight wobble in the base
Occasionally requires adhesives to stick prints to the bed
Bed requires repeated re-leveling
Lacks wireless printing
Comes with limited test filament
Overview of the Ender3
The Creality Ender 3 is the kind of printer that grows on you as you spend more time tweaking its settings to your liking and printing with it.
Working with this printer does come with its share of bumps and glitches, however, none of these issues are insurmountable. Considering its sub-$200 price point, the Creality Ender 3 is undoubtedly an extraordinary printer with some top-of-the-line features that put it on par with some of the most popular 3D printers on the market.
It comes with a build volume of 220x220x250mm, a heated build plate, a tight filament pathway to facilitate compatibility with flexible materials and power recovery mode. Some of these features are missing in even the most high-end printers.
This 3D printer kit is easy and quick to assemble, despite the need for manual calibrations. Once you have perfected the calibration, the Creality Ender 3 gives you results that are indistinguishable from printers in the $1000 range.
In terms of print performance, the Creality Ender 3 is designed to exceed expectations on all counts. You can experiment with a range of printing materials, right from PLA to ABS, PETG, and flexible as well as exotic filaments.
While the printer throws up some adhesion issues with ABS and more complex wood filament, you can print successfully with all materials as long as you work with precision and care.
The most glaring issue in the Creality Ender 3 is its uneven base, which brings a slight wobble to the entire structure. While this can be solved by simply placing a wedge under one corner of the base to level it out, you expect a 3D printer kit to be designed without such inherent flaws.
Given its affordability, ease of assembly and use, the Creality Ender 3 is an excellent choice for amateurs and beginners.
Unboxing
The Creality Ender 3 is a compact 3D printer that arrives semi-assembled in a surprisingly small box. Upon unboxing, you find every part and necessary tool for assembling this printer kit neatly arranged in layers of packaging foam.
In addition to the parts that come together to give the Creality Ender 3 its final shape and form, the box also includes a USB stick that comes pre-loaded with an instruction manual, test models and so on, tools such as hex keys, wrenches, small-sized screwdriver, assortment of nozzles and a nozzle cleaner, PLA filament sample, zip ties, wire cutters, and a spatula.
The inclusion of extra accessories such as nozzles and nozzle cleaner is definitely a pleasant surprise for a printer in this price range. Having unboxed and dished out every part from the package, it is time to start building the Creality Ender 3
Assembly
Creality pegs the Ender 3 as a pre-assembled 3D printer kit but don't let that fool you into thinking that you won't have put in the effort to bring this machine together.
It is, at best, a semi-assembler 3D printer kit that requires a fair amount of building up, tweaking and tinkering before you can start printing with it.
To assist you with this process, Creality has included a small pamphlet that lays out the assembly process in 12 simple steps. As easy as that sounds, the instructions expectedly lack detail and explanation and going by this instruction pamphlet alone can be a tad frustrating.
We strongly recommended taking help of online tutorials and videos to make the assembly process more streamlined and less time consuming, especially if you are a beginner.
The assembly process can be broken down into stages – frame assembly followed by X-axis assembly, machine assembly, belt installation and finally the wiring.
If you take the assembly and the bed leveling process into account, the entire process of getting the Creality Ender 3 up and running should take anywhere around two hours even for amateurs, which is fairly decent given how complex and time-consuming DIY 3D printer kit assembling can be.
Once you are done assembling this printer, comes the leveling process, which is often the least exciting part of getting a 3D printer up and running. Thankfully, in the Ender 3, the leveling process is a breeze.
The printer comes with large built-in knobs for leveling that can be turned easily with your hands to level the bed. No more struggling with special leveling nuts, bolts and knobs of your own.
Design
The Ender 3 borrows heavily from the minimalistic design of Creality's crowned jewel – the CR-10s.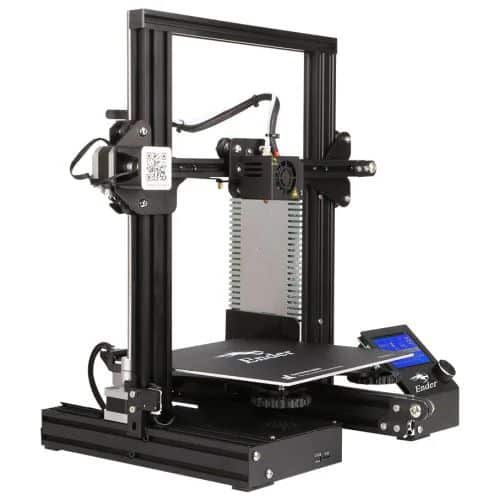 This time around the Creality has gone with a smaller build volume and a more compact size achieved primarily by attaching the control panel to the 3D printer body.
The build platform here rests on an integrated base unit comprising the power supply unit and the main board, which adds a great amount of stability to the printer's structure as long as it is tightly affixed to the frame along X and Y axes.
Placement of the main board under the printer also helps to prevent a jumble of wires and gives the printer a sleek, refined finish. The Creality Ender 3 also sports V-slot wheels that move along the aluminum extrusion, offering a smooth motion rhythm to the printing process.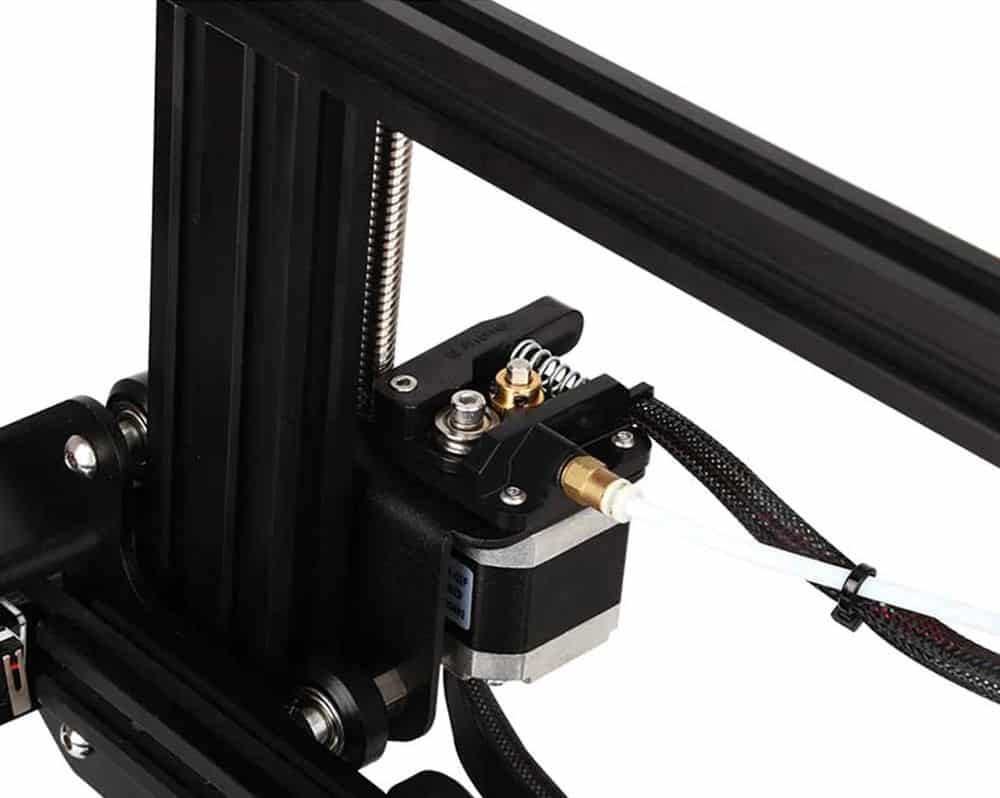 As impressive as the Creality Ender 3 design looks, it is not free from pitfalls.
The most glaring, as mentioned before, is the wobble in the base. Although this can be fixed easily, a flaw is a flaw, and one that affects the stability of the structure certainly cannot be brushed aside.
Also, the X-axis belt that is supposed to be pre-measured to fit the printer structure turns out to be longer than required. The mismatched dimensions result in the belt resting a tad loosely than necessary.
Then, it is missing a few features, of which the most noticeable is the lack of a filament extrusion option. This means there is no effective way to clear out residual materials from the nozzle before changing filaments.
The Creality Ender 3 is also a noisier than most other 3D printers. Not the kind that will cause a room to rumble but loud enough for its mechanical purrs to be heard from an adjacent room.
The qualities of the Ender 3 design, however, far outweigh its flaws. One of its best-designed features is the extruder system that uses a Bowden extruder with a narrow path to facilitate the use of flexible filaments.
The bed leveling process is another highlight of the design. Despite being manual, the process is easy and breezy. You just need to twist the gigantic knobs with your hands to level the bed.
The easy-to-turn knobs placed below each corner of the printer's build platform also makes manual calibration fairly simple. The knobs are visible and well-labeled to help you grasp which way and how much to turn them in order to lower or raise the bed.
The LCD display control panel is a welcome addition. It comes with a wide range of settings that elevate the ease of navigation around this device.
Performance
The one thing that stands out the most about the Creality Ender 3 performance is its ability to print with a wide range of filaments, primarily because this kind of versatility is virtually unheard of in budget printers.
While PLA is good enough for printing most designs, the option to work with ABS and other flexible and exotic filaments definitely enhance the usability of this 3D printer kit.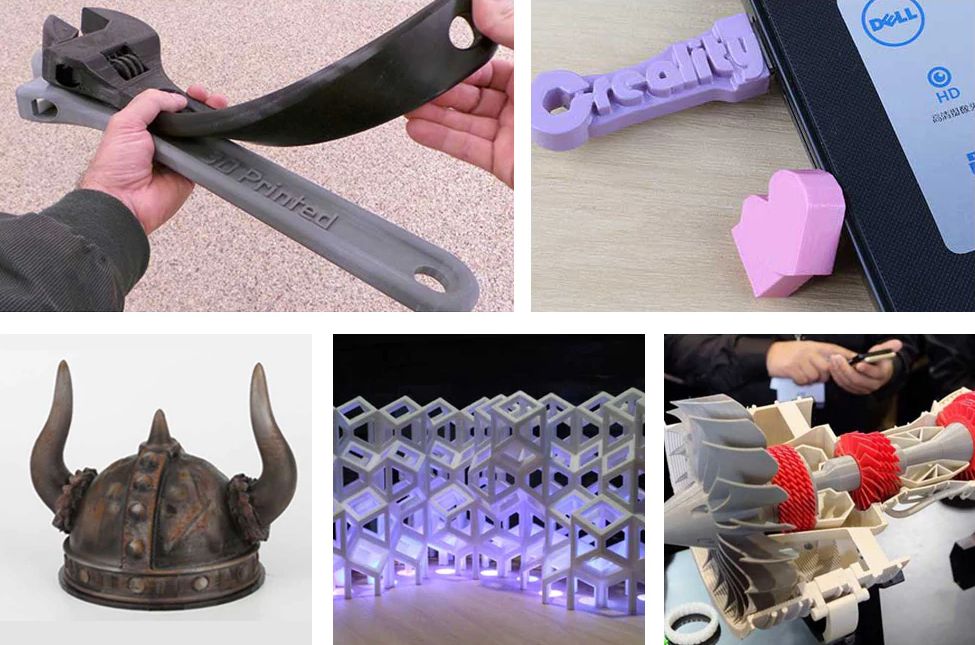 The printer supports gcode file format from any program, but Cura works best when it comes to slicing drawing into gcode files.
The printer is so user-friendly that even beginners can start printing with it in three simple steps – load your design into a program, configure the printer settings such as filament type, resolutions and so on, load your files into the printer using a USB or micro SD card and watch your designs come to life in 3D.
The 'Resume Print' option is another great addition to the Creality Ender 3, as it completely negates the risk of a print job being spoiled due to power outages.
This feature also comes in handy if you want to stop monitoring the printing process for a while without having to lose the work done so far.
The print quality of the Creality Ender 3 is pretty impressive. Even when you work with the sample print (yes, it's a dog) after leveling the bed for the first time, the Ender 3 offers great precision and detail in the end print.
The quality and level of detail improve as you work with the printer, learn your way around it and tweak it as per your individual requirements.
Verdict
It's fair to say that there isn't a better printer than the Creality Ender 3 in this price range.
The Ender 3 exceeds expectations on every count and destroys whatever potential competition it has from established 3D printer kits on the market. Even with its share of flaws, the Creality Ender 3 is a spectacular choice for people who want to experiment with intricate 3D printing without setting themselves back by $1,000 or more.
Where to Buy the Ender3
The Creality Ender 3D is available at a discount on Amazon.