Android Tipster participates in the Amazon Affiliates program and may receive a small percentage of a sale at no extra cost to you when you click some links on our site
A review of the Creality3D CR-10 3D Printer
Of late, a lot has been said and written about the coming of age of 3D printing and its growing appeal among the masses. If one had to pick out cutting-edge machines that are shaking things up in the realm of 3D printing, the Creality3D CR-10 would definitely make the cut.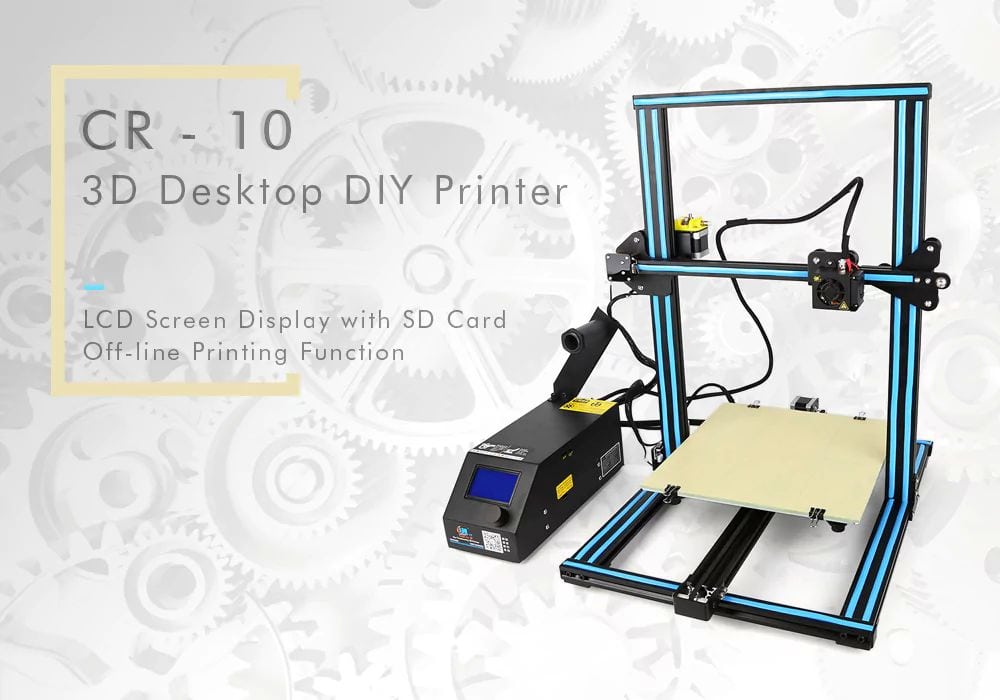 Creality CR-10, a Cartesian-style large 3D printer in an affordable price range offered by the Chinese electronics company Creality, arrived in the market in 2016 and has since created quite a buzz in the 3D printing community.
The go-faster stripes, separate control box, and massive 300x300x400 mm build area are just some of the factors that have sent its popularity soaring.
The fact that it is one of the few DIY 3D printer kits that comes nearly assembled and takes only a few minutes to set up, as opposed to a few hours of setting up time in regular DIY kits, also works a great deal in its favor.
Let's review the different aspects of the Creality3D CR-10 that influences its performance, print quality, and durability to make it one of the most loved 3D printers of its time:
The Creality CR-10's Design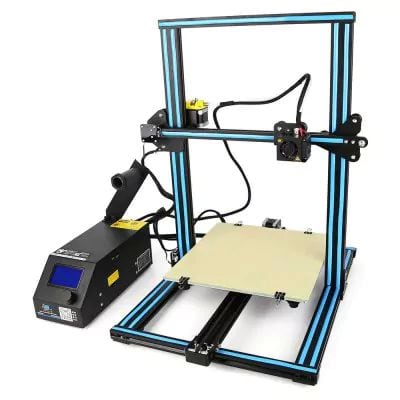 The Creality CR-10 sports a simple design with clean, well-defined lines, aluminum rails coated black and a plain glass print bed measuring 300×300 mm. All of these elements work well to lend it an appealing appearance.
Its brains neatly stashed in a control box placed alongside the mounted filament holder also add to its overall look.
For a printer that is best-known for its large build area and ability to print big, it has a rather slim body. However, don't let the slim body deceive you about its size.
The CR-10 is a big printer, and if you're planning to bring it home, be prepared to clear up a lot of space for it to sit pretty. The mounted filament holder and control box add to the height of its already large frame, making its footprint as tall as it is wide.
If there was one thing that could be changed to make the design more ergonomic, it'd definitely be taking the filament holder off the control box and placing it elsewhere. The frame is driven by Z-axis movements, resting atop linear bearing that rides up and down the tracks.
From the looks of it, one gets a sense that placing any extra weight on the device could cause it to wobble and impact the print output. However, you have to see the high-quality print results from this 3D printer to appreciate the sturdiness of its build.
Features
There is no denying that the enormous print area is the clear unique selling point of the Creality3D CR-10.
Even the standard variant of this printer boasts of a print area larger than the Zortax M300, MakerBot Replicator+, and Lulzbot Taz 6, all of which owe their popularity to large print volumes.
It has been fitted with a 0.4mm extruder nozzle that accords a maximum print resolution of 100 microns.
The makers also claim that the CR-10 comes with an industrial grade board and can make close to 200 printing hours in a single go.
The heated bed on this one does the job of distributing heat evenly across the print surface adequately well, leaving no room for any obvious heat propagation issues.
The LCD screen facilitates easy fine-tuning calibration, navigable print preparation, and also makes the process of keeping track of print jobs rather seamless.
Creality3D CR-10 supports USB and SD card connectivity options, which help with standalone printing.
There is also an option to switch between 110 and 220 volts of power supply here by just flipping a switch provided on the side of the control box. This feature enhances the global appeal of this 3D printing device.
Setup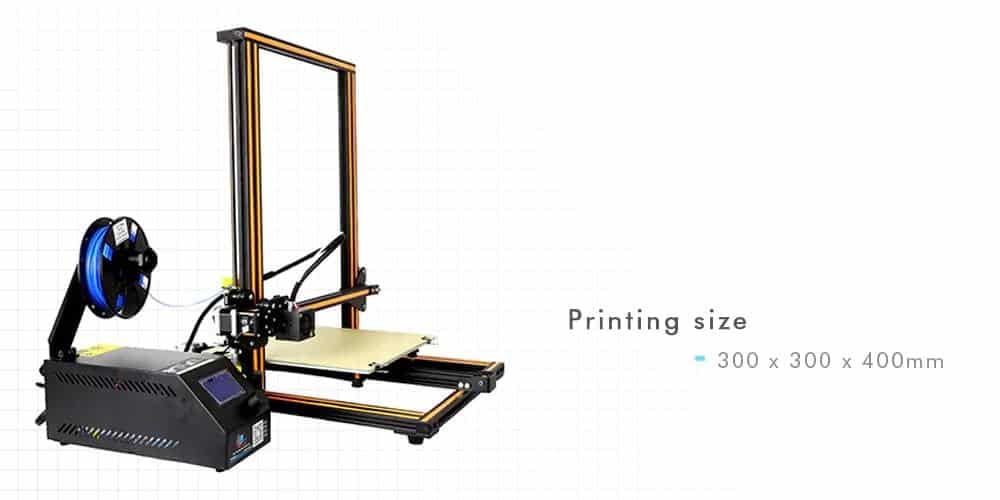 Towing the line of keeping things simple, the Creality3D 3D printer arrives in a plain cardboard carton, with its parts, screws and assembly tools neatly bundled in between two foam packing tray.
As opposed to most DIY 3D printing kits, assembling the CR-10 from the ground up is simple and intuitive. If it is your first time assembling a 3D printer, you may have to rely on instruction available online, as the assembly guide with this one isn't very helpful.
That said, it is still fairly easy to figure out which part goes where and piece the equipment together.
The well-organized and pre-shrouded control box cabling is definitely the cherry on the cake. Other than that, plugging basic connectors, all of which are duly labeled, to their respective end stops and stepper motors are as easy as it gets.
Since a majority of the parts are pre-assembled in the CR-10, making the right connections is pretty much all that's required to assemble this. Once that's done, it is ready for its first 3D print job.
Filament
In terms of filament support, the Cr-10 is a robust device.
The process of feeding the filament in and out is quick and hassle-free. Although some, especially the newbies, may find its positioning a bit puzzling, as the entry point for the filament has been placed adjacent to the lead screw.
This can be a cause of concern as the lead screw in overtly lubricated, and even the smallest amount of this lubrication transferring on to the filament, which then goes through the heating chamber, could impact the end print result.
Apart from that, the printer offers a great deal of flexibility in terms of filament compatible. It works well with third-party offerings such as Thingiverse filament, TPU flexible filament, and Colorfabb's Corkfill and N-Gen filaments.
Software
Since the CR-10 is marketed as more of a DIY kit than a 3D printing package, there is a lot of room for experimentation in terms of the software you may want to use.
It plays out as one of the strongest points of this open-ended printer.
Final Verdict
The Creality3D CR-10 is a device every 3D printing enthusiast will grow fond of with every use, after all, there isn't anything quite like the heady rush offered by its big print volume.
When you find a device that couples this enormous print volume with high-quality print outputs, you know it is for keeps. The affordable price further adds to its appeal, making it a pretty darn special offering in every right.