Android Tipster participates in the Amazon Affiliates program and may receive a small percentage of a sale at no extra cost to you when you click some links on our site
If you frequently use public WiFi, you obviously are aware of the risks this poses to your data. That is why many public WiFi users are careful to ensure they use a Virtual Private Network in order to keep their data away from prowling eyes.
Personally, I like to avoid using free VPN services that you find advertised in every corner of the internet. These usually aren't as private as they're claimed to be.
Now, what if you had the chance to grab for yourself a PREMIUM VPN service for a whole year at no cost to you? This isn't just from a random VPN provider, rather, it's from a reputable company that is very well known.
So, how do you get this premium VPN for free?
Here's how you can get a premium VPN from OkayFreedom for free (the website is German but it shouldn't be an issue):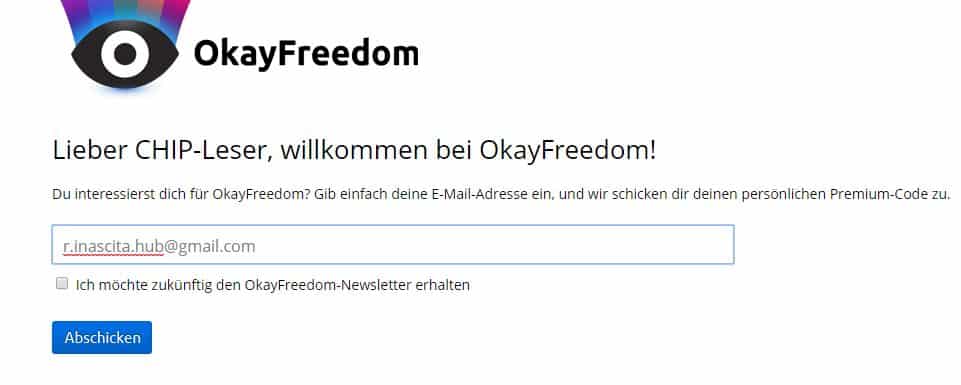 head over to OkayFreedom
type in your email address and hit the blue button. If you get an error, head over to protonmail.com and create a FREE new email address and try again.
you will get an email that contains a link for confirmation. Paste the link in your web browser and hit enter
you will then get another email containing your OkayFreedom Premium VPN license for 1 year along with the download link
The VPN download file is about 20MB. When the download process is complete, run the file and enter your serial number (the one you received in the email sent to you by OkayFreedom).

You do also have the option to install its Chrome extension in order to make it easier to start the VPN.
That's it!
PS: you might also want to try TunnelBear if you're looking for a reliable VPN that's super user-friendly.
Feel free to leave us a comment if you're stuck.