Android Tipster participates in the Amazon Affiliates program and may receive a small percentage of a sale at no extra cost to you when you click some links on our site
A review of the FY FeiyuTech G6 3-Axis Gimbal
Riding high on the success of its last gimbal model, Chinese brand FeiyuTech has come out with a new high-end device in the range, the FeiyuTech G6. The recently unveiled device is a manifestation of the company's commitment to innovation, as the G6 is its most powerful model yet and comes loaded with all the improvements users demanded on the previous models. Powered by a combination of sliding arm, it is an easy to balance device with both tilting and panning axes equipped with 360-degree movement, facilitating great freedom in shooting as you desire.
Choosing the Right Gimbal
Before analyzing the specs and features of the FeiyuTech G6, let's understand how a gimbal works and factors you must consider when buying one:
What is a Gimbal?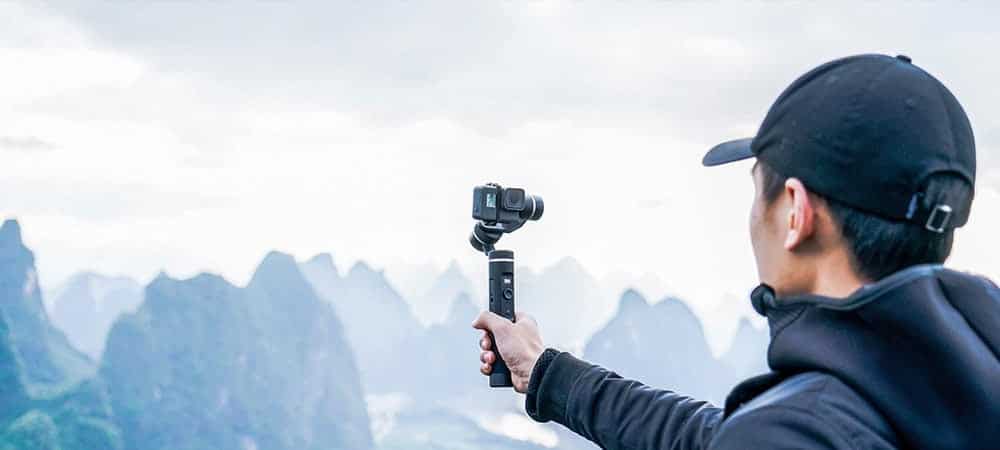 Gimbal is an adjustable camera pivot designed to hold a device in a leveled, stabilized position and preventing it from vibrating during shoots. It normally makes use of durable and powerful brush-free motors to adjust the position of the camera and stabilize it. The device comes equipped with movable axes that can be used to move the camera up and down, left and right as well as front and back – known as pan, tilt, and roll in technical jargon.
A handheld gimbal relies on the Inertial Measurement Unit (IMU) function to offer movements and vibration free shooting experience even on the go. The IMU function helps in translating an operator's commands into movement response through the brush-free motors, thus leveling and stabilizing a camera. The gimbal is also fitted with a host of powerful electronics that enable it to spot any unwanted and sudden motions and cancel them out. This means your camera is protected from sudden jerks and jolts during the entire duration that it remains suspended in the air. The computing prowess needed by a gimbal to perform these actions in real time comes from the circuit board, also known as the controller.
The controller comprises an internal software and Micro-Electro-Mechanical Systems (MEMS) that is responsible for device leveling. It is the MEMS that processes movement commands and translates them into electrical impulses depicting the required direction and force. It is these electrical impulses that ultimately keep the gimbal vibration free and enable it to level the camera. These are a great alternative to other shooting accessories such as tripods when shooting on the go, in a moving car for instance.
Choosing the Right Gimbal
There are as many gimbals out there as there are cameras, and they all come with their unique set of features. Here are a few non-negotiable factors you must take into consideration when buying a gimbal for any camera:
The gimbal you choose must be built to carry the weight of your camera and the lens you work with.
Balancing and leveling a camera becomes a lot quicker and easier if the gimbal comes with tool-less adjustment capabilities.
Of course, the more advanced and current the controller, the better your gimbals' performance will be. Look out for newer versions with 32-bit controllers as opposed to the older 8-bit versions.
Having a quick-release plate makes the process of mounting and dismounting the camera on the device a lot quicker and swifter, and that's exactly how it should be.
It is essential that your gimbal is powered by a robust, lasting battery for it to cope with long hours of shooting. Ideally, you should look for a device that comes with standard Lithium batteries.
FY FeiyuTech G6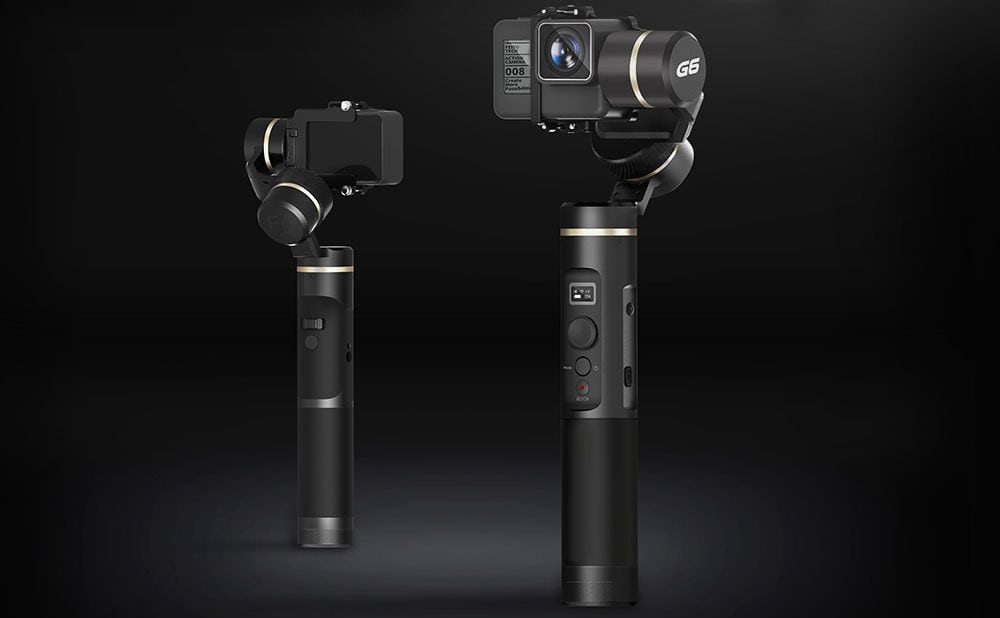 Let's examine the FY FeiyuTech G6 against the backdrop of these core functionalities of a typical gimbal to see how well it fares:
Design
The G6 by FeiyuTech is a standard 3-axis electronic handheld gimbal that is compatible with the likes of GoPro HERO6, 5, 4, 3, 3 +, Sony DSC-RX0 and other action cameras of comparable dimensions. It comes with a range of recording modes that include selfie, lock, panning and panning and tilting. It also sports a central four-way joystick that can be used to maneuver 360-degree movement on panning or pivot axis and the tilt axis. The roll axis of the device has a 320-degree range of motion.
The stabilization software used in the G6 is a marked improvement on the one that its preceding model shipped with and translates into more efficient battery performance and improved recording results. The G6 is fitted with a Li-Ion 22650 battery that offers a run time of nearly 12 hours and is easily replaceable.
The best design element of the FeiyuTech G6 is its roll axle motor that is bent at an angle of 35 degrees, thus, offering a clear view of the camera screen at all times, making sure you get to see every shot as it is captured.
FY FeiyuTech G6 Specs
The FeiyuTech G6 boasts a high-quality milled aluminum outer shell build to provide great splash protection, making the gimbal resistant to weather elements such as rain, moisture and harsh sunlight. This means you can use your FeiyuTech G6 for outdoor shoots without having to worry weather conditions, provided the camera and lens you are using are water resistant too.
The Unibody Motor Arm of the G6 offers structural stability. The conjunction between parts kept minimal adds to the solidness of the FeiyuTech G6, enabling it to offer a more reliable anti-shake performance.
This FeiyuTech gimbal also comes with an OLED display strategically placed above the central control unit, facilitating easy monitoring of recording modes and battery status. The rubber padding on the handle ensures you always have a secure, firm grip on the gimbal, thereby minimizing the risk of slips and falls causing damage to the camera. The trigger button has been placed on the rear side of the FeiyuTech G6, which once again contributes to the overall ease of handling of this device. For instance, you can easily switch to and back from lock mode using your index finger without interrupting the shooting.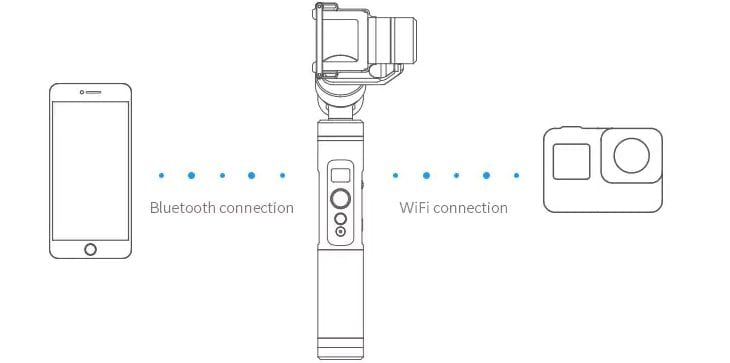 In addition to this, the FeiyuTech G6 also comes equipped with parallel WiFi and Bluetooth connections, allowing you to control your camera remotely. The WiFi feature can come in handy when you want to tweak camera settings while filming or want to start and stop a recording without having to access the camera manually. Similarly, Bluetooth can be used to sync the FeiyuTech G6 with any smartphone on which you have the Feiyu ON app installed. The app offers a single-point access to all the settings features on your G6 gimbal, and can also be used to upgrade firmware and initiate time-lapse recordings.
Verdict
The FeiyuTech G6 is not just an innovative but a revolutionary device with many exciting features and functionalities such as Bluetooth and WiFi support and a splash-proof body that offers almost 100 percent protection against water penetration. This means with the right kind of camera and supporting equipment, such as the GoPro HERO5 or HERO 6, the FeiyuTech G6 can support your pursuits in any terrain and weather condition, be it a rainfall-prone location or a beach. Another impressive feature is its compatibility with a wide range of cameras, including most of the GoPro action camera models, Sony DSC-RX0, AEE and Yi Cam 4K.