Android Tipster participates in the Amazon Affiliates program and may receive a small percentage of a sale at no extra cost to you when you click some links on our site
GetSiteControl the ideal alternative to Hello Bar – a short review
GetSiteControl site is an all in one widget I started using recently.
If you're a website owner you probably understand how important it is to engage and interact with your audience. The most common ways we do this are through surveys, contact forms, opt-in forms, through share widgets and most recently through live chat. These features may sometimes require you to install widgets that may slow down your site's loading speed and thus negatively affect your rankings on search engines.
Getsitecontrol, unlike most other services, does not slow down your website. It is very easy to install and works seamlessly on WordPress, Blogger, Tumblr, Shopify, Weebly, Squarespace, Joomla, Bigcommerce among others.
I was introduced to Getsitecontrol by a friend when I was looking for an alternative to Hellobar. It was easy to set up and I haven't had any issues with it. The green animated sticky share widget you see on the left side of every page of AndroidTipster.com is one of the many cool widgets by Getsitecontrol. It looks even better on mobile devices. I also use a popup feature to direct specific readers to certain pages on this blog. They don't look spammy, unlike other popups we're accustomed to and are not going to annoy your readers.
The widgets are easily customizable, you can edit its appearance by setting the colors to match your blog's theme or even set an image of your choice in the background. You're also offered options for behavior which makes it very easy for a website owner to laser target their audience. See image below.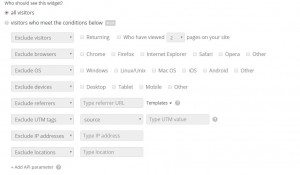 What's more, Getsitecontrol has a very detailed dashboard where one can monitor the stats it collects. I've seen quite impressive conversions by using their widget and for the fact that it hasn't affected my site's speed, I found it necessary to write this short review for anyone looking for a more powerful alternative to Hellobar.
Getsitecontrol is free to sign up for and many useful widgets and features that would otherwise be available only for premium users on other service providers, are actually offered free of charge on Getsitecontrol. Free users get access to all widget types and when you upgrade to PLUS or PRO you unlock awesome features like Advanced Targeting, Survey Logic and Branching including Autoresponder. Serious marketers understand how useful these features can be.
Signing up to GetSiteControl
The sign-up process is quite easy and fast. Head over to GetSiteControl.com and register with a working email. You will be required to confirm your email address and as soon as you do you can immediately start setting up the widgets on your blog or website.
If you have any difficulty installing the widgets on your site, simply visit the How-To section of the website where they have explained in details how to get started, and if that doesn't solve your issue you can either contact their support team or simply leave me a message in the comments' section below and I'll help where I can.
Help support our blog by sharing this article on any one of the platforms below.