Android Tipster participates in the Amazon Affiliates program and may receive a small percentage of a sale at no extra cost to you when you click some links on our site
My average monthly engaged on Pinterest went up by 2621%
I've been meaning to share about this Pinterest growth experiment I carried out over the last couple of months, but I kept pushing it, until now. This is an experiment that I didn't actually do much, but the results have been quite impressive.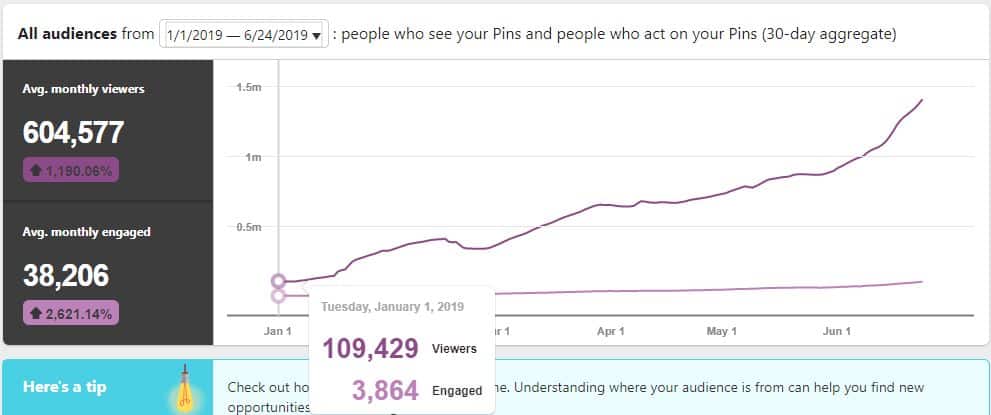 As you can see on the screenshot above, I had 109,429 viewers and 3,864 engaged on the 1st day of 2019. A little less than 6 months later, those figures went up to 1,411,698 viewers and 105,145 engaged. This has obviously led to an increase in traffic and subsequently a visible increase in affiliate sales.

I say that I didn't have to do much because this all was achieved through automation. To be precise, I used the social media automation tool, Jarvee which I also use to grow my Instagram following as well as my Twitter following.
So, how did I use Jarvee to increase my Pinterest viewers?
There were two stages to this.
First, I loaded 9 Pinterest accounts onto Jarvee and then I installed the Pinterest Save Button Extension on my browser. The strategy was simple: whenever I published a new blog post, I would pin it in the relevant board in my main Pinterest account while the other 8 accounts were set to auto-repin from boards in the main account. I always made sure to use hashtags whenever I pinned.
The 2nd stage involved using the SOCIAL EXCHANGE feature that comes with Jarvee, where your Pinterest accounts repin content from other Jarvee users while their accounts repin your content. This feature works on autopilot once it has been set up.
And that was it.
Gradually my pins began to rank higher for the hashtags that I used and my viewers began to grow exponentially.
The other cool feature about Jarvee is, you don't even need to manually pin content from your website. You can simply set it to automatical pin content from RSS whenever posts are published.
Until next time!