Android Tipster participates in the Amazon Affiliates program and may receive a small percentage of a sale at no extra cost to you when you click some links on our site
Get more followers and likes on Facebook
Update: While using this method will still increase your facebook page likes and other social media accounts, I have learned newer and more efficient methods to grow your social media following. Please refer to this post about Instagram follow limit for more information.
Do you own a page on Facebook that you're struggling to get GENUINE people to like and stay engaged to your content? Well, how about twitter, you've been following people for months now or even years but few seem interested to show you courtesy by returning the favor?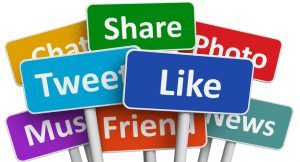 For most people who are just starting off on their online businesses, creating a large following without spending money is something they can only dream about. Gone are the days when people were excited to follow random people on twitter or like Facebook pages unless they know you in person and don't want to come off as rude when you send them a request.
By now you know that a large following on social media is very essential for start-up businesses to make a kill on organic traffic and for this reason, most people are forced to spend a lot of money just to get people to look at their stuff even though this does not guarantee returns on their investments.
Well, today I'm going to show you a trick you can use to get people to like your Facebook page, follow you on twitter, Google+, Subscribe to your YouTube videos, like your posts on Facebook and many more. All without spending a dime!
At the time of posting this, my facebook likes stood at 812 and my twitter followers at 322.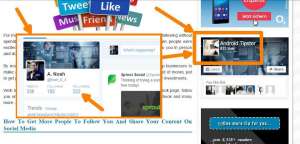 How to get more people to follow you and share your content on social media
Update: Addmefast is now adding 300 points to your account when you reach 50 activities each day!
This is what you need to do to create a substantial following on social media:
Get the social media account (Facebook/twitter e.t.c) ready, the one that you want to create a large audience for.
Sign up for free at AddMeFast. (By using the link I provided you automatically earn 50 points to start with). UPDATE: a new site that works just the same but gives you more points is AddMe24.com.
Register with a valid email address and confirm your email through the link they will send to your inbox.
After confirming your email address, log into your account and select Add Site/Pages as illustrated in the image below. 
Add your social media accounts. Choose whether you want followers or want your content likes or shared.

Edit: Some of my readers have asked me if this social media audience building system is completely free and whether they will be asked to buy points. This system works in a CPC (cost per click) kind of way. This means that you collect points by liking other people's pages and setting how many points you're willing to offer those that will like your page. You DO NOT have to buy any points. These points are your currency that you can exchange for any service you choose – Facebook page likes, shares or social media sharing. The transactions are instant and the good thing is you get to decide how many points you'll exchange for a service. Simply accumulate points by liking other people's pages or following them on social media or by sharing their content. I recommend that you stick to liking Facebook pages as they earn you more points. My link grants you 50 points to start with so make sure to use that.
In my case for instance, i could like a page every 3 seconds and earn about 27 points in 30 seconds. With the points earned, i give away 5 points for every twitter follower. That's 6 followers from 3 likes. I realize that most people, like me are uncomfortable about using their personal Facebook account to like pages, so i recommend that you create a separate account through which you can use to like as many pages as you wish and collect points on them.
     7. For your Facebook page, for instance, 5 points are set for you to give away by default but if you wish to entice more people to like your page I recommend setting it between 8 – 10 points. As you gain more points you will become more flexible with the points you'll be offering.
     8. Now pick any activity of your choice on the left (see image below) and start earning points on top of your initial 50. You can start by first spending those that you've earned already by signing up through my blog's link.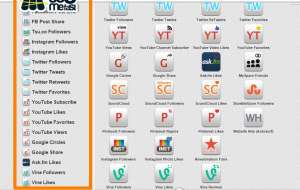 That's it for now, I'll be glad to answer any question you have. Use the comments' section below or my Contact Us page for quicker responses.
It would be nice to connect with you on twitter.