Android Tipster participates in the Amazon Affiliates program and may receive a small percentage of a sale at no extra cost to you when you click some links on our site
In this tutorial, you're going to learn how to repost videos on Instagram as well as how to repost just about anything else (Album, Stories, Images) using Jarvee. All this, on auto-pilot.
Jarvee currently offers you 11 different options for reposting content on Instagram. These are:
repost posts by hashtag search
repost posts of specific users
repost posts of friends of target accounts
repost posts you liked
repost saved posts
repost using geolocation
repost specific posts based on post URL
repost posts that tagged specific users
repost posts that tagged your account
repost from Explore Page
repost stories of specific users
I get asked quite frequently about reposting videos, so that's what we're going to start with.
How to repost videos on Instagram on auto-pilot using Jarvee
Reposting videos on Instagram using Jarvee works with any and all the 11 options above. You can input any hashtags of your choice in Jarvee and it will find videos using those hashtags and repost them on your account.
You can also instruct Jarvee to repost videos from specific users by giving it the usernames wherefrom you want it to repost videos.
Key here is, you only need to decide which options you prefer and simply set it up. Let me quickly walk you through it. We're going to use the example of reposting specific posts based on post URL for this tutorial.
The first step, of course, would be to load your Instagram account on Jarvee as instructed on this post. Next, you're going to click on 'TOOLS' on the vertical bar on the left and then click on the name of the account you want to repost videos to (see image below).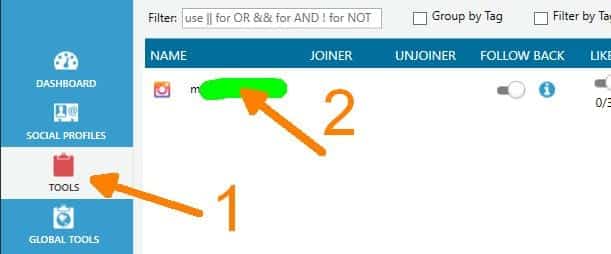 You'll then go to the Repost tab (1), then Sources (2), and then check 'Repost specific posts based on post url' (3). Now enter the URL of the videos you wish to repost. Once you've done that, click 'ADD TO REPOST LIST' (5).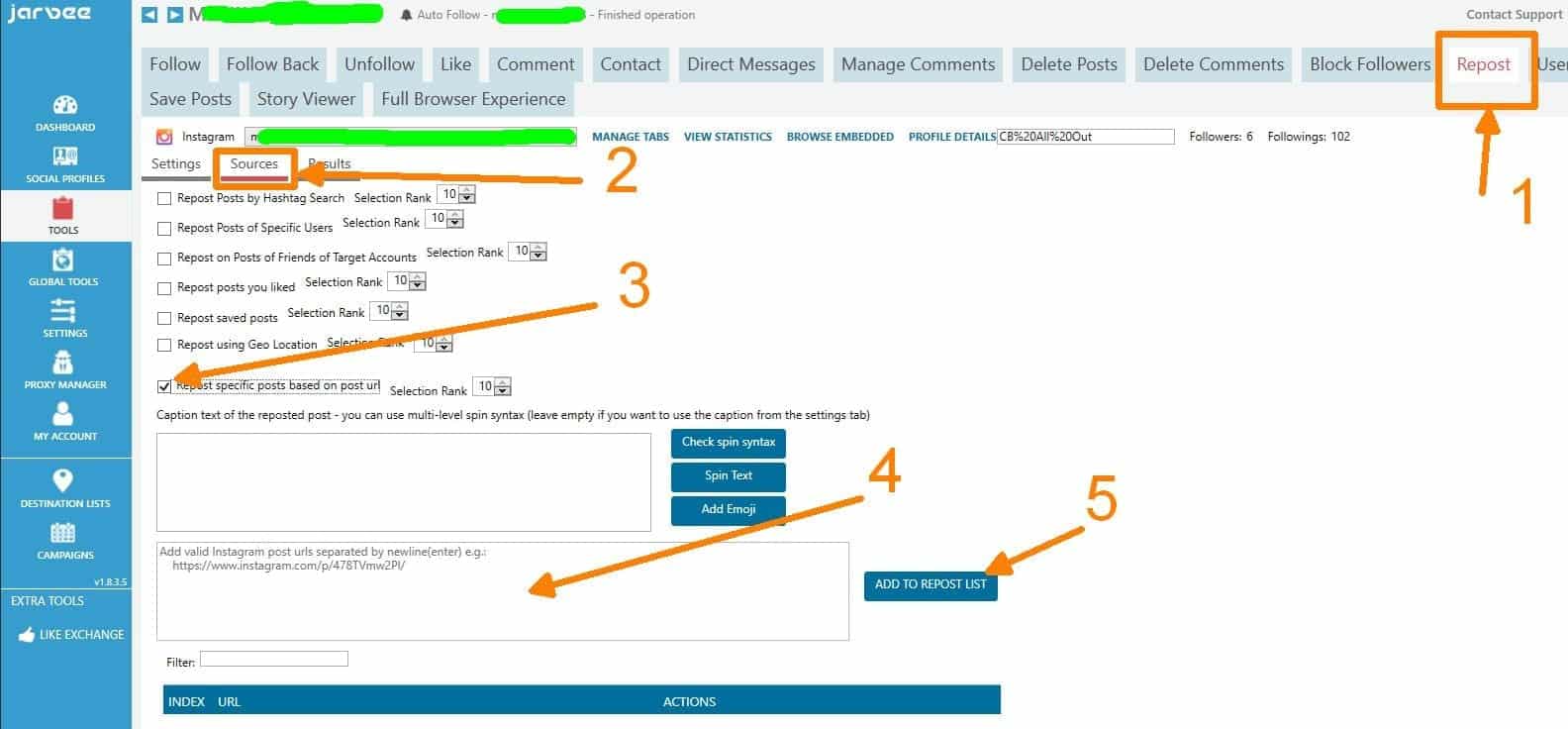 You can now click on Settings to see additional features to make use of. In particular, if you used the other reposting options (repost posts by hashtag search, e.t.c), you need to make sure to check repost only videos (2) in the post filters, otherwise, Jarvee will post videos as well as posts (see image below).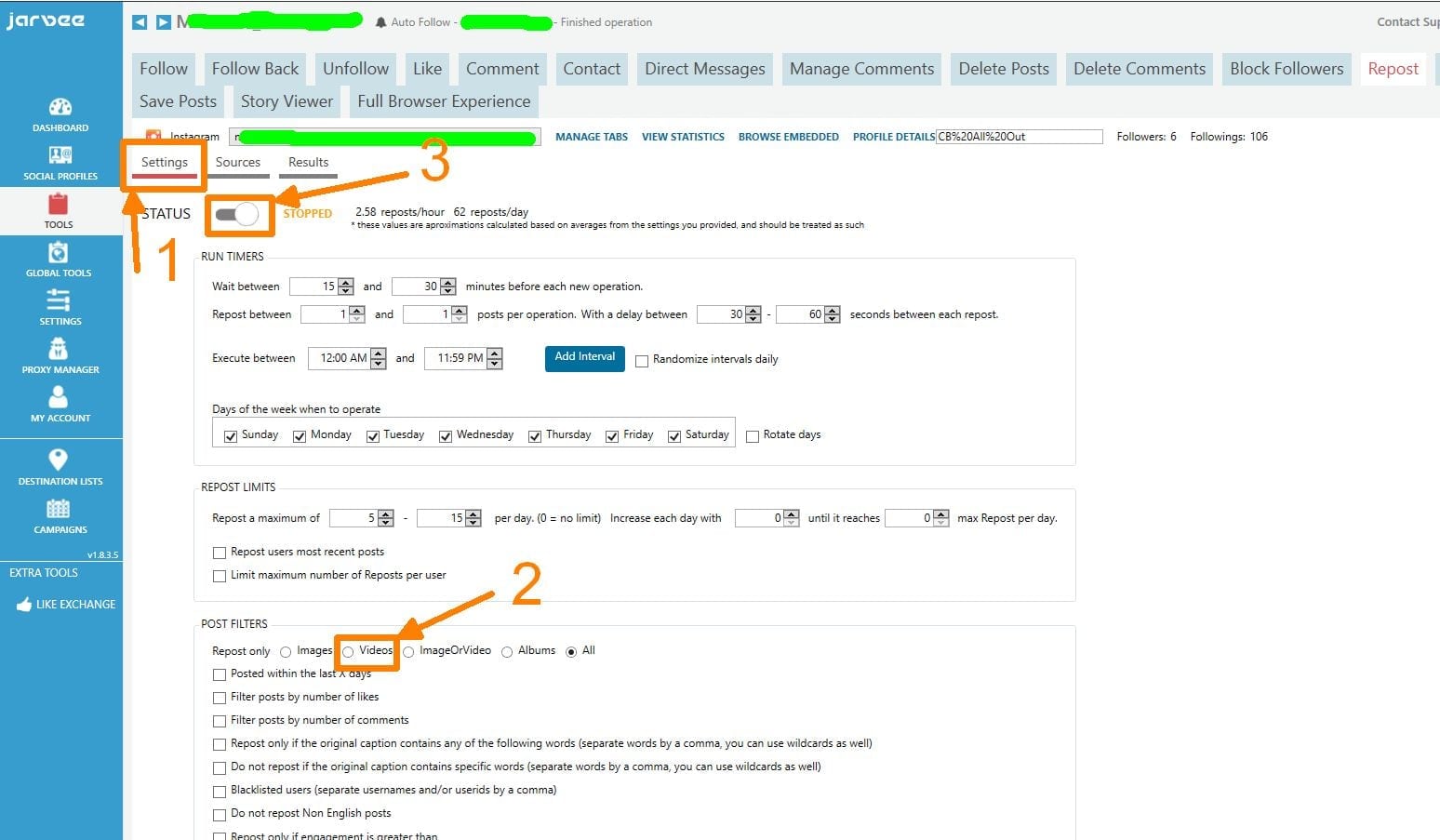 When satisfied with all other filters on this page, you can now start auto-reposting by toggling to the left the button (3) next to 'STATUS'.
How to repost images on Instagram on auto-pilot using Jarvee
Reposting images on Instagram works just the same way as reposting videos (as described above). Here, you're only going to make sure to check 'repost only images' in the POST FILTERS.
In both instances of reposting videos and or images, Jarvee gives you the option to repost with the original caption or create your own. If you choose to repost with your own captions, you can make use of the 'POST CAPTION TEXT' feature to spin the text so that you can have unique captions for each repost.
Another great feature to use is the Enable 'Dynamic Hashtags' option.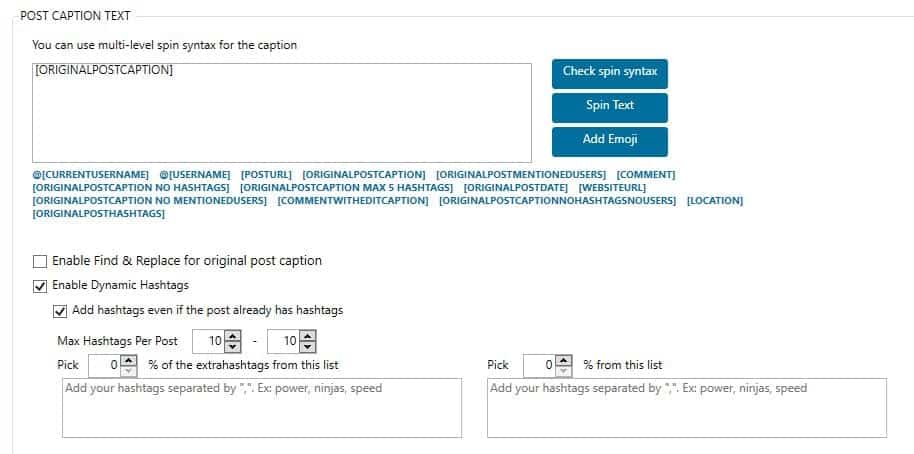 With this option, you can paste as many hashtags in Jarvee as you wish, and then instruct it to post, say 15 hashtags per repost, and it will ensure each repost gets unique hashtags so that they don't use the same ones too many times.
How to repost Instagram stories
Finally, you may also want to repost other users' stories as posts on your page. In this case, everything else is similar to what's been described in reposting videos and images but you'll first make sure to select 'Repost stories of specific users' in the sources tab.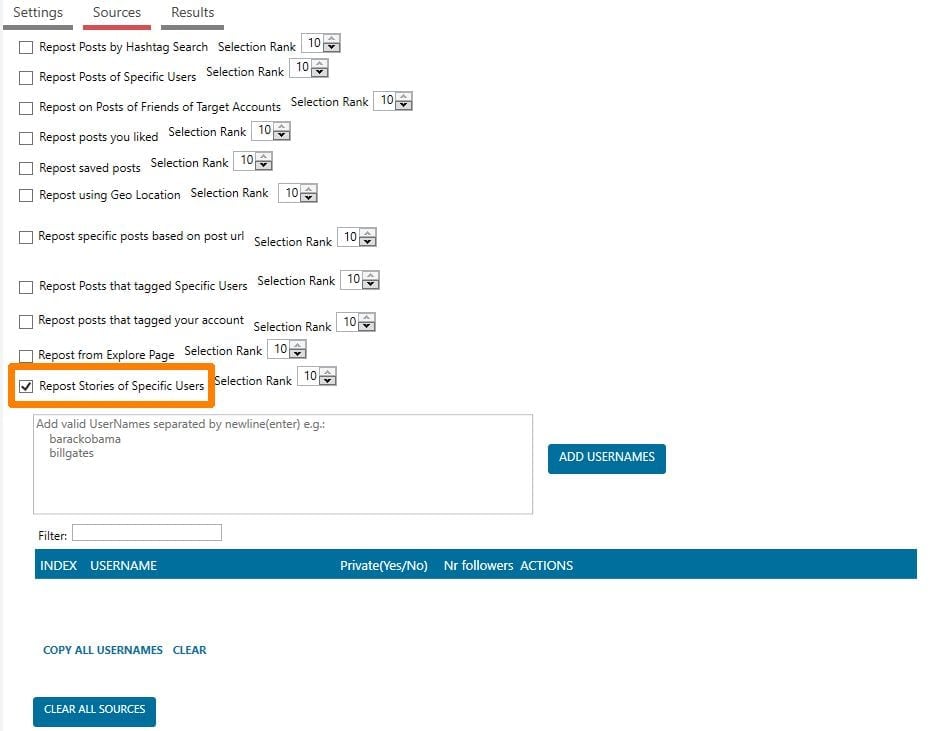 If you get stuck anywhere in the tutorial, please feel free to ask for help in the comments section below.
PS: If you need a powerful VPS for cheap, reach me on Skype Diablo2562 and I'll connect you to a reliable provider I currently use.
Until next time!