Android Tipster participates in the Amazon Affiliates program and may receive a small percentage of a sale at no extra cost to you when you click some links on our site
A short tutorial on how I gained Twitter followers in 3 weeks
Twitter is your window to the world, it currently has more than 320 Million monthly active users, 80% are active on mobile. As a marketer or someone seeking exposure for your own brand, these are figures you cannot afford to ignore.
The platform hasn't changed much in the past few years, which allows us to take advantage of a few loopholes that other platforms like Facebook and Instagram have since sealed. Unlike Instagram, for instance, Twitter is not content driven. What this means for you is that when you tweet, there are no algorithms to filter for low-quality content. I'm not saying that quality control is a bad thing really, the thing is, the way other platforms determine if your content should be seen by most of your followers has made it very difficult for smaller players in the game to get the exposure they deserve.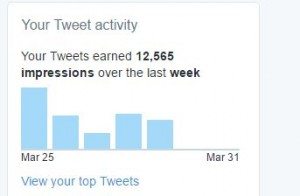 You can see how quickly my tweets began to get a lot of impressions even though I was posting virtually nothing on my Twitter page.
Another advantage you have on Twitter is, you can follow up to 1000 people a day. This isn't the same with Instagram where you can easily get your account flagged for spamming or even have it banned.
If you're wondering what the limits for Instagram are, read about my Instagram journey.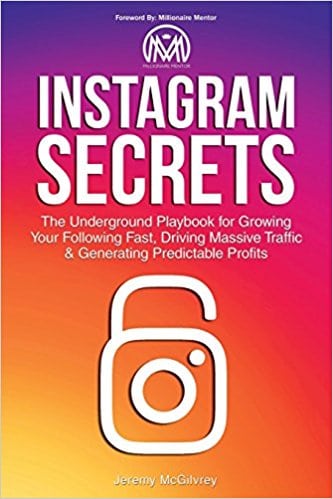 Right, let's get back to what this post is about and that is how to grow your twitter followers on autopilot. Have a look at what my daily stats looked like: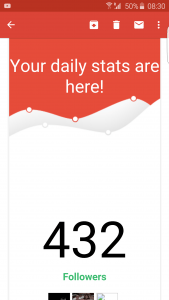 For many months I had grown my twitter following manually and when I reached 2000 followers it stuck there. Manual work is painstaking, it takes up hours upon hours of following and unfollowing. The saddest part is when you follow 1000 people and only get 30 follow-backs. No doubt, this can be very discouraging. So what did I do to grow mine from 2k to over 8.5k in just under 3 weeks you ask?
Growing twitter followers with Mass Planner
It was all pure accidental actually. I was keen on growing my Instagram followers on autopilot so I went on and got Mass Planner. They're offering a 5-day trial so you can test it out and see what it can do for you. Mass Planner allows you to grow on multiple platforms (see image below).

I'll take you through how I set up my own Twitter account on Mass Planner. It's actually very simple so skip this part if you already know what to do.

Click on Social Profiles which is located on the sidebar on the left. Now click on Add Profile and choose the platform you want to add to Mass Planner (Twitter in our case).
To see what Mass Planner can do for you, click on Tools on the sidebar. I'll just list them:
Complete automation of your Twitter account
Autofollow, Follow Back and Unfollow
Re-Tweet
Auto Favorite
Mention
Schedule Tweets in Bulk
Tweets from RSS feeds
Spinning Syntax Editor, among others
Alright, we left off where we were adding our twitter account. So after adding your account (social profile >> add profile >> type in your twitter username and password >> verify account), Click on tools and let's take a look at our settings.

Personally, I prefer running only two activities at a time, that is  Follow and Unfollow. To set up follow settings, under Follow column, click on STOPPED. It opens up a window where you can set your settings according to your preferences. At the time of writing this, my settings were as shown in the screenshot below: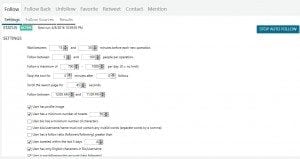 Now click on Follow Sources. Here you have many options to work with:
You can follow sources based on keywords (e.g SEO, Fashion, Business e.t.c)
Follow friends of target accounts
Follow friends of existing friends
Follow people from a provided list
Follow members from provided Twitter lists
When you finish setting up the sources, click on Settings tab and then on Start Auto Follow.
Let's move onto Unfollow. Click on Tools on the sidebar, under Unfollow column click on STOPPED. My settings at the time of writing this are shown below.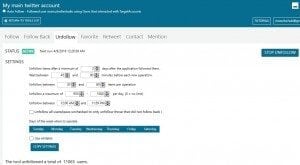 When done setting your own you can start the process.
And that's how my following went from 2k to 8k+ in just under 3 weeks.
One thing I'd like to point out is, you shouldn't copy my exact settings. It's best to tweak your settings a bit so that you don't end up having identical settings to all other people that have and are going to read this post.
Feel free to shoot me any questions you may have.