Android Tipster participates in the Amazon Affiliates program and may receive a small percentage of a sale at no extra cost to you when you click some links on our site
If you like watching YouTube videos on your browser while browsing the internet, u needed to have at least two computer monitors to do that. Otherwise you'd have had to switch between screens which frankly doesn't sound like it was much fun. Sideplayer for google chrome changes all that now.
With sideplayer for chrome, you can now comfortably watch YouTube videos without necessarily running two computer monitors or having to switch browsers.
Say for instance you're typing up a project that requires you to keep referring to a video on YouTube, or you're just working and really need that much-desired distraction from your super boring work, sideplayer for chrome is your answer.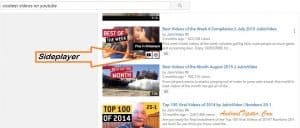 After installing sideplayer, open YouTube and hover the cursor over any video you want to play as shown above. Sideplayer icon will appear and when you click on it the video will pop up and you can now drag it around to any location you so desire.
If you like you can also close the YouTube page and the pop-up will continue running above your browser while you work. Sideplayer allows you to enlarge or decrease its size so you won't have to worry about it covering the areas you're working on.
The only downside to it is that when you minimize Chrome browser, sideplayer minimizes with it.
While it might be all fun watching videos while working on your browser, I have found that it slows down your work considerably. Oh well, now there's a kid standing on a ball and blowing fire as I'm writing this…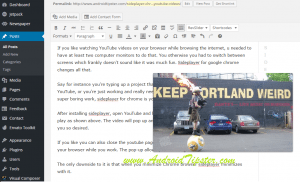 Great, that just robbed me of a cool 2 minutes!
Don't forget to check out our Daily Free Giveaway page so you don't miss out on today's giveaway, you'll love it.
See you on the next post.