Android Tipster participates in the Amazon Affiliates program and may receive a small percentage of a sale at no extra cost to you when you click some links on our site
A Review of the SJCAM SJ8 Pro
The news of SJCAM releasing a brand new lineup of cameras started doing the rounds in August last year and created a lot of buzz in the photographers' community. After months of speculation on the camera specifications, features, pricing and more, SJCAM finally released its SJ8 series models this April. The series comprises three models – SJ8 Pro, SJ8 Plus, and SJ8 Air. Here we will be reviewing the SJ8 Pro that has shaken things up in the market ever since its release and lived up to the hype preceding it.
The Build-up to SJ8 Series
Before going into what the SJ8 Pro is made of and what that means for your photography experience, let's take a look back at the build-up that gave form to this new line-up of action cameras from SJCAM. The year 2017 saw SJCAM's evolution from a manufacturer somewhere in China to an established brand to reckon with. Even though the expansion seemed sudden and rapid, it did not happen overnight.
Back in 2014, the company shipped its products via a distributor widely credited with making its SJ400 model a globally recognized product. In the following year, SJCAM overhauled its strategy to establish itself as a brand with a dedicated online store and own marketing efforts. As the focus shifted on carving a space in the market, a substantial chunk of the company's funds was diverted toward marketing and branding. This paradigm shift of focus adversely affected the quality of their products. Some of the cameras released after 2015 fared poorly in terms of performance and specs. The SJ7 series, for instance, was reported to have some serious heating issues.
The dipping ratings and unfavorable response to their products made the company re-think its strategy once again and things have been looking up for the Chinese manufacturer ever since. Ever since SJCAM has forayed into hitherto unexplored territories, launching affordable video cameras, body-worn cameras such as the SJCAM A10 and virtual reality ready devices such as SJ360. These products are proof of Shenzhen-based company's seriousness about expanding its domain and delivering quality products at the same time. The new SJ8 series is yet another case in point.
An Overview of the SJ8 Pro
It is clear that SJCAM wants to give some stiff competition to other established mid-range camera brands such as Xiaomi and Yi Technology, and even take on market leaders such as GoPro, with its new SJ8 models.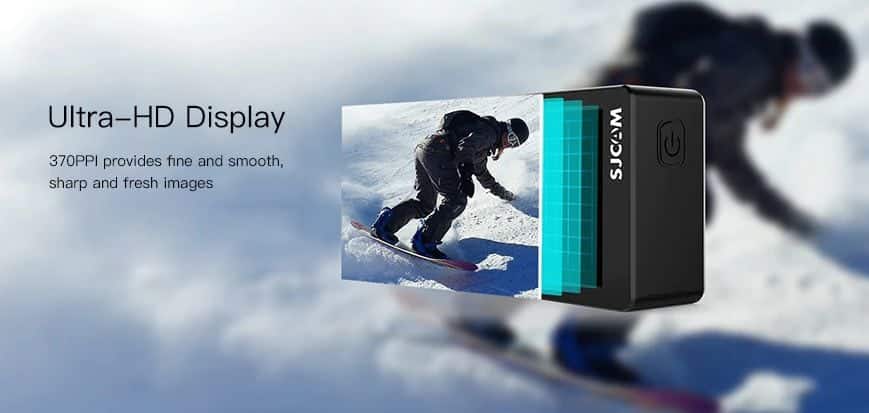 The SJ8 Pro is the most advanced camera is the series capable of recording videos in 4K resolution at a speed of 60 frames per second. In addition to this, it also sports dual screen. The camera is powered by the potent Ambarella H2-2S85 chipset and an advanced image sensor, the Sony IMX377. The Pro outperforms the other two models in the series with value-added features such as voice control support. In fact, it is the first camera from SJCAM to support such functionality. There were rumors that the SJ8 Pro will ship with GPS support but that theory has been debunked with the camera's launch. You still, however, get WiFi support. It may not be as exciting as having a GPS equipped camera but is definitely a very useful feature.
SJ8 Specs
As mentioned, the SJ8 Pro boasts of a powerful Ambarella H22S85 chipset and Sony IMX377 image sensor. It can click still shots at 1080p and 120 fps offering a 12MP resolution and record videos in 4K at 60fps. You also get 8x zoom, 7G Aspherical Lens, Gyro Stabilization, LCD Touchscreen for the primary screen. It is a water-resistant camera tucked inside a waterproof case and sports dual stereo microphones, a robust 1,200 mAh battery, WiFi connectivity, cloud storage option, and voice control.
Performance
The SJ8 is clearly a result of SJCAM's hard work at whipping up a jazzed up camera that combines all the strong points of some of its preceding models such as the SJ6 Legend and SJ7 Star and then some more, but without the drawbacks that these devices were riddled with.

The first step in this direction is the inclusion of the mighty Ambarella H22S85 system-on-chip taking the center stage on the main board and bringing to the table immense power capable of encoding in H.264 (AVC) as well as H.265 (10-bit HEVC-10) formats. Bettering the performance is a Quad-Core ARM Cortex-A53 CPU capable of advanced analytics.
Yes, all that may sound very fascinating, but for a user, it all boils down to how it impacts the quality of photos and videos shot with the camera. Here is what these specifications translate to in terms of performance and user experience – the SJ8 Pro is a camera with plenty of room for enhancing its capabilities and incorporating some great advancements. It's almost like having an extra pair of limbs to assist you in your shoots.
With these specifications to back its performance, recording 4K videos at 60 fps is just an ordinary task for the SJ8 Pro. To put this in perspective, the SJ8 Pro can record 4K videos with ease at a frame rate twice as that of the SJ7. Similarly, with a 1080p resolution, handling still shots at 120 fps is a piece of cake for the SJ8 Pro.
The inclusion of Sony IMX377 sensor complements the powerhouse chipset perfectly, facilitating the enormous 4K feed. Taking the image and video quality several notches higher are the 7-layer Aspherical Glass lenses that work well to ensure that the captured images are free from any visual abnormalities and aberrations.

And that's not all that the SJ8 Pro boasts of. In addition to these core specifications that work in tandem to enhance the overall image quality, the action camera has several other enviable features, such as a 1,200 mAh battery.
The robust battery has the power to offer abundant recording time. You are looking at several hours of uninterrupted recording in 4k and a lot more when working at lower resolutions.
Even after a full-blown recording session, this SJCAM offering will have enough juice to support playback of video on the rear screen with 2.33-inch IPS display.
This bigger and noticeably wider 2.33-inch rear touchscreen isn't just your run off the mill In-Plane Switching display but also loaded with generous amounts of pixel density, on par with some of the leading flagship smartphones in the market today.
What's truly impressive about the screen though is the fluidic nature of its interface with improved response time in comparison to the previous touchscreen models from SJCAM, making the display generations ahead of its time.
The inclusion of Dual Stereo Microphones is intended to accord noise-cancellation abilities to this camera besides offering Stereoscopic audio from both left and right sides.
This functionality is both interesting and impressive and drives home the point that the SJ8 Pro is the first action camera of its kind from SJCAM.
SJ8 Pro is a device built by striking that fine balance between borrowing the best from its predecessors and taking on new functionalities and features.
In keeping with that approach, SJCAM has retained a secondary front screen on this device, just like the one we saw on the SJ6 Legend. However, this time around, it has been kept smaller at 0.96 inches.
The secondary screen on the front is a useful feature that comes in handy when using the camera on a tripod and controlling it remotely with the SJRemote.
Like every other SJCAM offering, the SJ8 Pro is also a water-resistant device with a waterproof casing that makes it suitable for shooting up to 30 meters underwater. The device also has an 8x digital zoom.
While that comes off as an impressive addition to the list of specs, every photography enthusiast knows that magnifying images digitally does not bode well for quality. A digital zoom does nothing more than blowing up an image, much like cropping.
But then it doesn't hurt to have an additional feature on your device, and it may come in handy when trying to capture a distant object that is physically well beyond your reach.
Another exciting feature of this action camera is the all-new gyro stabilization. Working at 4k and 30 fps, this feature can make a real difference to the quality of videos shot with the SJ8 Pro by ironing out any bumps in real time during the recording of videos. Being able to correct video quality at such a high resolution and speed is a feat SJCAM must be applauded for.
Then you have the Voice Control feature, which is the real icing on all other specs and features of the SJ8 Pro, as it facilitates ease of use in every situation and makes operating the camera remotely all the more practical and hassle-free.
Just when you think that the SJ8 Pro could not have got any better, it does through little details such as the inclusion of USB-C port that facilitates better FPC/drone control, data transfer and live previews. The device also has the standard RAW and Distorting Correction feature that has been a constant in all SJCAM models, only this time it has been made faster and more efficient in its processing abilities.
Verdict
The SJCAM SJ8 Pro is definitely one camera to beat. At $289, it is also a steal for anyone who is serious about their photography pursuits as it offers functionalities of a high-end camera at a much affordable price point.