Android Tipster participates in the Amazon Affiliates program and may receive a small percentage of a sale at no extra cost to you when you click some links on our site
A Review of the Tevo Michelangelo portable 3D Printer
Chinese 3D Printers manufacturer, Tevo has found its footing in the 3D printing industry with an enviable lineup of affordable desktop 3D printers. The company that operates out of Guangdong Province in China has climbed the popularity charts among the 3D printing community with its range of DIY 3D printer kits that enjoy a widespread following online. So far, Tevo has restricted itself to DIY kits, with a four printer lineup that may seem like a chore assembling but do a fine job in offering good print performance on a budget. In a clear deviation from this tried and tested DIY-kits-only approach, Tevo's first offering for 2018 is a portable fully-assembled FDM 3D printer, the Tevo Michelangelo. Yes, the Michelangelo portable 3D printer is not a kit!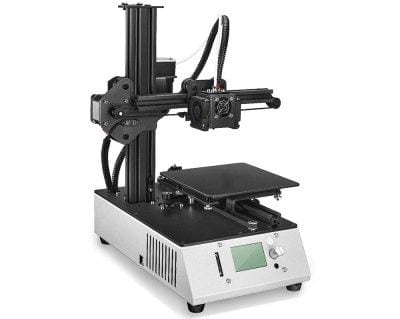 Here's is everything you need to know about this all-new offering from Tevo:
Unboxing
Since the Tevo Michelangelo is a fully-assembled 3D printer, there aren't many surprise elements in unboxing it. You get exactly what's promised – a fully assembled, plug and play device that you can start printing with straight out of the box. The most striking feature of the Tevo Michelangelo is its compact build and design, in line with its 'portable' tag. As with any other Tevo 3D printer, the packaging is robust with layers of foam trays lining the inside of the cardboard carton to save your device from scratches, dents or damage of any other kind during shipping.
Build
The Tevo Michelangelo 3D Printer is a completely portable package with a build size of 150x150x150 mm, which means it is a characteristic desktop printer that can fit in on a corner of your study desk or any small table. There is a dedicated extruder attached to the frame, placed horizontally above the build area for ease of operations. The aluminum frame of this printer that rests on controller box provides great stability to this 3D printer, eliminating the risk of the structure wobbling during print jobs owing to its compact size and light weight.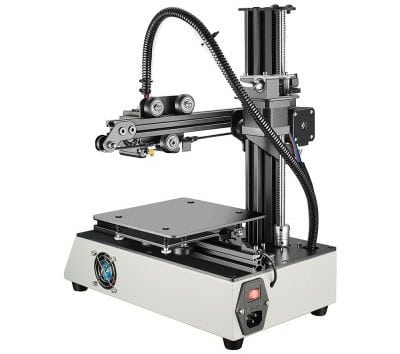 You also get an LCD screen on the controller box that is of great assistance in configuring and tracking print jobs. Since this is a fully-assembled and compact 3D printer, the Tevo Michelangelo is ideal for educational use, toy modeling, bringing creative fashion and jewelry designs to life as well as parts manufacturing.
The Specs
The Michelangelo is a single extrusion 3D printer fitted with a Titan Bowden extruder offering a maximum layer resolution of 0.1 mm. One of the biggest highlights of this printer is the inclusion of dual part-cooling fans that allow you to print complex designs or work length print jobs even with this portable device without the risk of overheating.
The full aluminum frame resting atop the controller box brings great durability and resistance to the overall structure. The Tevo Michelangelo comes with a detachable MK8 nozzle, so users can work with 0.2, 0.3 or 0.4 mm hot-ends, depending on the requirements of specific designs. It offers a build size of 150x150x150 mm, which is pretty decent for a device this compact. The Cartesian-XZ-Head printer comes with an aluminum print bed that lacks a heated chamber and requires manual leveling, which means you cannot work with tough printing materials such as ABS.
It is, however, compatible with PLA and TPU filaments with a diameter not exceeding 1.75 mm. In terms of connectivity options, the Michelangelo has an SD card reader and a USB port. It has an MKS Gen V1.0 motherboard and is compatible with Linux, Mac, and Windows OS.
Performance
An ergonomic design is a pre-requisite for creating a 3D printer with a small footprint and Tevo gets that right by packing in the muscle and brain power of the Michelangelo into its base. In that aspect, this portable printer from Tevo resembles other cantilever-styled FDM 3D printers in the market such as the Wanhao Duplicator i3 Mini, Creality Ender 2, and Tronxy X1. The print bed of the device moves on Y-axis, whereas the print head relies on the XZ axis alignment for mobility. The X-axis is positioned with the Z-axis in a manner that allows the print head to move independently on an arm that gains its motion from a lead screw on the Z-axis. All in all, the movement of axes here is pretty typical of an FDM 3D printer, except that the arm, in this case, is attached only on one end.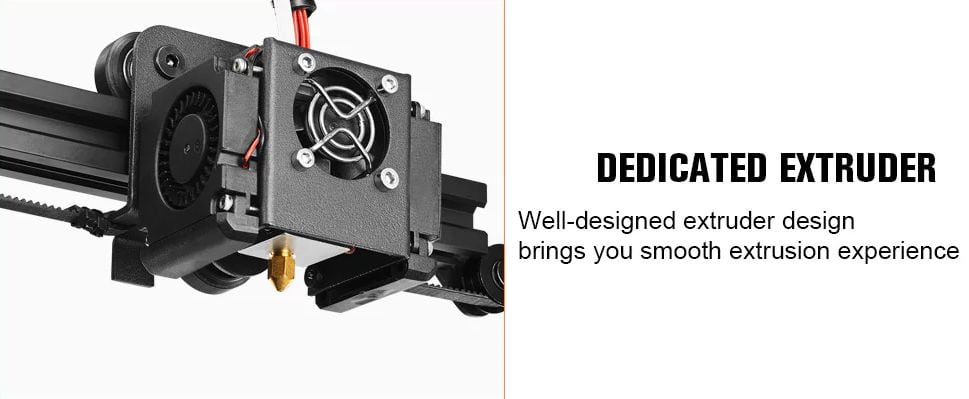 On the flip side, many 3D printer enthusiasts may find it hard to overlook the fact that the Tevo Michelangelo lacks a heated print bed given how much it adds to the versatility of a 3D printing device. However, if you look at other offerings in this segment, you'd find that the lack of heated chamber on the print bed is a common feature. Should Tevo have taken this opportunity to up the ante for other market players by including a heated bed in its first portable complete 3D printer?
Well, that's a matter worth debating but it does not change the fact that Tevo we have to make do with a non-heated bed in portable printers for now. It could also be argued that since educational use is one of the key USPs of this 3D printer, excluding a heated bed was a conscious choice on part of TEVO to add to the safe-for-kids appeal of this device. Also, for young, amateur uses, working with simple filaments such as PLA is a lot more practical than having to deal with stubborn variants like ABS.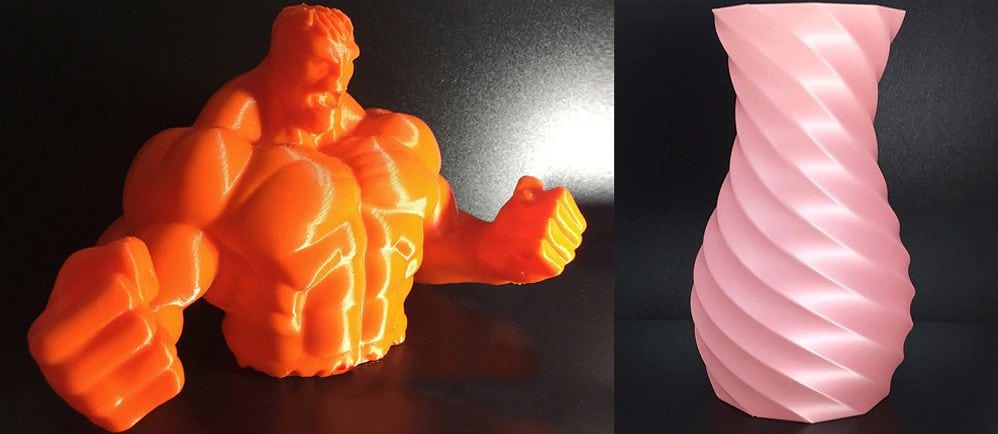 While it was working on the safety aspects of this printer, Tevo could definitely have paid more attention to securing the nozzle that can heat up to 200 degrees. Just the addition of a shroud to make the nozzle more inconspicuous could have reduced the risk of wandering fingers coming in contact with its hot surface.
The price point of Tevo Michelangelo is one of its biggest draw cards. Available for $209.99 on Gearbest, it is the company's most affordable offering so far, even more than that hugely popular Tevo Tarantula. The curious name picked out by Tevo for its first-ever fully-assembled portable 3D printer has also aroused curiosity and intrigue in the 3D printing community. Does the name Michelangelo signal that the 3D printer is designed with artistic intent? Or is it a harbinger of a renaissance in the world of 3D printing? Well, one would have to wait and watch. For now, it is certainly a device that every amateur 3D printing enthusiast must have on their bucket list.
Verdict
The Tevo Michelangelo 3D printer is a desirable machine for many reasons – portable design, ease of use, great functionalities, above par performance and an entry-level price point being just a few of them. Of course, since it is a small-sized, entry-level 3D printer, there are limitations to what you can print with it, but if you are just starting out or learning the ropes of 3D printing still, this Tevo offering is as good as your options get.