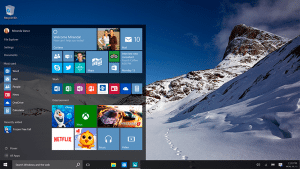 Over the past few months, you may have heard some chatter about the upcoming latest version of windows – windows 10. Not surprising.
Windows 10 is here and I've had a few hours to sample the new features and I have to admit, I'm impressed (a rare occurrence when it comes to new versions of windows.)
This time around, Microsoft made it a point to prompt her readers at an earlier stage before the release to subscribe for notification so that they may get notified when the download version is available in their region, but if you can't wait until then follow this link and grab yourself a copy of the latest version of windows.
So whether you're still waiting to get notified about the availability of the new upgrade or still trying to decide if upgrading is worth the effort, chances are you've heard about some of the new impressive Windows 10 features.
I'm thrilled to talk to you about a list I have compiled for you of the new features I believe most people haven't heard about yet.
Windows 10 features
You can now uninstall any app from the start menu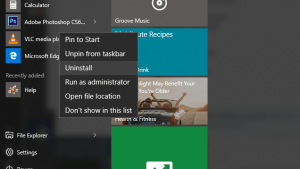 Now you can simply right click on any app in the start menu and select Uninstall to have it completely removed.
Searching for apps in windows 10 made to become efficient.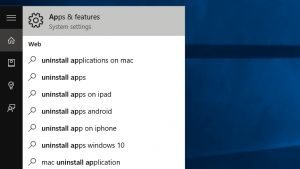 By typing in apps & features in the start menu, a list of all installed apps will be revealed. Although this is similar to the list of applications in the previous version of windows, this one has more feature to it.
You can now pin the recycle bin to the start menu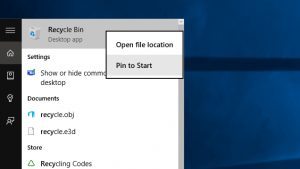 For a long time, you've had to search for the recycle bin and manually save a shortcut on your desktop. Well, Microsoft has made it easier for us by allowing us to pin the recycle bin to the start menu. I realize this might not sound insignificant at the beginning but once you start using your start menu more as we gradually move towards the touch screen, the transition will be much more smoother and easy to adapt to.
Lock your computer with your fingerprint
With security becoming more important by the day, you need better options to protect your data. And what better way than to be able to lock your personal computer using your very own fingerprints? For this function, your PC needs to have the necessary hardware to pick up on fingerprinting. Most new ones do so chances are your will.
New keyboard shortcuts for windows 10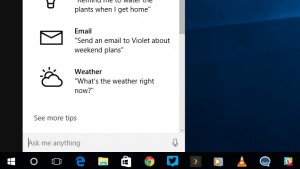 Well these are some of the new keyboard shortcuts that i came across (after reading about them online):
Win+Tab: View all virtual desktops at a glance.
Win+Q or Win+S: Open Cortana.
Win+I: Open Windows 10 Settings.
Win+A: Open the notification center.
Win+Ctrl+D: Create a new virtual desktop.
Win+Ctrl+F4: Close the current virtual desktop.
Win+Ctrl+[Left/Right]: Switch between virtual desktops.
Win+G: Open the Game Bar, for taking screenshots/recording video game play.
If you found some yourself I'd be glad to include them in my list, just list them in the comments section below.
It was quite easy to activate windows on my computer.