If you're looking for the king of the budget phones, Oukitel would like to crown their Oukitel U15S. The phone is just about to hit the market, and we were lucky enough to get a chance to preview it. There are plenty of affordable phones that offer premium design and hardware. But at a price of $140, we've never seen it so affordable. Did they have to cut corners, or is this really as good a deal as it looks? Let's take a peek and find out.
First Impression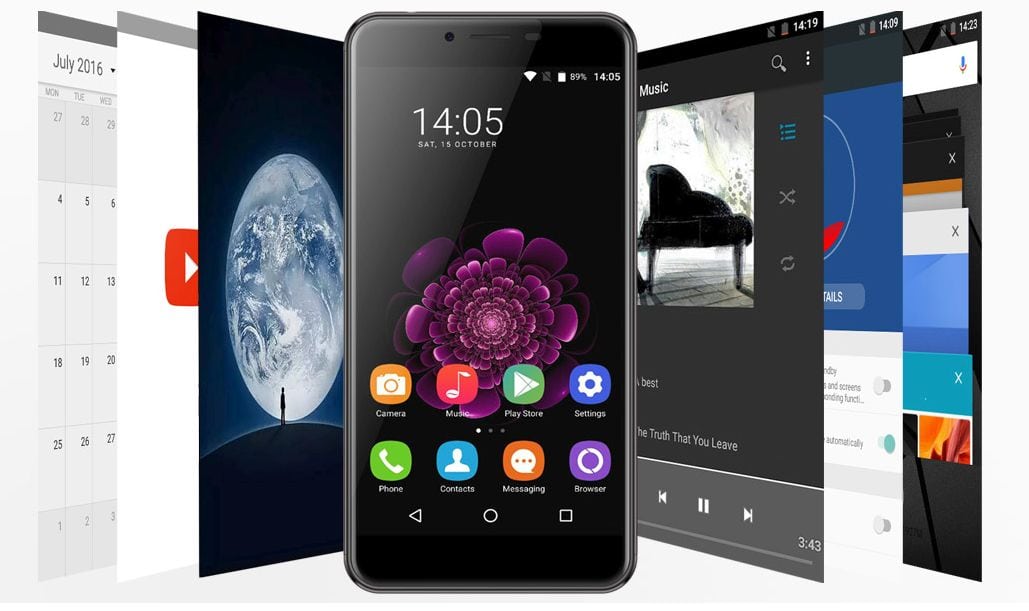 Larger phones are constantly being categorized as "phablets." But when they first came out, phones were often produced at 4" and tablets at 8". At the time, having a second category for phones in the middle makes sense. But today, we're usually seeing tablets upwards of 10" and standard phones sized at 5". Anyone who's used such a phone can tell you what a big difference the extra size makes, so we generally recommend these phones to the average user. Once we first set eyes on the Oukitel U15S, we knew that this phone offered everything we wanted. A nice big display, a premium-looking design, and powerful hardware underneath the sleek exterior. After unboxing, we couldn't wait to see how this phone performed.
Design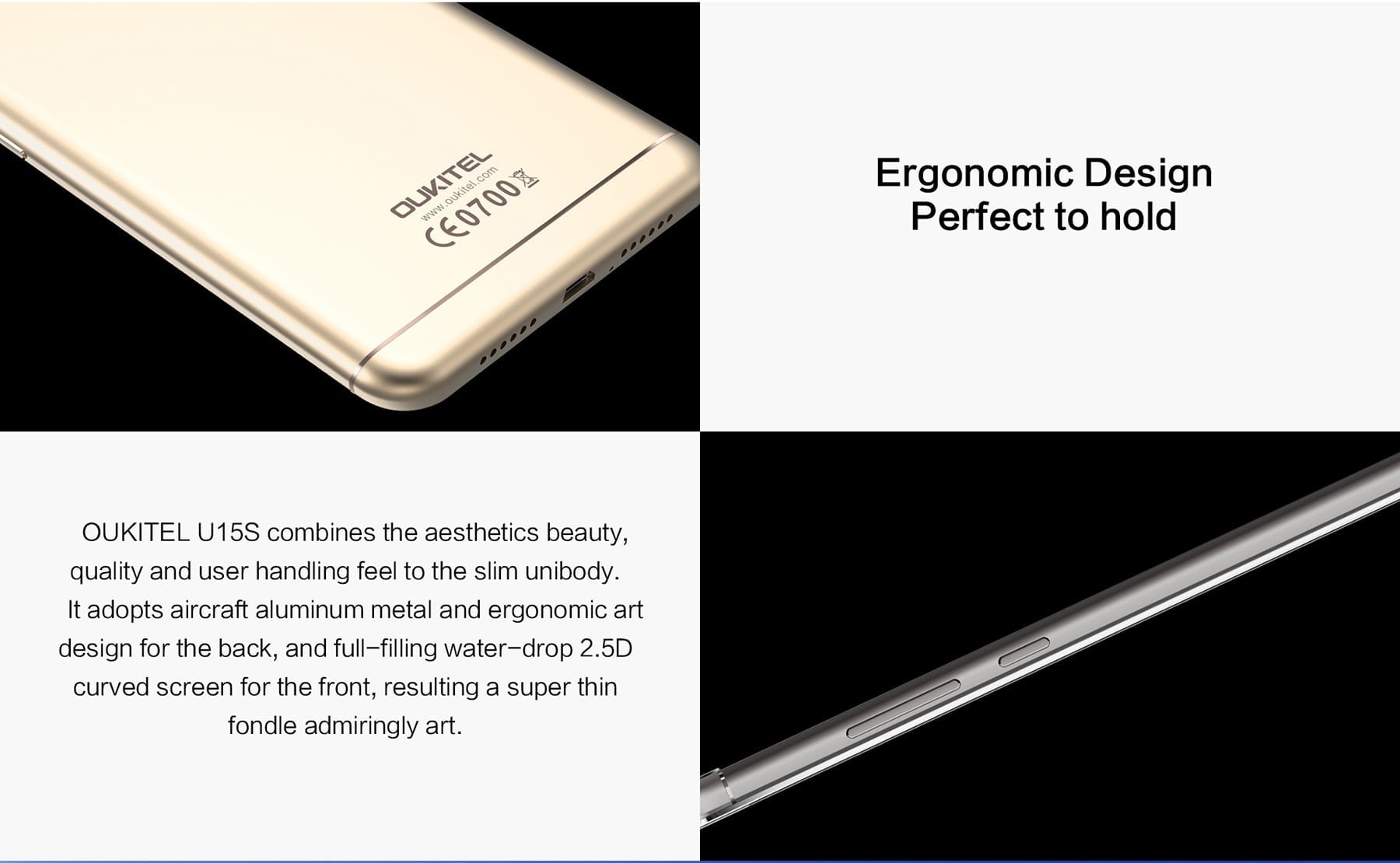 The Oukitel U15S design feels very similar to that of the iPhone 7. It's got the nice rounded edges and a bright shining display that stands up to the best on the market. Once you turn it to its side, you'll see all of the nice little touches they've added to make the phone stand out. The sharply beveled metal frame feels as good as it looks, giving this affordable phone a premium feel. But the combination of metal alloy and curved glass aren't all this phone has going for it. What really impressed us was what we found under the hood.
Performance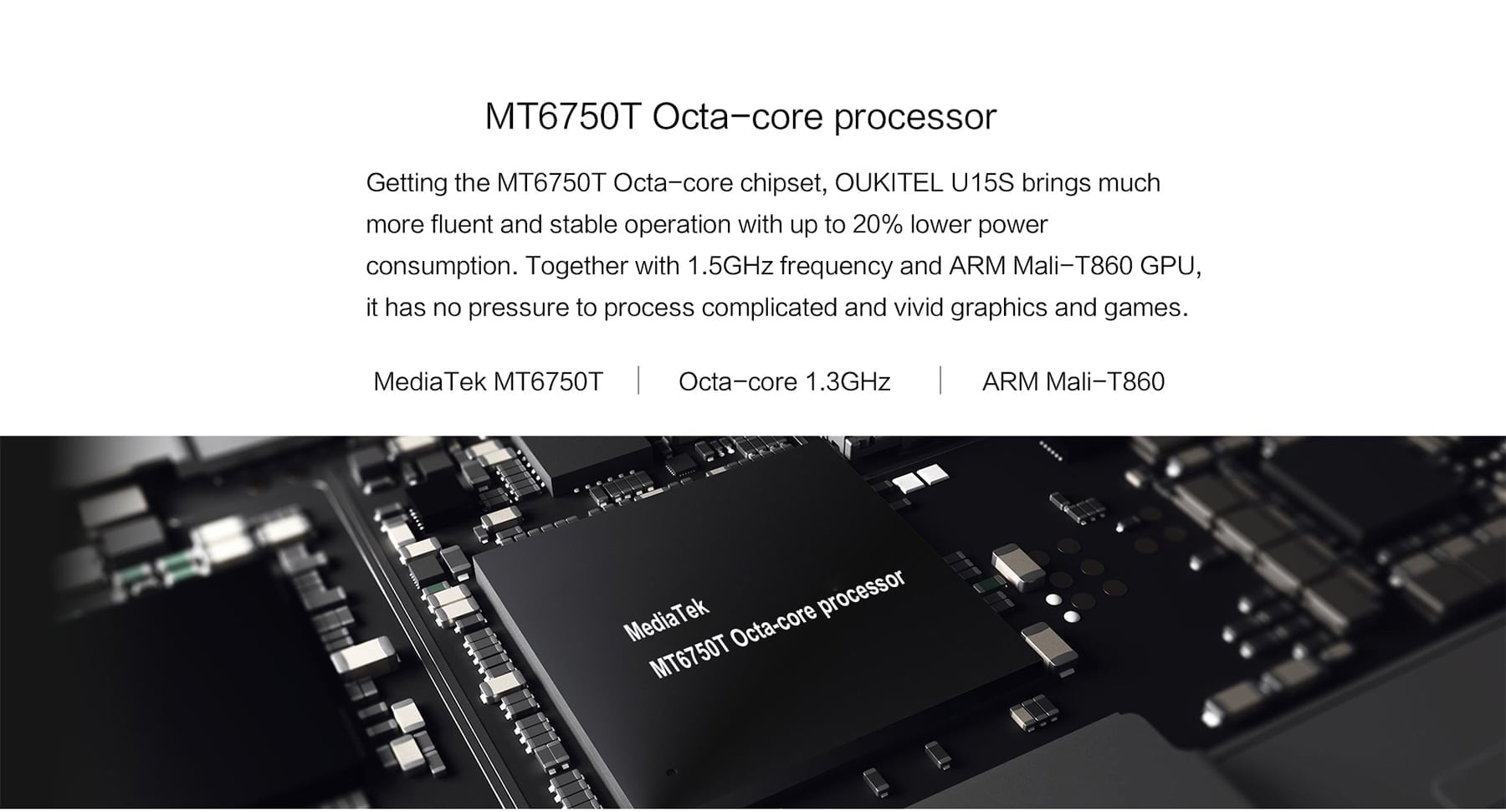 The driving force behind the Oukitel U15S is the 1.5 Ghz 8-core CPU. This is the perfect processor for a phone in this price bracket. More and more, users are leaving a large number of apps running on their phones at all times. 1.5Ghz isn't quite powerful enough to play the most demanding games, but it's plenty for your standard multi-media, social, and communication applications. With 8 separate cores, you can have as many of these apps open as you like.
Of course, the CPU isn't the only component to take into consideration. You also need to have a lot of memory to support the rich multi-media interfaces used in today applications. Fortunately, with 4GB of onboard RAM, you'll never run out. As for local storage, the 32GB of included SSD storage space is plenty fast and can fit all the media you need.
Display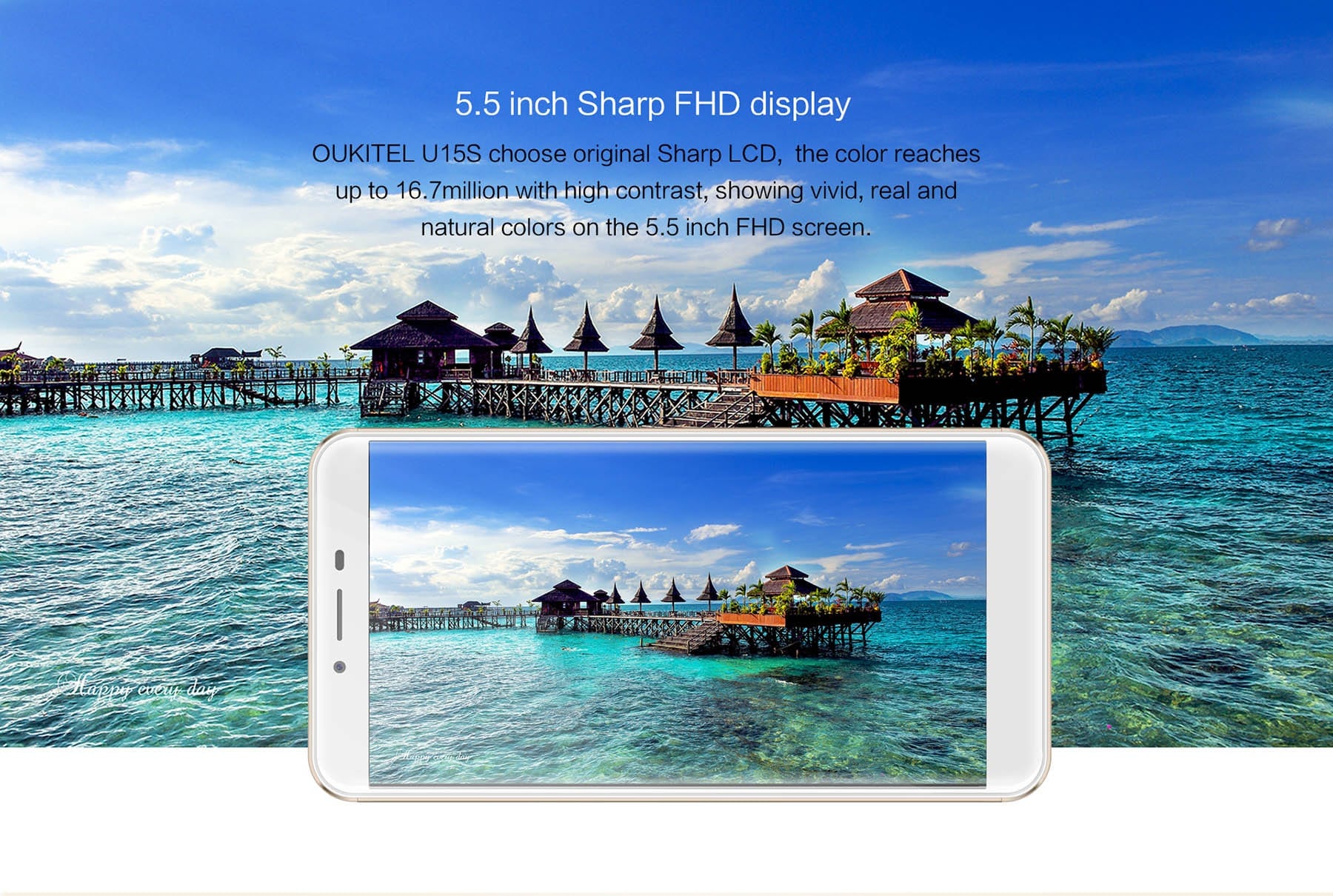 The Oukitel U15S features a 1080p IPS display. In our opinion, IPS screens are the best to have. For starters, the viewing angles are much higher than TN panels. Ever notice that if you're not looking at your phone from the right angle, the colors seem to distort? With IPS displays, this never happens.
Another benefit of IPS displays is that the colors are much more accurate. An image on this display looks just as vibrant as a professional print. Combined with the incredible photography features of this phone (which we'll get into in a moment,) the screen really is an excellent choice.
What about the resolution? On paper, 1080p doesn't seem that high. It's important to consider how much detail your eyes are able to make out. Remember, just a few years ago it was considered pointless to choose 1080p over 720p if your screen was less than 40 inches. It's true that these high-resolution displays have a very 'sharp' look, but the more pixels your phone has to push, the more of a performance impact your applications have. In our opinion, 1080p displays are the perfect balance between clarity and performance. The image still looks great, but this somewhat modest phone is able to perform quite well.
Camera
One of the areas the Oukitel U15S really shines is the camera. The rear image sensor is a 16MP Panasonic model, which produces stunning images. It works best in the day, where the photos are clean and clear enough to use even for prints. The front camera isn't anything to scoff at either, with its 8MP sensor. Whether you're taking selfies or framing the perfect shot, this phone has everything you need.
It's also capable of taking full 1080p video. We're used to seeing cameras that suffer from poor compression, leaving artifacts and distortion all over your movie. Fortunately, the Panasonic sensor does a really good job of taking full-motion video. We found that was free from jitter, and playback was both smooth and clear. The front-facing camera wasn't quite as impressive, but more than adequate for Skype or other video chat applications.
Durability
This phone is definitely more geared towards people who prefer looks over durability. But that doesn't mean that you'll accidentally break it. The screen has a Gorilla Glass coating, preventing it from cracking or getting scratched. Because it's rounded, it's much less susceptible to damage. Although it's just as durable as any mid-level phone on the market, we do recommend some protection. Fortunately, they're throwing in a free case if you pre-order. We'd highly recommend taking advantage of it.
Who Should Get the Oukitel U15S?
We recommend this phone for anyone who's looking for an affordable device that can handle all of their social media needs. Obviously, it handles standard web-browsing and communication quite well. But one added bonus is its impressive multimedia features.
With a color-accurate 1080p display and 32GB of internal storage, this phone is perfect for watching movies. But if you're more into creating media, then you'll be incredibly impressed with its 16MP Panasonic image sensor.
Six months ago, we would have considered this a high-end phone. But new technologies are coming out, offering users a small boost in performance. For you, this means you can get a great deal. Unless you're playing demanding games, you'll never notice lag or disappointing performance. Without making any sacrifices, you're able to score a competent phone for nearly half the price of competing models.