Rocket VPN
Would you like to surf the internet without exposing your privacy? Would you like to watch your favorite YouTube videos without any restrictions? This is the very reason Rocket VPN was created. Today we are going to review this VPN app for you and its reliability so that you can see if it's worth downloading.
Full Privacy
When you use Rocket VPN you can rest easy, this Android app will encrypt your data.
Why is this important?
Because by encrypting your data, you will be able to navigate safely even in unsecured Wi-Fi networks. Rocket VPN will protect you from anyone trying to steal your data or spying on you.
This little app will act as a shield between you and the multiple threats present on the internet.
We believe Rocket VPN to be superior to lots of other VPN options for one important reason: it doesn't share your information. For this, we will mention a clear example: Hola VPN.
This VPN service is known for leaking important information without your consent. If you want to remain fully anonymous and protected, avoid Hola VPN and instead choose Rocket VPN – the real safe way to browse the internet!
Access Content Without Barriers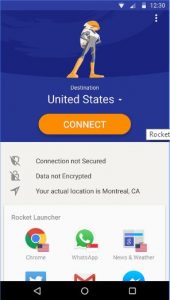 Nowadays it's pretty common to come across websites or videos blocked in your country. This does not have to be the case if you install Rocket VPN! This app will grant you instant access to content blocked in your geographic location.
If you are facing this issue quite frequently, then you only have to download Rocket VPN to your Android device!
Super Fast
One of the most common problems with VPNs is the following: the speed. When you use a VPN service, they tend to slow your speed down quite a lot – but it's not the case with Rocket VPN.
This app, in comparison to others, doesn't affect your internet connection speed, unlike others. If you want to browse the internet fully protected, anonymously and with great speed, then Rocket VPN is the better choice.
Conclusion
Overall it's a pretty good VPN app. It has been downloaded more than 1 million times! 1 million people can't be wrong about something, and the vast majority of them are enjoying Rocket VPN: your real solution for safe, anonymous and fast internet browsing!
Related: