Samsung Galaxy S 4G Hardware, Design and Build quality
Measuring 4.82 x 2.54 x 0.39 inches and weighing 4.16 ounces, the Samsung Galaxy S 4G is incredibly thin and light. It features an attractive chrome accents and rounded corners and edges which makes it look identical to its predecessor, the Samsung Vibrant. The overall plastic construction of the phone makes it feel less solid than some of the premium HTC phones with metal body, although the unique "silver reflex" paint job on the back of the phone does make it looks less plasticity.
Display
Featuring Samsung's Super AMOLED technology, the 4-inch, 480×800 pixels touchscreen on the Galaxy S 4G is very bright and crisp. Screen quality, viewing angle, and touch responsiveness are all top-notch.
Storage
The Samsung Galaxy S 4G ships with 1GB of internal storage and 16GB of pre-installed microSD card. There's a microSD card slot that supports up to 32 GB of storage.
Cameras
The Samsung Galaxy S 4G features a VGA camera on the front, and 5MP camera on the back. The front-facing camera can be used for video chatting through the pre-loaded Qik app, and it does its job. The rear camera is said to be capable of producing very good quality photos and videos but there's a drawback — it doesn't have flash.
Ports
Ports available on the Galaxy S 4G are: a Micro-USB, a 3.5mm headphone jack, and a microSD card slot.
Connectivity
connectivity available on this phone includes: Wi-Fi(802.11b/g/n), Bluetooth 3.0, and GPS. It can also function as a mobile hotspot to share its 4G network connection with up to 5 devices.
Samsung Galaxy S 4G Software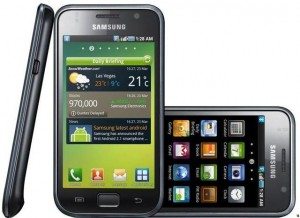 The pre-installed OS for the Samsung Galaxy S 4G is Android 2.2 (Froyo), with TouchWiz 3.0 UI on top. As with other Android 2.2 smartphones, you get the usual Google services and the access to over 200,000 apps on Android market. Samsung and T-Mobile have pre-installed some useful apps as well as their own services on this phone including: T-Mobile TV, Samsung Media Hub, Kindle for Android, Slacker Radio, ThinkFree Office full, Visual Voicemail, doubleTwist with AirSync, etc.. and guess what, there's even the movie Inception pre-loaded in this phone!
Samsung Galaxy S 4G Call Quality
From all the expert reviews that we have read and analyzed, the call quality of the Samsung Galaxy S 4G is said to be excellent.
Samsung Galaxy S 4G Performance Phone Performance
With 1GHz Cortex A8 Hummingbird processor and 512MB RAM, the Samsung Galaxy S 4G feels snappy most of the time, with some occasional lags with some tasks. It's certainly not as fast as some of the dual-core smartphones out there, but the overall performance is decent — apps launched almost immediately and both video and game-play were smooth.
Data Speed Performance
With T-Mobile's HSPA+ network, the Samsung Galaxy S 4G is T-Mobile's first smartphone capable of reaching theoretical download speeds of 21Mbps. In real life data speed test, it's nowhere near that figure, but it's still pretty decent. Depending on area and signal strength, the average download speed that we collected from all reviews are between 2.4 to 6.89 Mbps, while upload speed are between 0.5 to 1.82 Mbps.
As mentioned, the Galaxy S 4G can also function as a mobile hotspot to share its 4G network connection with up to 5 devices, but to use this feature, you will need to subscribe to T-Mobile's Tethering and Wi-Fi Sharing plan, which costs $15 per month.
Samsung Galaxy S 4G Battery Life
The battery life of the Samsung Galaxy S 4G is pretty decent. With its 1,650mAh lithium ion battery, below are some test results from the reviewers:
CNet got 9 hours of continuous talk time from their battery drain test.Laptop Magazine got 7 hours and 5 minutes from their battery test which involves continuous web surfing over a cellular connectionBrighthand reported five days of battery life with light use (watching about 30 minutes of Inception, downloading and playing three games, with some email and web surfing plus three or four calls each day) and almost two complete days of battery life with heavy use (taking lots of photo to try out the camera and one long session surfing YouTube).Conclusion
The Samsung Galaxy S 4G is another powerful Android phone for T-Mobile customers. No doubt it slots in the upper echelon of handsets, and you probably won't regret getting this phone. But if you can wait, the Samsung Galaxy S2 is coming soon (estimated Q3), and it's definitely better than the Galaxy S 4G, but also more expensive.