Jumper Ezbook 2 Ultrabook : Excellent Value for Money
Ever wondered if you can get an ultrabook laptop for around $200? Well, yes you can definitely get one. The Chinese laptop manufacturer, Jumper has come up with a new ultrabook that is within that price range. Impressive, ain't it?
With a beautiful design inspired by the original Macbook Air and solid specifications, the Jumper Ezbook 2 Ultrabook is a great example for the new-age entry level Windows 10 laptops.
First Impressions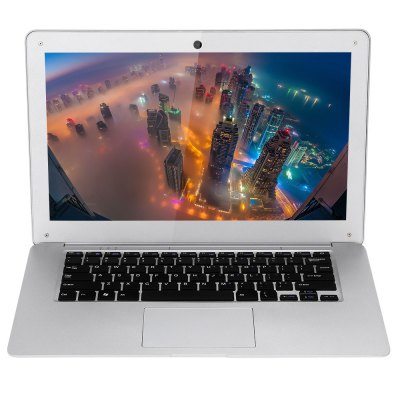 The Jumper Ezbook 2 looks just like the Apple's Macbook laptops, with the exception that the Ezbook 2 has got thicker screen bezels and uses plastic parts for heat dissipation at the rear end.
The laptop is incredibly thin and light. It weighs under a kilo and measures only a 4mm at its thinnest place. Ignoring the huge bezels and gray rubber bumpers around the screen, the laptop looks pretty attractive with its aluminium shell, and sleek design.
Design and Build Quality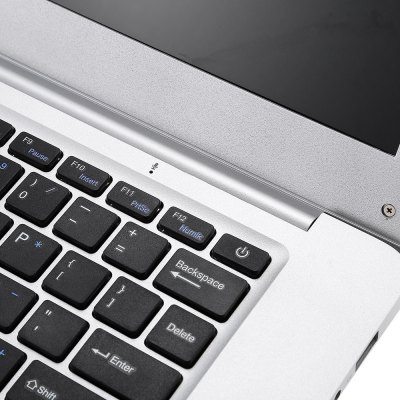 Inspired by the MacBook design, the Jumper Ezbook 2 looks too impressive with its aluminium shell and sleek design. It's all silver with the exception of the keyboard, which is black in color.
There's a back lit logo in the rear end, which is nice-looking. It is to be noted that only the shell of the laptop is made of aluminium, the remaining parts are all made out of plastic. The keyboard feels cheap and creaks could be heard at times, while handling the device; thanks to the cheap plastics used for the manufacture. The build quality is questionable when you have a closer look at the port cut-outs, which do not have straight edges.
The Ezbook 2 Ultrabook weighs only 1.18 kg, which makes it easier to carry around. The device sports 34.65 x 22.95 x 1.76 cm dimension. Thus the device is fairly small and light weight. The fully fledged track pad makes the device stand a bit higher than other cheap Chinese laptops. It's large, accurate and supports hand gestures. You can also disable them or tweak them under the "Mouse Settings" of Windows 10.
Talking about the connectivity ports, the device sports a USB 3.o port, a USB 2.0 port, a 3.5 mm headphone jack, a mini HDMI port and to our surprise, it also has a microSD card reader. Thanks to Jumper for not copying the "courageous" move of the fruit company and instead keeping the headphone jack in place. The addition of the microSD card reader will take care of all your memory woes.
As expected in an ultrabook, the device is void of the DVD reader, but there is a single 0.3MP camera in the front with an integrated microphone to enable video calling.
Display
One of the most interesting part about the Ezbook 2 is its display. The device sports a 14 inch 1920 x 1080p full HD screen with a 16:9 ratio that promises saturated colors, vivid image quality and energy saving. The display is sharp and offers great viewing angles. This feature of the Ezbook 2 is arguably superior to the Macbook Air that comes with a 11.6 inch screen of 1366 x 768 resolution.
With this new laptop, you are guaranteed to take your media experience to greater heights; thanks to full HD 1080p display. This type of remarkable display is something we did not expect to feature in an under $200 device. Thanks to Jumper for not compromising on the screen quality, which is one of the most important features in an ultrabook.
Performance
Under the hood, the Chinese ultrabook houses an Intel Cherry Trail X5-Z8300 Quad core processor clocked at 1.34GHz, along with an integrated Intel HD graphics, 4GB DDR3L RAM and 64GB SSD internal storage, which can be expanded up to 128GB via a microSD card slot. The processor speed can be increased up to 1.84GHz using the Intel Boost technology to speed up the performance when needed – allowing you to play video demanding games and multi-task without losing a single frame.
Like all the laptops you get for the price, this device too is meant for low power application, which means performance is not a priority. The integrated Intel HD graphics and 4GB of RAM simply cannot manage most of the heavy games, video-editing applications and other demanding tasks. However, it is very comfortable for daily tasks such as browsing the web, watching videos and video calling.
During the review, the laptop seemed fast and responsive with almost any software that came pre-installed with the Windows 10 OS. Unlike the VOYO VBOOK V3 that struggled to run the Windows 10 OS, the Ezbook 2 could run the operating system without any considerable lags and bugs.
Audio Quality
The ultrabook Ezbook 2 comes with built-in dual channel speakers and a mic. The speakers are located underside of the laptop. They aren't very loud or clear, but trust me, we've heard worser than this one.
Battery
The battery capacity is another win for the Ezbook 2, that differentiate it from other entry-level laptops. It is backed by a whopping 10,000 mAh battery that promises 6+ hours of video playback. The battery charges from 1% to 100% within a time period of 3 hours and 45 minutes, which is not a great result considering the 12V/3A charger it uses for charging.
Quick Recap of the Specs
Processor – Intel Cherry Trail X5-Z8300 Quad core clocked at 1.34GHz
GPU – Intel HD graphics
RAM – 4GB (DDR3L) ; ROM – 64GB SSD storage (expandable up to 128GB via microSD slot)
OS – Windows 10
Battery – 10K mAh
Camera – single 0.3MP front camera
Connectivity – Wi-Fi 802.11 b/g/n, Bluetooth 4.0
Connections/Ports – 1 x USB 3.0, 1 x USB 2.0, a mini HDMI port, a DC jack, a 3.5 mm headphone jack
Pros
Beautiful design
Decent performance
Super affordable
Great battery capacity
Easy to carry around
Decently bright, sharp screen
Cons
Rear camera absent
No DVD drive
Suited only for basic computing tasks
Poor build quality
Huge screen bezels
Why Should You Buy the Jumper

Ezbook

2 Ultrabook?

The Jumper Ezbook 2 Ultrabook is an entry level Windows 10 running laptop that features premium looks and offers decent performance. The laptop is good enough for your daily activities like watching HD videos, surfing the web, reading mails and video calling. If you are looking for a laptop under $200 and the specs fit your needs, then the Ezbook 2 might just work for you. It is now available for a discounted price on GearBest.