Looking for an earphone to use in the gym or while running? Xiaomi Wireless Bluetooth 4.1 Music Sports Earbuds might just be what you're looking for. Featuring a classic in-ear design, the earbuds also come with ear-hooks to help them hold on to your earlobes.
Priced at just $31.99 (at the time of writing this article), this is one of the top budget-priced sports earphones you can get in the market today.
Design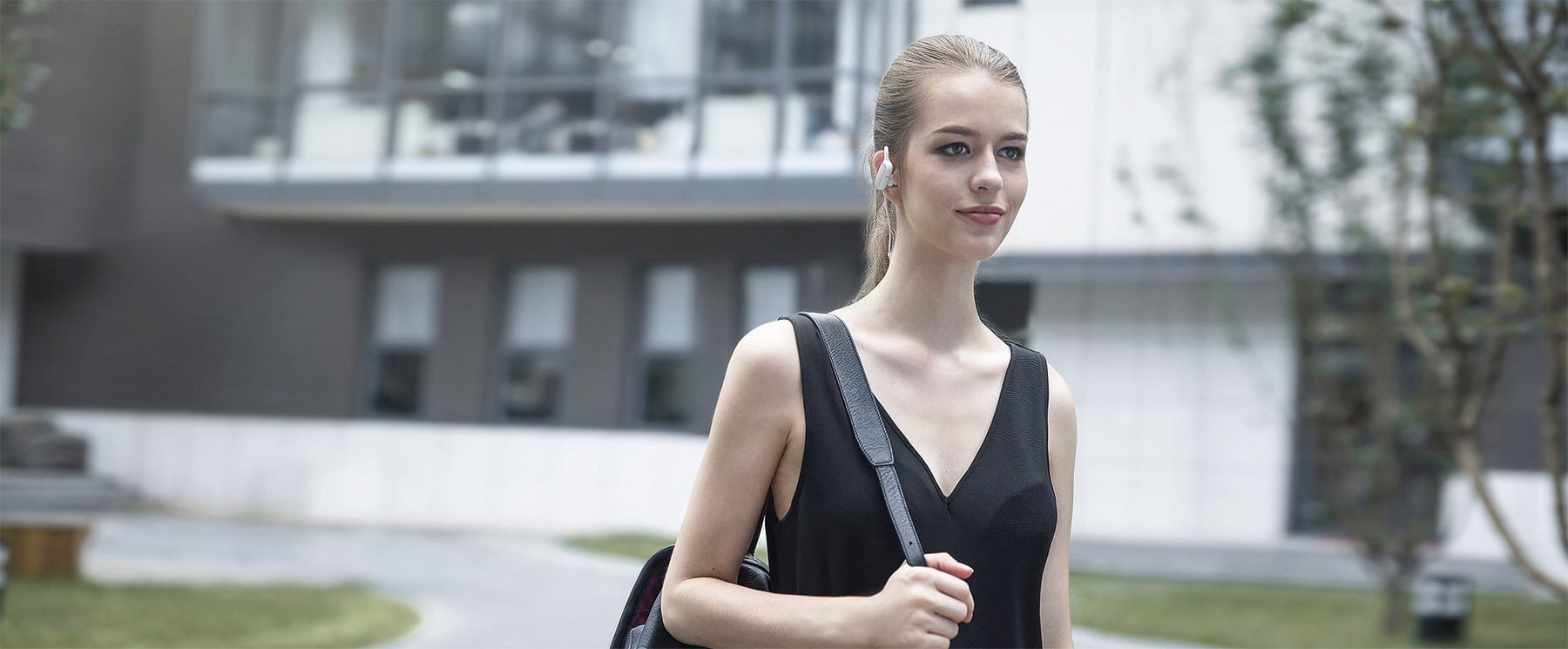 Well, it looks simple. The Xiaomi Wireless Bluetooth 4.1 Music Sport earbuds feature a simple design, which in my opinion, looks quite elegant and pretty light-weight at just 17.8 grams. You'll hardly feel the earphone while wearing it around your ear.
It stays stable in your ear even during strenuous exercise; thanks to the special adjustable ear hook design. The earphone is IPX4 certified, meaning that it is waterproof, sweat-proof and thus durability is also assured.
In order to control music play or answer calls freely, Xiaomi Bluetooth earphone has got the separating microphone and volume control design, that is assured to deliver clearer calls.
Also, the tiny on-cord controls (volume up and down buttons) present on the ear-set, can bring you a more free exercise experience.
According to the Xiaomi, the earbuds feature the nano-meter spray technology, wear resistance, and anti-oil materials. After using it for a long time, all you need to do is wipe it lightly to make it look like a brand new one.
Also, the earphone cable is coated with UV paints, offering a comfortable hands-free feeling to the users.
Manufactured using CNC carved cut, borax process and twice anodizing technologies, the device boasts exquisite metal texture, wear-resistant, and anti-scratch capabilities. On top of that, the earphone comes with five pairs of Silicone earbud tips of different sizes.
It has a micro USB port for charging.
Also, the device comes in black and white color options.
–>> Spoiler alert! we used the coupon: XIAOMIEQ to get a discount on GearBest.
Performance

The performance section of the earphone is surprisingly good. The device uses Bluetooth 4.1 for connectivity and the connectivity range is up to 10 meters. Sound quality seemed pretty impressive during the review. Not surprising that the earbuds with hook fits perfectly in the ears.
The sound loudness of the device is pretty decent, which is something we would not expect to see in a budget-priced earphone. You can also control the volume or switch songs even when you are away from your smartphone; thanks to the built-in buttons on the earphone.
It has independent sound chamber structure that efficiently divides the interference of the sound waves, and makes the dynamic sound clearer, delivering a more logical sound. Also, the metal composite diaphragm enables the sound effect to be more stable and efficiently decreases the distortion of sound.
Battery
The device is backed by a decent 110 mAh battery. Talking about the battery life, the device offers a whopping 7 days (280 hours) standby time and 7 hours of music playback on a fully charged battery. With a moderate usage, we almost got three days of battery backup, without the need of recharging the battery.
MEMS Microphone
Xiaomi Wireless Bluetooth 4.1 Music Sports earbuds come with the high technology MEMS microphone, thus providing stable and clear sound. This will ensure high-quality calls, irrespective of the place you'are at.
MEMS microphone targets all audio application where small size, reliability, high-quality sound, and affordability are key requirements.
Connectivity
The earphone uses Bluetooth 4.1 to connect wirelessly to your smartphone. Interestingly it can connect up to two Bluetooth devices at the same time. To pair the earbud to your smartphone, just press the Bluetooth button on the earbud and search for the available Bluetooth devices on your smartphone.
Water & Sweat-proof feature

The Xiaomi Sports Bluetooth headset carries an IPX4 certification, meaning it's splash resistant. So you'll never have to worry about the difficulties of enjoying your favorite sports on a rainy day. It also boasts operating temperatures in the range of -20°C to 70°C.
Package Contents
1 x earphones
5 x earbud tips
1 x micro USB charging cable
1 x Chinese user instruction manual
Quick Recap of the Specs
Connectivity: Wireless – Bluetooth 4.1
Battery: 110 mAh; Music time: 7h; Standby time: 128h (7 days)
Material: Metal
Product weight: 17.8 grams
IPX4 certified; water splash resistant
Microphone: Yes; MEMS mic
Wear and Scratch resistant
Port(s) : micro USB port for charging
Pros
Simple and elegant design
Great build quality
Amazing battery life
Super affordable
Microphone present
Completely wireless
Decent sound quality and loudness
Separate volume up/down buttons
Connects up to 2 devices simultaneously
Cons
Sound quality is not exceptional
No carry bag included
Should You Get It?
If you're someone like me and your daily workout motivation largely comes from music, then the Xiaomi Wireless Bluetooth 4.1 Music Sport earbuds might just work for you. Priced around $30, this could be one of the best budget-priced sports earphones you can get today which also offers more than decent battery life.
If you get this one, you can forget the common issues like earbud falling out mid-sprint or earphones slipping off your ears during a deadlift; thanks to the adjustable earhook design of the ear-set. On top of that, GearBest, the online store well known for their great deals, is offering a massive 59% discount on this sports earbud and is now available for purchase at $31.99.
The promo offer has already started in the online e-tailer website and it ends in 7 days from now.
We used the coupon. XIAOMIEQ to get a discount on GearBest.
Are you planning to grab one of them from the flash sale? If yes, do let us know about it in the comments below.