The rapid advancement in technology has generated demands on laptops, not just like as it was a few years ago. Users no longer need laptops with a strong capacity to operate for frequent business trip, travel or learning, but a lighter laptop with multiple functions and elegant appearance will prevail.
Surprisingly, XIDU, a potential manufacturer, has launched one budget laptop with the name of PhilBook Max. Featured by the advanced 2-in-1 design and equipped with a convertible touchscreen, PhilBool Max caters to all various demand of users! Such touchscreen enables users to use both notebook and tablet PC mode, as well as the most famous Yoga design.
Importantly, XIDU unveils this laptop which has multiple functions and fashionable appearance with affordable price!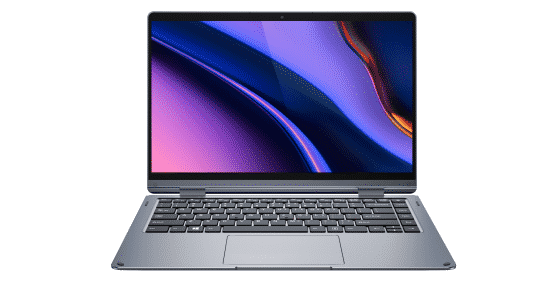 The Philbook as a 360°Convertible Touchscreen: 2-in-1 Notebook and Tablet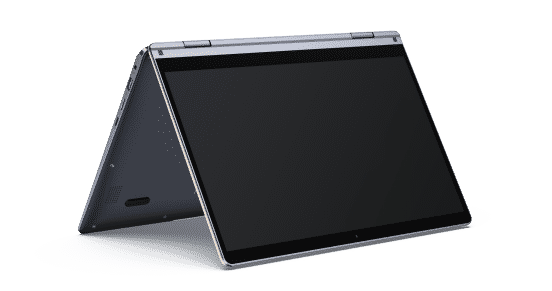 XIDU PhilBook Max, adopting the 2-in-1 design, provides various choices for users, that is, users can switch between a notebook and tablet at any time by rotating the screen and 360°flexible hinge. Furthermore, the touchscreen design makes it practical to apply the tablet function to the laptop device. Upgraded from the last version – PhilBook, PhilBook Max has further been created by XIDU which has larger 14.1-inch FHD screen. Its touchscreen not only makes you work conveniently but also exceeds the functions of the vast majority of common tablets. What' cooler is the multiple-point touch display. It enables users to drag, click or input anything with fingers, truly helping users get rid of mouse and keyboards. It is believed that such a mode will win the favor of users.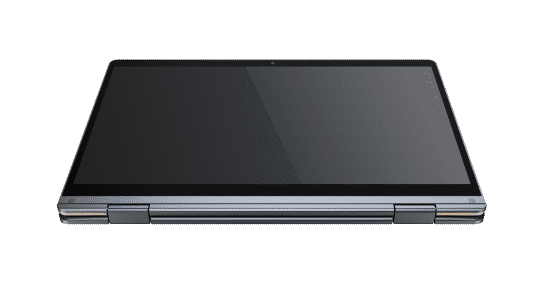 The reliable touchscreen is easy to operate and demonstrate, particularly when you are exhibiting or doing a presentation. To a certain degree, the design adopted by laptops such as the convertible keyboard and PC operating system is more versatile than the common tablets. The combination of 2-in-1 design and touchscreen offers these computer lovers deeper interactive experience.
Large Screen with 4.9mm Narrow Edge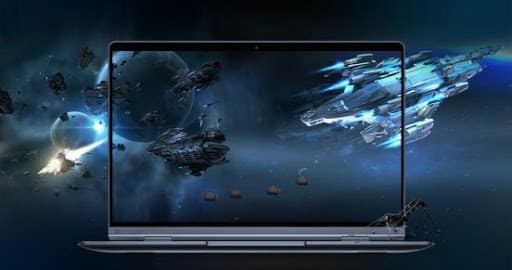 As we all know, full screen is more popular for users, especially mobile users, so are laptops! Users prefer to purchase laptops with a large display but narrow borders, which often provides a delightful immersive visual feast. Based on a thorough investigation, XIDU launches the PhilBook Max. Meanwhile, it is rare to see 2-in-1 laptops with affordable price and 4.9mm super narrow screen borders in the market now, but XIDU takes the lead. In addition, the 16:10 touchscreen size is a perfect choice to edit documents and browse pages. Its silver elegant appearance is also attractive.
Advantages of a Convertible Laptop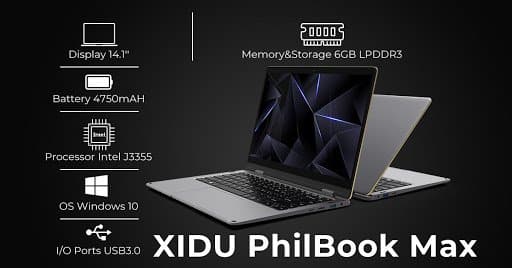 Compared with laptops or tablets, such a 2-in-1 convertible laptop has the following advantages:
Be quicker to handle multiple tasks + an ideal choice for home entertainment and office: with standard PC operating system and computer-level processor to make it quicker to handle multiple tasks than that of traditional laptops. In addition to the above-mentioned advantage, it is also easy and convenient to have home entertainment activities and deal with office work;

New information + easy-to-carry: laptop with touchscreen function helps users add new information, and it is also easier to carry;

Portable: 2-in-1 convertible laptop makes your trip lighter, particularly for users who require both smartphones, laptops, and tablets.
The PhilBook Max comes with an Intel CPU (up to 2.5GHz burst frequency), 6GB RAM, 128GB SSD, backlit keyboard and other popular features. It looks promising and makes us convinced. Get ready to welcome more products!
Philbook Max Laptop Availability
The Philbook notebook is available for purchase on the Amazon store at a huge discount. See links below: