So you want to know how to build your own computer for gaming. You have come to the right place. In our website, you will find everything to learn how to build the best gaming computer. Many think that gaming computers have to be very expensive. That's wrong and here you will also find ready builds tips on saving on many parts of your computer. You may also be asking why to build your own gaming computer. Not only you can learn quite a lot about computers but you'll also be saving money. On top of that, you will also get the gaming PC that fits your needs perfectly. To get started, I would suggest taking a look at the how to buy computer hardware page to have a look at the big picture of gaming computer hardware.
Where to Buy Computer Hardware?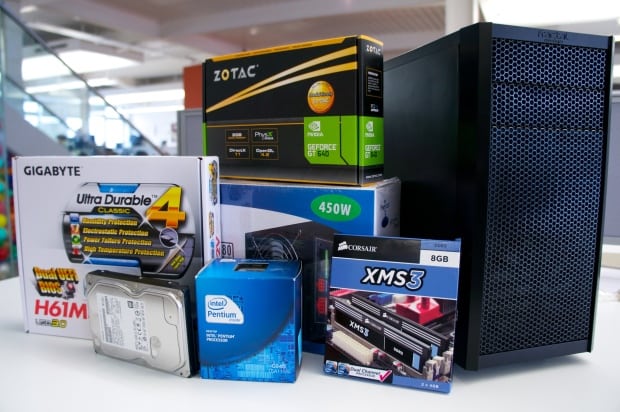 There are several shops all around the web that offer great products for excellent prices. One I would like to recommend is Newegg.com. They have a very nice variety of products and you can easily find any product from their shelves. If you wanted to build your gaming computer by choosing all the parts by yourself, that's OK in Newegg.com. but they offer good hardware bundle sales and whole gaming computer builds for very competitive prices.
Why should you build your own gaming PC?
There are many benefits to build your own desktop computer over buying a pre-built system from computer shop. First, you will save a lot of money when you build your own computer from scratch, wondering how!?
Well, the answer is simple, as you know, when a newer technology comes into the market the price of computer parts drops dramatically, therefore, the total cost of a PC that has been assembled by retailer a few months ago will be higher than the same PC that is going to be assembled today. For example, a 6-month-old computer with $800 price tag won't cost you more than $600 if you build it today, so you can save up to $200 if you build the same PC by yourself.
Another advantage of building your own computer is that you have more options on selecting the parts based on your priorities, hence, you can spend your money wisely on specific parts to improve system performance. For instance, some people prefer buying a bigger monitor over buying a fancy case while some may prefer having a nice looking case rather than having a big monitor. Most of people who buy a pre-built computer from a merchant either don't know how to build a computer or been lured by warranty cover from merchants. If you want to build your own computer from scratch you are in the right place.
It's also a good idea to read tutorials on how to select computer parts, and finally, learn how to assemble them and build your own dream computer. If you're going to purchase a computer part, we will suggest you to visit a few online stores and compare prices then buy the parts from any store that offers the lowest price on computer components, you may also consider the shipment costs and the merchant's return policy.