Xiaomi Amazfit Review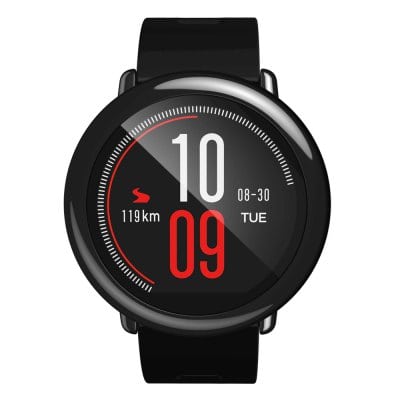 I wouldn't blame you if had no clue that Xiaomi makes smartwatches too. It's been only a few months since the Chinese manufacturer entered the smartwatch market. Although the motive behind this move is unclear, the wearable market is growing day by day.
In my honest opinion, the smartwatches are highly overpriced in the market today, and that makes it a bit difficult to afford one. But, Xiaomi is bringing a breakthrough by bringing a smartwatch that only costs around $100.
Dubbed as Xiaomi Amazfit, it could be perfect for those looking for a cheaper alternative to Samsung Gear S2.
Xiaomi Amazfit: Design and Build Quality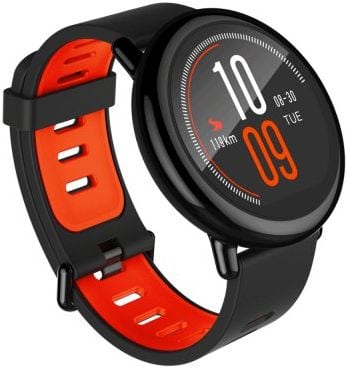 The Xiaomi Amazfit features a unique design, that we have not seen in other smartwatches. Although it has a round touchscreen, the edges are not sharp, instead, they are round as well. The bezels are made out of zirconia cement, and so are scratch-resistant.
The device comes with a 1.34-inch display with a resolution of 300×300 pixels. The display is sharp and the colors produced are vivid, that makes it visible under any lighting conditions.
The watch case houses a small, physical button on the top right edge, that has to be pressed each time you need to wake the device. This is one of the things I didn't like about the device.
The button is too inconspicuous that a one-time press won't actually make it work.
You will find an optical heart rate sensor at the rear end of the device as we've seen in the Mi Band 2.
Moving on to the internals, the Amazfit packs 1.2GHz dual-core processor along with 512MB RAM and 4GB internal storage. I know you'll probably be wondering about the charging port, as I haven't mentioned about them in the article anywhere. Well, there isn't any.
Xiaomi has stepped up the game and introduced magnetic charging so that they can use up space for incorporating more features.
The watch comes with a dual-colored wristband (orange and black) that is said to be durable and sweat resistant. However, you are free to slap a new wristband, if you want, by simply removing the built-in wristband with any 22mm wristbands that you prefer.
Software
Setting up the device for the first time is pretty simple. All you have to download an application called Amazfit Pace on your Android phone, sign into your account, configure the smartwatch and start using it right away.
It's worth mentioning that the UI is very user-friendly, and you get to easily change the interface the way you want, adjust the widget order, and enable the push notification option.
The smartwatch comes with the Mi-Fit app pre-installed, which can be used to connect to your android smartphone.
Heart Rate Monitoring
The device uses a PPG sensor that is installed at the back, to monitor your heartbeat rate. The sensor showed excellent results in our tests and turned out to be as good as the one in the Apple Watch.
The efforts that Xiaomi has put forward in developing a great algorithm to provide accurate recordings, is something worth appreciating.
Xiaomi Amazfit: Motion Tracking
You're now reading yet another best feature of this wearable device. With the help of GPS and GLONASS, the Xiaomi Amazfit can accurately track distance, elevation, pace, cadence and many other important data that is necessary for your daily fitness training.
Music
As I have already mentioned, the watch comes with 4GB onboard (2.4GB usable), where you can store your favorite songs. Although the device does not sport a 3.5mm headphone jack, you can use a Bluetooth earphone to listen to them.
Xiaomi Amazfit: Payments
Xiaomi Amazfit supports Alipay payment service, that can be used to make payments at stores, supermarkets and so on. I personally found this feature very handy, as you don't have to go through the 'difficult' process of taking your credit card out of your wallet, and then swiping at the counter.
Ah, thanks to Xiaomi for that; all you have to do now is a simple scan to do all the payments.
Battery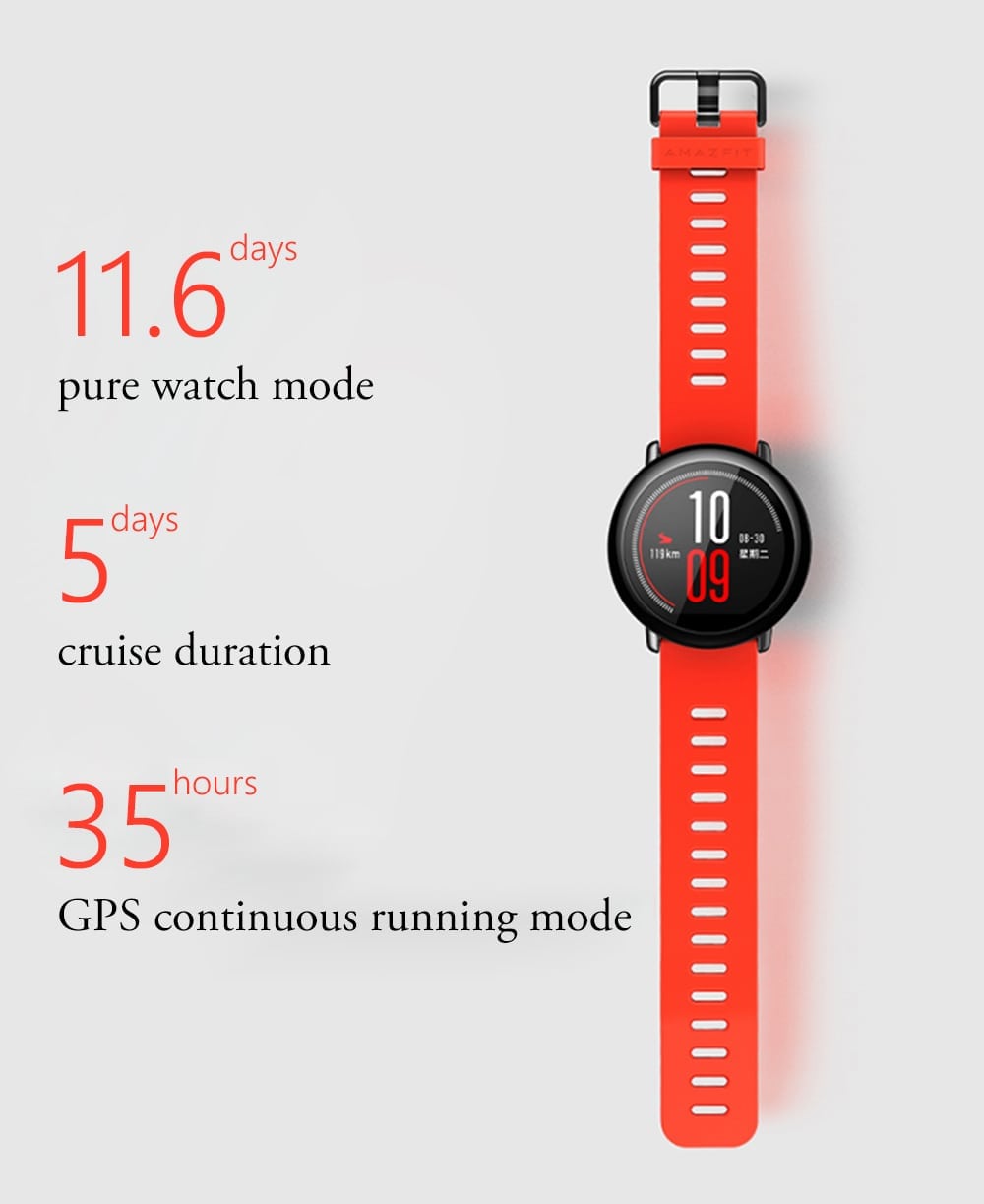 A 200 mAh battery powers the watch, that promises the following.
5 days cruise duration
35 hours GPS continuous running mode
Charging time: ~3 hours
Xiaomi Amazfit: Recap of the Specs
Display: 1.34-inch display
Processor: 2GHz dual-core CPU
Battery: 200 mAh
Storage: 512MB RAM, 4GB ROM
Connectivity: GPS, Glonass, Bluetooth
Sensors: PPG sensor for heartbeat monitoring
Pros
Support for both Android & iOS devices
Incredibly affordable: $119.89 (GearBest)
Value for money
A heart rate monitoring system
Motion tracking system
Supports Alipay payment service
Decent battery life
Cons
Can connect only to one device at a time
Xiaomi Amazfit: Price
We have searched the whole internet and found the cheapest price of the device to be $119.89. This great deal is available on the popular e-tailer website, GearBest, which is offering a 9% off on the watch.
Why Should You Buy the Xiaomi Amazfit Smartwatch?
Are you interested in buying a smartwatch, but can't spend all the money in your wallet on it? Then, the Xiaomi Amazfit would be the right choice. It has got almost the same functionalities of a premium smartwatch, all for a price tag of around $120.
If you are serious about fitness activities and such, then getting one of these, will help you keep track and improve your sessions.
The Xiaomi Amazfit is currently going at a discount on Amazon, which is an excellent deal considering the features of the device.