Best gaming PCs under the $800 price range in 2020
It is a misnomer that you need to cough up over $1,000 to buy a gaming PC capable of delivering high-end performance.
With gaming PCs becoming more and more affordable and mainstream than they have ever been since they were first introduced in the 1980s, it is possible to find some epic machines for less than $800 that can handle the most demanding games, delivering full HD resolution at medium game setting.
Here is a rundown on some of the best gaming PCs under $800 that take care of all your gaming needs without needing an upgrade for a few years:
(PS: Prices may change from time to time but we'll do our best to keep up.)
CyberPowerPC Gamer Xtreme VR Ready GXiVR8020A4 Gaming PC
The CyberPowerPC Gamer Xtreme VR Ready GXiVR8020A4 is your cost-effective solution for playing modern AAA games at 60fps and 1080p.
It is by far one of the best gaming PCs in the $800 price range that combines great performance with impressive looks.
The mid-range gaming PC by CyberPower is set inside a black case with bright red LED fans at the front and back, which work well to enhance its stunning looks and design.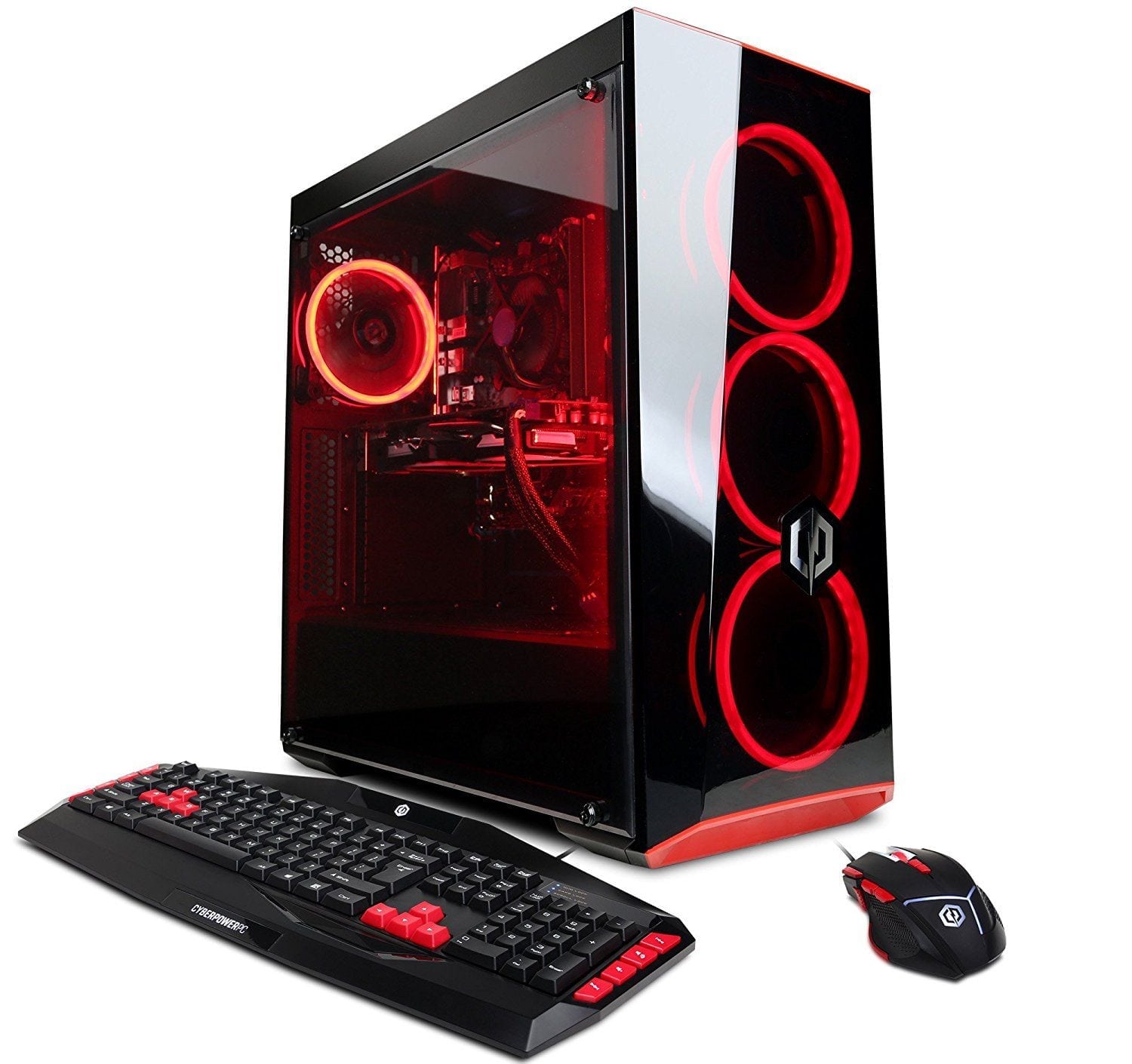 The PC comes preloaded with Windows 10 Home 64-bit and you get a complimentary keyboard and mouse combo in the box.
This CyberPowerPC offering runs an AMD RX 580 4GB graphics card, considered one of the best in the market today and capable of outdoing the performance of the 3GB GTX 1060 card.
The additional 1GB of VRAM is what lends this graphics card an edge over its competitors, though it does add to the heat output, noise, and power consumption levels too.
If a graphics horsepower is what you are looking for, it is worth making your peace with these little pitfalls. Besides, the gaming PC runs a Core i5 7400 processor, which adds to its ability to handle gaming like a boss.
The processor also makes it easy to multi-task with this PC, with an exception of video encoding and streaming, which may be beyond its 4-core chip abilities.
The GXiVR8020A4 is VR Ready and comes loaded with 8GB of DDR4 RAM and 1TB HDD memory.
In terms of connectivity, the gaming PC comes with WiFi, USB, DVD drive, Ethernet support, along with 7.1 channel surround sound that is integrated into the motherboard to offer great audio clarity.
Skytech ArchAngel ST-ARCH-GTX1050TI-V1 Gaming PC
The first thing that strikes you about the Skytech ArchAngel is the quirky design that makes it look like a scaled-down version of an alien spacecraft, straight out of a sci-fi thriller.
Beneath this design lies a well-built, well-performing mid-range gaming PC equipped with stellar components such as the AMD FX-6300 hexacore processor and GTX 1050ti 4GB GDDR5 graphics card.
The AMD 970 chipset-based motherboard has a WiFi adaptor installed to it and these internal components are fired up by a 430W premium PSU.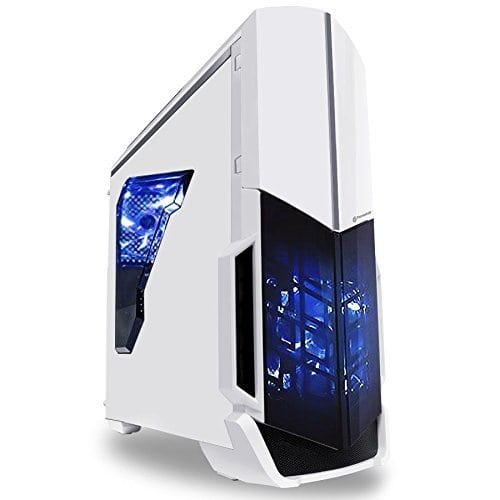 The gaming PC sports a white Thermaltake VERSA N21 Snow Edition case with transparent panels on the side.
It is the blue LED fans gleaming through the transparent panels on a white frame that lends this device its edgy, off-beat appearance.
The Skytech ArchAngel ST-ARCH-GTX1050TI-V1 gaming PC is certainly a device with amazing, show-stopper looks but you don't buy a gaming PC for its looks, so the question is whether this device can deliver a performance on par with its appearance.
Thanks to its high-end specs, it does not disappoint even on that account.
The GTX 1050ti video card coupled with the FX-6300 hexacore processor enables this gaming PC to deliver smooth gaming experience at 1080p.
The device performs equally well across AAA titles, making it an ideal pick for intense gaming. The graphics card used in this Skytech offering comes with futuristic API support.
This, along with 4 GB of VRAM, makes it a device that will last you many a future generation of gaming without needing any upgrades.
It comes preloaded with Windows 10 Home 64-bit, 8GB DDR3 RAM, and 1TB HDD, making it ideal for both gaming and multitasking.
The absence of bloatware helps in speeding up the installation of games through the 24x optical drive as well as online via WiFi.
In terms of connectivity, this PC offers LAN, DisplayPort, DVI, HDMI, WiFi, Ethernet, and USB support.
Acer Predator AG3-710-UR53
Acer has yet again proved its engineering prowess with this monster of a gaming desktop that boasts of an astounding design and super-fast performance.
Powered by 6th Gen Intel Core i5-6400 Processor with a 2.7GHz speed that can be enhanced up to 3.3GHz with help of Turbo Boost technology and a potent NVIDIA GeForce GTX950 video card, the Acer AG3-710-UR53 has everything you need for that flawless, immersive gameplay experience.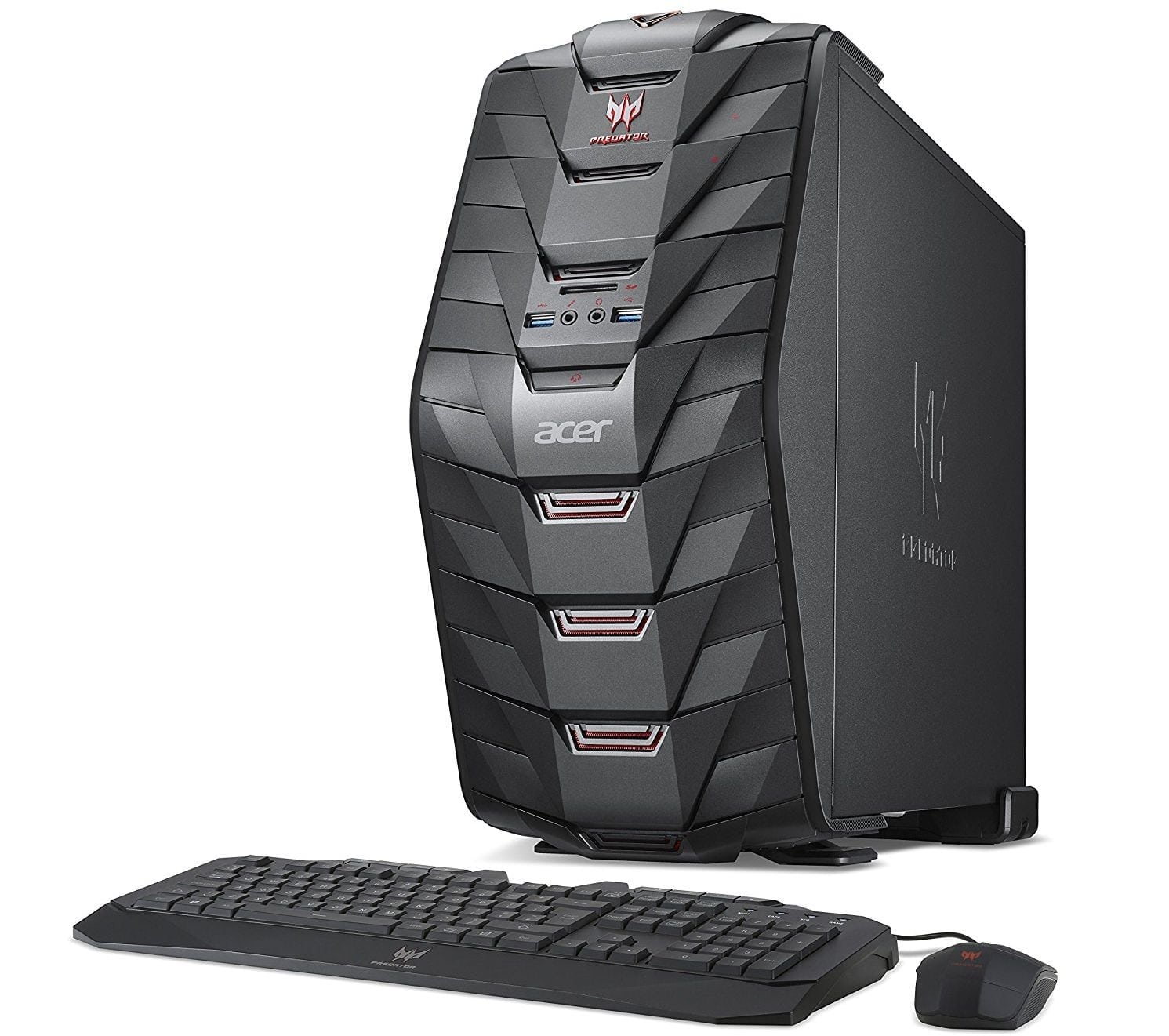 This gaming PC is capable of running the most current games on Windows 10 OS, which combined with advanced graphics and processor configurations and 2GB of GDDR5 video memory, take the gaming experience to a whole different level of awesomeness.
This is a device designed to impress even the most hardcore, competitive gamers by delivering a high FPS rate, and thus, eliminating the risk of lags.
This gaming PC from Acer is designed to offer high-end gaming experience in 1080P resolution across AAA titles.
The machine is equipped with an innovative and technologically advanced IceTunnel cooling system that prevents it from heating up even during prolonged spells of gaming by regulating thermal airflow via multiple zones.
The abundance of storage space – 8GB RAM and 1TB HDD at 7200 RPM – along with fast writing and reading capabilities make this computer ideal for multi-tasking.
The fact that this PC can be connected to the Xbox One also adds to its versatility. The features contribute to the immersive gaming experience offered by this PC, which is augmented by a customizable audio feature.
On the connectivity front, the Acer Predator AG3-710-UR53 comes with USB 2.0, USB 3.0, DVI, DisplayPort, and HDMI support.
The Bottom Line
All these gaming PCs are the perfect examples of packing in a great performance, innovation and design in mid-range desktop computers.
While each of these gaming PCs makes for a great gaming option in its own right, your own gaming choices and preferences are the real deciding factor here as certain games work better on certain configurations.