As gaming PCs become more and more affordable, the possibilities of the kind of specs and features you can get in a PC under $1,000 are just endless.
In fact, a vast majority of gamers today prefer gaming PCs in the $500-800 price range, and this buying trend has pushed manufacturers to up their game and pack in impressive functionalities in gaming computers available on a budget.
If you are working with the under $700 price point, you stand a fairly good chance of landing a device that promises impressive specs, build quality, gaming performance, and customer popularity, being closer to the higher end of the popular price spectrum.
Here are the best gaming PCs under $700 that are designed to help you enjoy the intense graphics and remarkably challenging titles that are the hallmark of present-day gaming:
Top Gaming PCs Under $700
HP Pavilion Gaming Desktop
To land a device like the Pavilion Gaming Desktop by a manufacturer like HP for a price point of just below $700 speaks volumes about how far the gaming PC market has come in terms of competitive pricing.
Yes, priced at $609 right now*, this gaming PC is right under $700 which is what we want, but for the kind of specs and performance you get herein, it is every bit worth stretching your budget and almost reaching the limit.
Even if you tried to build a gaming PC on your own, you wouldn't so much as come close to packing in so many great components in this price range.
It is a beast of a desktop by every measure, and capable of delivering some impressive gaming performance.
The PC is fired up by an 4 GHz Ryzen 3 processor with four cores, a base frequency of 4.0 GHz that can be enhanced up to 4.5 GHz and the AMD Radeon RX 5500 with 4GB of dedicated graphics space.
The Pavilion Premium is also VR Ready and offers an optimum digital resolution of 7680×4320@60Hz. You get 8GB DDR4 SDRAM and 512 HDD memory on this device, so there is abundant room for just about everything you may want to store on a computer.
This HP offering comes with DP, HDMI, DVI, DVD, 7-in-1 memory card reader, Ethernet, Bluetooth, USB 3.0, DisplayPort support, along with WiFi capabilities, DTS Studio audio, a headphone/microphone jack, and Windows 11 Home 64-bit preloaded.
There are two fans, one each at the front and rear, fitted inside the casing to keep the motherboard cool and route the air out of the system via side vents.
Acer Nitro 50 N50-620-UA91 Gaming Desktop
Acer Nitro has emerged as one of the best gaming PC manufacturers in the market today. And with a great price point.
Irrespective of the category you are looking in, Acer Nitro offerings stand out as one of the best in class, and their gaming PCs under $700 range is no different.
If you are looking for a gaming PC that is capable of holding its own under pressure, handling games on middle settings with ease, offering a seamless experience and topping it up with unmatched multitasking performance, the Acer Nitro 50 N50-620-UA91 Gaming Desktop has to be your go-to choice.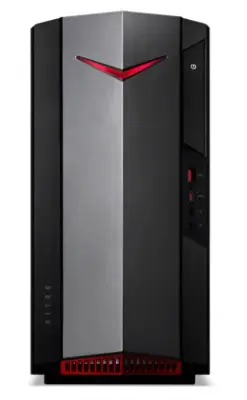 It is a PC built to accord so much power to your gaming faculties that you emerge nearly invincible ( provided you have the right gaming skills, of course ), leaving your opponents wanting for more.
In terms of specs, the Acer Nitro is powered by an Intel Core i5 offering a processing frequency to the tune of up to 4.4 GHz and an advanced NVIDIA GeForce GTX 1650 Graphics with 4GB of GDDR5 Video Memory graphics card that is designed to bring the immersive gaming experience to life.
This gaming PC sports 8GB of DDR4 and 512GB of HDD memory, which means there is enough space for accommodating high-end games as well as all of your personal data.
The computer looks just as good as it performs, with a nice looking like face and the black and red CPU casing.
The addition of fans also means that the device is well-ventilated and does not heat up during long durations of gameplay.
It comes with a Windows 10 Home 64-bit setup and sports HDMI, DisplayPort, 5 USB 3.1, 2 USB 2.0, and Ethernet ports, in addition to WiFi and 7.1 channel audio support.
A complimentary mouse and keyboard are included in the package.
Skytech Chronos Mini Gaming PC Desktop
Here is another Skytech Chronos offering that is designed to help you get the most out of your gaming PC.
The Skytech Chronos Mini is not only designed to handle intense gaming sessions but also cut out to handle everyday tasks such as web browsing, social networking, professional assignments and more.
At the core of its multitasking capabilities is the powerful INTEL Core i3 10105F 3.7GHz. This offering from the Chronos series, much like its other counterparts, is meant to offer a great visual experience with integrated graphics on a NVIDIA Geforce GTX 1650 4GB GDDR6 Graphics Card.
Adding to the versatility of this offering is its multi-monitor compatibility feature, which makes a desktop computer truly meant to deliver the ultimate multitasking experience by running different features/programs on different screens.
The high-end specs help in optimizing high game resolutions and settings on this device, and as is the case with most Skytech offerings.
All in all, it is a device suited for anyone who seeks the fastest gaming experience and access to a host of system-intensive applications at the same time.
The gaming PC is powered by an INTEL Core i3 10105F 3.7GHz, which tops the performance of the preceding generation of processors by nearly 15 percent.
In addition to the impressive processor, you also get a powerful NVIDIA Geforce GTX 1650 4GB GDDR6 Graphics Card. along with 16GB of DDR3 RAM and 500GB HDD.
These top-of-the-line features work well together to deliver excellent performance both in terms of gameplay and generic computing work.
This gaming machine by Skytech enjoys quite a fan following among gaming enthusiasts and going by its specs, it is not hard to see why.
Apart from handling extreme gaming in high settings and serious multitasking, this computer also serves well for creating HD masterpieces, games, and shows with great visual richness and detail.
On the connectivity front, you get HDMI, DVI, USB 2.0, Ethernet, Audio, VGA, and DVD support.

CUK Mantis
If there is a gaming PC manufacturer that comes a close second to the prowess of gaming, it has to be CUK Mantis. The company has consistently delivered impressive, desirable gaming computers in nearly every segment.
The CUK Mantis is another such computer that is nothing short of a powerful gaming rig.
Powered by some of the newest technology available today, this gaming PC is like having an improved, advanced version of the popular Pascal architecture on a budget.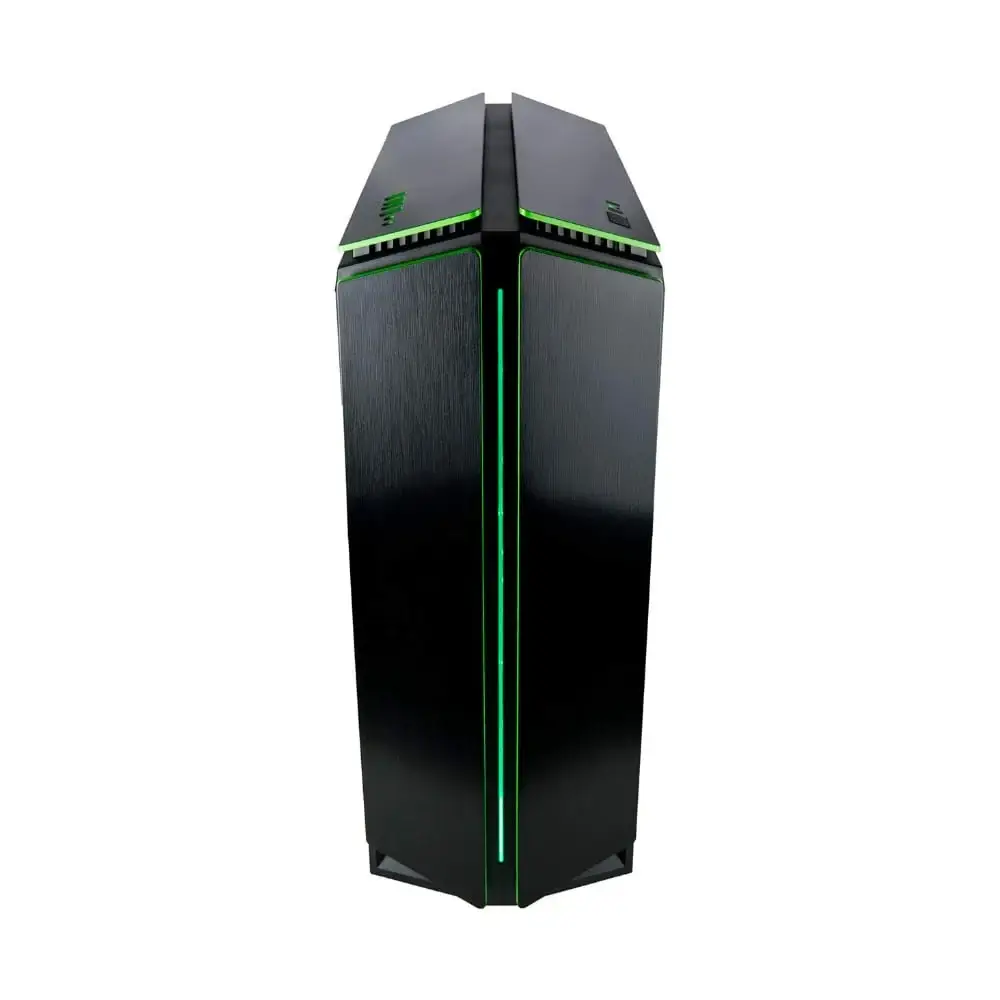 This gaming PC is everything you need to take your gameplay experience and expertise several notches higher with a fast, powerful and immersive gaming performance that will impress even the most hardcore and experienced gamers.
It is one of the best selling devices in the sub $700 category, all thanks to its upgrade capacity and next-level performance.
Not only does the MUK pack in great speed and performance to your gaming experience but it also goes beyond by delivering useful multitasking capabilities.
The gaming PC is built on Vega 7 iGPU, Ryzen 5 5600G, 16 GB Memory and 512GB storage – some of the most premium components one can hope to find in this segment.
The ability to offer a smooth run even with the latest 3D games, tool-less expandability, and multitasking capabilities, and a home theatre audio configuration is definitely some of the key highlights of this PC that enhance its desirability.
It sports a DVD drive, WiFi support and DVI, HDMI, USB, and Display Port support.
The combination of the processor, graphics card, RAM, along with other functionalities, makes it a device that has value-for-money written all over it.
How to choose the best gaming PC for you
Set clear goals
Everyone is different, and like people drive different cars to meet their different needs, so does a gaming PC can be a good or poor fit to each unique person.
Decide first besides the budget, what do you need the PC to do most of the time. If you only play light weight games, maybe you don't need the most advanced and expensive PC in the market. Think about these things before clicking the buy button.
Choose a budget
Yes, money matters in gaming PC's. The PC you can get for $400 is not the same as a PC in the $2,000 range. So decide on a budget you are willing to spend and go for it.
A little known secret is that the most expensive PCs are not always the best ones. So do your research and choose wisely.
The Bottom Line
All the four gaming PCs hand-picked to fit the best under $700 category sport almost similar specs, with marginal differences such as a DDR3 memory is SkyTech as opposed to DDR4 used in others, or the difference in processors and graphics cards.
So how do you pick one out of these four? When it comes to making that specific choice of the single best device, it essentially comes down to your personal preferences, gaming habits, expertise and experience with gaming computers.
The kind of games you want to play, the kind of multi-tasking capabilities you are looking for, all impact your final choice.
Even so, if you had to look for key comparative parameters to narrow down on one device that works best for your needs, it boils down to cost, performance, build-quality, and most importantly, customer reviews.
Even the best in class devices have their share of cons and drawbacks.
A comparative analysis of different specs and features is the best way to find yourself a device that delivers on your personal expectations of end-user experience.