For those looking for an affordable convertible tablet or a 2-in-1 laptop, VOYO has come up with a brand new product: the VOYO VBOOK V3. The device has got pretty much everything you'd expect in a Windows convertible, for a super affordable price.
First Look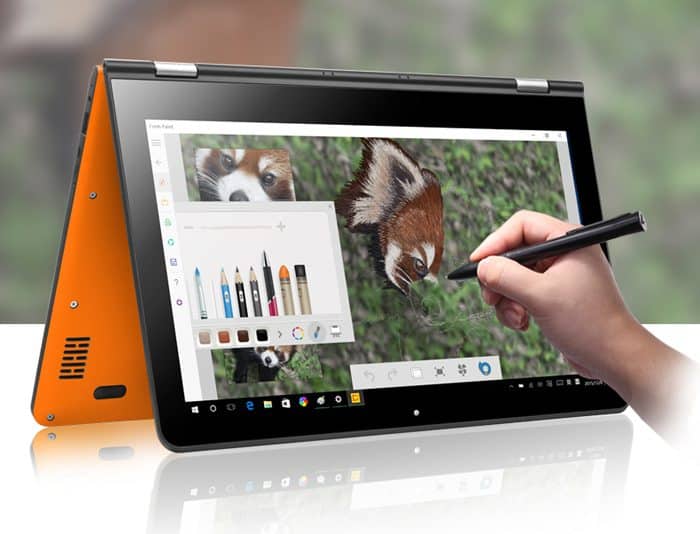 To be honest, the VOYO VBOOK V3 looks and feels more like the Lenovo Ideapad Yoga. It seems like the Chinese company has taken a lot of inspiration from Lenovo's Yoga series and implemented on their products. But, that's all fine because both the products look just too gorgeous.
Design and Build Quality
Now, we are talking the best part of this 2-in-1 laptop – design and build quality. I completely fell in love with the device just after the first glimpse. It is thin, offers a nice sensation to touch and is void of the crappy cheap feel, unlike the other Chinese gadgets.
The VBOOK V3 is premium built, which is something we wouldn't expect from a device at this price range. However, the laptop lacks a built-in microphone, which is sort of a let down from the company. Unlike other laptops at this price range that sports only a front camera, this device takes a different stand. It features a 2MP rear camera with auto-focus that supports HD video recording; and a 2MP front sensor for video calling.
The laptop weighs 3.7lbs, which in my opinion, is not too heavy. For reference, it's only a pound more than the Macbook Air. The device sports 33.00 x 22.00 x 1.60 cm / 12.99 x 8.66 x 0.63 inch dimension.
The keyboard and touchpad feel superior to any similar products at this price range, meaning long typing sessions are not a hassle on the VBOOK V3. The touchpad is a Dr-Jekyll-and-Mr-Hyde peripheral and thus offers a pretty great smoothness when it comes to moving the cursor. However, it is to be noted that the trackpad lacks physical buttons to register user clicks.
Display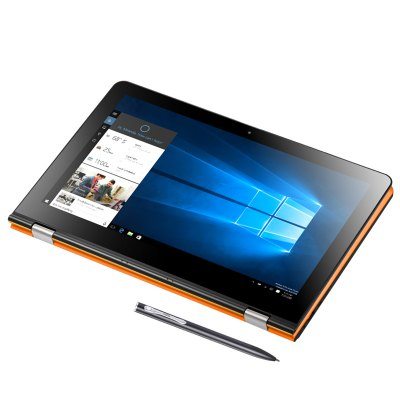 The VBOOK V3 features a 13.3 inch full HD 10-point capacitive IPS display with 1920×1080 resolution. In my opinion, VOYO has made the right choice to go for a 13,3-inch model, as it is arguably the best choice for using a desktop OS at full HD.
The touch screen is quite responsive, but not as smooth as the expensive alternatives like a Microsoft Surface tablet or a Lenovo Ideapad Yoga tablet. It's fast and responsive enough for your daily usage such as browsing the web, reading emails, and similar activities where touch accuracy and speed is not a major concern.
One of the great features is the "original handwriting". The device comes with a stylus made of metal with a microUSB port at the top for charging. It also has a set of colored lights to indicate the battery life of the pen, that is, red light turns on if it's low on battery and blue light turned on indicates you are good to go. Just like Galaxy Note 7, you can register your original handwriting or drawings on the device, using the stylus.
Performance
The device is powered by an Intel Cherry Trail Z8300 quad-core processor running at 1.44 GHz in normal mode and at 1.84 GHz in turbo mode, along with an Intel HD 8th generation GPU. The tablet is pumped up with a 4GB RAM and has an onboard storage of 64GB.
In our review, the graphics card didn't seem too great for "power-thirsty" games like GTA 5. Although playing such games on the tablet didn't turn out very well, the device showed absolutely zero problems in streaming videos or playing simple games like Solitaire. So yes, this tablet is not for the hard-core gamers out there.
One of the other thing we noticed is that Windows 10 OS struggles to work smoothly on the device, which is kind of weird as we've seen devices with similar specs run the OS smoothly as silk. This problem, however, could be fixed by turning on the "Performance Mode" under Windows settings or installing a lighter OS like Windows 7 on the tablet.
Audio Quality
First of all, don't expect a great audio quality from a device at this price range. The device sports a pair of speakers that promises decent audio quality. The speaker loudness is average but good at 74.5 dB. Unfortunately, it lacks a built-in microphone, which is not a big deal as you can get an external one for a few dollars.
Battery
The VOYO VBOOK V3 is backed by a 10,000 mAh battery, which is quite the reason for the heaviness of the laptop. After reviewing the unit, we found that the device provides a decent 3+ hours of video playback, 2 hours of gaming and 4 hours of browsing.
The battery results may not be that impressive, but it would be a bit too much to complain on a 250 dollar device. Also, recharging takes approximately 2 hours to charge the battery to full.
Original Hand Writing feature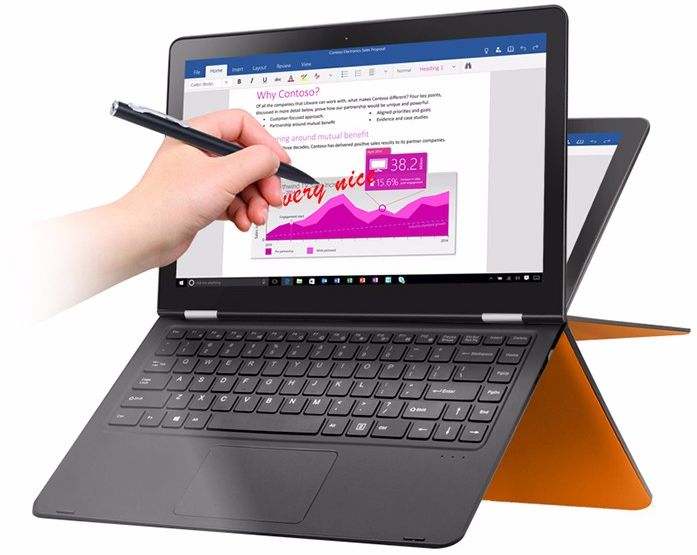 The device comes with a stylus out of the box. The stylus uses Bluetooth connection to pair to the tablet. The pen seemed to be a great help against the not-so-accurate touch screen. The pen is handy when it comes to clicking small buttons, writing, and drawing.
We've got to appreciate the company for including such an innovative feature in a budget tablet. The stylus has to be recharged separately via the microUSB port on its top.
Quick recap of the Specs
Processor: Intel Atom X5-Z8300 1.44 GHz
GPU – Intel HD Graphics Gen 9
RAM: 4GB (DDR3 single channel); Internal storage : 64GB eMMC flash
Battery – 10K mAh
Cameras: 2MP rear camera, 2MP front camera
Connectivity : Bluetooth 4.0, Wi-Fi 802.11 b/g/n
Connections/Ports : 1xUSB 3.0, 1xUSB 2.0, 1 HDMI, headphone jack, card reader
Why Should You Buy the VOYO VBOOK V3 convertible tablet?
If you're looking for a decent and affordable convertible tablet replacement for the Lenovo Ideapad Yoga series or Microsoft Surface tablets, then this one is for you. It seems to be the only tablet at this price range to offer dual cameras (rear and front), decent touch screen, great looks and an interesting module like the Stylus. It'll suit the best if you're not a power user, and just want a device for watching some HD videos, browsing the web, sharing and commenting on social apps, and playing small games that uses low GPU.
If you liked the features and specifications of the device, make sure you grab one of them from GearBest which is now offering a 28% discount. The device is available with a price tag of $249.49 on GearBest, which I'm guessing, is the lowest price for which you can get this tablet.