Is the Thunderobot 911M5a the best gaming laptop under $1000?
We've reviewed laptops for all kinds of purposes. Affordable dual function tablets, compact laptops, professional powerhouses, and more – most of which fall under the best gaming laptop under 1000 dollars category. We've always been able to find a great deal for any purpose, with the exception of gaming.
Gamers are used to having to pay more for their hardware. If you want the best, you've got to put up the cash. But with the Thunderobot 911M5a, gaming has been made affordable. Let's take a look at this portable powerhouse and see how it performs.
A First Look on the Thunderobot Gaming Laptop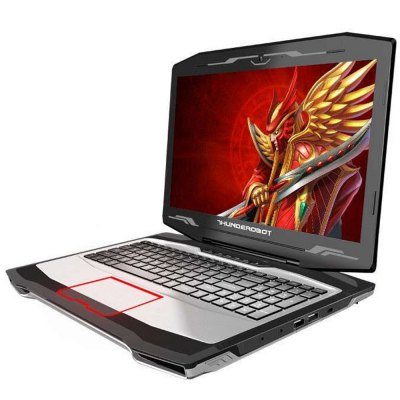 It's very clear from the design that this is a gaming laptop. After all, who wants to show up to the LAN party with a Dell? The sharp, aggressive angles and glowing red LED accents will show the competition that you mean business.
Opening it up makes you realize just how impressive this laptop looks. The huge touchpad is surrounded by a sinister-looking LED bar. It's certainly a large laptop, but it's 15.6" display is still compact enough to tote around.
Thunderobot's Design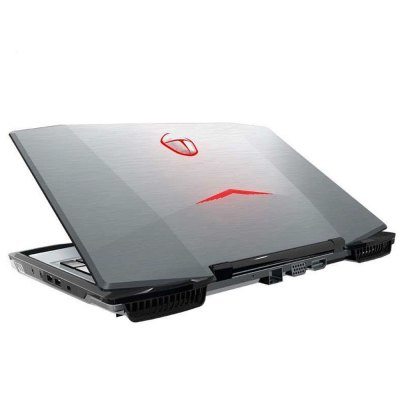 Every part of the laptop feels intentional and pervasive. It's sharply angled and has a very "in your face" look to it. But Thunderobot didn't let the design get in the way of functionality.
The touchpad is large and very easy to use, with the smooth surface allowing you an impressive amount of control and precision. The keyboard has that chicklet design that's so common, but the keys are nicely laid out to keep them easy to use.
It's got two speakers on the front that look a little like hood scoops from a sports car, but the center is recessed making it easy to carry around. If you're the type who likes to turn heads, then you'll love the look of this laptop.
Thunderobot's Performance
The best gaming laptop under 1000 on the planet is useless if it can't play high-end games. You don't just want the games to run, but you want them to run well. Fortunately, this laptop is well equipped to handle any modern game you can buy.
The graphics are handled by the competent GeForce 960M card with 4GB of video memory. It scores just over 4400 points in 3Dmark, putting it in line with mid to high-level mobile graphics systems.
Although this card is more commonly sold with 2GB of video ram, we're happy they used the higher model as this allows it to keep up with demanding games like Wolfenstein: The New Order. On high settings, we experienced a smooth performance at 1600×900 resolution.
If you want to go full 1080p, you might have to bump a few of the games down to medium settings.
Of course, you can't just buy a computer for the graphics card. There are plenty of shady manufacturers that will put a high-end graphics card and back it up with slower hardware.
Fortunately, Thunderobot planned the design of this computer. It's got an Intel i7 6700HQ 2.6GHZ quad-core CPU that is well up to modern standards and 8GB of ram.
This will meet the minimum settings for all new games for a few years to come, so your money is well spent.
Is this the best gaming system on the market? Sadly, no. If you want the ultimate in performance, you'll probably have to get a gaming desktop computer.
But as far as laptops are concerned, you'd have to spend upwards of $2500 to get a laptop that can improve performance by a small margin. For the price, you've got a competent gaming laptop under $1000 that can provide you with a smooth performance at an unbeatable price.
Upgrades
We haven't seen many computers that are user-upgradeable here, but Thunderobot knows that gamers like to stay on the cutting edge. If you've got a little extra money to spend, there are two upgrades that you can do to boost the performance.
The included storage device is a standard 1TB HDD. This is great if you play a lot of games because you'll be able to keep them all installed and never have to worry about running out of space.
But hard drives aren't quite as fast as solid-state drives. If you wanted to spend another $100, you could easily cut your load times in half. Sadly, the tradeoff would be space, as SSDs get pretty expensive beyond 256GB.
Another concern is the memory. 8GB is plenty for the games of today, but in a year or two, you might want more. This laptop can be upgraded to 16GB, so you'll be able to modernize it in a year or two if you need it.
Display
The display used in this laptop is a pretty standard 16:9 1080p display. It's 15.6" diagonally, so it gives you plenty of screen space to see all the action. There are a lot of retina or 4k displays, but this is the last thing that gamers want.
The more pixels you have, the more graphics power you need. At this time, 4K gaming is simply not possible on a laptop. The display uses a TN panel. This stands for Twisted Nematic, referring to the way the pixels are arranged. The pixels are staggered, so they aren't completely square.
The benefit of this technology is price, as they're much more affordable, and color reproduction.
On this display, colors are very bright and vibrant. Details stand out, and the entire experience feels cinematic. For gaming, this is a perfect choice. It might not be the best for photographers or designers who need perfect color accuracy, but any type of multimedia will be more enjoyable.
Sound Quality
This is certainly one of the better sounding laptops we've heard. Sounds are sharp, crisp, clear, and a little louder than expected. Thanks to the built-in subwoofer on the base, there is a deeper and more powerful bass extension than you'd find on any other laptop.
It might not be able to compete with the experience of a full-size gaming headset, but it will certainly do in a pinch.
Who Should Get the Thunderobot 911M5a?
If you're a gamer on the go, this is the perfect laptop for you. The hardest part of buying any gaming laptop is finding a balance between the price and the performance. In our opinion, this is the perfect middle of the road option.
The way we see it, there are three types of gaming laptops on the market. You've got the low-end ones, which will struggle through modern games at low settings. Even though they can be found for around $1000, you'll quickly get frustrated with the performance.
Alternately, you can spend $3000+ on a high-end gaming laptop that might give you a 15 to 30 percent improvement in the frame rate. For $1200, the 911M5a is only a little more expensive than a low-end model but provides you with enjoyable gaming experience.
You could buy a new laptop every two years and always have a system that can play the latest games at decent settings. If you bought the high-end system, you'd be spending twice as much for a computer that will still have performance issues in a few years.
If you want the best of the best, you might want to consider upgrading to a desktop PC. We went through and reviewed the best gaming desktops for any budget, so you might be able to get more bang for your buck that way.
Alternately, you could build your own. Not only is it a fun project, but you'll save yourself some money as well.
But if you're looking for portable gaming on the go, then this laptop offers better value than anything else on the market. So is the Thunderobot the best laptop under 1000 Dollars alternative? Your verdict.
PS: the 911M5a is currently unavailable but the ST-Pro makes for a better alternative at a great price point.