Even though Huawei isn't new to us, their Windows tablets are. Huawei Matebook is their first try in the Windows tablet department. Unlike other Chinese tablets out there, this one isn't any rip-off of any iPads or Surface Pros. Everything about the tablet is great; except for the price. Even after 30 percent discount, the Windows 10 powered 2-in-1 tablet still costs more than $850 on GearBest.
First Impressions of the Huawei MateBook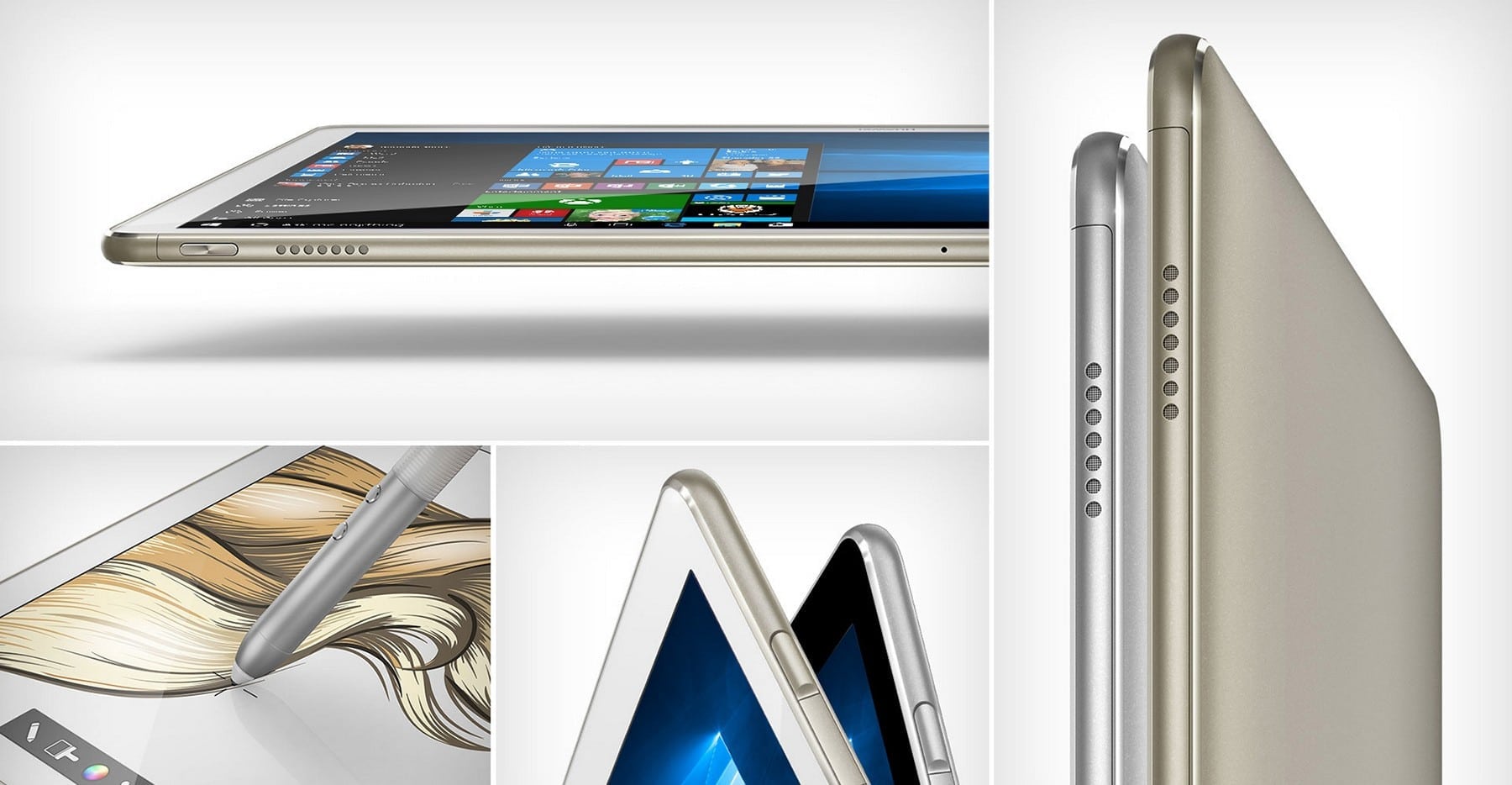 It looks like the Chinese company has put in good efforts in designing the tablet. The all-metal chassis of the tablet could impress anyone looking for a premium-built device. It seems very solid and rigid with very minimal bezels. Adding to the beauty, this premium device is also thin, with thickness just around 6.9 mm. In comparison, it has got the same thickness as the Apple iPad Pro and slimmer than the Samsung TabPro S by 1.5 mm.
Design and Build Quality
As I already said, the Matebook is not a rip-off of any popular tablets. The design is brand new, highlighted by the all-metal chassis. The tablet looks sleek and solid. At the top edge of the tablet, there is a power button, a microphone, and a stereo dual speaker setup.
Moving on to the right, it has volume rocker buttons, and a USB-C port used for charging and data transfer. And on the left side, the device sports another microphone (for noise cancellation), along with a 3.5 mm headphone jack. The bottom side looks neat, rocking only a keyboard connector.
Weighing only about 640 g (1.4 Lbs), the Huawei Matebook is one of the lightest tablets in the planet. It sports dimensions of 27.88 x 19.41 x 0.69 cm.
Besides the device comes with an optional keyboard cover option, which I would recommend having one if you're a serious typist. Otherwise, you may just forget about its existence. The cover also packs a touchpad with which you can control the cursor, just like the one found in laptops. I think it's worth mentioning that the keyboard isn't as great as it sounds to be. During the review, we found the keyboard positioning and angle selection to be sub-optimal on a complicated design.
The device comes equipped with a 5 MP front facing camera, that lets you video chat with your friends. So, everything besides the keyboard is great about this device.
The Huawei MateBook's Display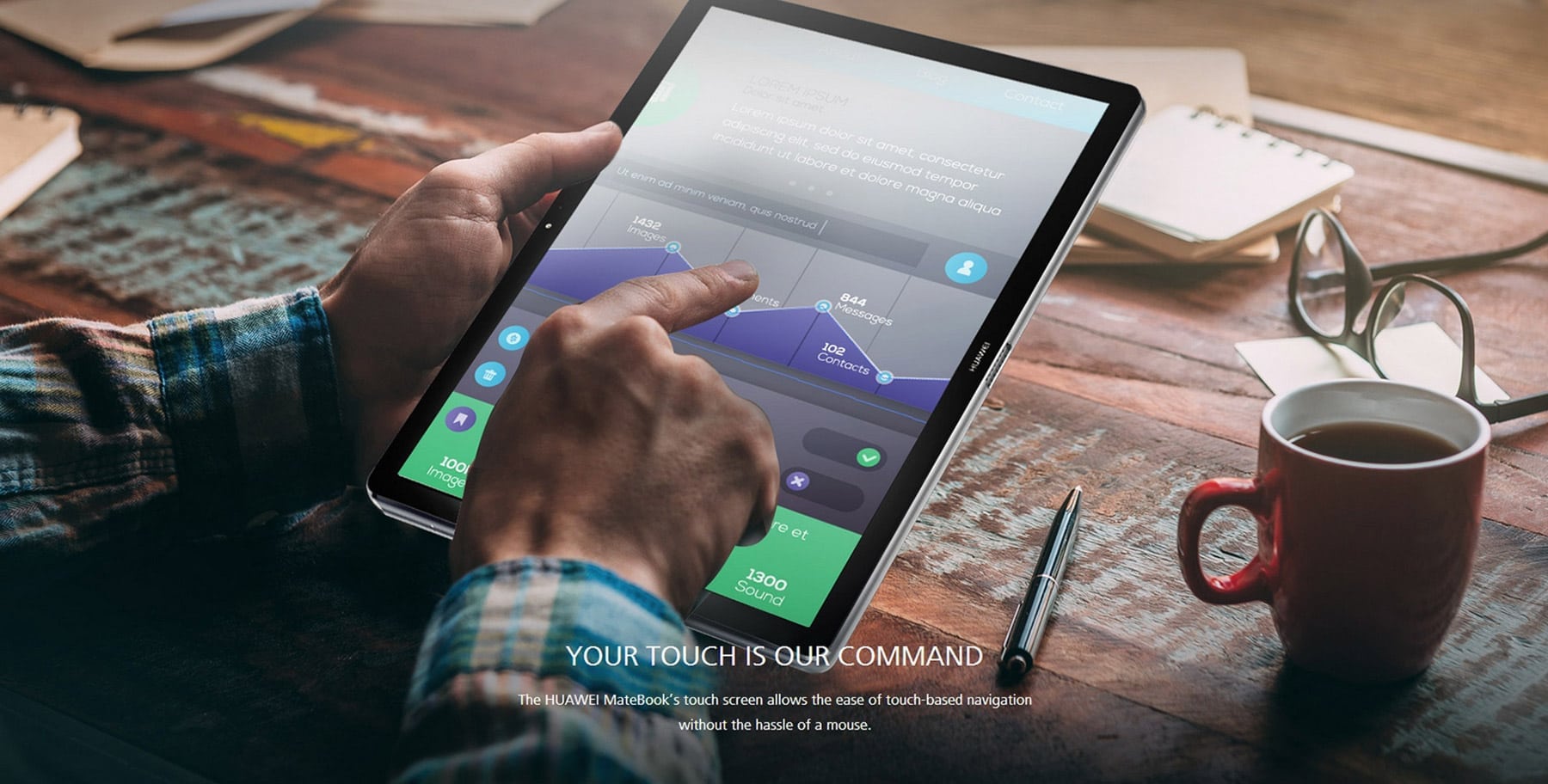 The display of the Huawei Matebook is a 12 inch IPS LCD with 2160x1440p resolution. Thanks to the great display, everything looks just perfect on the device with excellent viewing angles and decent color reproduction.
It's worth mentioning that the brightness of the display is not very high at 216 NITS. Therefore, the tablet may not suit outdoor uses.
A review of its Performance
The tablet is powered by a Intel Core M3-6Y30 dual core processor running at 0.9 GHz, which can be further boosted to 2.2 GHz using Intel Turbo Boost technology. To be honest, the processor cannot handle heavy applications like photo and video editing, gaming, etc. However, the device exhibits pretty decent performance while handling lightweight tasks like browsing the internet, document editing and e-mailing.
The lower capability of the processor is mainly due to the tweeks the Chinese company has done to prevent it from over-heating. The processor is backed by Intel GMA HD 515 GPU, 4 GB RAM and 128 SSD storage.
We wouldn't recommend playing any graphic intensive games on the device, however, less graphic hungry games like Minecraft and Rayman Jungle Run wouldn't create any problems.
Huawei MateBook's Battery Life
The Huawei Matebook Tablet is equipped with 7.6V / 4430 mAh battery. It showcases a ridiculously low battery life, even with a processor that is not a high end one. So, if you are a person who would want your tablet to be running on a long journey, you may just skip this one.
Talking about the charging time, the device takes approximately 2.5 hours to be fully charged which is pretty amazing.
Love typing on a keyboard?
If you are a blogger and want your work to be done on-the-go, you can get a portfolio keyboard for the device at $129. It is available in black and brown leather (artificial leather) and attaches via the magnetic docking connector at the bottom.
The keyboard offers great time travel and typing on it wasn't an issue at all. But, there's another problem we found about the keyboard stand. The magnets used in the stand are not powerful enough to attach itself to the device, and thus ends up falling more often, which is annoying.
Stylus is interesting
Well, it has become a common scene for all the Chinese companies to include a stylus for their device, imitating the Microsoft Surface tablets. Huawei Matebook also comes with a stylus, letting you draw and write notes in your own handwriting.
Related: https://www.androidtipster.com/category/tablets-on-sale/
The stylus is charged via a MicroUSB connector and the company claims it will last up to a massive 100 hours when charged fully. Another great thing about the stylus is that it can be held at the back of keyboard case with the help of a magnet.
Also, the stylus doesn't come inside the box for free. It should be purchased separately for a price of $59.
Very Responsive Fingerprint Scanner 
To save the space, the company has added a fingerprint sensor on the volume rocker, which is present on the right side. The scanner is fascinatingly fast, making it ideal for day-to-day uses. You can set your fingerprint after signing into Windows Hello, just like you do it on a Windows smartphone.
Quick Recap of the Specs
Operating System – Windows 10
Processor – Intel Core M3-6Y30 dual core processor, clocked at 0.9 GHz
GPU – Intel GMA HD 515
RAM – 4 GB | Internal Storage : 128 GB SSD
Battery – 7.6V / 4430 mAh
Camera – 5 MP (front)
Connectivity – WiFi 802.11 a/b/g/n/ac, Bluetooth 4.1, GPS
Connections/Ports – a 3.5 mm headphone jack, a MicroUSB slot, a USB Type-C port
Why Should You Buy the Huawei Matebook?
The Huawei Matebook 2-in-1 tablet is sold for $867.97 on GearBest, after a 30% discount. Looking at the price itself, you can say that the device is pretty high-end, that can compete with industry majors like Samsung TabPro S and Microsoft Surface 4. If you're looking for a tablet that offers a solid design with pretty decent specs to let you drive your daily activities like browsing web, emailing, and streaming videos, then this one might suit you. As the processor used in the device is a low-end one and the battery life is not as good as its competitors, you might just want to skip this one if you're a hard-core gamer and/or a Gallivanter.