5 Best Android and Windows tablets with USB Port
Portability has been the calling card in the realm of gadgets for the longest time now. There was a time when users could not trust a laptop to replicate the efficiency of chunky desktop PCs.
However, not only did the laptop debunk that myth by more than matching up to a traditional PC's functionality but it also shifted the focus to svelte devices, biting off a substantial chunk of PC sales. The trend appears to have come a full circle now, with more and more people considering replacing the now mainstream laptop with sleeker, more compact tablets.
There are a few glitches though – not everyone is a fan of on-screen keyboards and transferring data via Bluetooth isn't always the most practical option.
All such concerns that have for so long held tablets back from being positioned as replacements for laptops can be addressed with the addition of a single functionality – a USB port.
But do tablets have USB ports? Yes, they do now. The catch, however, is that most tablets promising a USB port tend to sport a Mini-USB port instead of a USB 2.0 port.
While some new tablets are shipping with full-sized USB ports, they still make for a limited selection. If you consider your choices in terms of the wide spectrum of tablet PCs in the market today, finding ones with USB 2.0 ports is like searching for a needle in a haystack.
Considering how this single feature can significantly enhance the functionality of a tablet, it is well worth the effort.
You can use a USB port on a tablet to connect a keyboard or a mouse to increase the speed of typing and overall ease of handling, plug-in flash drive for data transfer, connect a PlayStation 3 controller amid other game controllers, turning your handheld tablet into a viable alternative to your laptop.
Since 'limited options' is the underlying factor here, it is all the more important to take your pick wisely. We bring you this rundown on some of the best tablets with USB Ports to help you make an informed choice:
Microsoft Surface Pro 4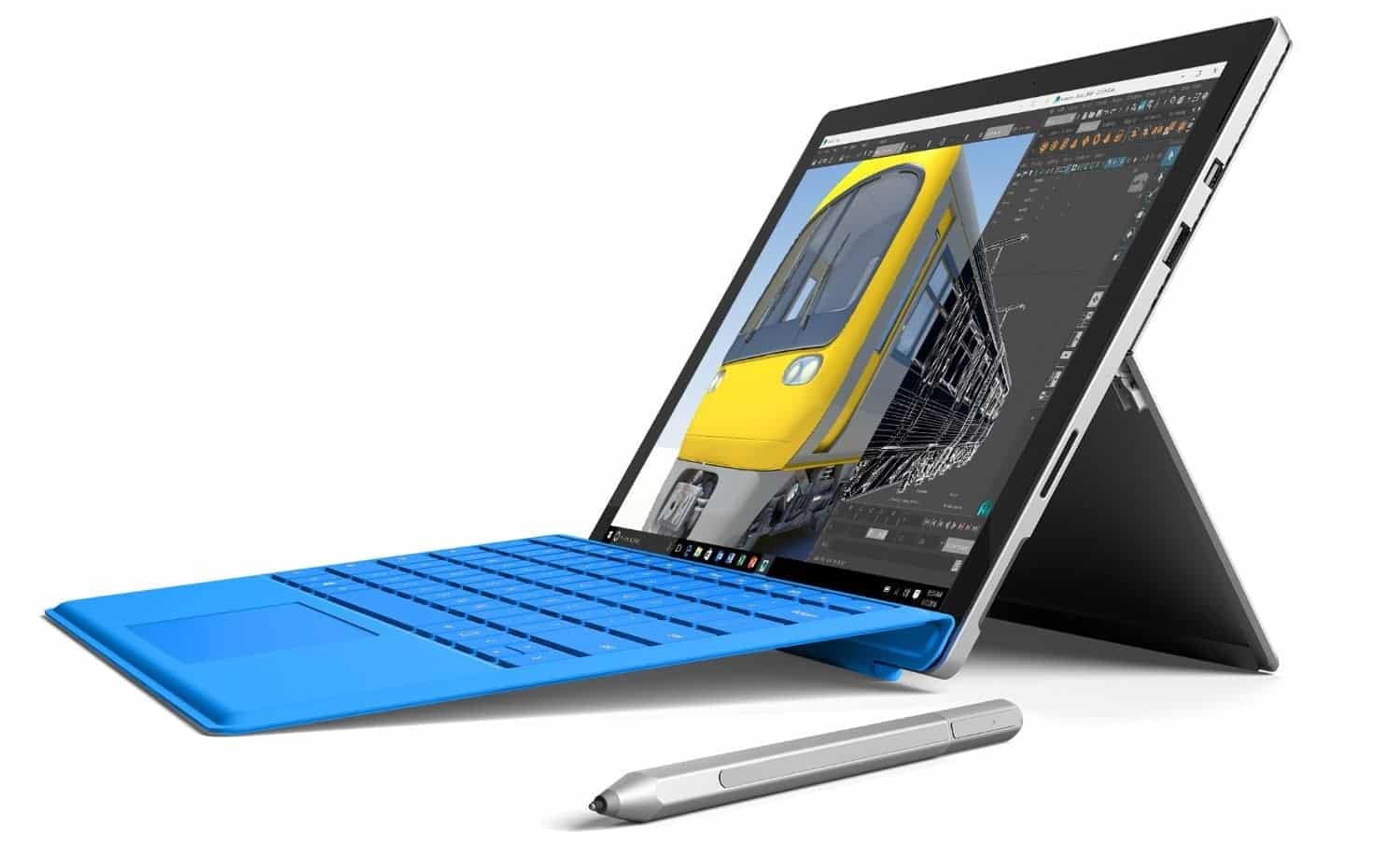 The Microsoft Surface Pro 4 is a sleek-looking tablet with sharp angled edges that make it an aesthetic delight to behold as far as the design is concerned.
It is available in three variants offering a host of different options, allowing you to customize the functionalities of this tablet to suit your needs.
The 12.9-inch display is the obvious dominant factor on this device. The touchscreen of this 2-in-1 offering from Microsoft comes with a PixelSense display offering a 2736×1824 resolution that translates into vivid and clear images with an impressive color gamut.
The inclusion of an anti-glare film on top enhances the usability of this device, making it fit for outdoor use.
You get 16 GB of RAM along with a 512 GB hard drive on this lightweight and compact tablet, and you can upgrade the storage capacity easily using the MicroSD slot.
The inclusion of a stylus pen is a nice addition and the tablet is responsive to even the lightest touch. Bringing the 2-in-1 functionality of the Surface Pro 4 is a snap-on keyboard and a multi-position kickstand that offers added versatility.
Measuring 29.2×20.1×0.8 cm in size and weighing a mere 1.73 pounds, it has the intended qualities of a light and portable tablet PC.
Bringing the keyboard into play is simple and hassle-free, as is detaching it when you are looking to operate it as a handheld device minus the extra weight and accessories.
On the right side of the tablet, you have a USB 3.0 port, along with a Mini DisplayPort and charging port as well as a microSD slot tucked under the kickstand.
The Surface Pro 4 sports a single USB port, which comes in handy if you want to charge your phone using the tablet or plug in a USB powered device.
All the ports have been lined along the tablet body, which helps in linking the keyboard to the tablet body via a dedicated connector without it interfering with the functionality of any of the other ports.
Even though the port at the bottom is meant for linking and powering the keyboard, it does not double as an extra USB port when operating the tablet as a handheld device.
Unlike the USB or micro-USB chargers on smartphones, the charger here is designed to function with either side on top, which makes it easier to use.
You also get a 3.5 mm audio jack on the left edge whereas the power and volume controls are placed along the top. The camera is placed on the top rear of the device.
The magnetized sides are a blessing for attaching the Surface Pen to the tablet's body without the need for a dedicated dock to hold it in place. It is this impeccable attention to detail, along with a host of cutting-edge functionalities that make the Surface Pro 4 an absolute treat to use.
LG G Pad II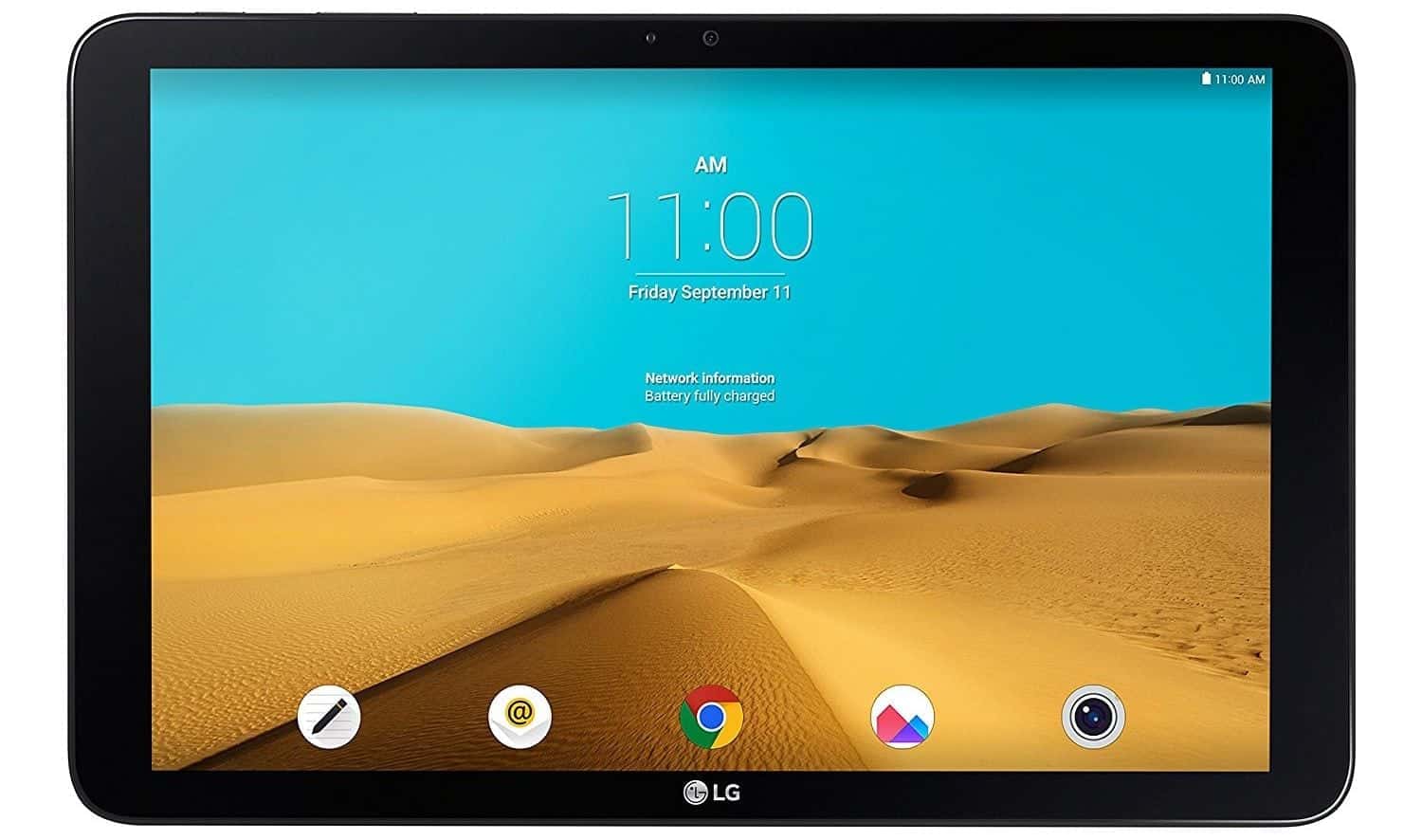 Electronics giant LG has never shied away from trying new features and functionalities in its range of gadgets. Case in point, the seemingly strange but convenient back button placement in smartphones that first raised quite a few eyebrows but has since been copied by many other manufacturers.
By that measure, it has played it safe with its G Pad II tablet, not pushing the envelope to include any standout features. Even so, it has managed to include a functionality that most other tablets lack – a USB port.
The G Pad II is built on a quad-core Snapdragon 800 processor with a top frequency of 2.26 GHz, 2GB RAM, 16 GB internal storage, 5 MP rear and 2 MP front cameras, Android 5.1.1 Lollipop and a 7,400mAh battery.
All these specs indicate toward the LG G Pad II being a capable tablet PC in its own right.
Weighing just 489 grams or 17 ounces, it is unarguably a feather-light 10-inch slate with a single 'brilliant bronze' color scheme defining its body. The build quality feels sturdy and premium, just what you'd expect from a leading brand like LG.
The fact that it comes preinstalled with the Microsoft Office suite enhances its suitability as a quintessential plug and play device.
With the G Pad II, LG has proved that not every gadget has to be about pushing the boundaries, sometimes getting the design, feature set, and specifications right is what it takes to create a device that can hold its own even in the face of stiff competition.
LG also launched a Bluetooth pair-able keyboard alongside the G Pad II, which further adds to the functionality of this tablet, positioning it as a potential 2-in-1 device that can be used as a replacement to your laptop.
The Wi-Fi-enabled G Pad II comes with the promise of high performance and wireless content sharing, making it an easy-to-use device that lets you share, capture, store and navigates with great effortlessness.
The tablet rocks an 8-inch IPS touchscreen display with an optimum resolution of 1280×800 pixels, making high definition content display a delight to behold. The IPS screen also supports wide-angled viewing and makes images and videos come alive with spot-on color accuracy and rich vibrancy.
The 5 MP rear and 2 MP front cameras may not have the most spectacular pixel resolution but come loaded with a host of user-friendly features such as digital zoom, HD camcorder, and Burst Shot mode.
The built-in USB interface is ideal for supporting dual functionality – establishing mass storage connections and charging devices. So, the G Pad II is equipped to support your everyday usage needs, be it transferring a chunk of data to or from this tablet or wanting to quickly juice up your phone's battery.
The 4,200 mAh battery holds the promise of long hours of uninterrupted usage, irrespective of whether you are using the tablet for simple tasks such as document editing and web surfing or heavy-duty tasks such as playing video content and games.
Compatible with the Android 5.1.1 Lollipop operating system, the tablet supports multi-touch navigation with ease. The built-in stylus pen comes in handy when scribbling notes or sketching, allowing you to stay in control of the screen and offer enhanced ease of use and accuracy.
The Dual Window feature that allows you to run two different applications on the same screen and even drag and drop content from one to the other is certainly the surprise bonus feature of the G Pad II.
Dragon Touch X10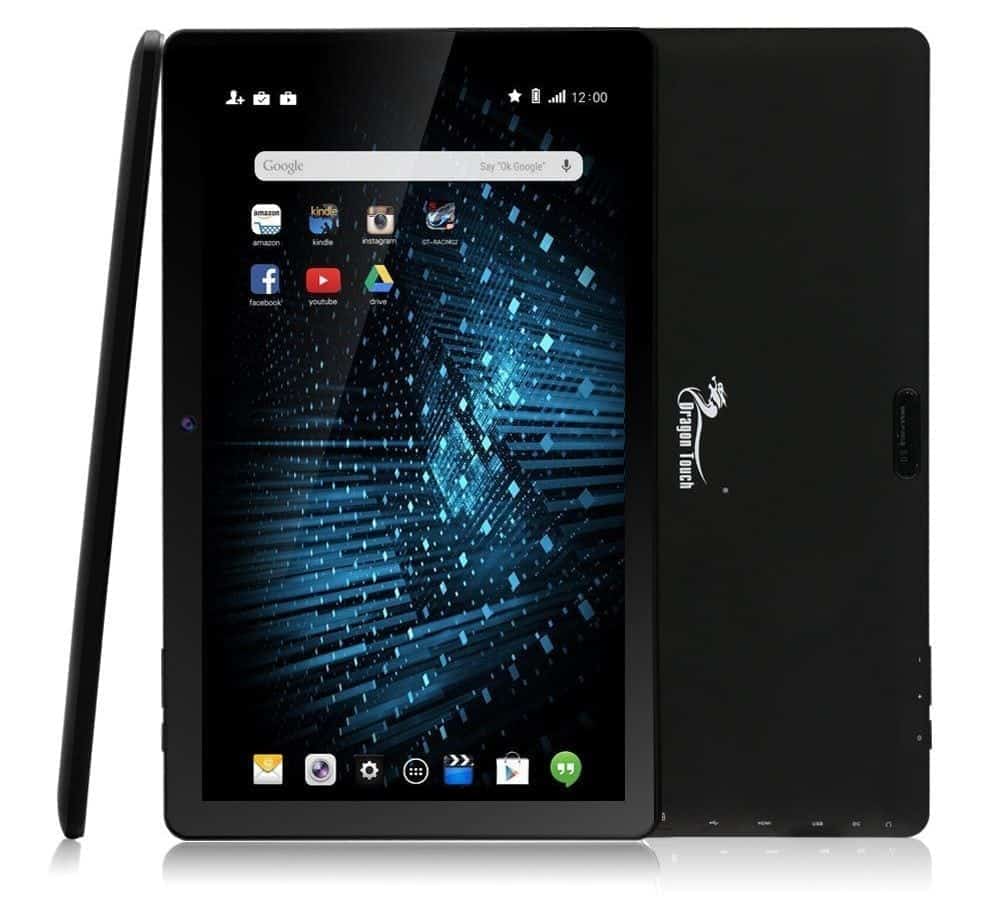 Going by its 'budget' tag, the Dragon Touch X10 has a lot to impress users with. The tablet sports a 10.6-inch display screen with a wide-angle view going up to a whopping 178 degrees.
You also get a 10 point multi-touch display with an impressive resolution of 1366×768 pixels, designed to enthrall with bright and vivid images that look equally sharp and stunning from every viewing angle, thanks to the SmartColour feature that boosts the IPS technology of the screen.
The IPS display comes pre-installed with a screen protector that is nice to touch and minimizes the risk of cracks and scratches.
As far as the design elements are concerned, Dragon Touch X10 is almost identical to the iX10 Windows variant, minus the Windows logo. The front camera sits atop the IPS display, and the power switch and volume rockers have been placed along the top edge in the landscape.
On the back, you have the primary camera, the Dragon Touch branding as well as two speakers. The tablet's body feels soft to touch and adheres to a simple, basic tablet design seen in many other Windows and Android tablets.
So while there is nothing ground-breaking about the looks of the X10, you know it will be a comfortable device to handle because it is built on a tried-and-tested design pattern.
The tablet runs the Android 5.1 Lollipop operating system, which adds a great degree of ease in handling this device, allowing you to download and update apps on the go.
Even though the Android 5.1 Lollipop works well on the X10, you do feel the pinch of not running the latest version OS.
This does translate into occasional scrolling issues and lag, which could be done away with if there was an Android 6.0 update available for this tablet.
On the rear, you have a 5 MP primary camera that does a decent job of capturing your moments with precision. The same cannot be said about the 2 MP front-facing camera, as it struggles to perform in low light scenarios.
So you'd need to keep that bedside lamp on when making video calls in a dark setting.
With a 7,200 mAH battery, the Dragon Touch X10 can accord 6 hours of uninterrupted run-time when browsing through media files and surfing the web. However, if you intend to use this tablet to indulge in top-end games, you need to keep the charger handy.
The left side of the tablet's body is lined with a MicroSD slot for expanding the internal memory, mini HDMI port, audio jack, a micro-USB port as well as a full-sized USB 2.0 port.
With an Octa-Core A83T processor under the hood and 1GB RAM, the tablet has the necessary power to hand basic tablet functions, be it the calendar, browsing, office work, and media consumption through streaming platforms like Netflix and YouTube.
Surprisingly, the Dragon Touch X10 does not do a shoddy job of supporting gameplay either. It handles light gaming like a breeze and even slightly graphics-heavy games such as Temple Run have a fairly smooth run.
However, if you are aiming for heavy-duty games such as Asphalt 6, you've got to be prepared for dropped frames and lag. The bottom line is, the Dragon Touch X 10 is a well-performing tablet as long as you do not try to stretch its limits too far.
Chuwi SurBook Mini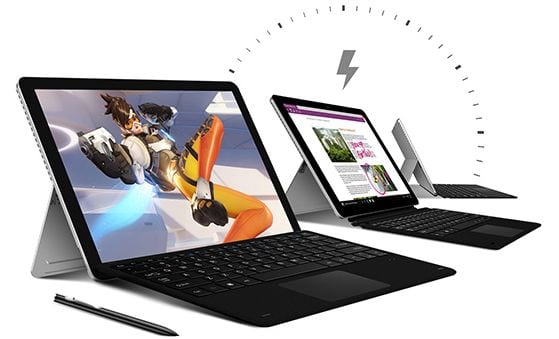 Inspired by the Microsoft Surbook, this Chuwi offering tries to emulate its big brother in terms of design and functionalities. As far as the looks are concerned, Chuwi nails its attempts of creating a Surbook replica.
In terms of specs and functionalities, however, the subtle differences are hard to miss. One obvious reason behind this variation in specs is that the Chuwi SurBook Mini is a comparatively smaller device, not to forget its budget price tag.
Despite these differences, this Chuwi tablet holds its own as the mighty mini.
The SurBook Mini, sporting an aluminum body, measure 297.8×203.3×9.4 mm and weighs a mere 686g.
The Windows 10 tablet sports an Intel Apollo Lake N3450 quad-core 64-bit CPU, a ninth gen Intel HD 500 graphics card, 4GB of RAM and 64GB of internal storage under its hood.
You get a versatile Full HD display with 10 point touch, intense color gamut, and sharp image display. The 125-degree kickstand is a great addition for a hands-free experience when using this tablet on the go.
The Chuwi SurBook Mini sports two 2 MP camera, one on the rear and the other in front. The front camera has adequate resolution to support video calls without any disturbing pixilation. The trouble, however, lies with the rear camera.
While you can make do with it to click some traditional photographs, it is not a camera that promises still image quality. Chuwi seems to have addressed that issue in the larger SurBook variant by squeezing in a 5 MP primary camera on the rear, but as far as the Mini is concerned, you'd have to live with sub-standard image quality.
The tablet runs the Windows 10 Efficient and Productive, offering a fast and powerful user experience.
This coupled with the Intel Celeron N3450 Quad-Core processor with a processing frequency in the range of 1.1 to 2.2 GHz, 4GB RAM, and 64 GB internal storage, make the Chuwi SurBook Mini a tablet with multitasking capabilities and enough room to store all your data – pictures, videos, music and more.
The SurBook Mini is lined with an array of ports that include a USB-C port for videos, two USB 3.0 ports, audio jack, and charging ports. The two USB hubs come in handy for connecting USB cords, game controllers, keyboards, and flash drives to the tablet.
With a sizeable 8,000 mAh battery, the Chuwi SurBook Mini always has enough juice to see you through several hours of continued usage. What makes the battery performance better is the fact that it takes under six hours to get a fully drained battery up to a full charge.
Installing the Windows 10 is a breeze and the Cortana voice prompts come in real handy in taking you through the installation process mostly by voice. The Cortana is also ready for use as soon as you finish building up the PC software.
If you have had to do this manually in the past, you'd be able to truly appreciate this upgrade for the hassle-free experience it packs.
The Chuwi SurBook Mini is a high-performance tablet PC for its compact size and proves to be a lot faster and efficient in comparison to many other Android tablets on the market today. We picked ours from GearBest at a discount.
Astro Tab A10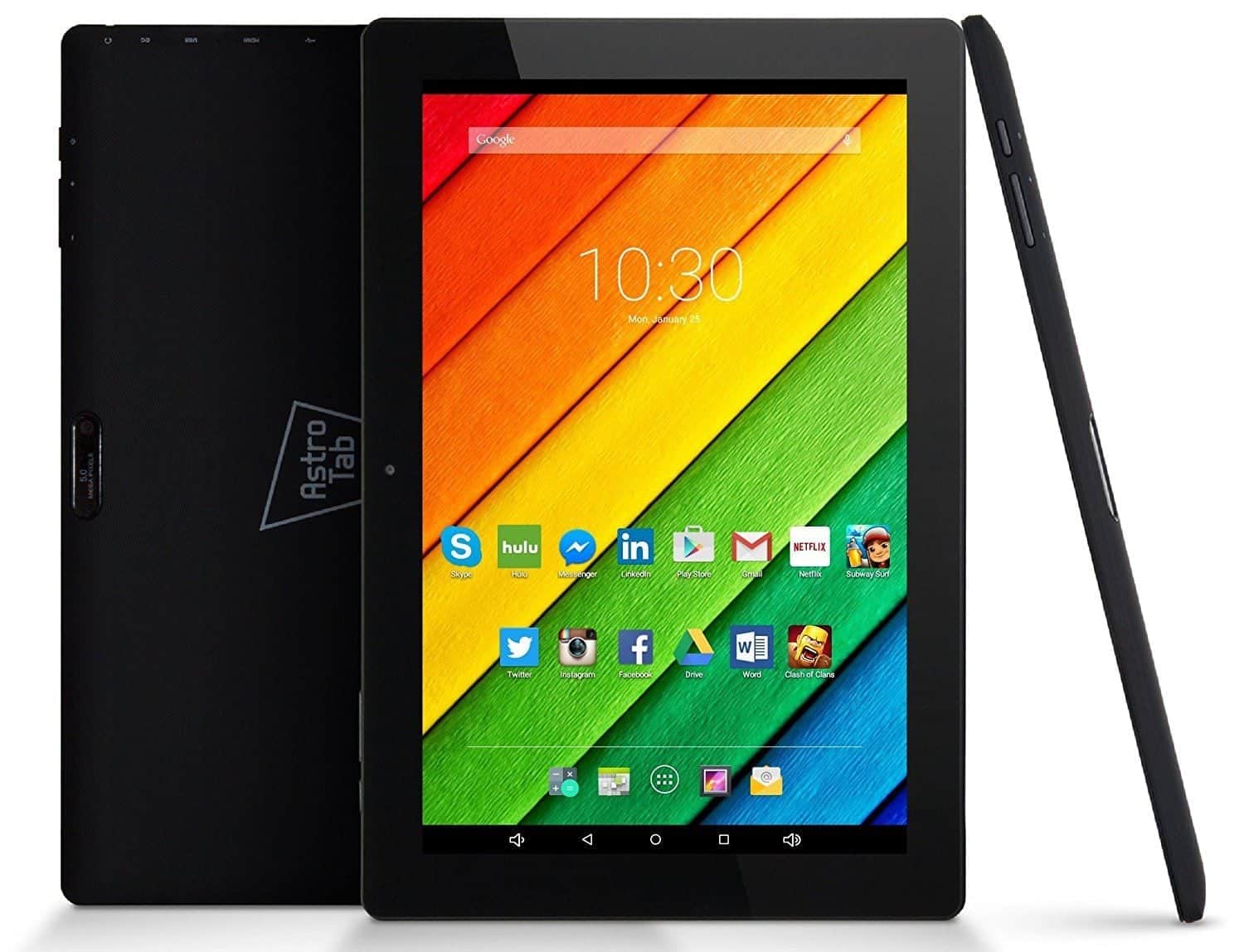 The Astro Tab A10 entered the fray in 2016, holding the promise of being a leading tablet of the year.
Riding on the 'flexibility and power meet functionality and price' sales pitch, the Astro Tab A10 was expected to create a lot of ripples in the market, and two years into its journey, it is safe to conclude that it hasn't disappointed on the count.
While Apple takes the cake when it comes to defining the look and feel of modern-day tablets, the A10 by Astro does a rather phenomenal job of not just emulating that look to perfection but improving it too.
The sleek, compact yet sturdy build of this device stands testimony to it. Done up in pitch black, the A10 sports a 10.1-inch screen that offers a refreshing pop of colors against the dark body of the tablet.
The 1280×800 pixels of display resolution enhances the display quality of the screen by several notches and makes watching videos, playing games and preparing presentations on this tablet a delightful experience.
The display quality is topped up by wide viewing angles in the range of 178 degrees, allowing quite a range of views.
Astro has addressed one of the biggest issues users have when it comes to tablets matching the capabilities of laptops and desktop computers by assuaging the need for flexibility with the A10.
The sides of this tablet are lined with a variety of ports to enhance is versatility and usability, and at the same time, making it an easy-to-use tablet. You get a micro-USB and a USB port each, which takes care of most of your connectivity and data transfer needs.
There is also a mini-HDMI port for displaying the contents of your tablet on a bigger screen, and a micro SD slot for expanding internal storage capacity. In addition to these, the A10 also comes with built-in support for Bluetooth connectivity as well as a wireless card.
The two features ensure that staying connected is the least of your worries when working with the A10.
The tablet sports a 2 MP rear camera and a .3 MP front-facing camera. Well, suffices to say that there is nothing quite impressive about the camera specifications of this tablet. If a high frame rate, high quality, and clarity are what you seek, the Astro A10 is not the tablet for it.
Thankfully, not many of us use our tablets for clicking photographs or capturing videos – that job is still best assigned to our smartphones – and so, the lackluster camera specs are but a small blip in this otherwise impressive tablet.
With a 2.0 GHz Octa-core processor, Android 5.1 Lollipop operating system, 1 GB RAM and 16 GB of expandable internal storage capacity, the Astro Tab A1o presents itself as a powerful, easy to navigate and customizable device that can cater to all everyday computing requirements.
And then it goes the extra mile with its ability to support 3D games and high-end apps without any glitches or lags.
Finally, there is a powerful 6,000 mAh battery that can offer up to 5 hours of run time even when you are working the tablet in full force. All in all, the Astro Tab A10 is a versatile tablet with all the right elements to offer high-end functionalities at a budget price.