Tablets have been in a precarious spot for quite some time now. With our smartphones becoming smarter, sleeker and more powerful by the day, fewer people feel the need to add a tablet to their gadget kitty for supplementing their computing need. Those who do, have one clear requirement – the tablet should be powerful enough to take care of all their everyday entertainment and work-related requirements and yet portable enough to be carried around with ease and operated on the go. Apple has remained the undisputed king of tablets. Even so, there is a wide segment of buyers who are more inclined toward tablets using the Android platform. The reasons can vary from not being a fan of Apple's iOS to being more accustomed to the customizability offered by Android or affordability.
For a long time, Samsung tablets were the only bankable alternative to Apple's iPad line-up. Now, with leading players such as Lenovo, Asus, Huawei, Amazon flooding the marketplace with promising devices at affordable price points, picking a clear winner in any category of tablets is no mean feat.
We have done the legwork for you by scouring through the line-up of best in class 10-inch Android tablets to bring you a clear winner. Our pick – Lenovo Tab 4 10 Plus.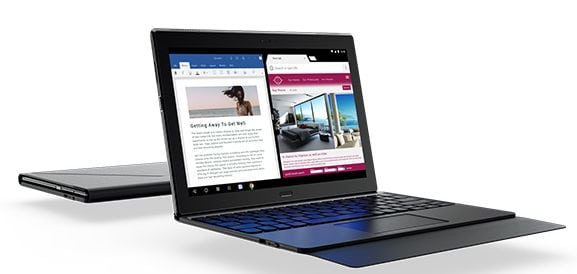 Lenovo Tab 4 10 Plus Overview
This 10-inch tablet from Lenovo is one of the most recent additions to the line-up, and undisputedly one of the most well-built and powerful Android tablets in its segment. Sporting a stylish design and a sleek plastic gun-metal chassis, the Tab 4 10 Plus has a distinct premium feel to it. It sports a 10-1-inch screen with an IPS display and a resolution of 1920×1200 pixels that provides a rich color gamut to its display quality and makes viewing video content a delightful experience.
The tablet is powered by a Quad-Core Snapdragon 625 chipset, 4GB RAM and an internal storage capacity of 64 GB, expandable up to 128 GB with a microSD card. The Lenovo Tab 4 10 Plus was released with the latest version of the Android OS, the 7.1 Nougat, with an Android 8.0 Oreo update in the queue. It has a monstrous 7,000 mAh battery under its hood, which is capable of according a screen-on run time of up to 8 hours on a single full charge. The tablet sports an 8MP primary and 5MP front camera and comes with cellular support to help you stay connected even without WiFi.
Design
The design of this tablet is quite impressive even though Lenovo has made some peculiar choices in terms of materials and layout. Instead of using an all-metal casing, which is kind of the norm with present-day gadgets, Lenovo has used a mix of metal, plastic, and glass for the Tab 4 10 Plus body. The back is covered with a single sheet that has a glossy glass finish and matching bezel on the front. The glass back bears a striking resemblance to the Samsung Galaxy Tab S3.

While the back cover adds a nice finish to the device, it is also a lot more prone to fingerprint marks and requires delicate handling especially when placing the device on a hard surface. The front side has a sleek bezel running around the 10.1-inch screen. At the first glance, the bezel appears to be made of aluminum but it is in fact plastic that feels like metal. The overall build quality of the Tab 4 10 Plus, as well as other variants in the series, is a marked improvement from the Tab 3 series.
The tablet feels quite sturdy to hold but it is definitely not as sturdy as one could have hoped for it to be with an all-metal body. There is some give in the tablet's build but it isn't fragile or bendy at all. With a 247x173x7.10 mm dimensions, it is not the thinnest or the sleekest tablet on the market but it is sleek enough to accord ease of handling. The same holds true for its weight – at 476 grams, it is not the lightest option available but it is light enough to be carried around and used on the go without discomfort.
Related: https://www.androidtipster.com/category/tablets-on-sale/
The tablet also sports a fingerprint scanner that has been tucked under the display and can be used to unlock the device quickly and securely. The fingerprint scanner, however, has neither been placed under the home button nor doubles as it, which can take some getting used to. The microSD slot has been placed on the right, which also accommodates the LTE version SIM card. You also get a 3.5 mm audio jack as well as USB Type C port with full OTG support, meaning you can use it for connecting SD cards and hard drives to the tablets without any problem.
Display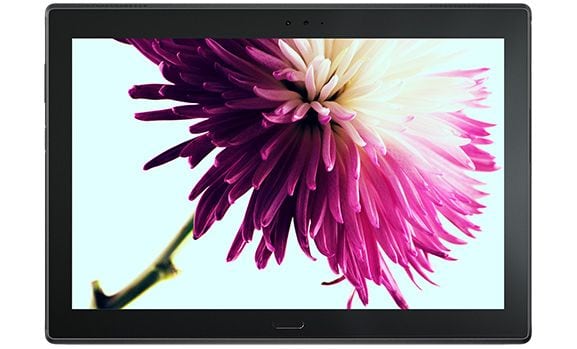 As the name suggests, this Lenovo offering falls in the 10-inch segment, sporting a 10.1-inch screen with an IPS panel, a display resolution of 1920×1200 pixels in full HD, and an aspect ratio of 16:10. The full HD display is one of the clear distinguishing factors between the Tab 4 10 Plus and its accompanying variant, the Tab 4 10. Lenovo has done its bit to break away from the status quo with the Tab 4 10 Plus display and delivered a device that is every video lover's delight. The longer display ratio and rich color gamut on this tablet, coupled with a full HD display, make viewing video content a treat. If you enjoy your share of Netflix binges, the Tab 4 10 Plus definitely makes for a good companion.
The color display here feels natural and fairly accurate, and so is the brightness. You can use this tablet in an outdoor setting without suffering any display troubles even at maximum brightness setting. The screen has a pixel density of 224 ppi, which works well with the aspect ratio, in offering a more than decent user experience free from distractions. All in all, the display of the Lenovo Tab 4 10 Plus seems to have been built with a view to supporting video content and games in full HD and it totally nails that experience.
Performance
The Lenovo Tab 4 10 Plus is fired up by Quad-Core Snapdragon 625 chipset, with all its cores capable of clocking a processing frequency of 2GHz. This means that the Tab 4 10 Plus is well equipped to cope with pretty much all regular tasks you expect to perform on a tablet on a daily basis. Switching between app, opening multiple folds and tabs, and generally navigating through the interface is a seamless, hassle-free experience. The tablet can cater to your multitasking needs with ease too, as long as you are careful to not run too many apps side-by-side.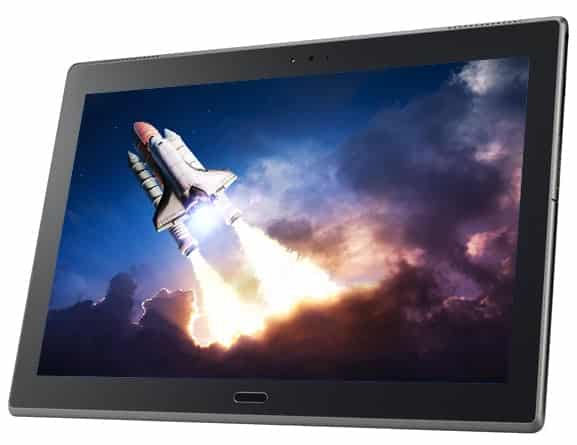 It delivers a more than satisfactory performance even with gaming, even running fairly demanding games such as Real Racing 3 without a glitch. There frame skipping within gaming interface is minimal and hardly noticeable. Of course, loading certain data-heavy apps and games takes a little longer than it would on a device powered by a more powerful chipset such as the Snapdragon 820.
The sound performance of this tablet is impressive, if not mind-blowing. The built-in speakers placed on the front side of the tablet offer stereo audio quality and live up to the prestige of Dolby Atmos brand. You won't feel the need to use an add-on wireless speaker with the Tab 4 10 Plus on most occasions, as the speakers offer a fairly decent sound quality. The Tab 4 10 Plus speakers are definitely on par with the speakers you find on any other tablet in this range and segment.
This Lenovo offering isn't a power guzzling, energy-hungry device either. With a robust 7,000 mAh battery, the battery performance of this tablet will definitely be the least of your concerns. It offers close to 8 hours of on-screen run time on a single full charge, even when playing videos or indulging in extensive gaming.
The tablet runs the Android 7.1 Nougat OS, with a room to upgrade to the latest the 8.0 Oreo. In addition to that, you get a lot of pre-installed apps, including the entire Microsoft suite comprising Excel, PowerPoint, Word, Outlook, and OneDrive, besides, OneSuite, Skype SYNCit HD, and SHAREit. Most of these apps can be uninstalled if they are not useful for you.
You get an 8 MP camera with LED flash on the rear and a 5MP front camera sitting atop the 10-inch display. Both the cameras offer decent results, be it for clicking pictures, scanning documents or recording videos in full HD. The front camera also offers good clarity for video calls. All in all, the camera performance is comparable to what you get on mid-segment smartphones.
Verdict
The Lenovo Tab 4 10 Plus has been called the closest thing you have to an iPad on the Android platform. While the device is not a match to the iPad's build or performance, it definitely stands a good chance of qualifying as a close runner-up, and certainly so among the options available on the Android OS.