A review of the 2 most durable smartphones of 2020
Blackview BV6000 Review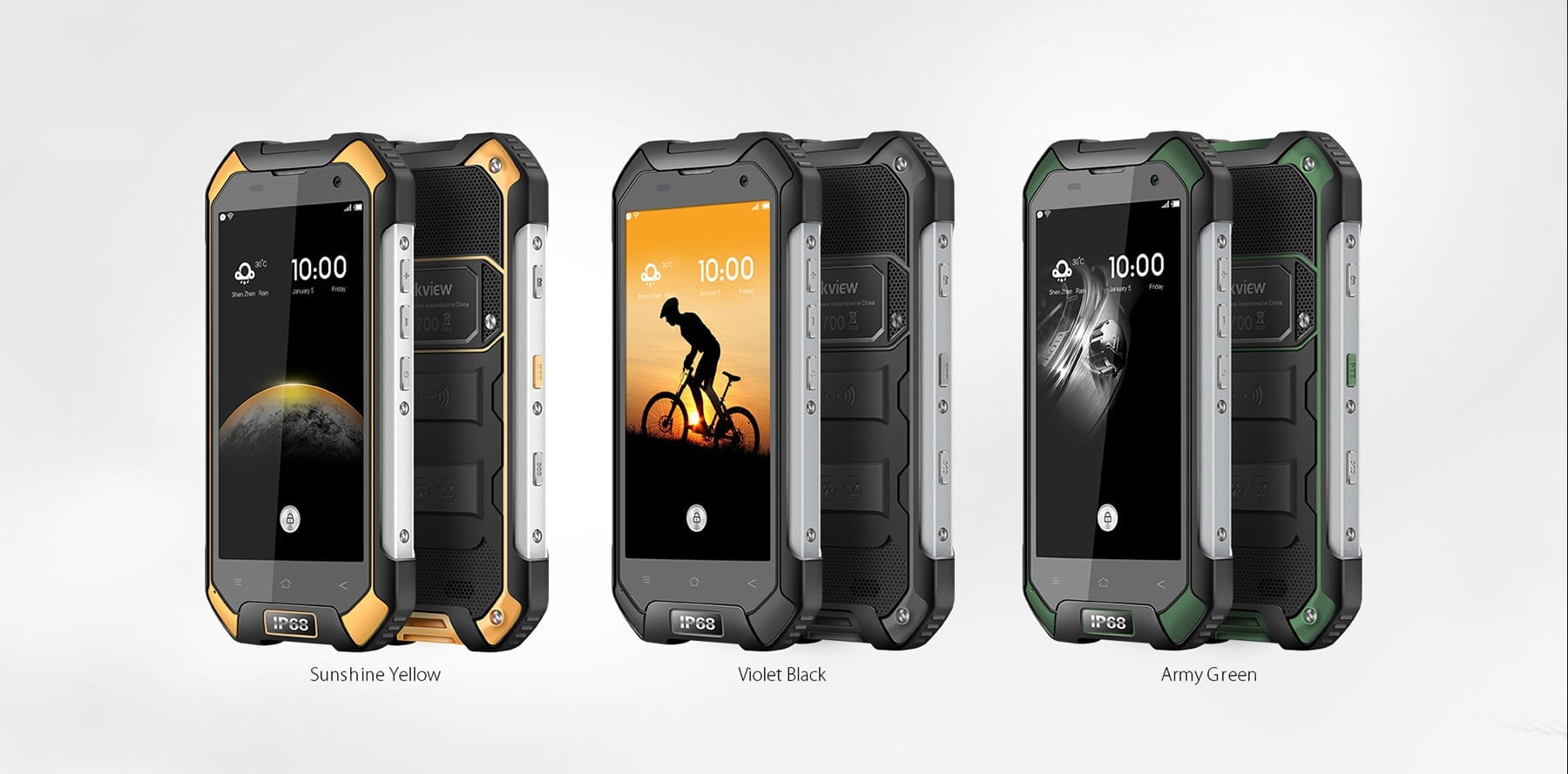 Whether you're an avid outdoorsman or a construction worker, you've probably lost a smartphone or two to the environment. If you're sick of having to replace your phones before they get old, you'll definitely want to see what the most durable smartphone: Blackview has cooked up for you. The Blackview BV6000 is designed to withstand almost anything you can throw at it or anything you can throw it at. But is it the most durable smartphone on the market? Let's take a look:
Most Durable Smartphone: First Look
From the moment you set eyes on the Blackview BV6000, you'll know just how industrious it is and why we chose to label it the most durable. The entire thing is covered with a mesh of metal, rubber, and gorilla glass that is virtually bulletproof. Picking it up feels more like you're arming yourself than simply getting connected. But the appeal can only get you so far, let's take a look and see if this phone really is as durable as it looks.
Blackview BV6000
Design
Despite the durability first look of this phone, they still managed to make it reasonably attractive. The frame is chunky but still has an aggressive down to business look about it. The yellow border really makes it stand out, and the metal frame is exposed on the sides to give you a premium feel of the most durable smartphone. If you've used an OtterBox before, you have an idea what it's like to hold the Blackview BV6000 in your hand. It's a little beefy, but very solid. Despite its rigidity, the phone is still attractively laid out. The buttons are tight and easy to find, and all of the touch sensors are clearly indicated – something that's been getting less popular with smartphones these days.
Besides being the most durable, this is certainly one of the bigger phones on the market. Despite its 4.7" display, it's more in line with a thick phablet or early model smartphone. It weighs 243 grams, giving it a bit of heft.
The design might not be for everyone, but you can be sure that it will be easy to spot. Even if you drop it somewhere, the bright yellow highlights make it stand out like a pylon.
Durability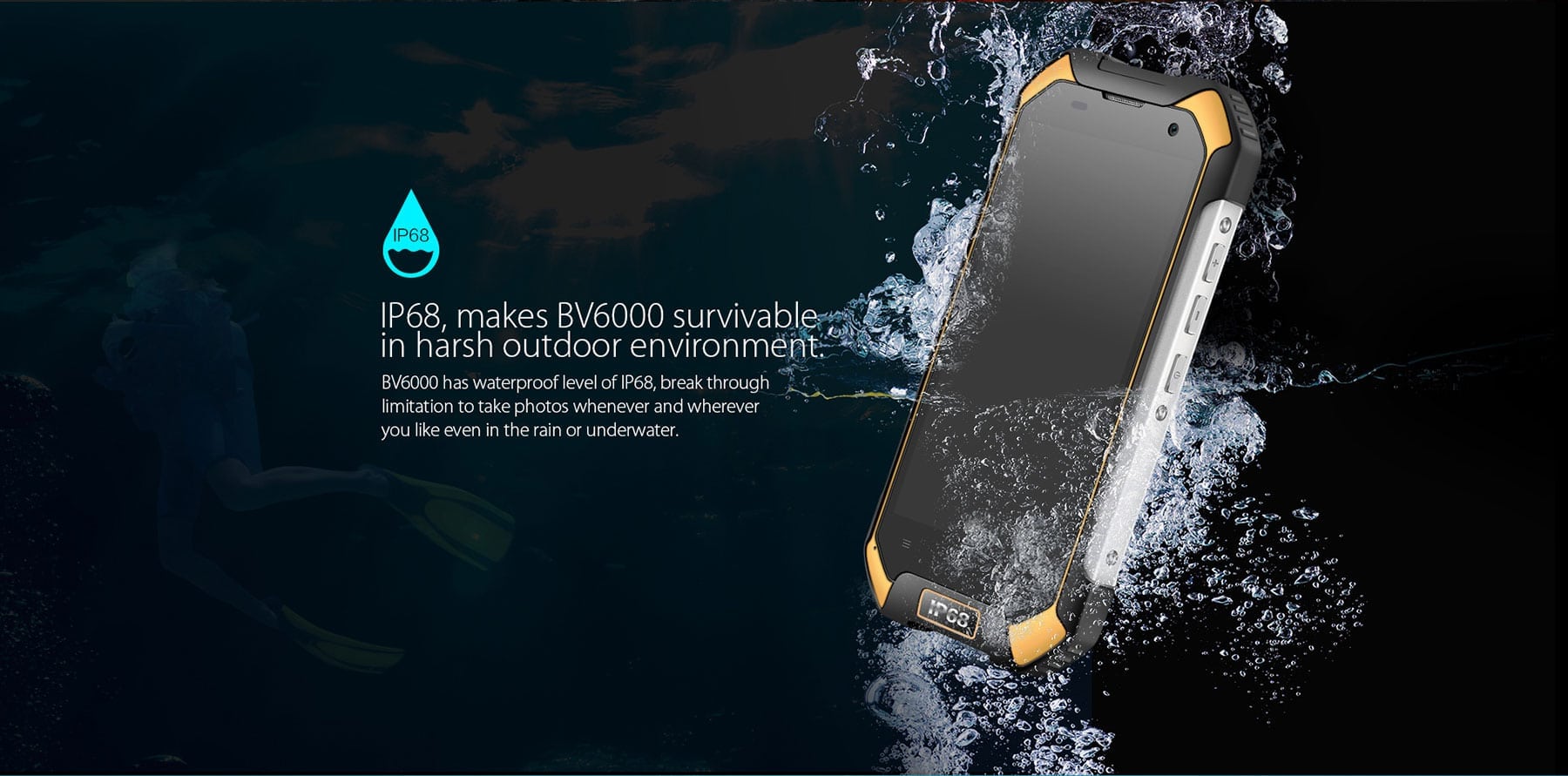 You'll notice that it's got "IP-68" printed on the front. That's not branding, it's a rating. IP-68 means that, when the rubber seals are in place, no dust or dirt can enter the enclosure. It can also stay in a meter of water for at least 30 minutes. But that's just the minimum standard of the rating, we found that it can last a lot longer after leaving it in the sink overnight, we pulled it still fully functional.
The one catch with this is the rubber seals. There are little flaps that cover the charging ports and headphone jack. These must remain in place, or water can get in and short circuit the system. They're pretty hard to miss, but something to keep in mind.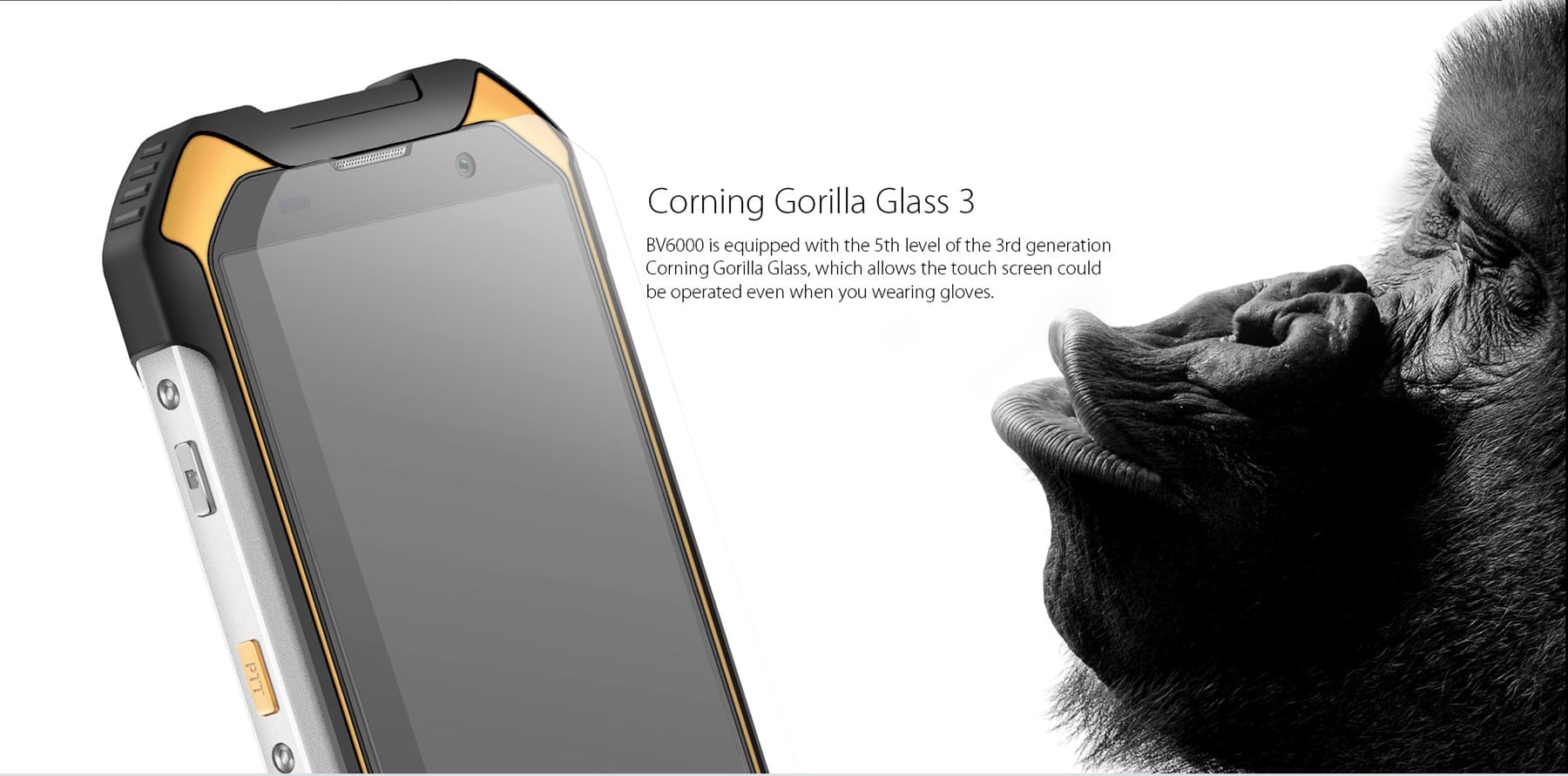 The display uses Gorilla Glass 3. It's a little thicker than most, but still, provides the same level of protection you've come to expect from Gorilla Glass. You won't expect the screen to take any hits, however. The rubber bumper covers the Blackview BV6000 from all angles, absorbing any impact.
Even though you can only see it from the sides, the entire frame of the phone is machined from a solid piece of aluminum. This holds everything in place, making it much sturdier than any other phone on the market and thus making it the most durable smartphone today.
Performance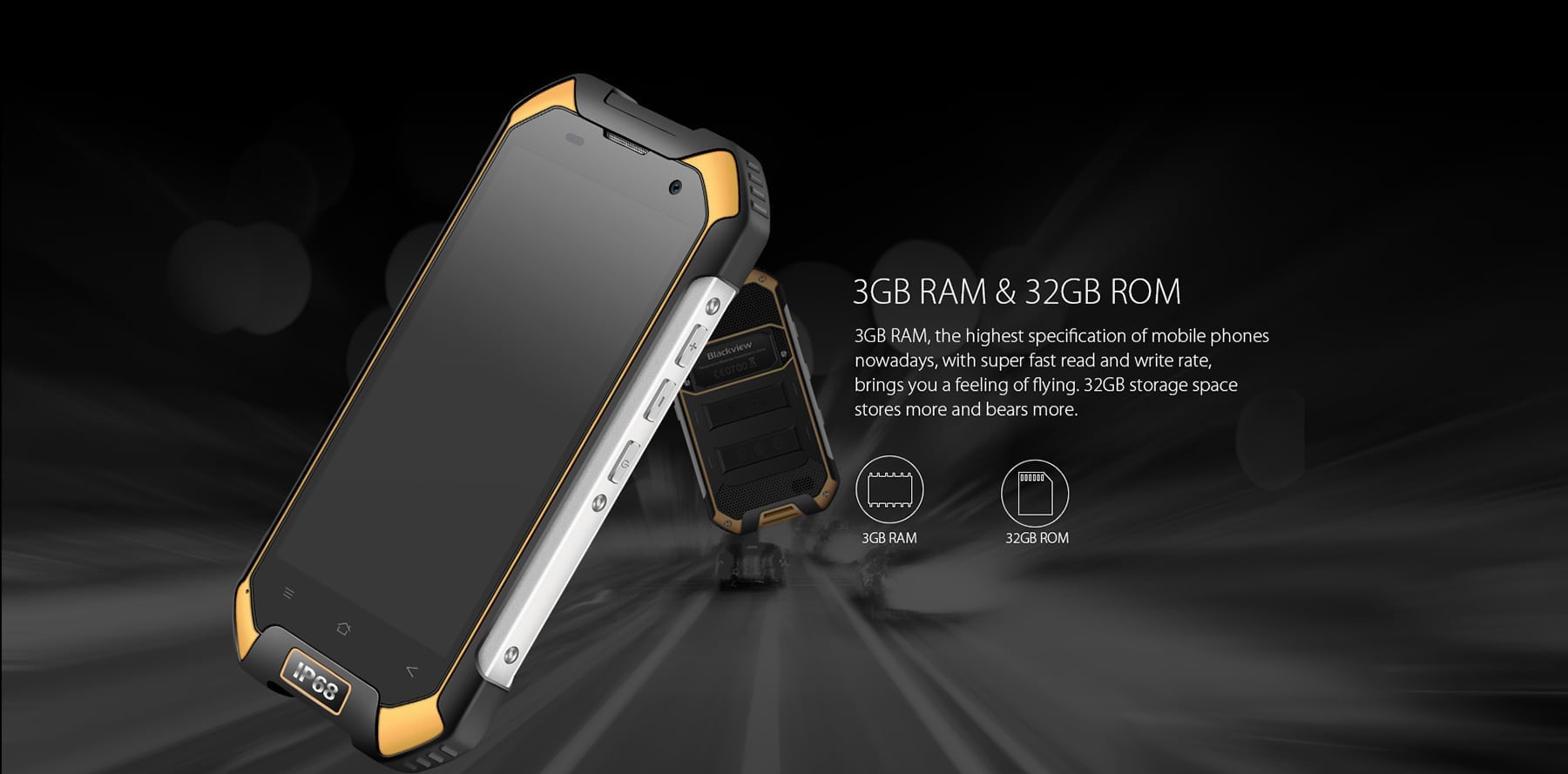 The hardware inside of this phone puts it firmly in the mid-range category. It's got 3GB of ram, 32GB of storage, and an 8 core 2.0GHZ CPU. This makes the phone perfect for multitasking. Social media, web browsing, and other basic tasks all work perfectly, although the phone is a little sluggish with high-performance games. You'll be able to do all the basic tasks you'd expect from your phone, but it's not designed for gamers or those of you who want to edit multimedia.
Emergency Features
Another indicator that this phone is designed for the outdoorsman is the emergency features. There is a large yellow button on the side that is labeled "SOS." If you just tap the button once, it will pull up your list of contacts. All you have to do is tap one, and an SOS message will be sent along with your GPS coordinates. You can also long press the button or tap it repeatedly to initiate a phone call with 911. If this feature is important, you'll want to set it up. In China, they dial 120 to contact an ambulance. You'll need to manually update this to 911 in the settings if you want it to work.
Another feature is the push to talk button. You set a contact, and your phone will work just like a walkie talkie. You don't have to be on a call, but holding the button while talking will cause your voice to play on speakerphone to anyone else who has the feature. Not every carrier supports push-to-talk, but it's handy to have.
Battery Life
The 4200mAh battery isn't the largest we've seen in a phone, but will still give you very impressive performance with the power efficient hardware. The screen is a little smaller, and the processor has a very low power draw. This means that you can get up to 20 hours of talk time, and several days of standby time. You might not make it through an entire season of your favorite TV show, but you'll certainly have the battery life to make calls when you need it.
Display
The 4.7" display isn't the biggest we've seen, but it's plenty usable. The first thing that we noticed is that it's very bright. You can use it in almost any lighting conditions, even in direct sunlight. Contrast is a little higher than usual, making it perfect for text and numbers.
Who Should Buy the Blackview BV6000?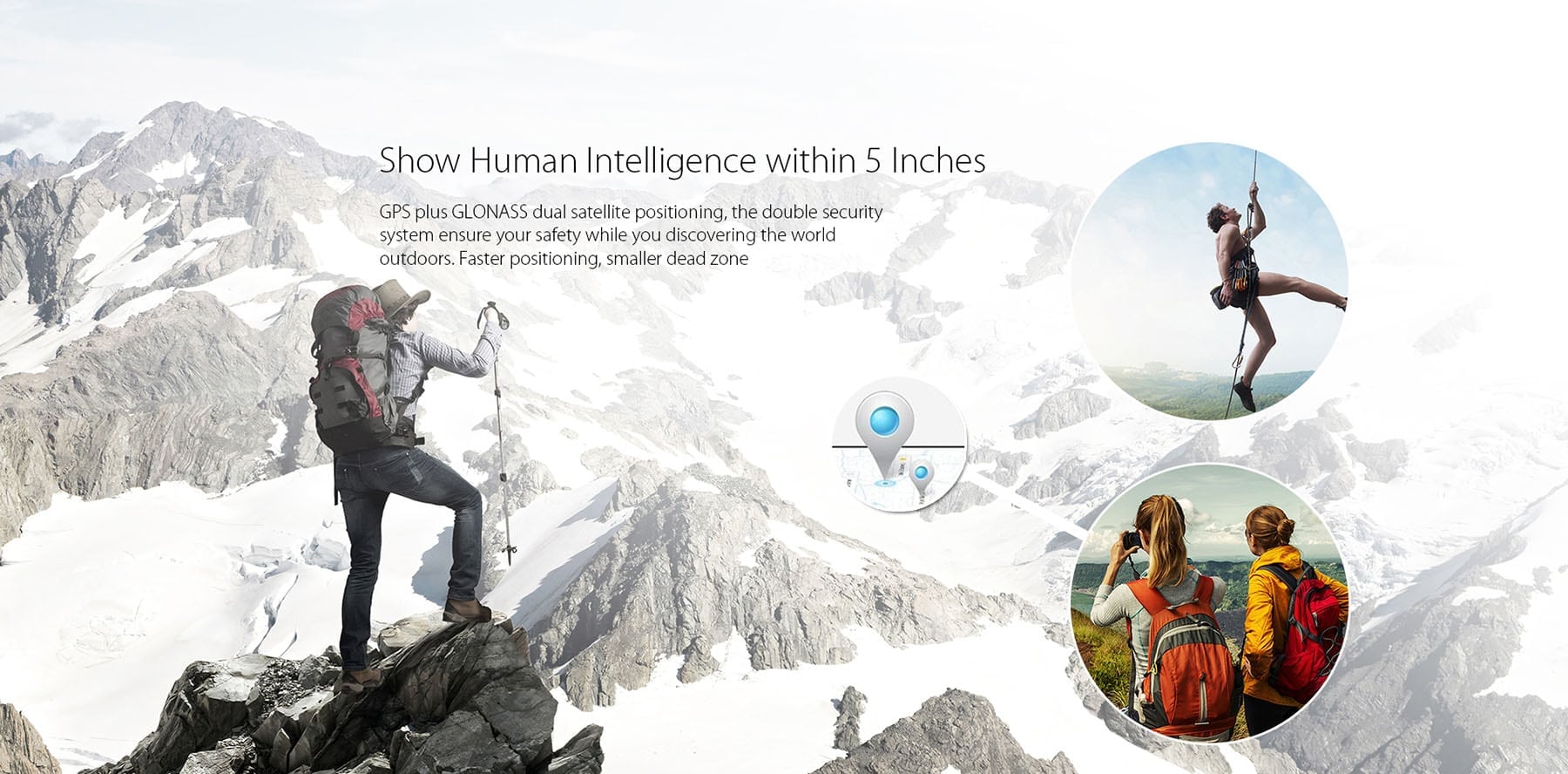 The Blackview BV6000 is perfect for people who want durability above all else. It's on par with the Cat60 – a phone made by a construction company that retails for almost $800. It's also cheaper than the Samsung Rugby, which feels more like a toy compared to this phone.
It performs all standard tasks with ease. It works great as a phone, a web browser, and with basic applications. For the price, it's an amazing deal and will save you hundreds on replacement costs.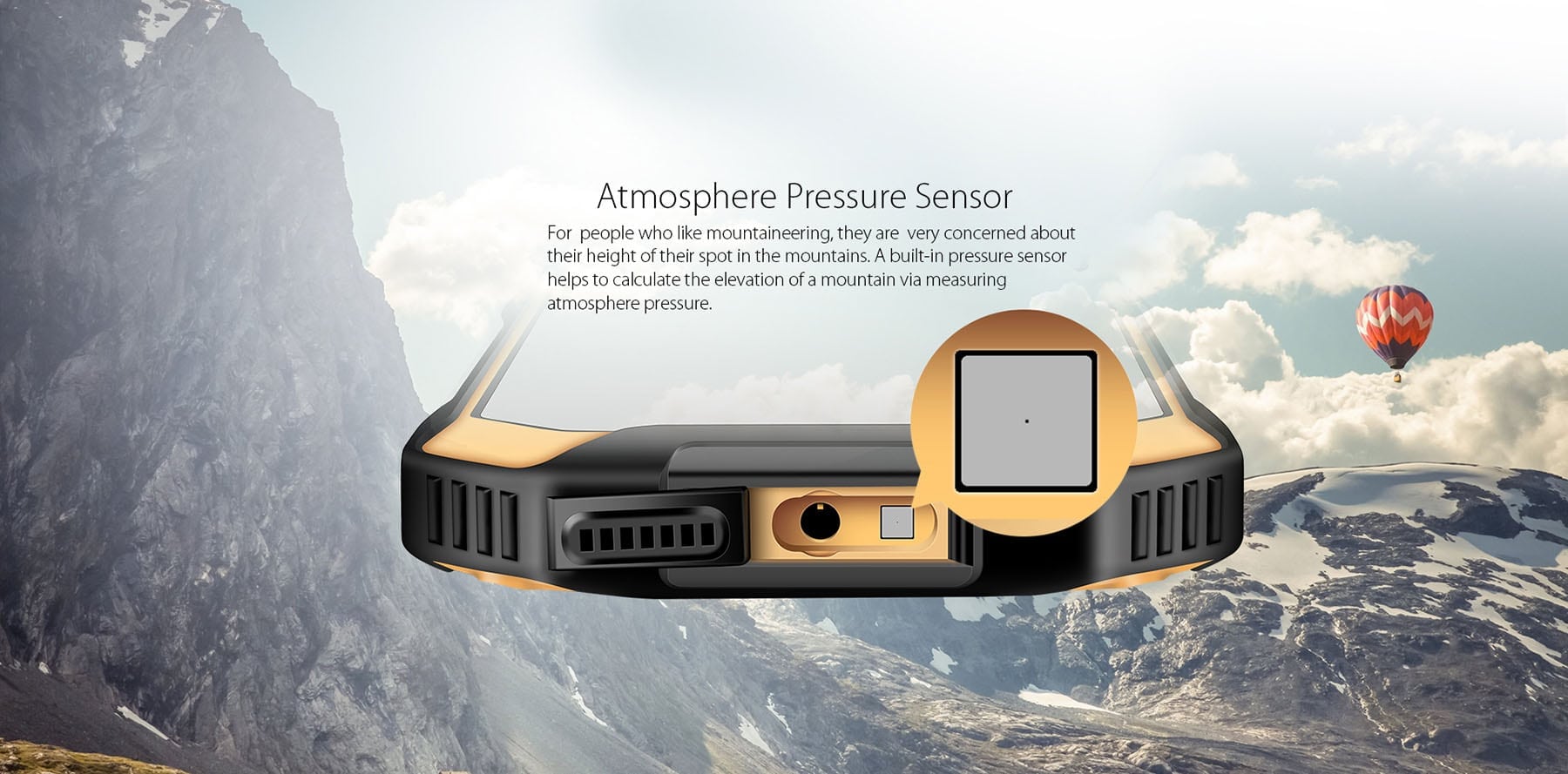 Even if you want a more powerful phone for indoor use, this phone is a must-have backup for construction workers, outdoorsmen, or anyone else who spends their time fighting the elements. Blackview BV6000 is available on Amazon
Best most durable smartphone: Ulefone Armor 2 Review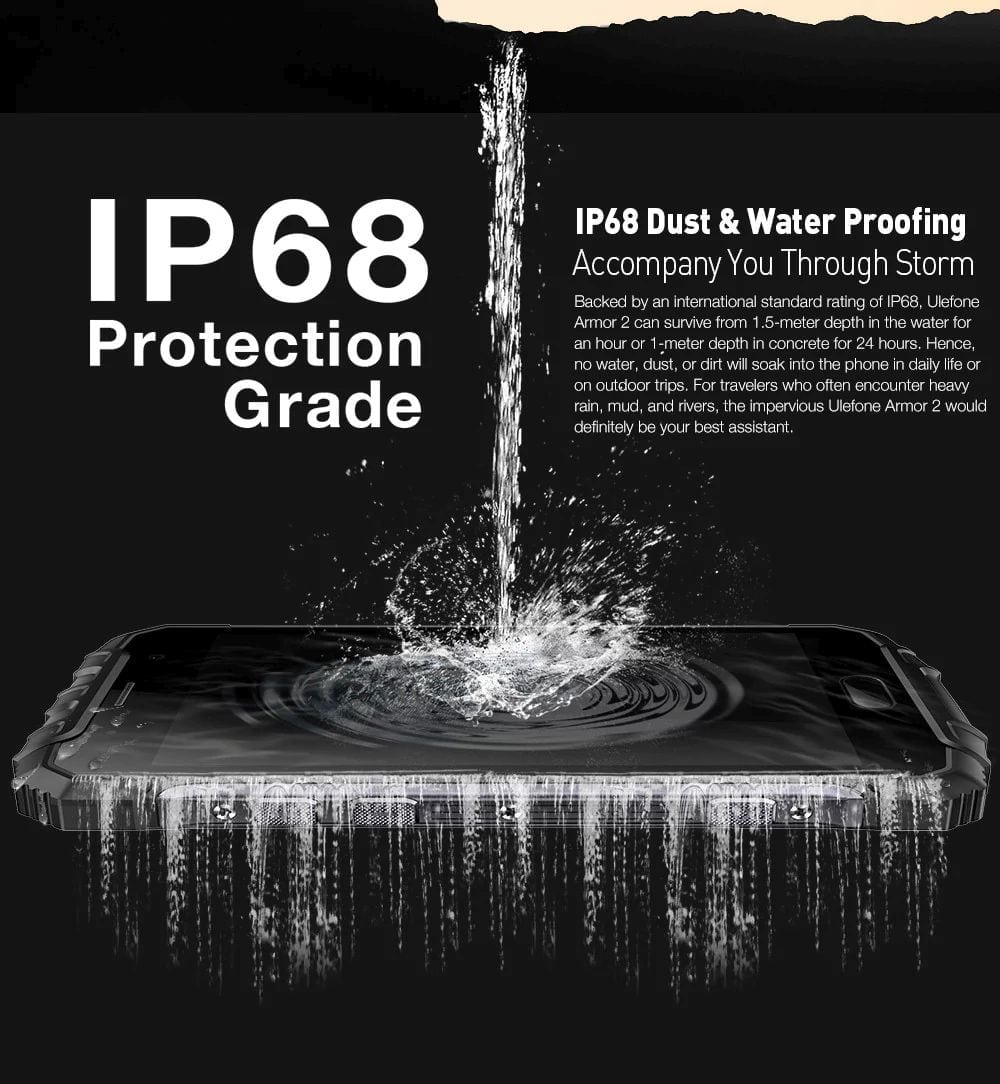 Ulefone armor 2 just came out the other day and almost literally blew the Blackview BV6000 out of the park!
With twice (6GB) the amount of RAM, a much better processor, and a front and back camera that will slay any premium smartphone out there, the Armor 2, isn't just for people working at construction sites or in harsh condition, it's a phone for everyone who needs a premium smartphone that will survive any condition and still remain attractive.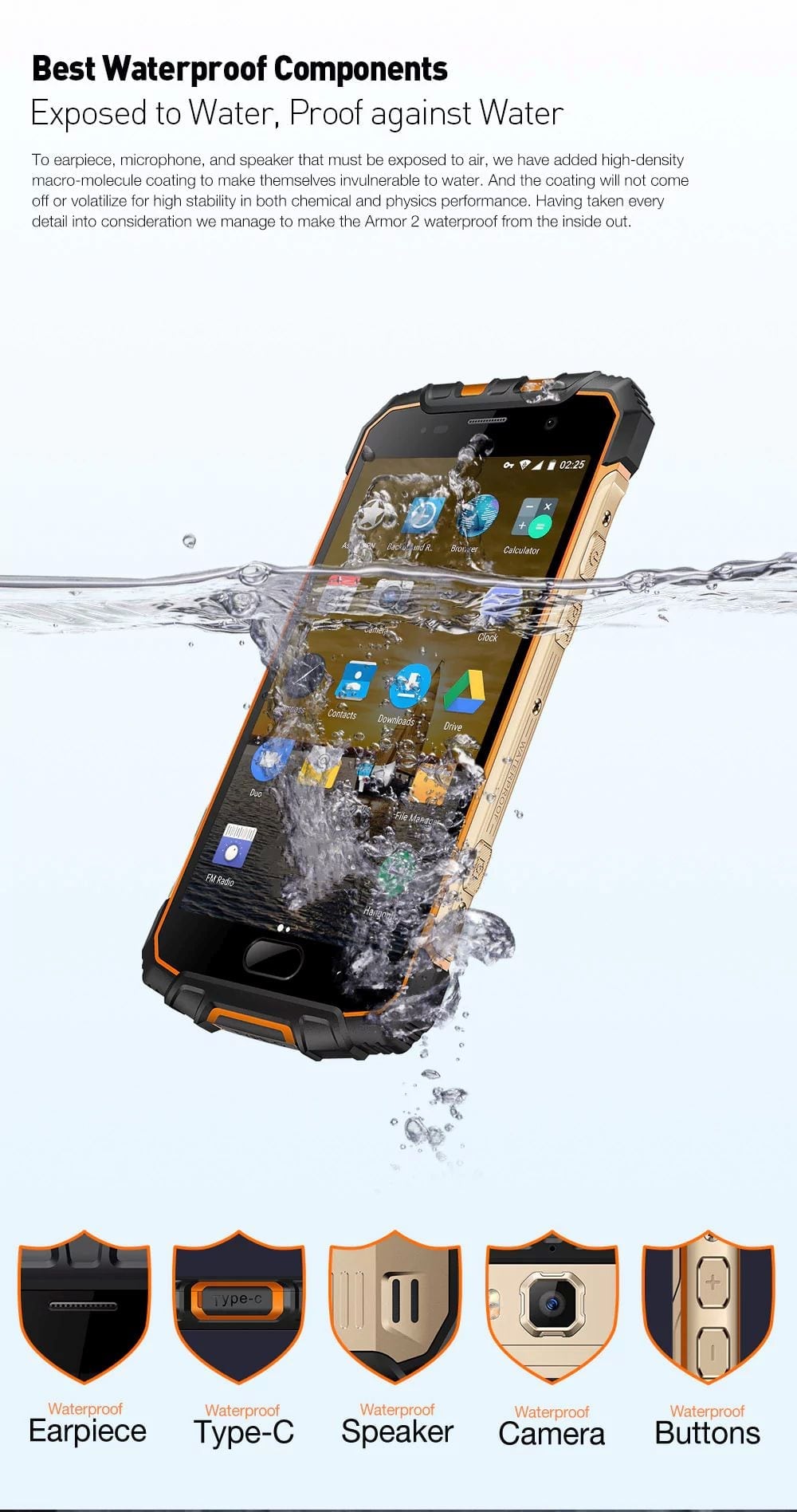 Just to show you what you're getting with this rugged smartphone, here are the specs:
Most durable smartphone:
Ulefone Armor 2 specs
| | |
| --- | --- |
| RAM | 6GB |
| Processor | Helio P25 Octa Core 2.6GHz |
| Operating System | Android 7.0 Nougat |
| Storage | 64GB |
| Camera | 16 MP Rear Camera, 13 MP Front Camera |
| Display | 5.0 inch, 1920 x 1080 Pixel IPS Screen, Corning Gorilla Glass 4 |
| GPU | Mali-T880 |
| Waterproof? | Yes! IP68 Waterproof NFC |
| Sensor | Ambient Light Sensor, E-Compass, Gravity Sensor, Gyroscope, Proximity Sensor, Fingerprint Sensor |
| SIM Card | Dual SIM dual standby. Nano + Nano SIM Cards or 1 Nano SIM Card + 1 TF Card |
Ulefone Armor 2 Design
The armor 2's design is a slight improvement to the general design of rugged smartphones. Ulefone managed to reduce the size of the bezel in order to ensure users get to enjoy the maximum screen size with little distraction.
The rugged edges are designed in such a way that even with its 5-inch screen size, it's a lot more comfortable to hold in the hands and operate some, with the thumb. You'll quickly notice how well the corners are reinforced so that they can absorb any impact from a fall and thereby prevent any damage to the phone.
Battery
Any outdoorsman will tell how frustrating it can get, finding a good smartphone with a battery that can hold for long. As a result, most people are forced to order power banks along with the smartphone of their choice. How different is the Ulefone Armor 2 in this regard?
With a 4700mAh battery capacity, your phone running out of power before you get back to civilization will be a thing of the past. Well, not exactly but it's enough to last you 2 days if you're going to take pictures and film videos for the most part of your journey.
Storage
Ulefone Armor is armed with 64GB worth of storage, enough to store 12hr of recorded film. This is twice that of the Blackview BV6000 and therefore a better value.
Who Should Buy the Ulefone Armor 2 4G Smartphone?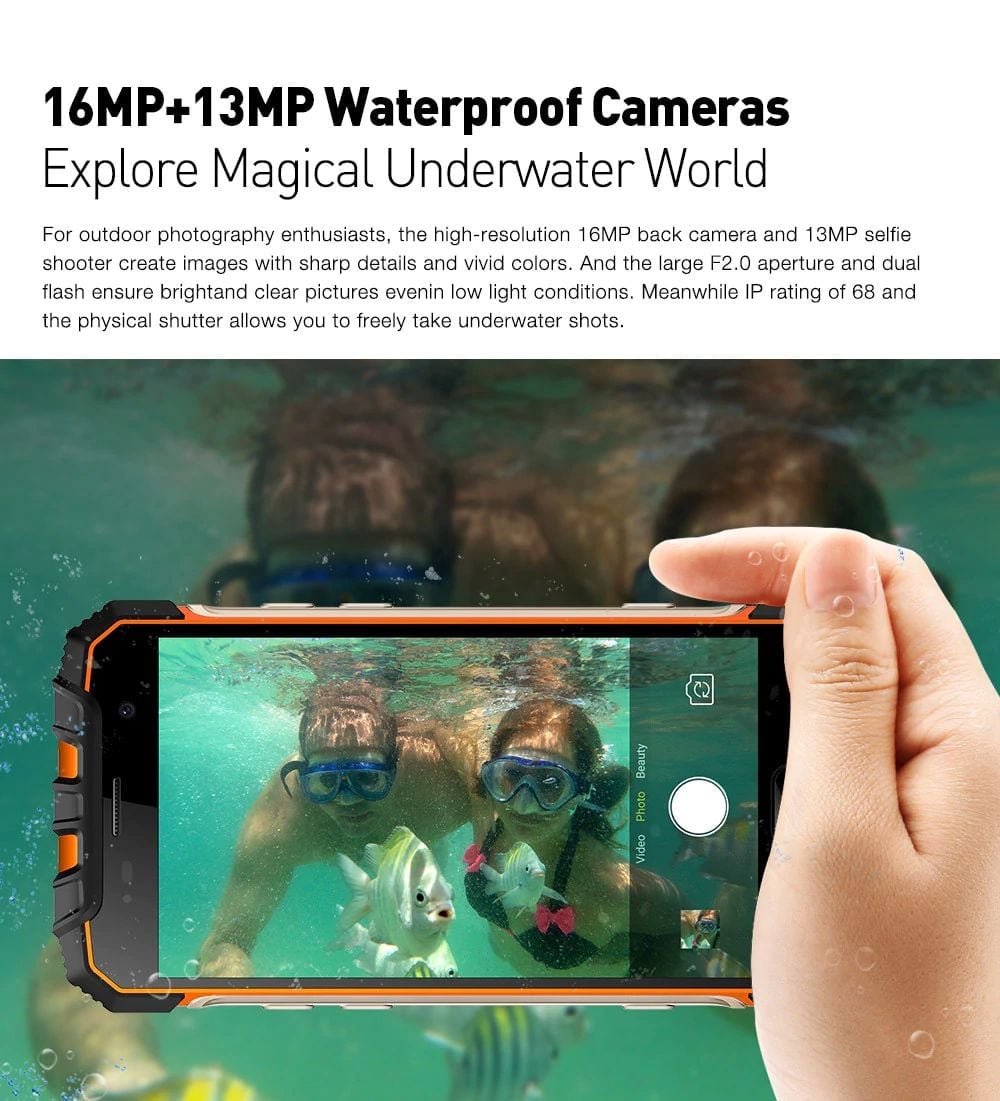 The Armor 2, is for anyone who wants the value that comes with a premium smartphone and also wants a phone that can withstand anything thrown at it.
It is for people who love to explore nature and need a phone that they can record their experiences on, in HD and never be having to worry about it running out of power or storage.
It's a smartphone for everyone looking for the most durable smartphone!
Click here to order the Ulefone Armor 2 from Gearbest at a discount.