When you want the best of the best, Xiaomi is the company you trust. This company is the Apple of China, consistently cranking out the best phones on the market. With the Xiaomi Mi5S Plus, they look like they've released yet another incredible smartphone, so let's take a look and see how it stacks up.
First Look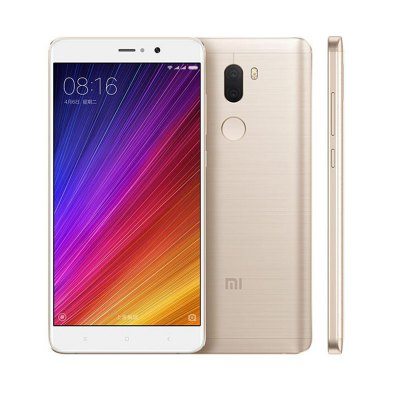 The Xiaomi Mi5S Plus is certainly one attractive phone. From the silky smooth white face to the soft rose gold back, it feels simply incredible in the hand. With the current trend of many manufacturers putting the fingerprint sensor on the side, we're happy to see a nice large detailed one located again on the back. The phone is almost completely devoid of branding, save for the slightly etched MI logo on the rear of the phone. We all know that looks aren't everything, so let's see what's under the hood.
Xiaomi Mi5S Plus's Performance
If you're looking at this phone, then you clearly care about performance. There are no off-brand low-performance chips here, just the same Qualcomm Snapdragon processor you'll find in the highest end phones sold locally. This particular model is an 821 quad core 2.35 Ghz, one of the fastest on the market. The same processor is used in the new Google Pixel phone, with up to a 20% performance boost over the previous model used in the Note 7 and latest Galaxy phones. Graphics are handled by the Arduino 530, with a mild 5% increase in speed over the last generation.
With 4GB of onboard memory, you're able to load any application in the market without a hint of slowdown or sluggishness. We tested the Xiaomi Mi5S Plus with the latest multimedia apps, games, and benchmarks and found that this was one of the top performing models we've ever tested.
If you're using a lot of applications, the included 64GB of memory should certainly help you store all the media you want. There aren't many phones that have more storage on the market, although it's worth noting that you can't add an external SD card, so make sure that 64GB is enough for you.
Xiaomi Mi5S Plus's Display
The 5.7" screen is among the largest on the market, but still compact enough to slide into your pocket. It's a 1080p screen, totaling a pixel density of 386 ppi. It's not the densest on the market but still considered a retina display. If you're playing games, you'll surely appreciate the resolution. 1080p video is still nice and crisp, but games run a lot more smoothly than they do on Samsungs 2k displays.
The IPS display is perfect for media buffs. Your images will be accurate, but still vibrant and pleasing to the eye. If you've used an OLED screen for any length of time, you know that they can suffer from burn-in after a while. Fortunately, the IPS screen used here has no such problems.
Build Quality of the Xiaomi Mi5S Plus
This is a very well made phone. Not only does it feel good in the hand, but it's incredibly solid. The glass face is ever so slightly rounded, and made from a durable gorilla glass. These two features make it incredibly resistant to cracks, so your Xiaomi Mi5S Plus won't be ruined even if it takes a little spill.
The metal back also helps. Thanks to the brushed metal design, you're not going to see any scratches or fingerprints. Every button on the phone feels solid and doesn't give that "squishy" feel you get with some cheaper phones.
Camera
If you want to capture every moment of your day, then the Xiaomi Mi5S Plus would be a great choice. You'll be getting a very impressive 13MP camera that can keep up with most consumer compact cameras. In our tests, the images were shockingly clear. Colors were vibrant, details were sharp and defined, and most importantly the focus and depth of field was accurate. Of course, most modern phones perform pretty well in bright daylight, so to really put it to the test we had to try it out in difficult conditions.
We were very impressed. In moderately lit indoor conditions, the camera performed just as well as it did in the outdoors. As is to be expected, performance dropped a little in nighttime conditions, but unlike most smartphones the photos were still clear and totally usable. The camera in this phone can compete with even the best smartphones on the market, so we can't recommend it enough.
Operating System
This is an Android phone, and it can run every standard Android app on the market. But what makes it unique is the special MIUI interface that is found only on Xiaomi smartphones.
From the very first boot, you'll be in love with this operating system. The latest MIUI 7 features bright colors, a simple interface, and a cohesive user experience. Android phones finally feel almost as put together as Apple phones do. The simple step-by-step setup procedure helps you get your accounts and data set up, then you're dropped back and the lovely interface.
Unlike AOSP ROMs, MIUI doesn't use the app drawer. Instead, apps are placed on your home screen just like IOS. We found that it made the whole system much easier to use, as we weren't digging around through hundreds of apps. The icons use flat design, making them look much sleeker and more modern than the standard Android icons. In a way, it feels as though Xiaomi has tastefully updated the OS for modern times, something Android has needed for a long time.
Battery Life
The Xiaomi Mi5S Plus has a pretty impressively sized battery, but it's also running a lot of very powerful hardware. You'll certainly get a full day out of it. In our test, we were able to spend 8 hours straight using demanding applications. You're not often sitting on your phone all day long, so this performance is consistent with the flagship phones we see in North America. If you do find yourself running out of juice, you'll appreciate the fast charger. Going from empty to 50% full in 45 minutes, it won't take you long to get up and running even if your battery is completely drained.
Who Should Get the Xiaomi Mi5S Plus 4G?
There are two types of people who should get the MI5S plus. If you're the type of person who wants to run the latest apps and games, then this would be a great choice. This phone represents the fastest hardware on the market. In fact, there aren't even many apps that can fully take advantage of how powerful this phone is.
Do you want your phone to last a long time? If you like to keep your phone for several years, then this is another reason to buy the Mi5S plus. Because it's so powerful, you'll be able to update your OS without experiencing slow down, since it's so powerful. What is currently the fastest smartphone on the market, will still be on par with the phones that we're using next year. Combined with the fact that it's so durable, this is a purchase we'd say is worth the money. GearBest have it up at 60% off, so get it while it lasts.