Android Pay PayPal Integration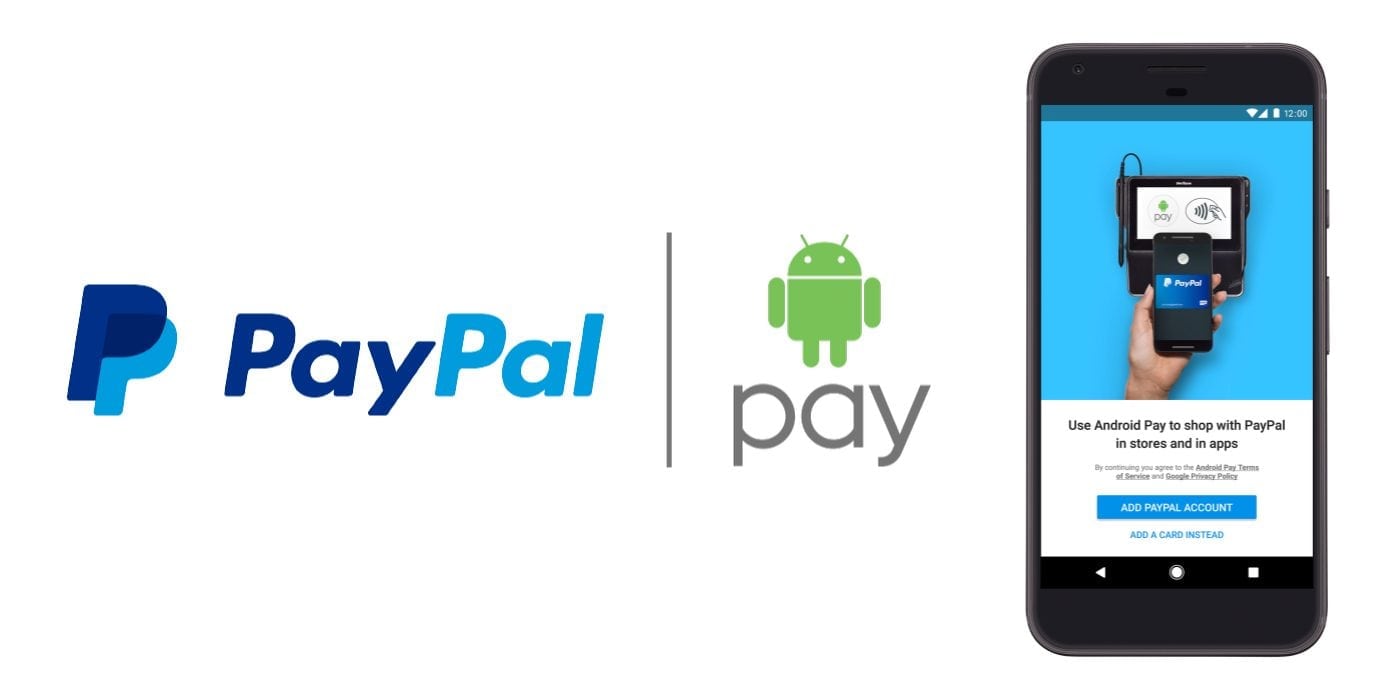 Not too long ago, reading and sending emails via your smartphone was deemed 'out of this world'.
If someone told you that in a few years, a system that allows your phone to make purchases both online and offline without making physical contact would be in service, you'd be hard-pressed to believe them.
That system is Near Field Communication (NFC). NFC is described simply as a system that allows your smartphone to communicate with the payment system when placed close together.
I don't have phone services, can I still make payments?
Absolutely.
The beautiful aspect about NFC payment systems is that you don't need to have phone services to be able to make payments. So whether you've turned on your phone's Airplane mode or even if you're experiencing connection problems with your mobile service provider, you can still make payments.
Android Pay stores all your credit card information on board and doesn't need to contact anyone in order to complete the payment process.
Some popular NFC mobile payment systems include:
Android Pay
Apple Pay and
Samsung Pay
Android Pay is Google's digital wallet version of Apple's Apple Pay. It was first launched in September of 2015 in the United States and has been steadily gaining traction as more and more banks support it. Almost a year after in May of 2016, the service was launched in the UK.
Admittedly, it is a bit disappointing that Android Pay is yet to be supported in other countries other than these two, but we expect Google to expand its usage sooner than later as its competitors are already doing so.
Which Android devices support the Android Pay system?
Before you whip out your phone and attempt to pay for your next order of Chicken MCNuggets, you need to know if your Android phone supports it. I'll point out what to look out for in bullet format:
Obviously, your Android device must support NFC in order for Android Pay to function. Fortunately, most Android smartphones that were manufactured in recent years support NFC. There are exceptions, however. For one, the One Plus 2 is incompatible with NFC and therefore cannot support it.
Android Pay is supported on devices running 4.4 KitKat and higher. A huge percentage of Android smartphones in existence today meet this criterion. To check what version of Android your phone runs, simply go to Settings and tap on About Device.
If your Android phone is 'rooted', you'll need to 'unroot' it first in order to set it up. You can then root your phone back on once you're done setting it up.
Stores That Accept Android Pay
You'll be very pleased to learn that more and more stores are quickly adapting Android Pay as a payment option. You can now pay with Android Pay across millions of stores that accept contactless payments. Thankfully, more apps are now also beginning to adapt it.
To know if your favorite store accepts mobile payment system, look out for the following symbols at checkout:
Does My Bank Support Android Pay?
Android Pay is supported by a multitude of major banks across the United States. Moreover, Google is continuously working to get more banks on board so even if you don't find your bank on the list of banks that support it, you can always check back after a few days to see your bank has been included.
A list of banks that support this mode of payment can be seen by visiting Android's List of Participating Banks.
How safe is my money if I use Android Pay?
If someone told you there's such a thing as a payment system that is 100% secure, they're selling you a bunch of bull and you probably shouldn't buy into anything else they say after.
That being said, it is important to understand that Android Pay does not send your actual card information when making payments. Instead, it uses a virtual account number together with a one-time confirmation code.
Notifications will be sent to you with a track record of every transaction that you made along with their respective names of stores.
And in case your phone is stolen or lost, you can use Android Device Manager to lock or wipe it clean. This will save you the trouble of canceling every bank card that you linked to your Android Pay.
Does Android Pay Support PayPal?
Certainly.
Android Pay is a service that we all could really use, but a major issue that many Android users have expressed is the lack of support for many local banks. To mitigate this issue, PayPal announced a few weeks ago that they will now support it.
The service has already as of today rolled out so that even if your bank is not yet in the list of supported banks, PayPal will now pull the money from your bank account and you can now comfortably make purchases with your phone.
How to set up PayPal on Android Pay
Setting it up on your device to use PayPal is fairly a simple process that you only need to do once. In order to get started, follow this simple process:
Make sure you have both Android Pay and PayPal apps installed on your device
Open your PayPal app and tap the settings icon in the top right corner
Tap the Android Pay settings (If you don't spot it in your app, then your country is not yet supported)
Now link your account to Android Pay
Set your In-Store PIN number
Select your top-up amount and the location of which you prefer your funds to be drawn from.
You're all set! An option for PayPal should now appear in your Android Pay app.
In closing
Once you have everything set up, you can simply make PayPal your default payment method to save you the trouble of having to select it every time you're making a purchase.
PayPal integration into Android Pay will serve a great deal of simplicity for many people once it rolls out in more countries. Your country not yet supported? Have some patience, it's only a matter of time before it is.