PS (04.07.2017): Get the Original Xiaomi AMAZFIT Sports Bluetooth Smartwatch cheap with the coupon code: AMAZFITS.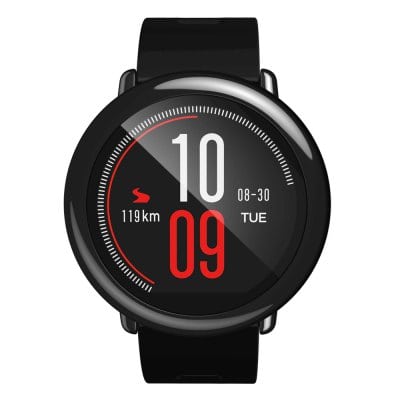 KingWear KW88 Pre-release Opinion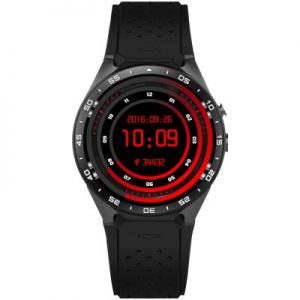 This upcoming smartwatch by KingWear is really creating waves in the industry. Although KingWear has produced many high-quality android smartwatches in the past, the industry is still new. Even established manufacturers such as Motorola have had a few failed attempts before they got the formula right. Now that we know the specs of this upcoming product, we can establish whether this product is a must have or a has-been.
Chipset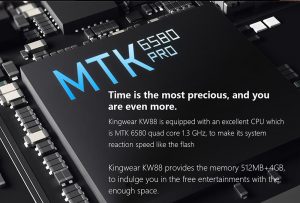 Hardware wise, the KingWear KW88 looks like it's going to be a powerhouse! The watch features a quad-core MKT6850 1.39ghz CPU. This chipset seems like a surprising choice for a watch, as it is often used in budget smartphones. But the CPU has very low power draw, which makes it quite suitable for these purposes. While many watches tend to use less powerful CPUs, they also tend to suffer from problems with lag and screen sharing. By employing a more powerful processor, this device will easily be able to run all current features of Android Wear. Since the software is new, it's constantly being updated with new features. Although this processor may be overkill for current use, this should give the device more headroom to run apps that will be coming out in the future. In terms of memory, the device has an adequate 512mb of ram and 4gb of ROM. Since the watches are not used for the same complex applications used on phones, this is more than adequate for their purposes.
Display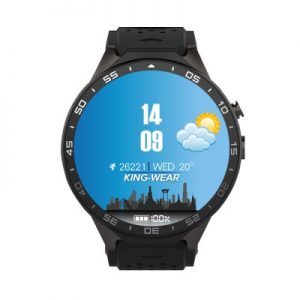 The display used in the KingWear KW88 is a very standard 1.39" Amoled touchscreen. The same display has been used in many other watches, and is known to have excellent brightness and viewing angles. This is much more important on a watch, where you won't always be looking at it from the optimal direction. Many watches have a beveled display. This means that instead of being completely round, there is a section on the bottom that does not display images. This is undesirable as it causes the display to look a bit like a flat tire, and with so many entry level watches using those displays it's nice that KingWear selected a fullscreen model.
Software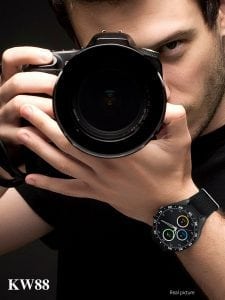 The most outstanding feature of the KingWear KW88 is the software. Android wear is the benchmark operating system for smartwatches. It is the easiest to use and has the best feature set. Because android wear requires very powerful hardware, most entry level smartwatches use their own custom made operating system so that the manufacturers can use more inexpensive chipsets. This device will be running a fully featured Android 5.1 operating system, so you'll be able to enjoy the support and features normally reserved for owners of premium devices. The biggest problem with devices that use custom operating systems is that there is a small user base. Once the product is discontinued, there is very little incentive for the manufacturer to provide updates. By using a watch with the most popular operating system, you can ensure that you watch will receive updates for a long time.
Camera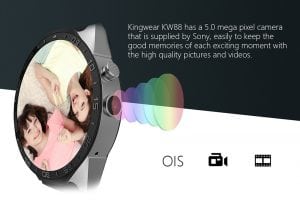 The camera used in the KingWear KW88 is a very compact 2.0-megapixel sensor by sony. Although it is advertised as 5.0 megapixel, it is actually upscale in software, so the real resolution is 2.0. While the resolution is not acceptable for full size printed photos, there are still a few benefits to this camera.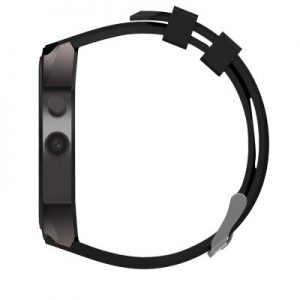 It has a very high light sensitivity. If you've ever tried to take a photo in the dark and found that your images were extremely grainy and hard to see, you know what it's like to use a sensor with low sensitivity.
The camera in this watch should work well even in sub-optimal lighting conditions. Although you probably won't want to use this watch to fill up your Instagram feed, it is excellent for taking quick snaps regardless of lighting conditions.
Verdict
Although the KingWear KW88 hasn't shipped yet, this looks like it's going to be a really exciting offering from a well-known watch manufacturer. With so many poor quality smart watches on the market, it's great to see a trend of companies offering high-quality products for an affordable price. With the watch retailing for only $99, other smartwatch manufacturers are going to have to seriously upgrade their products if they want to compete. There's a flash sale on and the price has been reduced from $167.99 down to $139.99! Grab the KingWear KW88 at a reduced price from GearBest.