Samsung Galaxy S7 waterproof has just been unveiled and as we expected, competition among major carriers is rife. T-Mobile took center stage with its enthralling marketing video showing the unboxing of the SGS7 underwater.
The stunt was performed by T-Mobile product manager Des. Although the commentary is inaudible, subtitles have been provided throughout the clip.
Based on what the video showcases, it sure looks like Samsung's decision not to include the waterproof feature in it's SGS6 flagship and reintroducing it to the SGS7 after revamping the feature, very well paid off.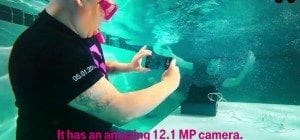 Both versions (SGS7 and SGS7 Edge) come with an IP68 rating and are designed to withstand 30 minutes of up to 1m submersion. The camera feature looks like it functions really well under water and you will be able to use your phone in the rain without having to worry about it getting soaked and malfunctioning.
Both Galaxy S7 and Galaxy S7 Edge are available for preorder.
We expect the SGS7 to hit the market starting from the 11th of March this year.
You can also order the Neo Hybrid Premium Bumper Case from Amazon.