A review of the Teclast F7 budget laptop
As smartphones and tablets become more and more technologically powered to handle tasks that used to once require a computer, most users are running out of reason to invest in top-of-the-line laptops and desktop PCs. Unless you use a computer for gaming, video editing or other heavy-duty tasks, there is really no need to buy laptops that come loaded with high-end specs and computing prowess. Nearly 90 percent of all consumers today, use their computers and laptops primarily for working on word docs, presentations and excel sheets, writing emails, surfing the web, video calling, and live streaming content – tasks that budget laptops placed in the entry-level segment are poised to perform just fine.
There is a whole new crop of manufacturers based out of China that are producing such entry-level laptops and marketing them at jaw-dropping prices. The Teclast F7 is one such budget laptop that wows with the sheer gamut of features it brings to the table for a price point as low as $318.
Overview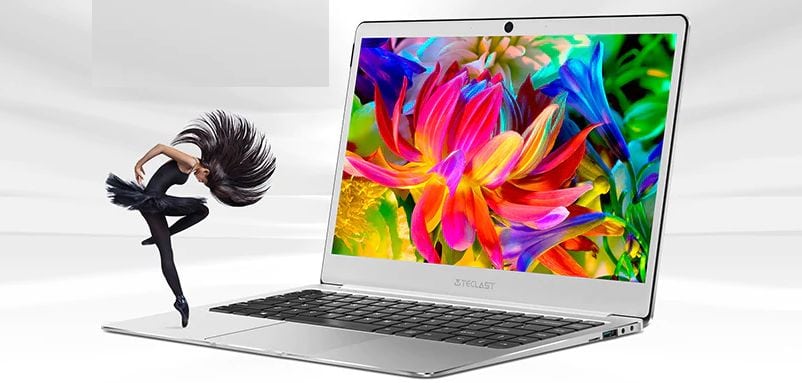 The Teclast F7 that debuted earlier this year is a budget variant of the F6 Pro in ways more than one. The specs of the two devices are almost identical, with the exception of a 64GB eMMC memory instead of 128GB SSD and a larger screen with a 14.1-inch display. It is an extremely economical notebook that runs Intel Apollo Lake chips. Equipped with an FHD IPS display, the device accords high-quality display clarity and draws its power performance from the Intel Celeron N3450 processor.
Even though the chip is a bit dated, as Intel has recently rolled out the newer range of processors, the Gemini Lake N4000 series, it does the job of powering up this entry-level notebook rather well. It is also a versatile machine in terms of compatibility and can be connected to TVs, projectors, and monitors with the help of the HDMI output, which means you can use it to create the perfect personal home theater.
At a time when 8GB RAM has almost come to be the standard, the 6GB on the Teclast F7 can seem to be on the lower side. However, as long as you don't push the laptop to a crazy level of multitasking, running too many apps and tabs at the same time, it offers a smooth, lag-free performance. You can even use the Teclast F7 for some mid-level gaming without any issues at all. Measuring 12.4×8.21×0.53 inches and weighing 1.2 kg, the F7 has a MacBook Air-like portability and its tapered design too.
Unboxing the Teclast F7
There are no surprises in the process of unboxing the Teclast F7. The laptop comes neatly packed in a brown cardboard carton with the Teclast and Intel logo, along with the specs listed out. The contents of the package are typical:
a laptop,

charger,

instruction manual, and

warranty card.
Of course, the F7 is a plug-and-play device and you can start using it after getting it up to a full charge.
The F7 Notebook's Design
Teclast describes the F7 as a device with a 'simple but attractive design' and that's exactly what it is – a sleek, simple, elegant laptop, designed to make that favorable first impression. If you are looking for a good looking budget offering, the F7 makes the cut as one of the top choices. Those who are familiar with Apple's MacBook Air will find a striking resemblance between the two devices.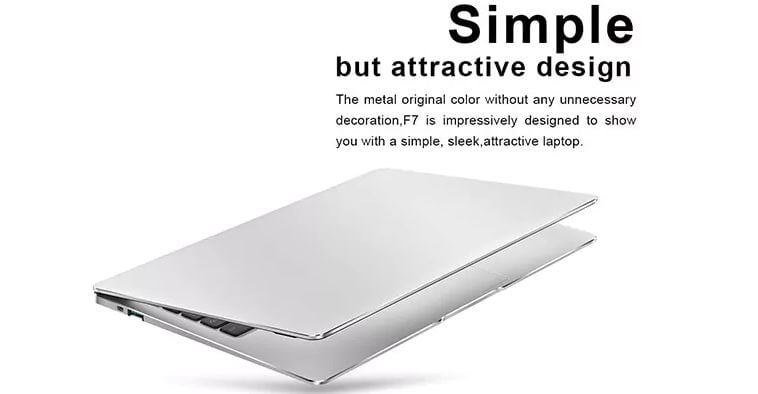 The fact that Teclast has replicated the MacBook Air design without making the F7 look like its cheaper cousin and managed to do so while pricing their product at a third of what the Cupertino-based giant sells its premium offering for, is quite commendable. The laptop comes with an aluminum casing, which seems like a conscious choice by the manufacturers to strike that tricky quality and price ratio. A striking thing about the Teclast F7 is its lack of gratuitous branding. The upper shell of the laptop's body has been kept completely clean, without any glowing logos that serve as instant reminders of Apple or Dell.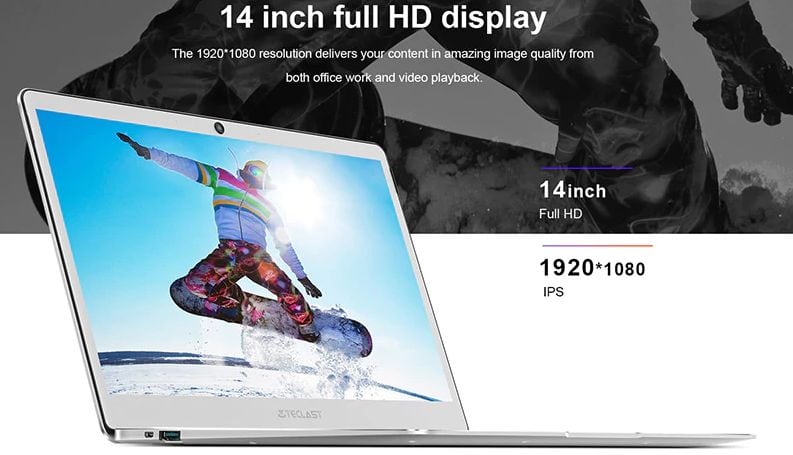 The 14.1-inch IPS screen is, of course, the main eye-catching element on the device, and with 1920×1800 pixels of resolution, it does the job of grabbing your attention and holding it rather well. The base of the laptop houses a classic keyboard and a trackpad that has been sized to allow the use of gesture control for the Windows 10 Home.
Teclast F7 Specs
As mentioned before, the Teclast F7runs a chipset from Intel Apollo Lake series, the classic Intel Celeron N3450. The quad-core processor is capable of clocking a processing frequency of 2.2 GHz and has been integrated with an Intel HD Graphics 500 graphics card that sets this laptop up for some gaming capabilities. You get 6GB of DD3 RAM, along with 64 GB of eMMC storage, which is not expandable and that can be a bit of bummer for those who really like to store a lot of data on their machines. There is, however, a slot at the bottom of the laptop for SSD expansion, which makes up for the limited, non-expandable original storage of the device.
In terms of connectivity, you get Bluetooth support, WiFi with AC dual band, two USB 3.0 ports, micro HDMI port, a headphone jack, a TF card slot and a DC jack for slotting the charger to fire up the 4,900 mAh battery. It takes anywhere between 3-4 hours to get the battery up to a full charge and you get a standby time of 4-5 hours. It comes with the Windows 10 Home operation system pre-installed. You also get a 2 MP camera for video chats and dual microphones equipped with noise reduction capabilities to assist with voice recordings.
There is no USB-C charging port on the device, which is a tad disappointing as charging via USB-C ports is such an established order of things in present-day gadgets. But you have to be prepared for such omissions considering that the Teclast F7 is stacked in the lowest tier of budget devices. You also have to enter a password manually to log on to the F7. This is in sharp contrast to the F6 Pro, which has USB-C charging capabilities and comes with a fingerprint sensor but is also pricier than the F7. The old-school password feature of the F7 is once again something you can make peace with, considering fingerprint sensors are not much of a typical laptop feature as they are a smartphone necessity.
The F7's Keyboard
The keyboard and the trackpad of this device, especially the trackpad, deserve a special mention because they are just that good. The keyboard is ergonomically designed. The keys are well spaced and offer a good travel. You can scale a 103 words-per-minute with this keyboard, which is pretty much on par with the peak typing speed offered by keyboards on some top-of-the-line laptops.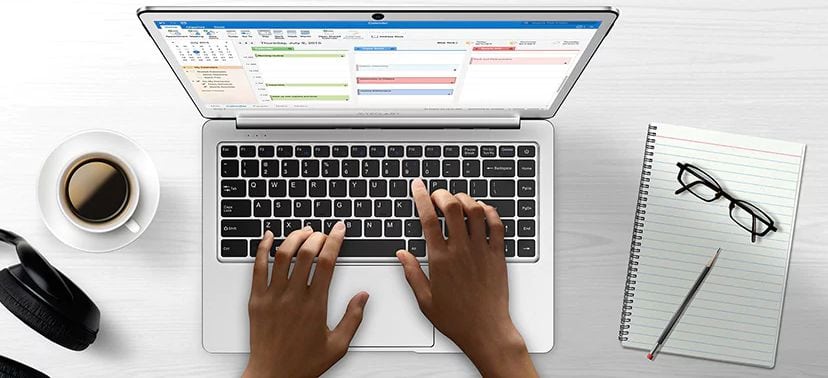 The real hero of the keyboard base is the trackpad that is large enough to allow your fingers to maneuver without breaking the motion. There are no shortcuts assigned to the edges of the trackpad, which normally is the case with most other trackpads, and this only works in favor of enhancing the user experience. The F7 trackpad is sensitive and responsive, quite unlike what you see in most budget offerings. You wouldn't need a supplementary mouse when working on the F7.
The Performance
The display of the Teclast F7 is the first thing that stands out about this device as soon as it gets powered up to life. The display is a lot more saturated and vibrant than what you get in laptops with a competing price point. The display is also brighter but not bright enough to make the F7 fit for direct outdoor use. You still get that blackened screen effect if you use your device under sunlight.
Not only has Teclast added in a good range of connectivity features but also designed them to perform their job just the way it is supposed to be. The WiFi receptivity of the laptop is impressive, despite its all-metal body and not visible antenna seams or lines. The speakers too offer a solid performance, packing in loud and clear audio quality ideal for playing games and watching movies.
The Windows 10 operating system has been pre-installed on the device, offering a plug-and-play functionality without having to install software or go through the user registration process. The operating system is quite clean with as little bloat as possible.
The 2 MP camera on this laptop has been placed for facilitating video calls, and that's exactly what it should be used for. If you are going to attempt selfies with the laptop's camera, be prepared for some disappointing, even disastrous, results. No one should use a laptop camera for selfies anyway, especially not when you have a handheld smartphone with far better front cameras.
The verdict on the F7
At $318, the Teclast F7 is a robust, well-built laptop packed with solid functionalities for taking care of all your basic computer-related needs. If you are heavily into gaming, video editing or any task that requires a high graphics performance, you need to look elsewhere. Other than that, there isn't quite anything that the Teclast F7 is not capable of handling. In fact, it can do the job it is cut out for as well as a high-end laptop.