A 2019 Review of the Xiaomi Mi Pad 4 Plus Phablet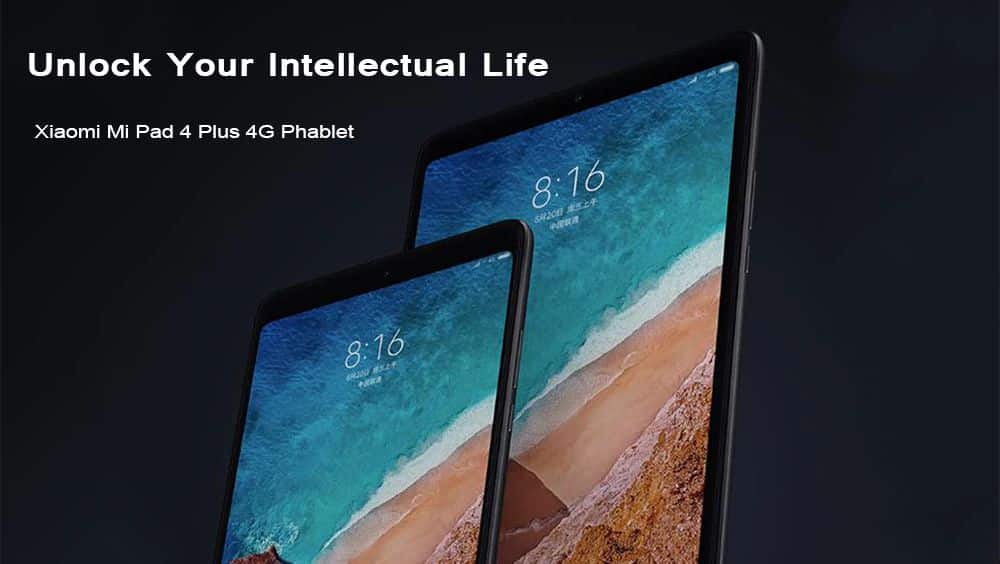 The tablet market is believed to be decreasing gradually. There is a definitive lack of affordable tablets, particularly in the plus 8-inch format, on the market currently. While key manufacturers like Apple seem to have sidelined its iPad mini, Amazon's line-up of cheap tablets fails to impress owing it a complete lack of Google services. However, there still seems to be a section of customers looking for large-screen devices and that space is being catered to largely by second-tier manufacturers, mostly based out of China.

One such name is Xiaomi – a brand that insists on continuing to launch Android tablets. The Xiaomi Mi Pad 4 Plus is the latest and the fourth generation of its tablets launched in mid-August 2018. The Mi Pad 4 in itself was a major breakaway from the previous models launched by the Chinese manufacturer. Now, with the release of the Mi Pad 4 Plus version, Xiaomi has presented this new trend on a bigger scale. However, contrary to the perception that the Xiaomi Mi Pad 4 Plus is just larger variant of the Mi Pad 4, the tablet has some interesting features to offer that lend it an identity of its own.
Let's get a look up close at everything that makes the Xiaomi Mi Pad 4 Plus the big hunk for entertainment:
Xiaomi Mi Pad 4 Plus Ratings
Design –

4/5

Stars

Sleek tablet with a nearly all-metal body that has a premium look and feel to it.

Display – 4.5/5 Stars

A bigger 10.1-inch IPS screen with a factor of 16:10 and full HD 1920×1200 pixel resolution offers an engaging visual experience.

Performance – 4/5 Stars

The tablet delivers better results than most other mid-segment counterparts on the market and offers a glitch-free experience in gaming and playing media files.

Features – 3.5/5 Stars

Loaded with impressive features, except for its underwhelming audio performance and lack of Google Play Store out of the box.

Overall – 4/5 Stars

A stellar tablet that caters to all your gaming and entertainment needs and delivers a premium user experience at an affordable price point.
What Works for Mi Pad 4 Plus
Sleek design

10.1-inch Full HD IPS-LCD screen

Fingerprint sensor

Impressive battery performance
Where Xiaomi Mi Pad 4 Plus fails
Subpar speakers

Lack of Google Play Store
An Overview of the Mi Pad 4 Plus
The Xiaomi Mi Pad 4 Plus adopts a clean yet impressive design and is available in black and gold color variants. The box includes a data cable, charger, card pin and a quick start guide. The charger included in the box supports 5V/2A output, indicating that the tablet does not come with fast charging support.
One of the most noticeable differences between the Xiaomi Mi Pad 4 Plus and Mi Pad 4 is the increase in the screen size, which has been stretched to 10.1 inches. Even with a 16:10 screen ratio, the increased screen size lends the tablet a longer visual perception. This screen ratio is better suited to support a more engaging visual experience, in line with the slogan for Xiaomi's Mi Pad 4 series.
The screen has an impressive resolution of 1920×1200 pixels and the PPI has been altered from 283 to 224, owing to an increase in the screen size. However, this does not leave any substantial impact on factors such as enhanced mode, eye protection mode and night screen, which means the ultimate viewing experience remains quite satisfactory.
Of course, the 10.1-inch screen size means that the Xiaomi Mi Pad 4 Plus isn't the most comfortable device for single-hand operations. But then again, anyone investing in a large screen on a handheld device is certainly more interested in the visual experience than the ease of handling.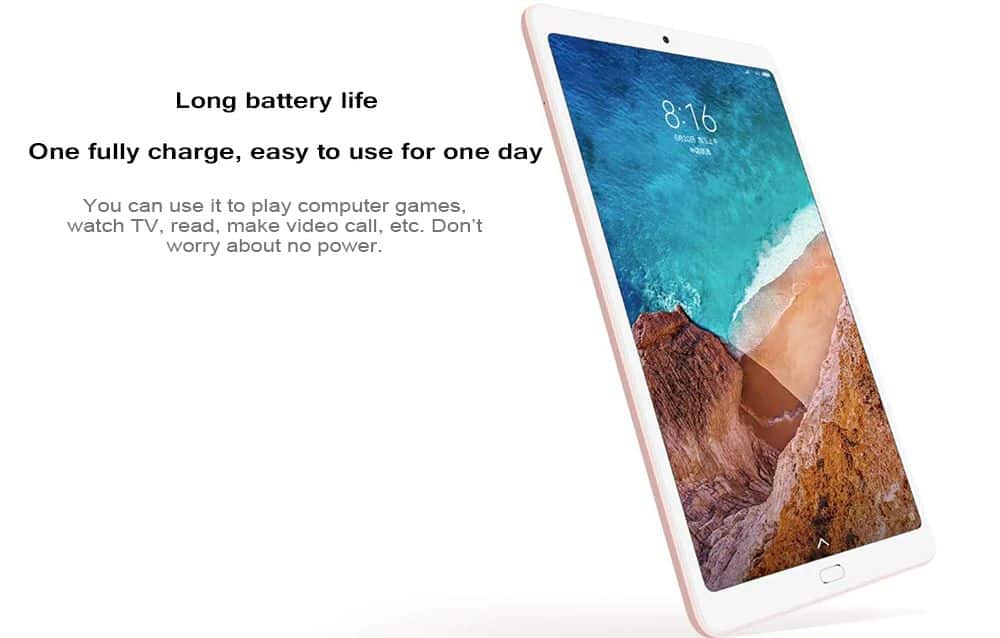 The increase in screen and body size has been supplemented with a larger battery of 8,620 mAh. This gives the tablets a significantly longer battery life capable of offering long run time even with the higher juice consumption of a large screen.
The Xiaomi Mi Pad 4 Plus sports an integrated metal body with a sandblasted surface, so it is pleasing to touch and handle. The top of the tablet body is designed to facilitate wireless signal while the antenna does the same job for a network signal.
The Pad 4 Plus comes with a 13 MP primary camera and a 5 MP front shooter, both equipped with advanced functionalities such as beauty enhancing features and HDR support. The front camera also offers facial recognition support and HD quality for video calls.
The Xiaomi Mi Pad 4 Plus supports LTE network and comes with expandable internal memory. The two features can be implemented using a nano-SIM card and micro SD card in the designated slots, respectively.
As far as the hardware goes, the Xiaomi Mi Pad 4 Plus has a Qualcomm Snapdragon 660 AIE processor under its hood, paired with memory combinations of 4 GB RAM and 64 GB internal storage or 4 GB RAM and 128 GB internal storage.
On the software front, the Mi Pad 4 Plus comes preinstalled with MIUI, which is Xiaomi's customized version of the Android Oreo. The Google Play Store is missing from the tablet but it can be installed from the Mi App Store with ease. If you are new to the MIUI OS, configuring the Mi Pad 4 Plus won't be exactly simple. With a little persistence, you'll learn your way around it and it'd be well worth the effort.
If you look at the Xiaomi Mi Pad 4 Plus in its entirety, you get a tablet that is as powerful as it is portable and that is a desirable combination for anyone who takes being entertained on the move seriously.
Design
As mentioned before, the Xiaomi Mi Pad 4 Plus is available in two color variants – black and gold. While bezels may essentially be a thing of the past, Xiaomi makes their presence felt in the Mi Pad 4 Plus. The nearly full metal body of this tablet has a slim plastic frame running around the screen. The bezels are fairly noticeable but do not interfere with the display in any way. All in all, the Mi Pad 4 Plus is a sleek tablet that is just 7.9 mm thick and weighs 485 g.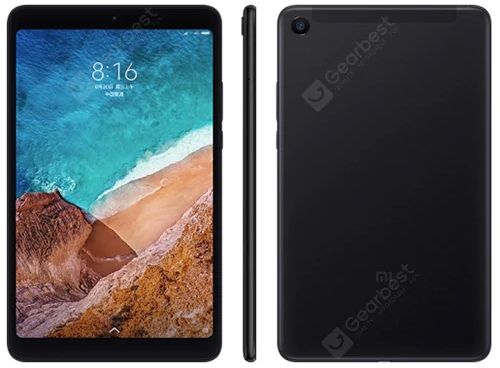 The largely metal body of the Mi Pad 4 Plus lends it a premium look and feel. The power button and volume controls have been placed on the right whereas the nano-SIM and microSD card slots are on the right. All versions of the tablet ship with 4G LTE built-in.
The headphone jack has the standard top placement and there is a USB C port on the bottom that can be used to connect the device to external hard drives, apart from serving as a charging port. Two speakers placed next to the USB C port accord decent quality. However, in comparison, tablets from Huawei, Samsung and Lenovo placed in the same price bracket offer a better sound experience and have four built-in speakers.
The Mi Pad 4 Plus' Display
The changed form factor in the Mi Pad 4 Plus in comparison to its predecessor, the Mi Pad 4, results in a bigger 10.1-inch IPS screen with a factor of 16:10 and full HD 1920×1200 pixel resolution. Yes, it can be argued that a lot of other Chinese manufacturers offer screens with higher resolution at the same price point. However, higher resolution does not always correspond with better performance.

Most of these tablets from lesser known brands also grapple with slower performance. As far as the display of the Mi Pad 4 Plus goes, full HD on a 10.1-inch screen is more than satisfactory. It makes the photos and text look sharp and the 16:10 aspect ratio is ideal for playing YouTube videos, Netflix, films or media of any other kind.
The IPS LCD panel with a 10-point touchscreen enhances the responsiveness of the display and adds to the overall experience of interacting with the Mi Pad 4 Plus screen. The brightness, contrast, and color reproduction are good enough to support usage in indoor settings as well as outdoors as long as you are using it in the shadows without straining the eyes. The screen does get quite dark in direct sunlight. For those who prefer customized color and contrast settings, there is plenty of room adjust the setting to one's personal liking.
Given the sharpness of display and the stability of viewing angles, there isn't much to complain about with the display of the Xiaomi Mi Pad 4 Plus.
Hardware and Performance
The Xiaomi Mi Pad 4 Plus sports a middle-class Qualcomm Snapdragon 660 octa-core SoC processor that comprises eight cores capable of clocking up to 2.2GHz and Adreno 512 GPU also from Qualcomm. You also get 4 GB of RAM as well as 64GB or 128GB internal storage, depending on the variant you pick. The Xiaomi tablet also offers support for LTE, GPS and Bluetooth 4.0.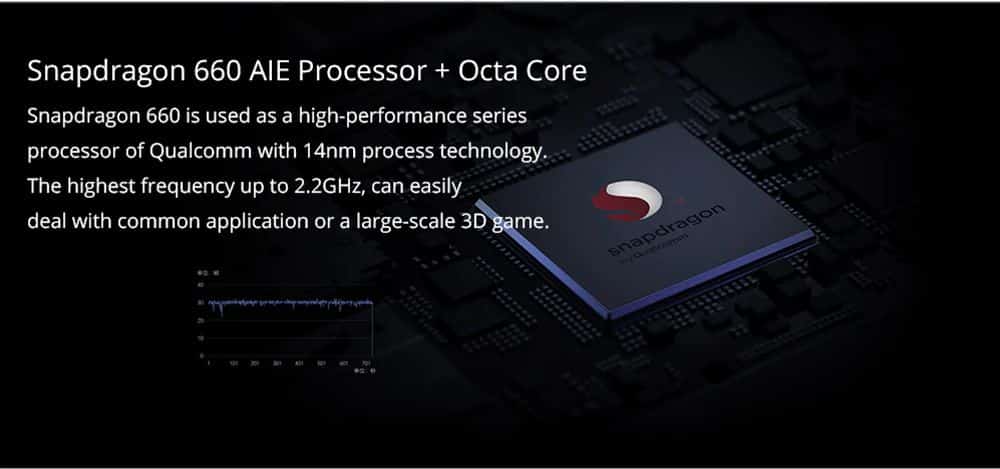 With all these specs firing up the Xiaomi Mi Pad 4 Plus, the tablet delivers better results than most other mid-segment counterparts on the market. The Mi Pad 4 Plus is almost comparable to the Samsung Galaxy Tab S3 in terms of speed. Even on the account of performance, this latest Xiaomi offering outdoes its competitors like the Samsung Galaxy Tab A 10.5 and Huawei MediaPad M5 Lite 10, both of which are placed at the same price point.
The Xiaomi Mi Pad 4 Plus also performs well on the gaming front. You can play popular games like PUBG with a high frame rate and HD graphics without any struggle with stuttering. Other heavy duty games such as Asphalt 9, Shadow of Death, Shadowgun Legends and Into The Dead 2 run without any glitches too.
Few tablets in this price range can boast of gaming performance of this level, and on that count, Xiaomi has done an impressive job with the Mi Pad 4 Plus. Of course, the performance is not comparable to premium tablet devices like the Samsung Galaxy Tab S4, but for its price range, the Mi Pad 4 Plus is capable of offering an above average graphics experience with pretty much all the games. In addition, other apps such as YouTube, Chrome and Lightroom run effortlessly too.
In terms of hardware, and performance, the Mi Pad 4 Plus exceeds expectations for its price point.
Operating System
The Xiaomi Mi Pad 4 Plus ships with Android 8.1 Oreo, which is the top version of the operating system being used in tablets so far. We are yet to get one that runs the Android 9. In addition to the fairly upgraded version of the Android 8.1 Oreo, the Mi Pad 4 Plus also runs the MIUI 10.2 version, which is Xiaomi's own interface with a heavily customized UI. This comes with some major changes such as lack of app drawer, which means there are a ton of apps pre-installed on to the home screen. To make the clutter of apps more annoying, most of these apps included in the MIUI are Chinese. While you have the option of uninstalling some of these, most you have to learn to live with.
Also, there is no Google Play Store pre-installed and needs to be downloaded from MI App Store. Once that's done, you can easily get your usual apps like Chrome, YouTube, Gmail and so on. One drawback with the Xiaomi Mi Pad 4 Plus, as with most Chinese tablets, is that Netflix is available in standard definition only, owing to a lack of the DRM standards needed for the HD version.
On the bright side, the design of the home screen is customized and it looks more vibrant and colorful than ever before.
Other Specifications
The Xiaomi Mi Pad 4 Plus has been designed for more comfortable usage in portrait mode and the fingerprint scanner placed underneath the home screen is positioned to allow you to unlock the device quickly and securely in that position. The device also uses 'facial recognition' for unlocking. However, the technology is rather rudimentary and relies solely on the front camera to perform that operation.
The lack of additional sensors supporting facial recognition means it is not the most secure way to unlock your device.
On the camera front, you get a 13 MP primary camera as well as a 5 MP front camera, both with HDR support and beauty enhancing features. The image clarity and quality offered by the Xiaomi Mi Pad 4 Plus is neither outstanding nor disappointing.
The Mi Pad 4 Plus is powered by a sizeable 8,620mAh battery that can offer a run time of 17 hours with HD video running at medium brightness and WiFi turned on at all times, which is hands down impressive. On standby too, the battery does not drain not easily. With regular usage, the Mi Pad 4 Plus can get back for several days on a single full charge.
Verdict
To call the Xiaomi Mi Pad 4 Plus a good tablet would be an understatement. It is an impressive device with a stellar performance, battery life, and price point. Other aspects such as build and display quality certainly add to the tablet's appeal. The only downside is the underwhelming speaker performance. For its price range of sub-$400, it is a device you should pick up without second thoughts if you are interested in a tablet.
Where to Buy
The Xiaomi Mi Pad 4 Plus is currently available on Amazon