Best tablet with a USB port in 2022?
Well, you most likely want to use an external keyboard or mouse to make your tablet more user-friendly, so, you're looking for the best tablet with a USB port. Although high-end tablets with full-size USB are very limited in the market, you can still get a tablet with a mini USB port.
This will help you to connect your tablet to an external keyboard, mouse, Pen Drive, Hard Drive or a game controller with the help of an OTG cable(Amazon). The OTG cable is available in the market for as little as 1-5USD.
However, if you are planning to buy a cheap price tablet with USB port and looking for the best one, then you came to the right place. Here, I'm going to share some top and best-selling tablets with USB port and their features.
So this post will help you to choose the right one and save your money as well as valuable time.
PS: The one huge mistake a lot of people make when looking to purchase a tablet PC is to overlook the major Chinese brands. While it may take a few days for your tablet to arrive, you're getting a powerhouse that will out-perform some of the best mainstream tablets available locally.
And that's not everything: these tablets will cost you less than 1/5 of the likes of Surface Pro.
Top Frontrunners for the Best 4G Tablet
The tablets today are poised to fill in as partial laptop replacements for a large section of users.
With more ergonomic designs, latest software and functionalities, nice working keyboards added to the existing appeal of portability of these devices, present gen tablet PCs are more than capable of supporting any workflow requirement.
Yet, despite 4G being widespread and tablets making a comeback in demand and popularity, the advent of 4G tablets is fairly recent.
In this short span of time, the number of slates with 4G support has grown exponentially. We sift through a continually expanding pool of these devices on the market to bring you these two top frontrunners worthy of the best 4G tablet tag:
iPad Pro 11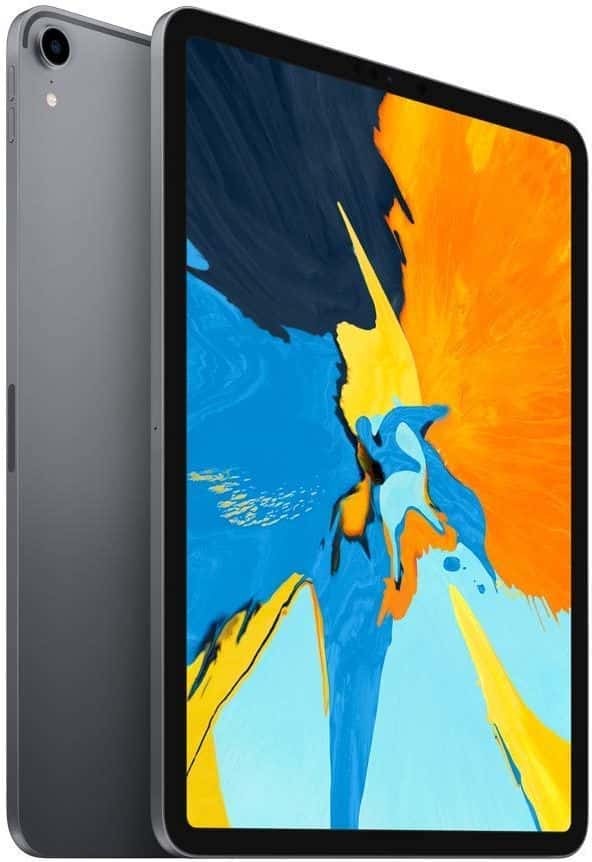 The iPad Pro 11 from Apple with an 11-inch screen, iOS 12, 2,388×1,668 pixels resolution, and A12X Bionic chipset is, without doubt, the best iPad in the market right now.
As is expected of any flagship Apple product, the iPad Pro 11 is expensive but it is also the most powerful tablet rolled out by the tech titan so far that taps into the full potential of the 2-in-1 design principle with its new keyboard cover folio.
With storage capacity in the range of 64Gb to 1TB, 7,812 mAh battery, 12 MP rear and 7 MP front camera, the specs of this tablet are top-notch.
Even with its sleek dimensions measuring 247.6×178.5×5.9 mm and lightweight, the iPad Pro is perfectly capable of delivering a laptop-like performance.
The fine hardware design and superb software functionalities make it quite an irresistible gadget. If you are looking for the best 4G tablet without factoring in any budget constraints, iPad Pro 11 is it.


Samsung Galaxy Tab S4
An upgrade on the Galaxy Tab S3, this newest offering from Samsung with a bigger 10.5-inch screen and improved battery life is also built on the 2-in-1 design.
Even though the tablet comes bearing lofty promises in terms of its potential, it is not yet as close to perfection as the iPad Pro 11.
However, the relatively lower price point and the advantage of the open-source Android operating system are enough to keep it in the mix as the best 4G tablet option available to buyers right now.
The S4 runs Android 8.1 and is powered by a Snapdragon 835 CPU with 4GB RAM and internal storage variants of 64 GB and 256 GB. The 10.5-inch screen delivers an impressive 1600×2560 pixels resolution and the 7,300 mAh significantly improves the run time as compared to its predecessor.
It also sports a 13 MP rear and 8 MP front camera. It is a premium offering as a tablet, however, some underlying UI and performance issues prevent it from fitting the bill as an alternative to laptops.


When it comes to tablets, Apple and Samsung have been ruling the roost. If these latest offerings are any indication, that trend isn't going to change anytime soon.
However, the premium price tag on these top-of-the-line devices limits their mass appeal. For those looking for promising devices at the affordable end of the price spectrum, Asus, Lenovo, and Huawei tablets make a more appropriate fit.
These may not qualify as the best 4G tablets but they are good enough to get the job done.
Top 3 Picks for the Best Tablet for Reading
With tablets and smartphones capable of handling all our digital requirements, why would one need to look for a tablet specifically for reading? Well, the answer lies in looking out for one's own comfort and well-being.
The display of these devices is not suited for long sessions of reading, especially in a dark setting, which can lead to eye strain. That's why any prolific reader making the shift to digital books must invest in a good e-reader.
Here is a rundown on our top three picks for the best tablet for reading to suit different requirements and budgets:
Kindle Paperwhite E-Reader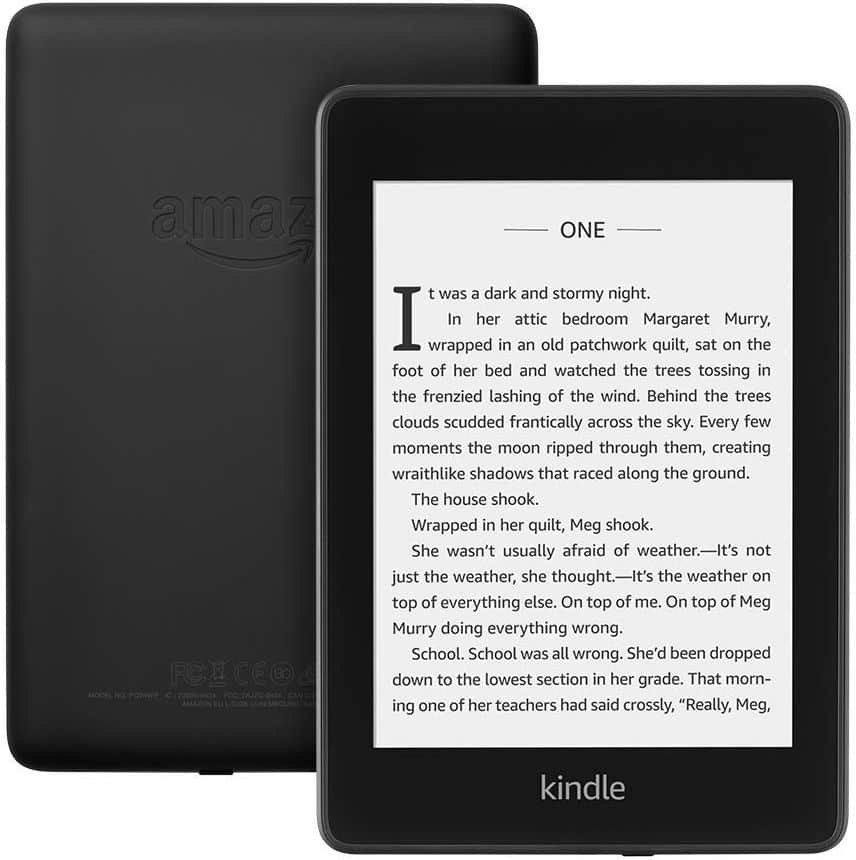 Amazon's Kindle series has been right at the top of the e-reader market since the release of the first generation e-reader in 2007. The Kindle Paperwhite e-reader remains a popular choice among buyers as an affordable yet feature-packed offering.
This lightweight e-reader with a 6-inch glare-free display with built-in backlight and a resolution of 300 PPI qualifies as the best tablet for reading given its user-friendliness and well-built ergonomics.
The Kindle Paperwhite comes with both WiFi and 3G connectivity support, 4 GB of internal storage that is more than sufficient to build a sizeable digital library, quick charging time and battery that can last weeks on a single full charge.


Barnes & Noble NOOK GlowLight Plus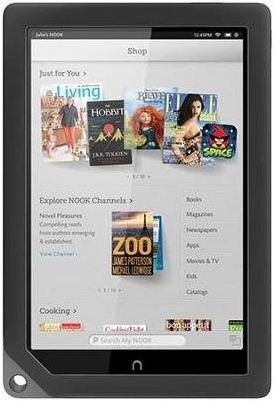 The Barnes & Noble NOOK GlowLight Plus is a unique offering in the segment of e-readers. A powerful device encased in a durable aluminum casing, GlowLight Plus stands out for its dustproof and waterproof built – features not typically associated with an e-reader.
These out-of-the-box design features coupled with a 6-inch high definition anti-glare display with 300 DPI, a quad-core processor, WiFi support, USB 3.0 port, a card reader and an 8-hour battery run on a full charge definitely put in the running as the best tablet for reading.
Even though this Barnes & Noble offering is meant to be an e-reader, it can easily double as a multi-utility tablet. All of these features at a lucratively affordable price point certainly add to the appeal of this tablet.


Kobo Aura ONE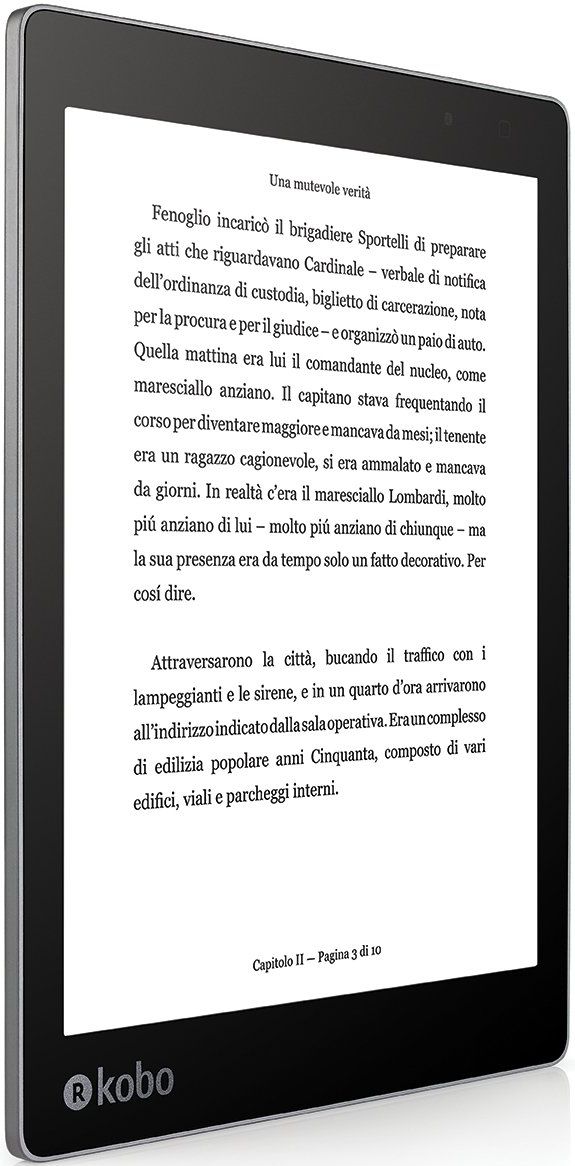 Kobo Aura ONE is a premium e-reader that comes pre-loaded with a host of interesting options and features aimed at enhancing the user experience and bolstering ease of reading.
The Aura ONE sports a 7.8-inch full HD display with an 1872×1404 pixel resolution and is fired up by a 1GHz processor and 1GB RAM, supported by a generous 8GB of internal storage.
The built-in backlight on this tablet uses the Comfort Light Pro Technology designed to reduce blue light exposure. The reading experience is enhanced by an adequate level of grey that can be tweaked to suit the reader's comfort.
The Aura ONE is also waterproof and boasts of a battery run time of weeks. It certainly carries a premium price tag but its stellar features unmistakably scream 'best tablet for reading', making it worth every penny spent.


From pocket-friendly options to multi-utility devices and premium offerings, the definition of the best tablet for reading varies from user to user. Fortunately, the market is brimming over with suitable options for buyers of every kind.
Why Huawei MediaPad M5 is the Best Tablet to Buy on a Budget
When tablets were first rolled out, they were expected to take over the tech world as devices encapsulating the best of smartphones and PCs.
Even though tablets did not quite turn out to be the tech sensation they were expected to be, these devices have managed to carve a niche for themselves. For the longest time, tech titans Samsung and Apple were the only major players catering to this niche market.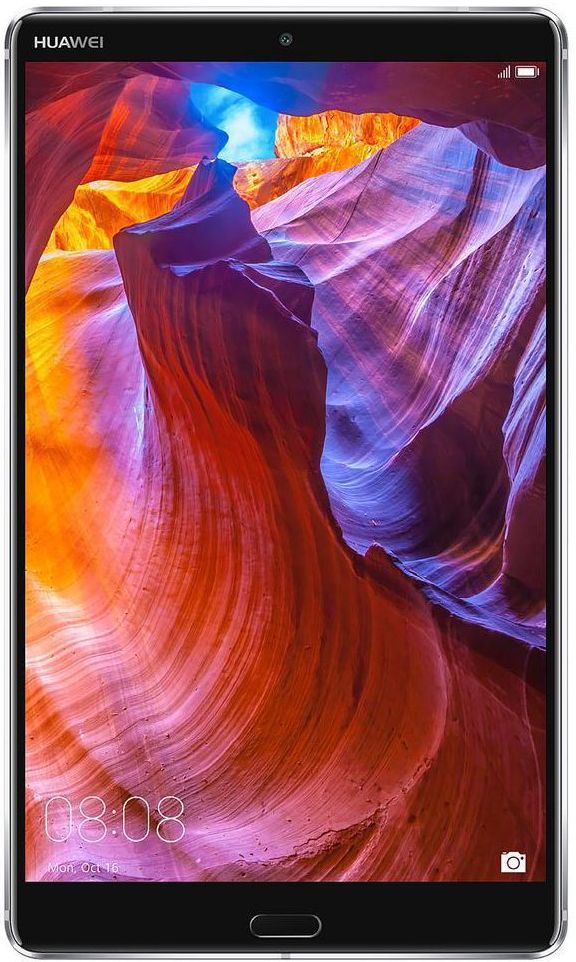 Over the years, many manufacturers have begun dipping their toes in the business of making tablets. Chinese manufacturer Huawei not only hopped on this trend early on but has also continued to put a lot of heart into its offerings.
The result? Feature-intensive devices at extremely affordable prices. The MediaPad M5 is the perfect case in point. Let's find out what makes this Huawei offering the best tablet to buy on a budget:
Classy Design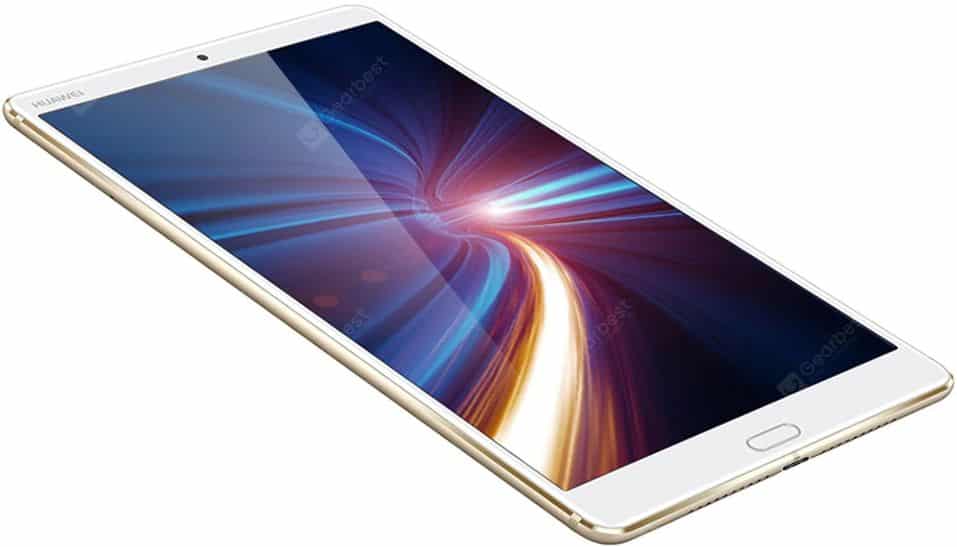 The MediaPad M5 does justice to its iPad-inspired design and sports a thin profile with a unibody frame in brushed metal and a glass front with a pleasing tapering along the edges.
The tablet is available in Space Grey and Champagne Gold color variants with distinct beveled edges adding a hint of luxury to the device's design.
The 8.4-inch screen makes it a more comfortable fit in the hands. The MediaPad M5 body comes with a USB Type-C charging port and a microSD card slot that can be used to expand the storage capacity.
Impressive Display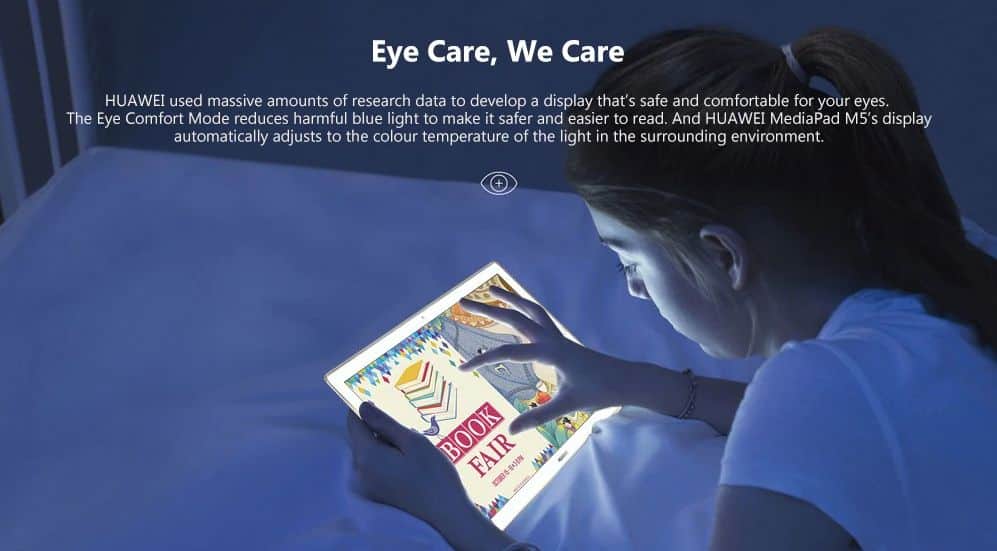 The Huawei MediaPad M5 offers impressive display quality with solid detail. The tablet is fitted with an 8-4-inch LCD display with a resolution of 2,560 x 1,600 pixels.
The Vivid Color Mode on the device helps produce 147 percent of sRBG gamut, which beats the ratings of the iPad at 119 percent. The brightness on the MediaPad M5 is pretty decent and capable of support outdoor usage in shade.
The tablet is fitted with a responsive accurate touchscreen you can navigate without any noticeable pauses or lags.
Stellar Specs
The MediaPad M5 has a Huawei Kirin 960 processor under the hood supported by 4GB RAM and 64 GB of internal expandable storage. The tablet also ships with built-in LTE connectivity, however, the feature is disabled in the US.
This Huawei tablet runs the Android 8.0 Oreo operating system, which Huawei has curiously tweaked to make it resemble the iOS. The MediaPad M5 also sports a 13 MP rear and 8 MP front camera, both of which perform adequately well.
The lack of flash and f/2.2 aperture limits its use in strenuous ambient conditions. The tablet also promises a decent battery life with a run time of nearly six hours with average use, on a full charge.


The Bottom Line
For a device that aspires to imitate the iPad, the MediaPad M5 is held back by its sub-par battery life and underwhelming audio.
If you are looking for a small device with a solid performance that can be used to check emails, play games or read on-the-go on a limited budget, the MediaPad M5 is the best tablet to buy.
8 Best Tablets with USB Port (Reviews, Pros, and Cons)
Jumper EZpad 4S Pro Tablet PC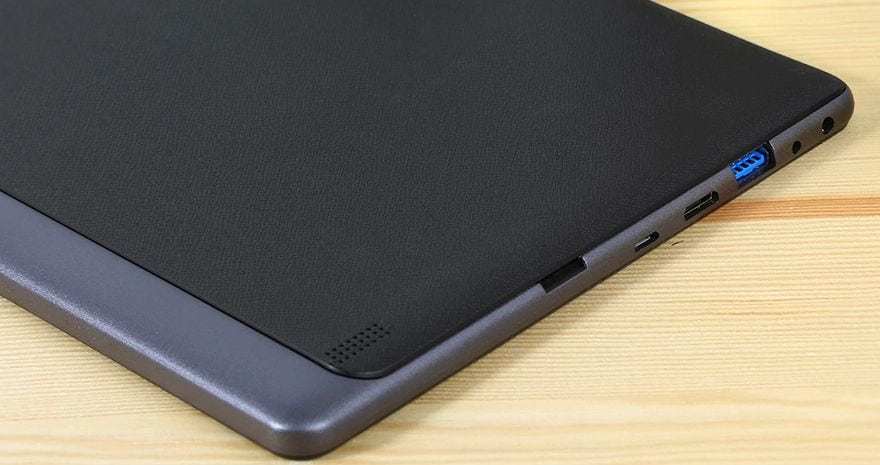 The price tag isn't the only thing to love about the Jumper EZpad 4S Pro tablet PC, it packs a 4GB RAM suitable for advanced multitasking and an Intel HD Graphics 400 GPU for on-processor graphics that will perform seamlessly on daily usage.
If the 64GB storage capacity it comes with isn't enough for you, you'll have the option to expand up to 128GB because it has a slot for the TF card.
The Pros
Very affordable
Good RAM (can multitask well)
Great Design
HDMI Output (for connecting to your TV/home theatre
The Cons
Poor Camera
Not suitable for high graphics-demanding video games
Chuwi Hi10 Air Tablet PC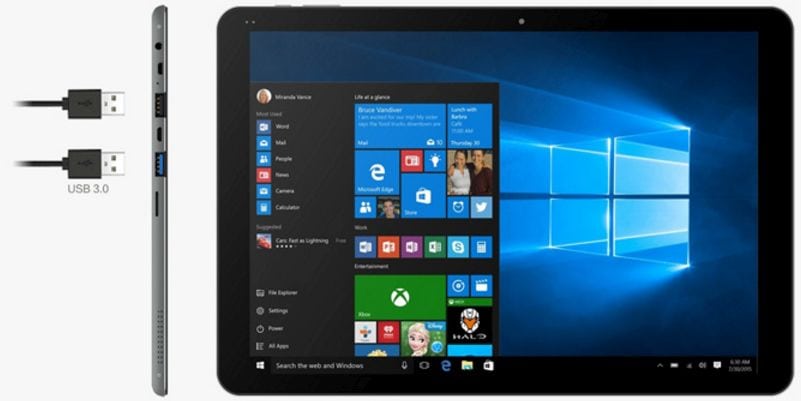 We loved that Chuwi Hi12 comes with 2 USB slots that you can attach a mouse to one, and still have one more slot left should you need it for something else.
You're getting 4GB of RAM that allows for ultra-fast online surfing, 64 GB of storage ( + 128GB expansion slot), dual cameras (back & front) and very good battery of 11000mAh that will last you a whole day on heavy usage.
The Pros
2 USB slots
Good RAM
Strong Battery
Relatively high performance
HDMI Output
Windows 10
The Cons
The front camera is 2MP only
Acer Chromebook R 11 Convertible

[Readers' favorite!]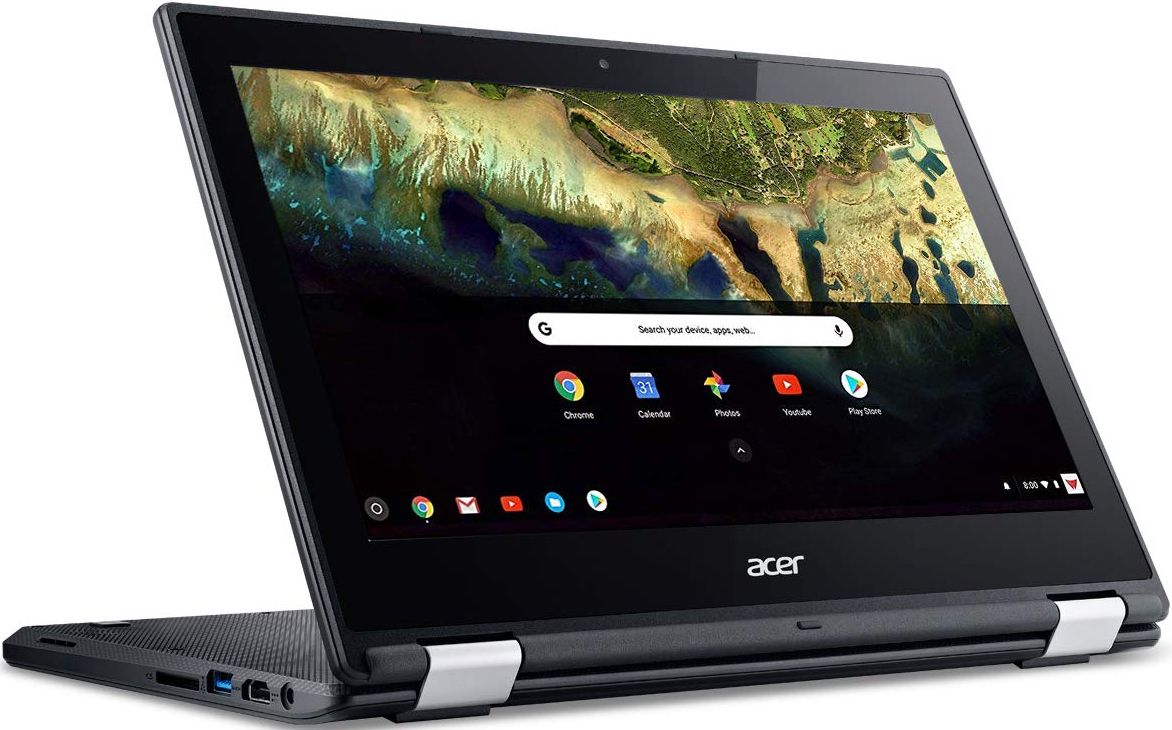 The Acer Chromebook R 11 is both a tablet and a laptop that seem to be a favorite among our readers.
With this 11.6-inch tablet, you're getting a decent processor of up to 2.48GH, 4GB of RAM and 32GB of internal memory designed to be able to handle your tablet needs. On normal everyday usage, the Chromebook R11's battery will last approximately 10 hours.
The Acer Chromebook R11 comes with both a USB 2.0 and 3.0 ports.


Fire Tablet, 7″ Display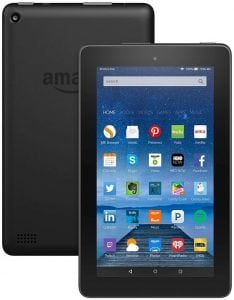 The Fire Tablet, 7″ Display is one of the best-selling fire tablet PC that comes with a mini USB port. You can use this port to recharge the tab, transfer data and connect with any USB 2.0 device using an OTG cable.
This is one of the cheaper priced tablets in the market that come with 8GB and 16GB internal storage capacity. You can also extend the memory up to 128GB using the external micro SD card slot.
The 7 inch IPS display with 1024 x 600 resolution and 1.3GHZ Quad-Core processor make this tab good enough for reading books, browsing the web, play games or watching movies.
The user-friendly Fire OS 5 makes this tab ideal for beginners and kids. You can easily download, install and customize thousands of apps for free. The battery life is also good enough to use the tab for at least 6-8 hours for a single charge.
The Fire Tab 7 specially optimized for readers. The Fire OS "Bellini" automatically adjusts the brightness for a better and comfortable reading experience.
The Pros
Support Google Play Store apps
1GB RAM
Free unlimited cloud storage
High-quality sound and graphics
Instant access to more than 3 million apps and games
The Cons
Cameras are not enough to capture high-quality images
Apps can't transferable to the SD card
Need to install Google Play Store app manually
Dragon Touch X10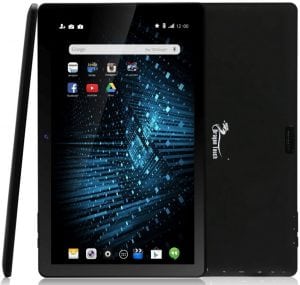 If you are looking for a large size Android tablet with a Micro USB port for less than $120, then the Dragon Touch X10 is the ideal one for you.
The large size 10-inch tablet is perfect for watching movies, reading books, playing games or browsing the web flawlessly.
The powerful Cortex A7 processor and 1GB is good enough for multi-tasking. The IPS display comes with SmartColor technology and a 178-degree view angle, so you will enjoy more during watching movies or playing games.
The 10 point multi-touch technology makes the Dragon Touch X10 highly responsive to touch.
The 16GB internal storage capacity is good enough for storing images and other essential documents. There is also an external micro SD card slot available to extend the memory up to 128GB.
Moreover, you can use a portable hard drive or pen drive through micro USB Port, so you don't need to worry about space. There is also an HDMI port available in this tab to connect your TV or projector to enjoy more.
The Pros
Built-in Wi-Fi and Bluetooth
Pre-installed Google Play Store, Google, YouTube and Gmail
7200mAh battery capacity
The Cons
External micro SD card slots work fine with a 64GB SD card only
No keyboard case or normal case included
No GPS included
Lenovo Tab2 A8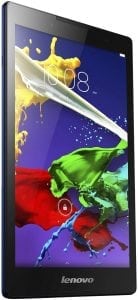 The Lenovo Tab2 A8 is mainly popular for its high-quality sound and long battery life. The high-quality stereo speaker with Dolby Atoms 3D and 8 hours battery life make this tab ideal for gaming and watching movies.
The MTK 8161 Quad-core ARM Cortex-A7 processor and 1GB DDR3 RAM is good enough to run heavy games or browse the web heavily.
Like the Dragon Touch X10, the Lenovo Tab2 A8 also comes with 16GB storage capacity. The tab runs on Android 5.0 Lollipop operating system.
The 8 inch HD display with 1280 x 800 resolution and highly responsive touch also perfect to browse the web flawlessly.
The A8 comes with the 5MP back camera and 2MP front camera to capture awesome images or join a video call.
The Pros
Micro USB supports OTG Cable
Slim and lightweight design
Built-in GPS, Wi-Fi, and Bluetooth
The Cons
Opening too many apps may slower the device
Not good to play heavy games
Overall, slow and Laggy
Microsoft Surface RT (32GB)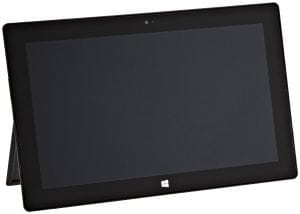 If you are a fan of Windows Tablet and looking for a windows tab with USB port, then the Microsoft Surface RT could be the right one. With the 2GB RAM, Windows 8.1 and Quad-core NVIDIA Tegra 3 processor, the Surface RT is the best tab for multi-tasking.
The ClearType HD Display and average 8-hour battery life make this tablet perfect for watching movies, playing games or browse the web heavily.
The 32GB storage is enough to store your essential data. High-speed Wi-Fi is perfect to connect this tab to the internet. You can download thousands of free apps and games from the Microsoft store.
The slim and lightweight design makes this tablet ideal to carry anywhere you go.
The Pros
Front and rear-facing 720p HD LifeCam
Built-in Accelerometer and magnetometer
Premium-quality design with a kickstand
The Cons
Only 15GB available storage
No additional keyboard included
You can't use Google Chrome or Mozilla Firefox Browser
Samsung Galaxy Tab A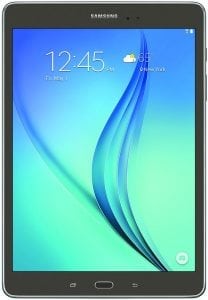 I don't need to tell you about the popularity of Samsung Tablets. Samsung is one of the leading brands in the market for their smartphone and tablet.
Well, the Samsung Galaxy Tab A is one of the best-selling and top-rated tablets that comes with a micro USB port.
The Galaxy Tab A available in 4 different size displays and 3 different colors. With the 1.2 GHz Quad-Core Processor, 1.6GB RAM, and 16GB Flash Memory, Tab A 9.7 inch is the best medium-priced tablet on the market.
The tablet runs on Android 5.1 Lollipop and perfect for multitasking as well as playing heavy games or browsing the web heavily. The built-in Kids Mode makes this tab ideal for kids. You can control apps and games for your kids.
The 5MP back camera is good enough to capture awesome images. And the 2MP front camera is good enough for selfies and video calls.
The Pros
Ultra-thin and portable design
Multi-user mode supported
SideSync to connect to multiple devices
The Cons
S pen not available in some version
Some browser works slowly
No flash in the back camera
Toshiba Thrive 10.1-Inch 8 GB Android Tablet AT105-T108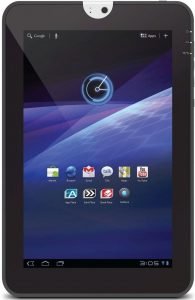 The Toshiba Thrive AT105-T108 is my last recommended tablet that comes with a separate USB 2.0 port. So you can easily connect an external keyboard, mouse, game controller or hard drive without an OTG cable.
The Toshiba Thrive comes with Nvidia Tegra 2 dual-core mobile processor and 1GB RAM that is good enough for watching movies or browsing the web.
The 10.1-inch multi-touch display also makes this tablet perfect for reading books or playing games. The internal storage is only 8GB where you can use 4-5GB space. But you can upgrade the device memory using the external micro SD card slot.
The Pros
Good for the price
The charging cord is long enough
Front and back camera
The Cons
Runs on an old version of Android
Design looks cheap
Battery life is average
Over to You
That's all about the best tablet with a USB port. I've listed the most popular and best-selling tablets for cheap and medium price range. I also included some advantages and disadvantages of these tablets, so hopefully, this post will help you to find the right tablet for you.
Related: https://www.androidtipster.com/category/tablets-on-sale/
UPDATE: