The 8 Best Tablets with USB Port You Can Buy in 2019
What is the best tablet with USB port in 2018?
Well, you most likely want to use an external keyboard or mouse to make your tablet more user-friendly, so, you're looking for the best tablet with USB port. Although high-end tablets with full-size USB are very limited in the market, you can still get a tablet with a mini USB port.
This will help you to connect your Tablet to an external keyboard, mouse, Pen Drive, Hard Drive or a game controller with the help of an OTG cable(Amazon). The OTG cable is available in the market for as little as 1-5USD.
However, if you are planning to buy a cheap price tablet with USB port and looking for the best one, then you came to the right place. Here, I'm going to share some top and best-selling tablets with USB port and their features.
So this post will help you to choose the right one and save your money as well as valuable time.
PS: The one huge mistake a lot of people make when looking to purchase a tablet PC is to overlook the major Chinese brands. While it may take a few days for your tablet to arrive, you're getting a powerhouse that will out-perform some of the best mainstream tablets available locally.
And that's not everything: these tablets will cost you less than 1/5 of the likes of Surface Pro.
UPDATE
We've reviewed the perfect tablet with USB port for 2018, the Chuwi SurBook Tablet PC (<—Click to view)
8 Best Tablet with USB Port (Reviews, Pros, and Cons)
Jumper EZpad 4S Pro Tablet PC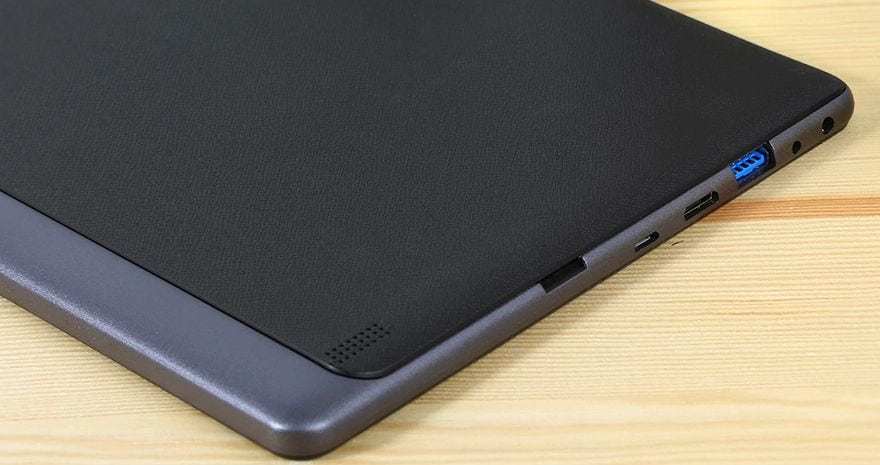 The price tag isn't the only thing to love about the Jumper EZpad 4S Pro tablet PC, it packs a 4GB RAM suitable for advanced multitasking and an Intel HD Graphics 400 GPU for on-processor graphics that will perform seamlessly on daily usage.
If the 64GB storage capacity it comes with isn't enough for you, you'll have the option to expand up to 128GB because it has a slot for the TF card.
The Pros
Very affordable
Good RAM (can multitask well)
Great Design
HDMI Output (for connecting to your TV/home theatre
The Cons
Poor Camera
Not suitable for high graphics-demanding video games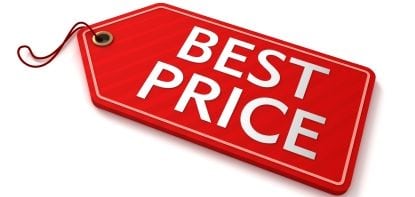 Chuwi Hi12 Tablet PC
[Readers' favorite]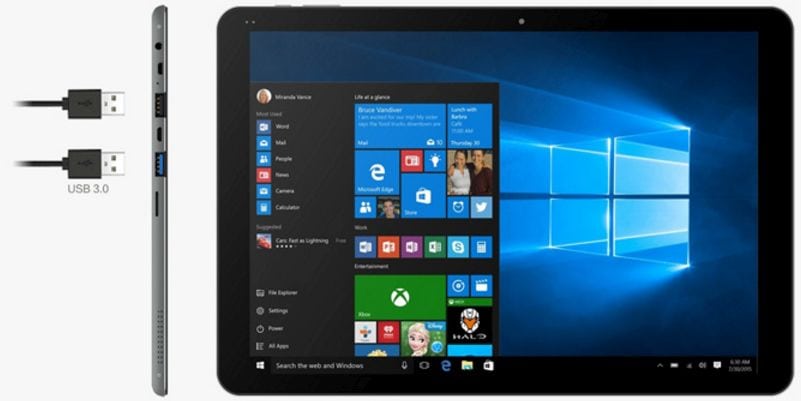 We loved that Chuwi Hi12 comes with 2 USB slots that you can attach a mouse to one, and still have one more slot left should you need it for something else.
You're getting 4GB of RAM that allows for ultra-fast online surfing, 64 GB of storage ( + 128GB expansion slot), dual cameras (back & front) and very good battery of 11000mAh that will last you a whole day on heavy usage.
The Pros
2 USB slots
Good RAM
Strong Battery
Relatively high performance
HDMI Output
Windows 10
The Cons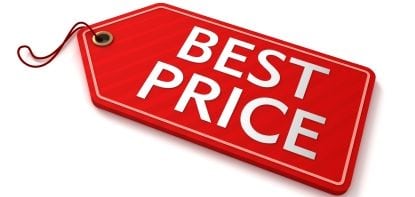 Fire Tablet, 7″ Display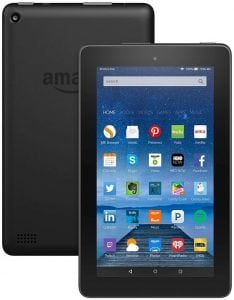 The Fire Tablet, 7″ Display is one of the best-selling fire tablet PC that comes with a mini USB port. You can use this port to recharge the tab, transfer data and connect with any USB 2.0 device using an OTG cable.
This is one of the cheaper priced tablets in the market that come with 8GB and 16GB internal storage capacity. You can also extend the memory up to 128GB using the external micro SD card slot.
The 7 inch IPS display with 1024 x 600 resolution and 1.3GHZ Quad Core processor make this tab good enough for reading books, browsing the web, play games or watching movies.
The user-friendly Fire OS 5 makes this tab ideal for beginners and kids. You can easily download, install and customize thousands of apps for free. The battery life is also good enough to use the tab for at least 6-8 hours for a single charge.
The Fire Tab 7 specially optimized for readers. The Fire OS "Bellini" automatically adjust the brightness for better and comfortable reading experience.
The Pros
Support Google Play Store apps
1GB RAM
Free unlimited cloud storage
High-quality sound and graphics
Instant access to more than 3 million apps and games
The Cons
Cameras are not enough to capture high-quality images
Apps can't transferable to the SD card
Need to install Google Play Store app manually
Dragon Touch X10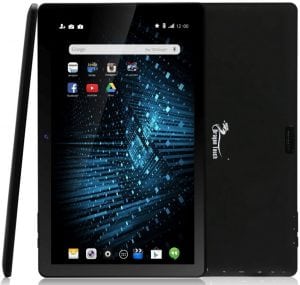 If you are looking for a large size Android tablet with a Micro USB port for less than $120, then the Dragon Touch X10 is the ideal one for you. The large size 10-inch tablet is perfect for watching movies, reading books, playing games or browsing the web flawlessly.
The powerful Cortex A7 processor and 1GB is good enough for multi-tasking. The IPS display comes with SmartColor technology and 178-degree view angle, so you will enjoy more during watching movies or playing games.
The 10 point multi-touch technology makes the Dragon Touch X10 highly responsive to touch.
The 16GB internal storage capacity is good enough for storing images and other essential documents. There is also an external micro SD card slot available to extend the memory up to 128GB.
Moreover, you can use a portable hard drive or pen drive through micro USB Port, so you don't need to worry about space. There is also an HDMI port available in this tab to connect your TV or projector to enjoy more.
The Pros
Built-in Wi-Fi and Bluetooth
Pre-installed Google Play Store, Google, YouTube and Gmail
7200mAh battery capacity
The Cons
External micro SD card slots work fine with a 64GB SD card only
No keyboard case or normal case included
No GPS included
Lenovo Tab2 A8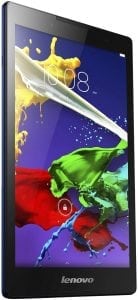 The Lenovo Tab2 A8 is mainly popular for its high-quality sound and long battery life. The high-quality stereo speaker with Dolby Atoms 3D and 8 hours battery life make this tab ideal for gaming and watching movies.
The MTK 8161 Quad-core ARM Cortex-A7 processor and 1GB DDR3 RAM is good enough to run heavy games or browse the web heavily.
Like the Dragon Touch X10, the Lenovo Tab2 A8 also comes with 16GB storage capacity. The tab runs on Android 5.0 Lollipop operating system. The 8 inch HD display with 1280 x 800 resolution and highly responsive touch also perfect to browse the web flawlessly.
The A8 comes with the 5MP back camera and 2MP front camera to capture awesome images or join a video call.
The Pros
Micro USB supports OTG Cable
Slim and lightweight design
Built-in GPS, Wi-Fi, and Bluetooth
The Cons
Opening too many apps may slower the device
Not good to play heavy games
Overall, slow and Laggy

Microsoft Surface RT (32GB)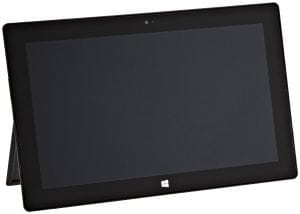 If you are a fan of Windows Tablet and looking for a windows tab with USB port, then the Microsoft Surface RT could be the right one. With the 2GB RAM, Windows 8.1 and Quad-core NVIDIA Tegra 3 processor, the Surface RT is the best tab for multi-tasking.
The ClearType HD Display and average 8-hour battery life make this tablet perfect for watching movies, playing games or browse the web heavily.
The 32GB storage is enough to store your essential data. The high-speed Wi-Fi is perfect to connect this tab to the internet. You can download thousands of free apps and games from the Microsoft store.
The slim and lightweight design makes this tablet ideal to carry anywhere you go.
The Pros
Front and rear-facing 720p HD LifeCams
Built-in Accelerometer and magnetometer
Premium quality design with a kickstand
The Cons
Only 15GB available storage
No additional keyboard included
You can't use Google Chrome or Mozilla Firefox Browser

Samsung Galaxy Tab A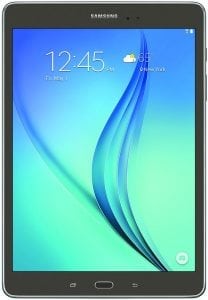 I don't need to tell you about the popularity of Samsung Tablets. Samsung is one of the leading brands in the market for their smartphone and tablet. Well, the Samsung Galaxy Tab A is one of the best-selling and top-rated Tablet that comes with a micro USB port.
The Galaxy Tab A available in 4 different size display and 3 different colors. With the 1.2 GHz Quad-Core Processor, 1.6GB RAM, and 16GB Flash Memory, Tab A 9.7 inch is the best medium priced tablet on the market.
The tablet runs on Android 5.1 Lollipop and perfect for multi-tasking as well as playing heavy games or browsing the web heavily. The built-in Kids Mode make this tab ideal for kids. You can control apps and games for your kids.
The 5MP back camera is good enough to capture awesome images. And the 2MP front camera is good enough for selfies and video call.
The Pros
Ultra-thin and portable design
Multi-user mode supported
SideSync to connect to multiple devices
The Cons
S pen not available in some version
Some browser works slowly
No flash in the back camera

Toshiba Thrive 10.1-Inch 8 GB Android Tablet AT105-T108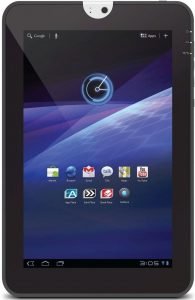 The Toshiba Thrive AT105-T108 is my last recommended tablet that comes with a separate USB 2.0 port. So you can easily connect an external keyboard, mouse, game controller or hard drive without an OTG cable.
The Toshiba Thrive comes with Nvidia Tegra 2 dual-core mobile processor and 1GB RAM that is good enough for watching movies or browsing the web.
The 10.1-inch multi-touch display also makes this tablet perfect for reading books or playing games. The internal storage is only 8GB where you can use 4-5GB space. But you can upgrade the device memory using the external micro SD card slot.
The Pros
Good for the price
The charging cord is long enough
Front and back camera
The Cons
Runs on an old version of Android
Design looks cheap
Battery life is average

Over to You
That's all about the best tablet with USB port. I've listed the most popular and best-selling tablets for cheap and medium price range. I also included some advantages and disadvantages of these tablets, so hopefully, this post will help you to find the right tablet for you.
Related: https://www.androidtipster.com/category/tablets-on-sale/
UPDATE:
Written by Fakharuddin Manik (guest author).