Android Tipster participates in the Amazon Affiliates program and may receive a small percentage of a sale at no extra cost to you when you click some links on our site
Xiaomi Mijia 3.5K Panorama Camera Review
Xiaomi has expanded their product portfolio even further by introducing their very first 360-degree action camera – Xiaomi Mijia 3.5K Panorama. The camera features a sophisticated design and high-end specifications, but no, the price ain't high as you may have guessed. You can pre-order one for just $319.99 via GearBest, which is offering a 17% off on the device.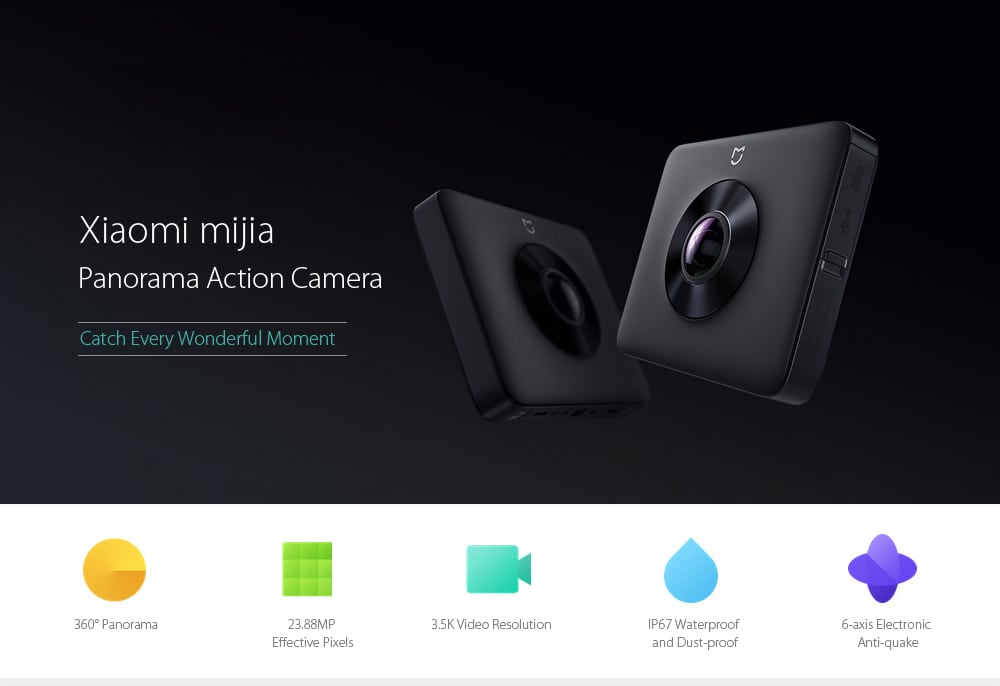 Xiaomi Mijia: Design and Build Quality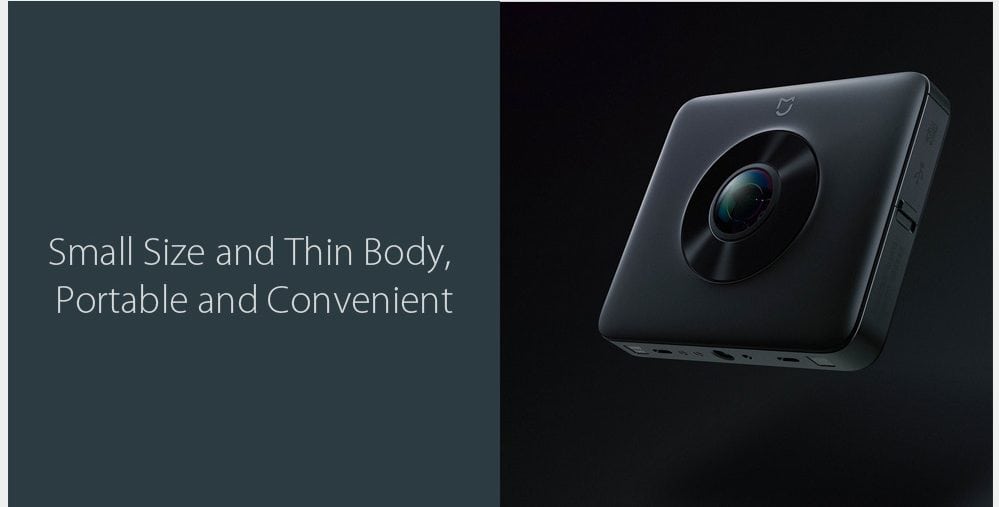 The Xiaomi Mijia action camera features a very compact design, packing all the goodies in a square body with curved edges. The camera looks premium as well, thanks to the wise usage of metal chassis. Another highlight of the device is that it comes with an IP67 water and dust resistance rating. This means that the camera can handle rough weather conditions and underwater as well.
It has got a microUSB port for charging, and there is support for fast charging technology. You can forget about storage woes, as the device comes with a microSD slot which can expand storage up to 128GB.
Xiaomi Mijia: Camera Sensors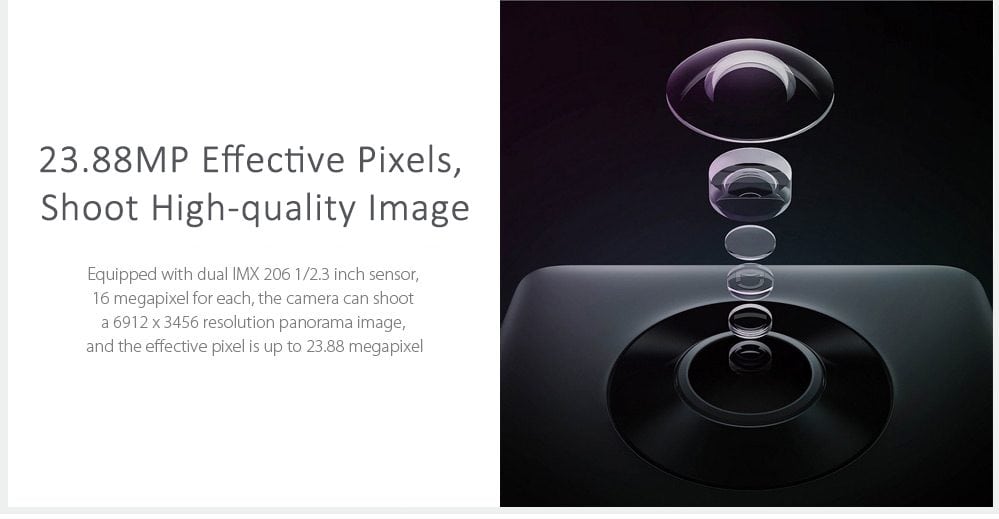 The device comes with two fisheye lens, that allows taking 360-degree full-angle images. Although it features a 16MP sensor, it can be interpolated up to 23.88MP for capturing pictures of better quality.
The camera capture pictures with a resolution of 6912×3456 pixels, which accounts for 7K imaging level. Besides, the camera is capable of recording 3.5K videos, and it's worth mentioning that the quality is just amazing.
Also, the Xiaomi Mijia 3.5K panorama action camera provides three shooting modes, namely, Flat mode, Sphere mode, and planet mode, thus providing room to enhance your creativity. It has a built-in 6-axis electronic image stabilization (EIS) technology to ensure you capture great photos, even when there is a lot of shaking. Hence, this camera will be just perfect for shooting while doing extreme sports activities.
Xiaomi Mijia: Battery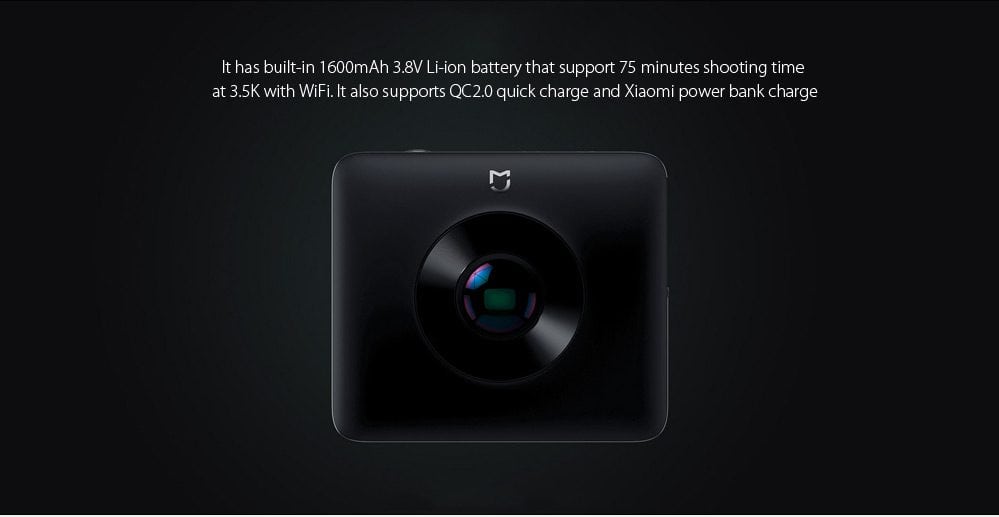 The camera comes with a built-in 1600 mAh battery that promises 75 minutes shooting time at 3.5K with WiFi turned on. However, you will have turn off the WiFi if you need to power the device for 20 minutes longer.
Further, it supports Quick Charge 2.0 (QC 2.0) technology, that will fully charge the device in some minutes. The battery also supports charging via Xiaomi power bank, thus making it easier to charge on the go.
Xiaomi Mijia: Processor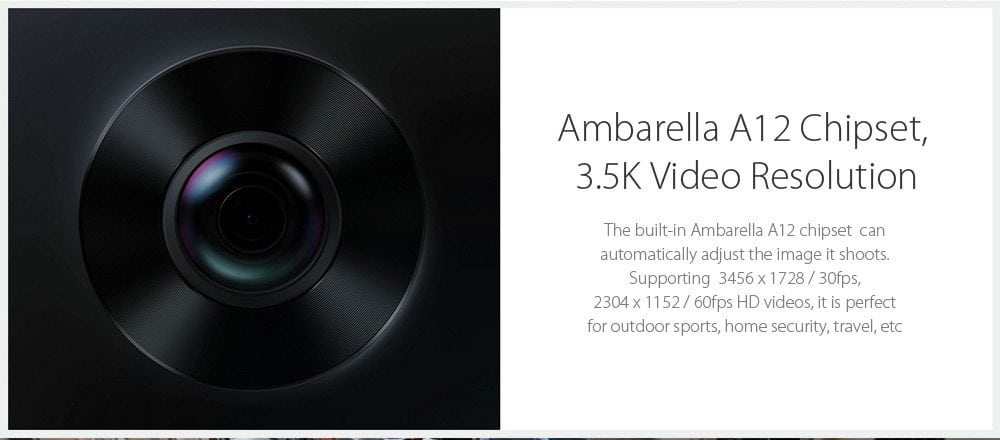 The Xiaomi Mijia 3.5K panorama action camera is powered by Ambarella A12 chipset. The chipset is capable of automatically adjusting the image as it shoots. It supports both 30fps and 60fps video recording, with resolutions of 3456×1728 pixels and 2304×1152 pixels respectively.
Xiaomi Mijia: Applications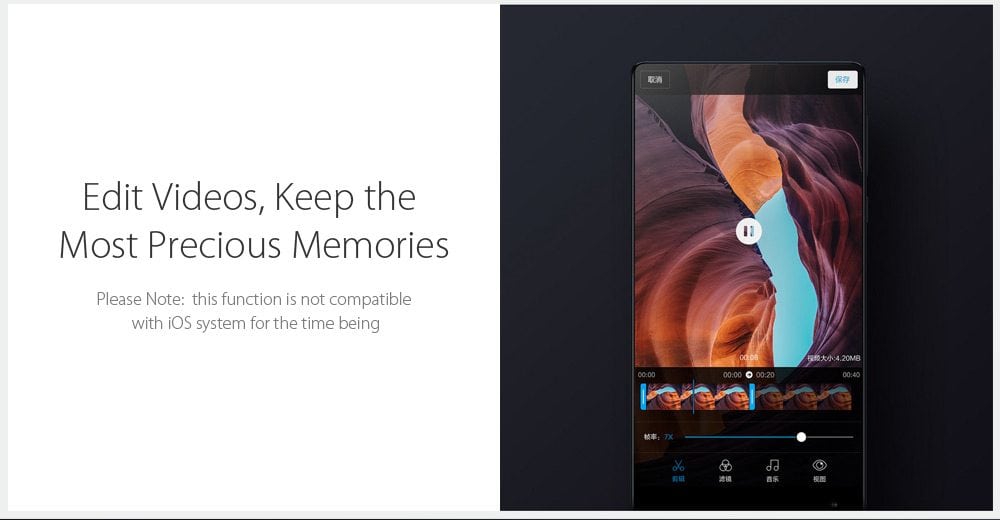 Although the camera comes with pre-loaded applications, you can edit the photos on third-party applications as well. The device comes with connectivity options such as Bluetooth and WiFi, letting you share photos and videos to your Android smartphone with ease. However, it is disappointing to say that this function is not compatible with iOS, at least for the time being. The application "MiHome" allows you to add background music to your videos to make it more appealing. The app also lets you set the time for panoramic time-lapse video and manual exposure.
Xiaomi Mijia: Connectivity Options
On the connectivity front, the camera supports WiFi 802.11 b/g/n, Bluetooth 4.0 and MicroUSB 2.0 port for charging and file transfers.
Xiaomi Mijia: Recap of the Specs
Image processor: Ambarella A12
Video resolution: 3456×1728 pixels at 30fps, 2304×1152 pixels at 60fps
Field of view: 2 x 190-degree
Battery: 1600 mAh
Fast charge support: Yes, QC 2.0
Connectivity: WiFi 802.11 b/g/n, BT 4.0, USB 2.0
Compatibility: Android v5.0 and higher, iOS 8.0 and higher
Weight: 108.3 grams
Waterproof: Yes, IP67 certified
Timelapse: Yes
Auto-focusing: Not supported
Anti-shake: Yes, thanks to 6-axis EIS technology
Night vision: No
Aerial Photography: Yes
Supported Languages: English, Simplified Chinese, Traditional Chinese
Xiaomi Mijia: Pros
Portable and convenient
Presence of anti-shake feature; thanks to 6-axis EIS technology
Supports quick charging technology
Compatible with almost every OS
Easy to share photos via MiHome app
Provides three shooting modes
Supports all necessary connectivity options
Xiaomi Mijia: Cons
Battery life is disappointing
Does not support auto-focus feature
Slightly expensive
Xiaomi Mijia: Package Contents
1 x Xiaomi mijia 3.5K Panorama Action Camera
1 x USB Cable (for charging and data transfers)
Why Should You Buy Xiaomi Mijia 3.5K Panorama Action Camera?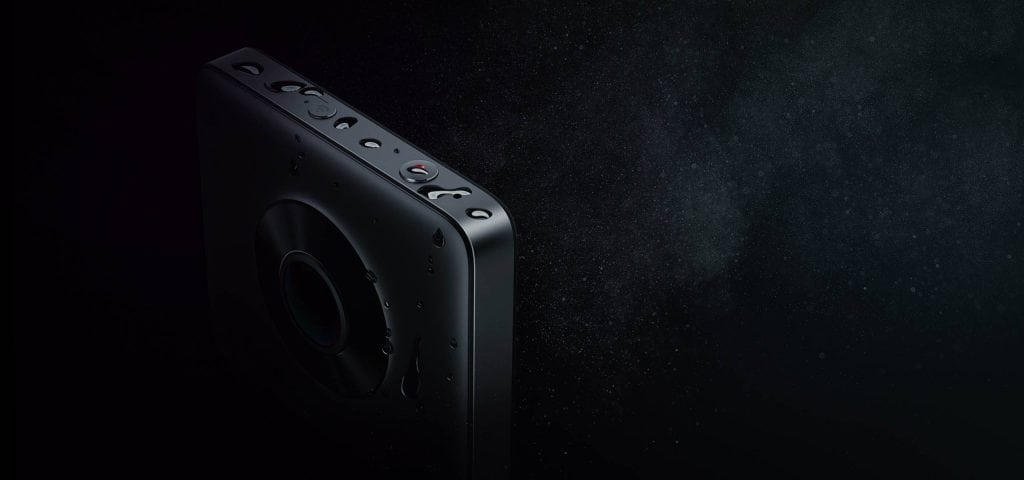 When compared to MGCOOL Explorer, the Xiaomi action camera comes at a premium price. However, that kind of price is justifiable as the camera packs a whole new level of features that can be seen only on high-end cameras. The Xiaomi Mijia camera is strongly recommended to those who want to shoot while doing extreme sports activities such as snow skating, swimming, trekking, hiking, ATV racing and such; as it is water and dust resistant.
On top of that, you can also use the Xiaomi Mijia as a normal camera, without any gimmicks, and still click great moments. If you are interested in buying this device anytime soon, you can now pre-order it on GearBest where it is offered at $319.99, after an impressive 17% discount.