Xiaomi Redmi Note 4 Review
For a company that doesn't advertise, Xiaomi has sure made a lot of waves. When they announced, they'd be breaking into the US marketplace, investors all over the world bought in for a slice of the pie. At first, this might not make sense. In the US, consumers don't want $300 smartphones. They want the latest hardware and the fanciest design.
Well, believe it or not, the Xiaomi Redmi Note 4 meets all of that criteria. People often dismiss it because of its low price, but this phone really can hold its own against any flagship on the market. Let's go in-depth and find out what this phone really has to offer.
Design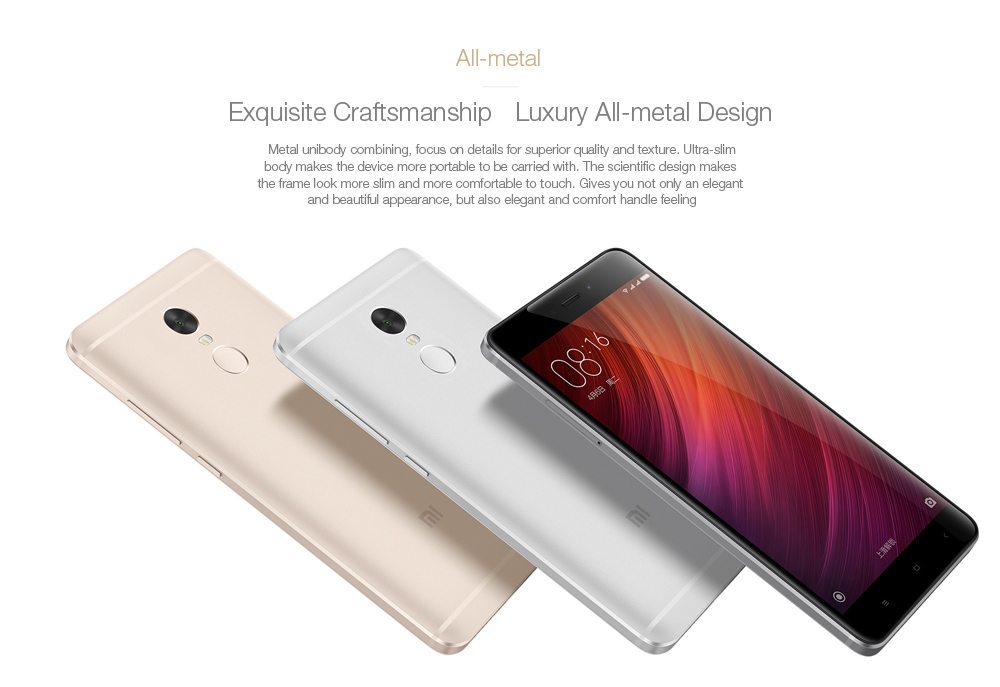 The Note 4 is much more than just an attractive face. The engineers were focused on the design through every part of the development process. The back is machined from a solid piece of aluminum, and even the smallest details feel well thought out. For starters, the metal finish perfectly sanded to have a matte appearance. This means that it feels smooth and premium in the hands but won't attract fingerprints. On the back, two things will stand out. The camera and fingerprint scanner are just slightly recessed into the back, with the sharp bezel polished to a mirror finish. It looks very sharp in person, and certainly, highlights some of the core features. This same mirror look is used on the "MI" logo, giving it a very premium appearance.
This design carries around the edges, with its gentle curve highlighted by the gleaming bezel. On the base of the phone, both the speaker and microphone grills are made up of several concentric circles drilled through the thick aluminum. Never before have we encountered something that was both premium and industrial looking, but Xiaomi pulled it off.
When you flip the phone over, the face is a completely different story. They kept the design clean and modern, placing a curved glass face over a clean white bezel.
Xiaomi Redmi Note 4's Display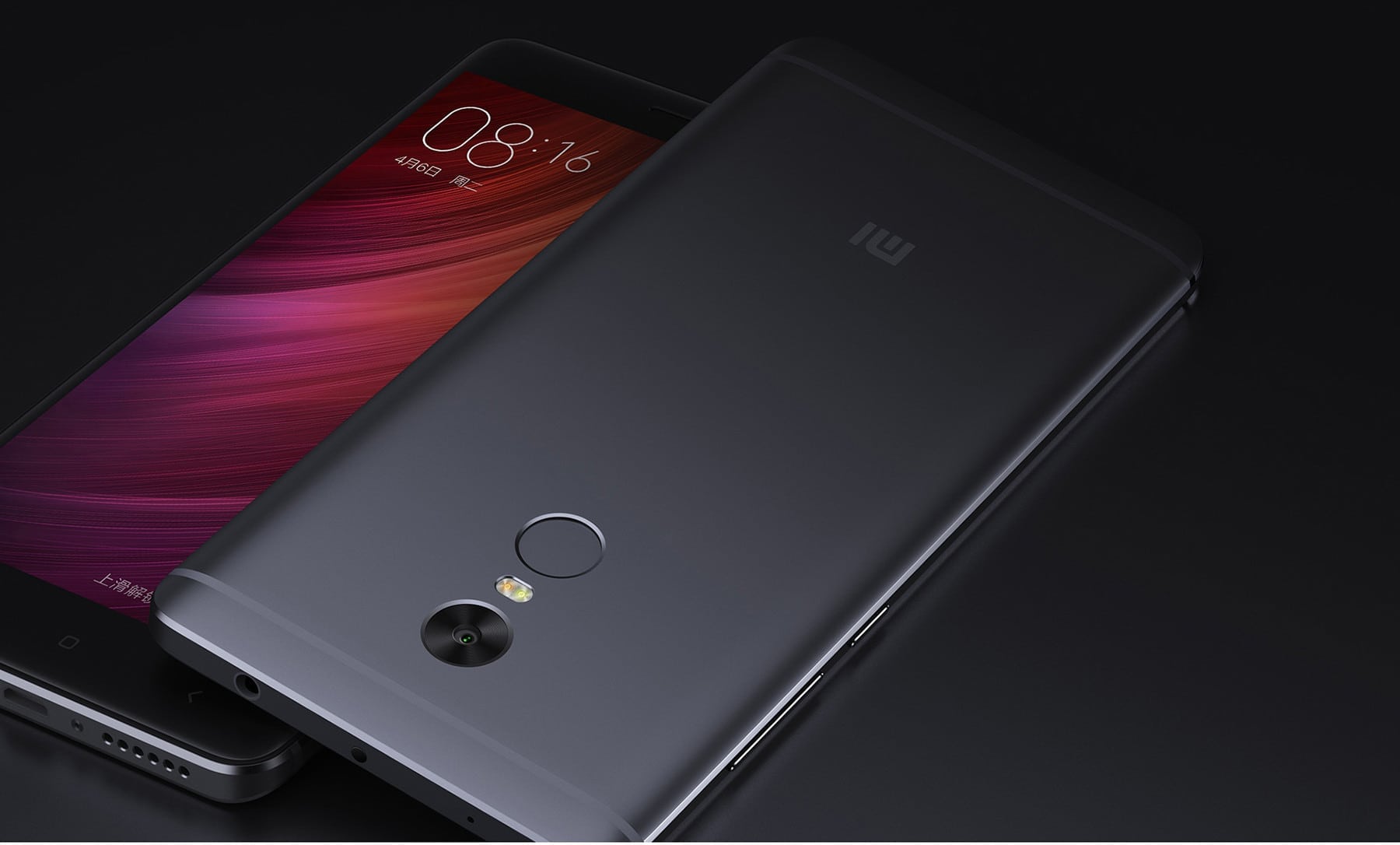 Once you turn the Xiaomi Redmi Note 4 on, you'll realize why they kept the face so clean. The built in 5.5" panel is among the best we've seen. It's incredibly bright, providing color that is both vibrant and accurate. It's hard to find a good middle ground with displays. Often, consumers are stuck choosing between an accurate yet bland IPS display, or and LED display that is so vibrant that it's almost overpowering. Xiaomi found the perfect balance with their display. It's enhanced, but not false. With the 2.5D arc glass, this incredibly screen is both protected and accented.
Like most 5.5" phones, Xiaomi used a 1080p display. Often, reviewers will criticize these so-called 'low-resolution' displays. After all, the Samsung Note 7 had a 2560 x 1440 display. Isn't 1080p technically a downgrade? It's easy to get caught up in the numbers, but there are very few advantages to a higher resolution display. Remember Apples "Retina" display? These are widely regarded as the best displays on the market. The pixels are so small, that you cannot tell them apart. The iPhone 7 has 326 pixels per square inch, while the iPhone 7 Plus has 401 pixels per square inch. The exact same rating as this display. You could get a higher resolution display, but if the screen is more than 7 inches away from your face you won't notice a difference.
Most content and applications are designed for 1080p displays. If this phone used a 1440p display like the note, your phone would have to draw 20% more pixels and scale the 1080p content up to the new resolution. Unless your display is larger than 10," 1080p is the highest resolution you'll need.
The Performance of the Xiaomi Redmi Note 4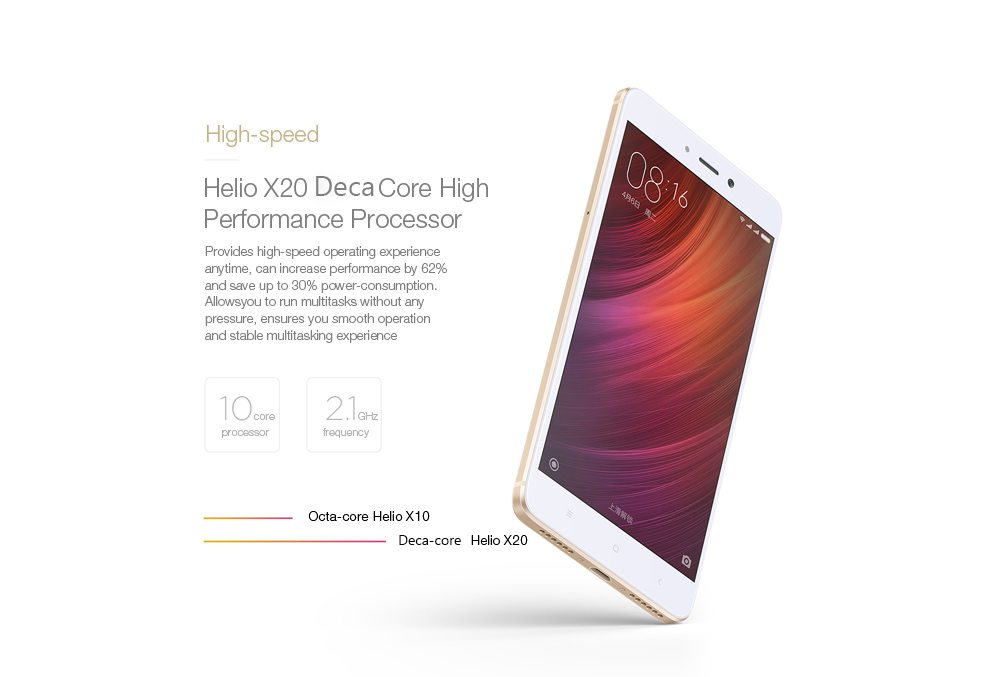 With 2GB of memory and 16GB of storage, the Xiaomi Redmi Note 4 might not look so impressive at first. In spite of this limitation, the Note 4 can still outperform all other android phones in almost every real-world scenario. This is made possible by their unique processor design. In order to understand how powerful this design is, you need to know a little bit about how mobile processors work.
Android phones run on the ARM architecture. These processors are designed by Cortex. Because phones are so compact, the cortex processors are built into the same piece of silicon as all the other controllers a phone needs. This way, each component of the phone can interface directly with the CPU, making the whole system more efficient.
Samsung's Exynos, Qualcomm's Snapdragon, Nvidia's Tegra, and every other ARM-based processor is built around these same Cortex CPUs. The most common flagship processors have four A-72 cores. They can run at 2.5 Ghz, but most phones reduce the speed to 2 GHz to reduce heat and battery drain.
When Xiaomi announced that they were using a 10 core CPU running at 2.1 GHz, the tech community didn't know how to respond. The A-72 cores run hot and require a lot of power. Samsung had just managed to push the chip to 2.2 Ghz, and their entire business is built around performance handsets. For them, a 10% improvement was a huge success. How is it possible that Xiaomi could build an affordable handset 2.5 the number crunching power as Samsung?
As it turns out, it didn't require a breakthrough. Just a little creative engineering. Instead of building their processor around one Cortex package, they took three different models and used the best parts of each of them.
For Xiaomi Redmi Note 4 's performance, they started with two A-72 cores at 2.5 Ghz. With 512KB+2MB of cache, these cores can complete complex calculations at high speed. Next, four A-53 cores running at 2.0 Ghz were added. They have 128Kb+2MB of cache, which is suitable for typical applications. To balance it out, they added a second quad-core A-53 package, but reduced the speed to 1.4 Ghz. At this speed, the chip is very power efficient.
What does this all mean? In short, you've got a phone that can handle everything. All of the basic system and background tasks can be offloaded onto a few of the low power cores. At 2.0 Ghz, everything from multimedia to gaming to web browsing is smooth and responsive. But for those rare times you need it, the A-72 cores can take over and do the heavy lifting.
Is this the phone for me?
Our job is to help consumers find the best phone for their needs. This isn't always an easy task. We can't just say that a phone is fast. We need to show you exactly how fast it is. People expect quantified performance. It's an easy sell. Instead of comparing fast vs. fastest, we're comparing 2 Ghz vs. 2.5 Ghz.
The problem with numbers is that they're never big enough for us. Why would you settle for 1080p when you can have 1440p? Why take 32 GB when you can have 64 GB? Why settle for less when you can have more?
The problem is that our quest for impressive numbers is actually hurting our performance. That high-speed processor isn't any faster at scrolling through Instagram, but it's using twice as much battery. Manufacturers are commonly sacrificing real-world performance in order to create a phone that looks good on paper but doesn't provide any tangible benefits to the user.
The Xiaomi Note 4 is the exception. It's not designed for excess; it's designed for balance. They've carefully analyzed the requirements of modern apps and made sure that the hardware was there to support it. When we're running demanding apps, the phone can scale up for performance. When we're simply responding to a text, it's efficient CPU will give us a long battery life. If you use your phone exclusively for playing the latest 3D games, perhaps the Note 4 isn't the best choice. But if you use your phone for a combination of web browsing, texting, talking, and networking, this $250 phone will give you better performance than anything on the market.