A review of the AIWO i8 Notebook
When shopping for a notebook computer, everyone looks for a device that comes loaded with features, is powerful enough to handle a plethora of functions smoothly, and preferably, delivers all these lucrative specs at an unbeatable price point.
Chinese manufacturers have established their dominance in this segment of notebooks and other gadgets fairly well. While brands like Chuwi and Xiaomi are fast becoming household names, AIWO remains lesser-known name. However, that does not take away from its ability to produce some interesting laptops and notebook computers.
If you follow the market for new releases closely, you'd remember AIWO for its 737A laptop.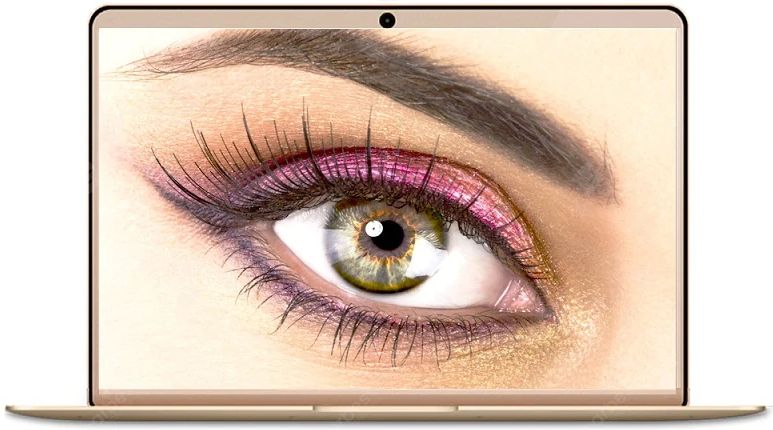 The i8 Notebook by AIWO is another such perfect notebook that has been designed to fulfill all your everyday use requirements, be it official work or entertainment. Equipped with a Windows 10 OS, Intel Apollo Lake J3455 Quad Core processor and Intel (R) HD Graphics 500 GPU, this unique masterpiece sporting a 13.3-inch IPS screen definitely has an edge over its competition in the market.
Let's find out how these premium specs in a budget device play out:
AIWO i8 Notebook Ratings
| | | |
| --- | --- | --- |
| Design | 4.5/5 | Sleek design, lightweight, striking gold color |
| Display | 4.5/5 | A 13.3-inch full HD IPS display with a resolution of 1920×1080 pixels and an aspect ratio of 16:9 |
| Performance | 4/5 | Highly advanced, performance-oriented device that can support multitasking with ease |
| Features | 4/5 | A well-rounded device with powerful components that drive a smooth user experience |
| Overall | 4.5/5 | Save for a few overlookable shortcomings, the AIWO i8 Notebooks is a near-perfect device that suits the requirements of users of every kind |
What Works really well for the AIWO i8 Notebook
Sleek Design

Huge RAM and internal storage

Powerful performance

Full HD IPS display
What Doesn't
Disappointing camera quality

Underwhelming built-in speakers
An Overview of the AIWO i8 Notebook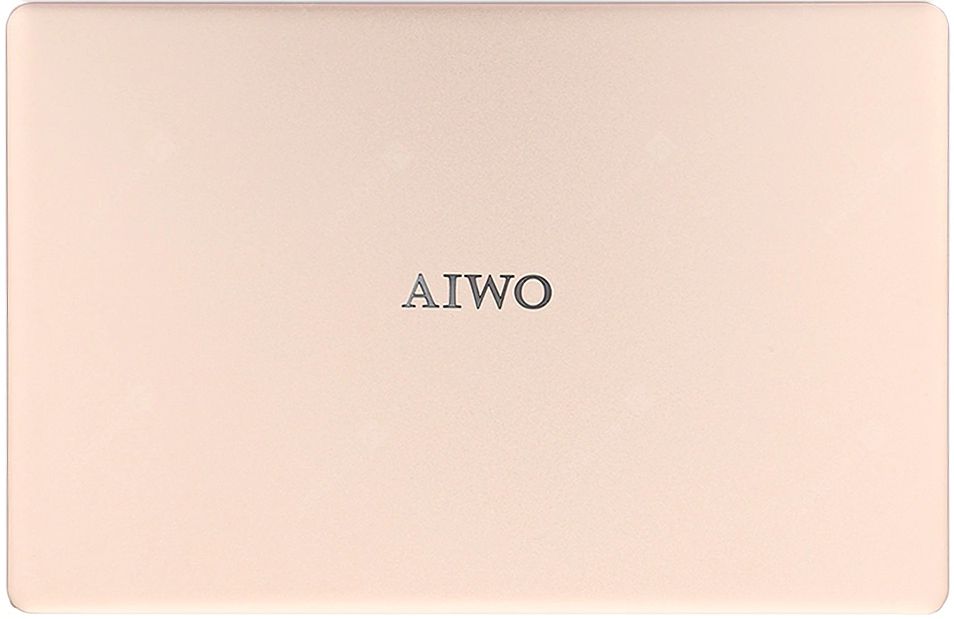 The AIWO i8 Notebook was launched in the month of November 2018. The i8 Notebook sports a sleek, thin design and a premium feel to it. Even though AIWO has used a combination of plastic and metal on the i8 body, the notebook replicates the appearance of a high-end laptop thanks to its metal casing.
The AIWO i8 Notebook comes with a 13.3-inch full HD IPS display with a resolution of 1920×1080 pixels and an aspect ratio of 16:9 that brings photos, videos and other visuals to life with impeccable clarity. Powering up this device is Quad Core 1.5GHz CPU with top clock speed of 2.3GHz, Intel Apollo Lake J3455, 64-bit processor and Intel ( R ) HD Graphics 500 GPU, 6 GB of RAM and 256 GB of SSD memory.
The system runs the Microsoft Windows 10 64bit operating system and comes loaded with a plethora of connectivity options. These include two USB 3.0 ports, a mini HDMI slot, card reader interface, TF card slot, SD card slot, Bluetooth, one 3.5 mm headphone jack, DC jack, integrated graphics, built-in dual speakers and 2.4G+5G Dual WiFi.
The wide connectivity options make the AIWO Notebook i8 well-equipped to connect with most devices. The notebook is fuelled by a sizeable 4,000 mAh Li-ion battery.
The sleek AIWO i8 Notebook measures 31.50×20.80×1.50 cm and weighs a mere 1.20 kg. It is available in a single color variant – Gold. The lack of choice in color variants hardly works against this device. The soft champagne gold color is aesthetically pleasing and something most buyers will take a liking to. The semi-metal body of the AIWO i8 Notebook not only enhances its overall appeal but also contributes to the stability and sturdiness of its structure.
The i8's Design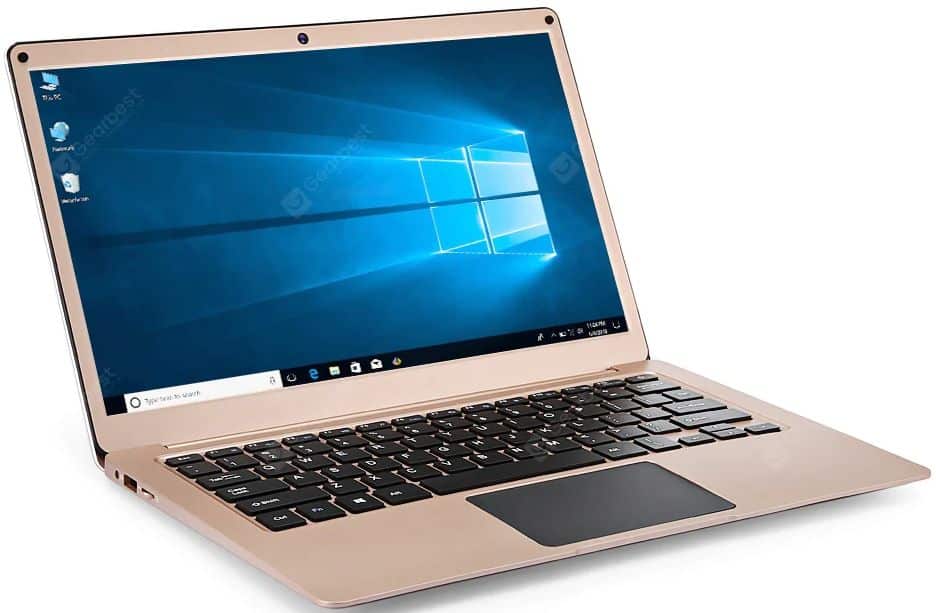 The AIWO i8 Notebook is the textbook example of a simple yet sophisticated design that appeals to the sensibilities. A gliding touch is enough to notice that despite being a budget notebook computer, AIWO i8 Notebook is built from high-quality material. The design holds the promise of a durable device you can use for the long term, as it has been built to withstand falls, scratches, and bumps.
Enhancing the minimalistic design of this notebook is its gold-colored monotone body with the exception of the company logo in silver place right in the center of the back cover. Despite its delicate, sophisticated design, the AIWO i8 Notebook is a rugged device by every measure.
The choice of a unisex, muted gold tone definitely sets it apart from most other notebook computers in the market today. The intense black keyboard further enhances the air of elegance around this device.
AIWO i8 Display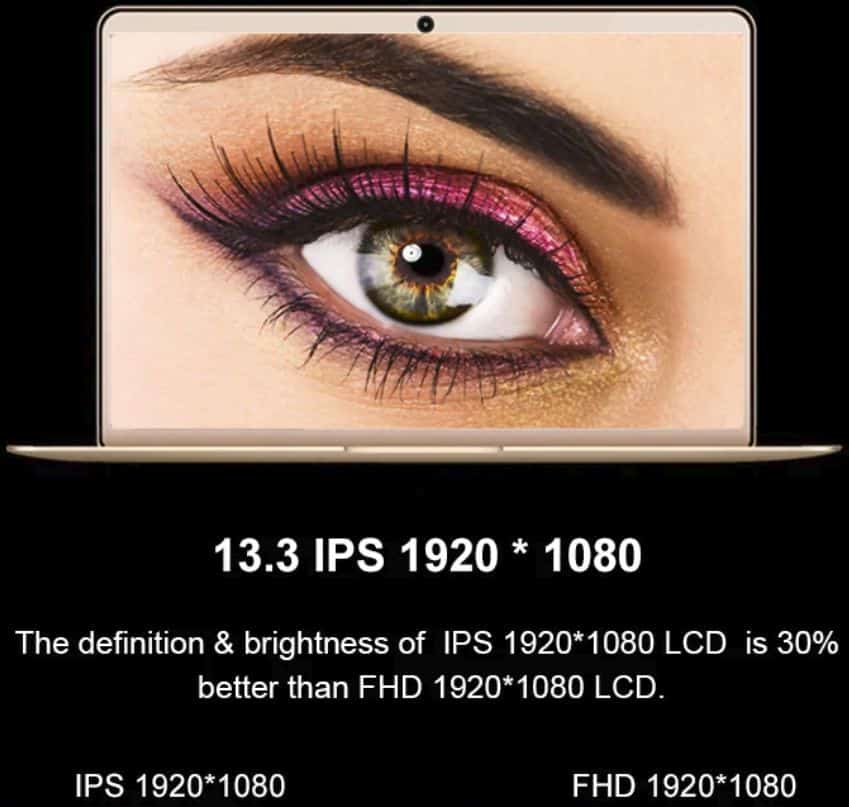 The AIWO i8 Notebook sports a 13.3-inch panel with a full HD screen. The IPS screen has been bestowed with a 1920×1080 pixel resolution and a 16:9 aspect ratio. The brightness and contrast of the screen are impressive. All these features work well together bring out videos, photos and other visual elements on the AIWO i8 Notebook with life-like clarity.
For a notebook computer in the sub-$300 price range, it is quite an impressive feat.
The screen is held in by a 10.5mm bezel on all sides, which means that the screen takes up more than 80 percent of the front panel. This is quite a generous screen size for a notebook computer with compact dimensions measuring 31.50×20.80×1.50 cm. The sleek design and light weight of the AIWO i8 Notebook make it a highly portable device that you can use on the go.
The IPS display that offers distinct clarity in both indoor and outdoor settings further contributes to its portability.
The AIWO i8 Hardware Specs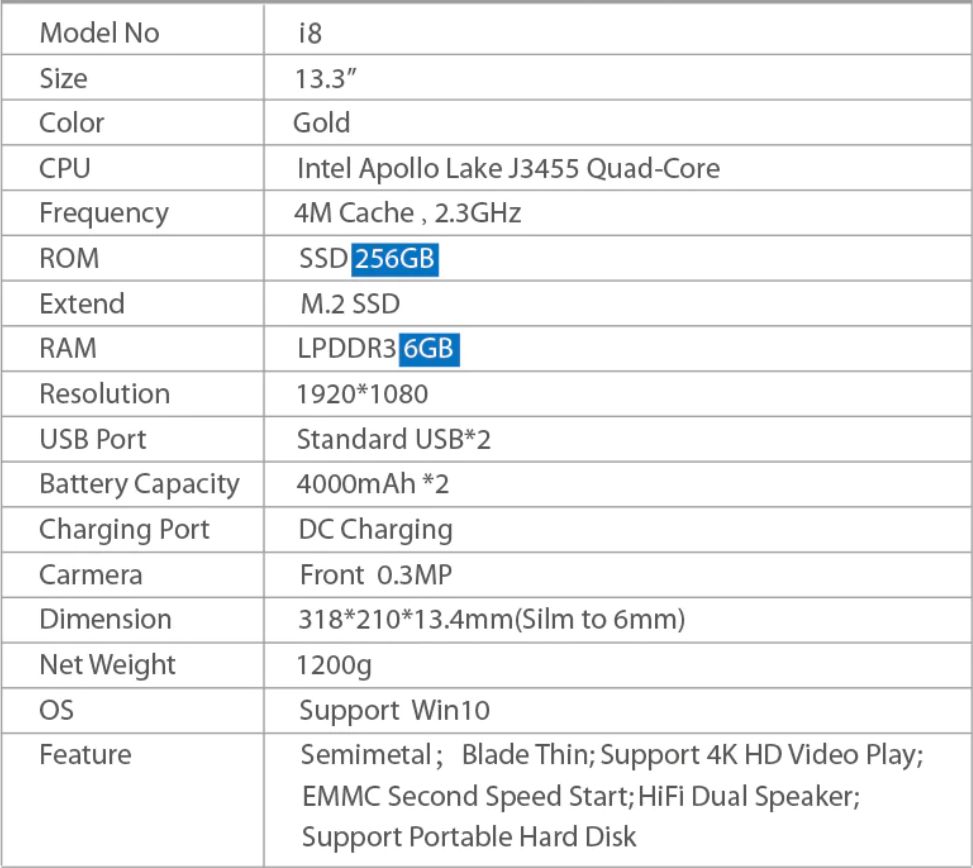 In addition to the 13.3-inch IPS screen designed to bring videos and photos to life, the AIWO i8 Notebook is also equipped with Windows 10 OS, Intel Apollo Lake J3455 Quad Core processor and Intel ( R ) HD Graphics 500 GPU, making it a device that delivers on the promise of engaging user experience.
The Windows 10 OS gives power to this machine, allowing smooth handling of day-to-day operations. The Intel Apollo Lake J3455 Quad Core 1.5GHz, up to 2.3GHz under the hood make the AIWO i8 Notebook an ultra-low-voltage device that can deliver optimum high-efficiency power thanks to its quad-core processing capabilities. This contributes to the smooth and stable multitasking experience on the AIWO i8 Notebook.
The on-processor ability of the Intel ( R ) HD Graphics 500 GPU with shared video memory offers high image quality capable of support basic photo editing, internet use, and gaming. The graphics card also gives gamers a full gambit of gaming dominance and seamless gaming experience.
The 6 GB of RAM also lends the AIWO i8 Notebook substantially high bandwidth for running light and medium games smoothly as well as working on video and photo editing applications. The AIWO i8 Notebook has an abundant internal storage capacity of 256 GB, which gives you more than enough room to store all your data – videos, pictures, music, movies, documents and more.
You also get HDMI output for connecting the AIWO i8 Notebook to projectors and high-definition monitors. The dual band 2.4GHz/5.0GHz WiFi facilitates connection to any available wireless network within range. In addition, you also get a 0.3 MP front camera for video calls. Even though the camera resolution is not exactly impressive, it get the job done.
Software
The AIWO i8 Notebook boasts of a pre-installed Windows 10 operating system that is designed to deliver amazing user experience and palpably powerful performance. The performance efficiency of the operating system is enhanced by 6GB RAM and 256 GB SSD internal storage that can be expanded using a microSD card. This generous RAM space means the AIWO i8 is well-equipped to support several graphics-heavy games as well as video editing apps without any lags or interruptions.
Besides the humungous internal storage capacity of this notebook computer that can hold all your personal data without slowing down its performance, the use of Intel Apollo Lake J3455 Quad-Core 1.5GHz up to 2.3GHz processor and Intel (R) HD Graphics 500 GPU also contribute in making the AIWO i8 notebook a high-efficiency device.
AIWO i8 Notebook Keyboard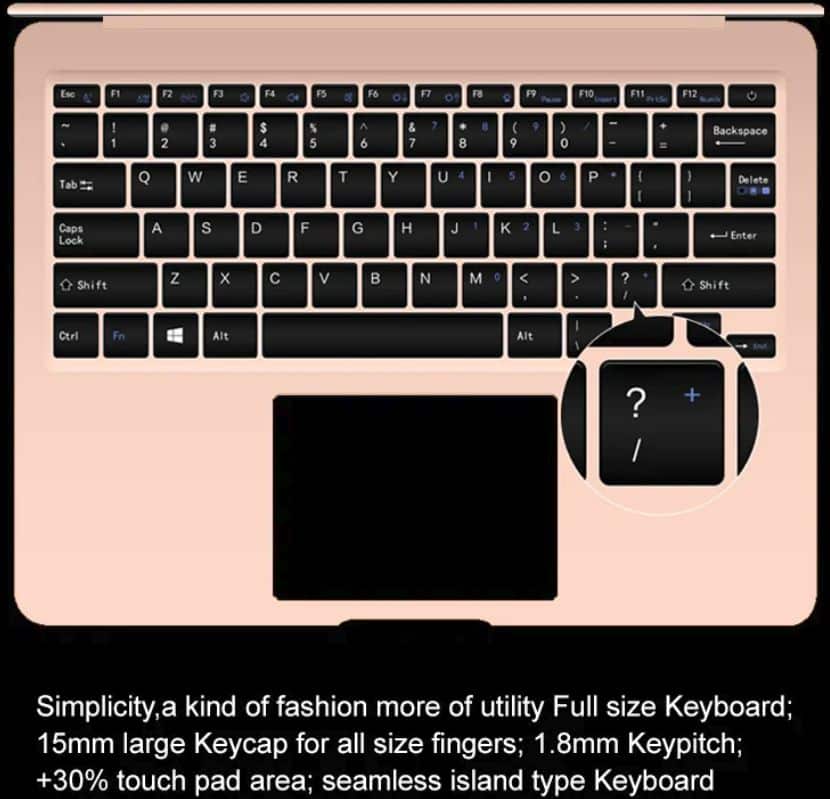 A dense black sitting in the midst of soft gold, the keyboard of the AIWO i8 Notebook is a classic blend of simplicity and utility. You get a full-sized seamless island-type keyboard with 15 mm large keycaps and 1.8 mm key pitch. The keys are well spaced out and have good travel. The base panel of the AIWO i8 Notebook also comprises a well-sized touchpad that is responsive and accurate in its navigation.
The i8's Camera
The AIWO i8 Notebook also comes with a 0.3 MP single camera on the top of its front panel, primarily for video calls. Although, it can be used for capturing photos as well. There is no disputing that the camera will do its basic job of getting your image on the screen, it is the quality of the image that's problematic.
With 0.3 MP resolution, you have to settle for a somewhat blurred, grainy image, which takes the joy out of virtual face-to-face interaction.
Battery
The AIWO i8 Notebook has a long endurance 4,000 mAh battery under its hood that is impressively quick to charge. Even with its battery completely drained out, the i8 Notebook can rev up back to life with just a few minutes on a charge. AIWO has implemented its R&D in improving the battery life of its computers in the i8 Notebook to deliver a device that can offer a five to eight hour run time with heavy to moderate usage. If your computer usage is moderate, you can easily get by charging this device every other day.
Sound Quality
The notebook comprises a built-in dual-channel speaker as well as a mic that support all your basic audio inputs and output requirements. The speaker quality is neither mind-blowing nor excessively disappointing. It offers an average acoustic experience that works when watching videos online or playing audio files but is definitely not good enough for a submersive experience while watching movies, shows or playing music.
Connectivity
The AIWO i8 Notebook body is lined up with a host of latest gen connectivity options. You get two USB 3.0 inputs, one on each side, as well as a mini HDMI port through which you can connect this notebook computer to the TV or a projector for watching movies, playing music or displaying presentations. This feature is akin to the functionality of an additional monitor.
The 3.5 mm jack for headphones supports your need for amazing sound quality when watching a movie or videos, listening to music or playing video games. The i8 Notebooks also comes with Bluetooth 4.0 support, which means you can also pair it up with top-of-the-line wireless speakers or headset for an enhanced audio experience.
Of course, the Bluetooth also comes in handy for connecting the device to any other device in its vicinities such as your smartphone, tablet or another computer. The 2.4GHz / 5.0GHz Wi-Fi enables ease of internet access and connectivity.
The verdict on the AIWO i8 Notebook
The AIWO i8 Notebook checks a lot of right boxes and emerges as a well-rounded device capable of supporting all your usage requirements, right from gaming to design, editing as well as regular computing tasks and recreational usage. That in itself is a rarity in devices in the sub-$300 price range. Most other notebook computers and laptops in this price range lack the ability to support games with high graphics as well as power-intensive tasks like editing. On that account, AIWO i8 Notebook has that extra edge to stand out from the competition.
It is not a notebook you could consider only as a secondary or supplementary computer. The performance-oriented and highly advanced AIWO i8 Notebook is well suited to be your primary computer.
Where to Buy
The AIWO i8 Notebook is currently available on Gearbest.