Best gaming PC under $1000? Here are our top 4 picks
The realm of PC gaming is at its best right now, bustling at the peaks with the continuous influx of games and mass online RPGs designed to make consoles obsolete.
It wouldn't be an exaggeration to claim that PC gaming is well ahead of its time, and this quick escalation has left even next-gen consoles struggling to catch up.
Be it a newbie or a seasoned gamer looking to graduate to the elite group of PC gamers, everyone who has ever been fascinated by PC gaming knows that much of your experience rests solely on one factor – a good gaming PC that has all the necessary elements to support your hobby.
Now, purchasing a gaming PC is a lot different from purchasing one for everyday computing tasks such as document processing and web surfing.
There are certain specs and features that are almost non-negotiable for a well-performing gaming PC and then there are variables that depend on your personal requirement and usage patterns.
Naturally then, the first thing to consider is the kind of gameplay you'd want your gaming PC to support. For instance, a strategy game may require better CPU performance whereas a modern shooter game needs advanced graphics capabilities.
Similarly, some games may require VR or AI capabilities and others, speed of play.
In most cases, it boils down to finding that fine balance between processing power and graphics prowess because the clear-defined lines of gaming genres are constantly blurring even as modern games blend different gaming elements to deliver an immersive playing experience.
If you are working on a budget, the focus must be on getting the next best thing to a full package that obviously comes with a hefty price tag.
Another thing worth considering is whether you are going to use the same PC for gaming and other computer-related tasks or have one exclusively for gaming. The latter allows you greater freedom in focusing on the best specs for enhancing the gaming experience and extracting an optimal performance from your machine.
Tips to Help You Pick the Perfect Gaming PC under $1000
Let's say you have decided on the kind of games you want to indulge in. You still need to decide which gaming PC is going to support your requirements the best. What kind of graphics card should you look for if you intend to ace Star Wars Battlefront II?
What about the CPU capabilities to support Assassin's Creed Origins? What if you are ready to take a leap toward virtual reality? Are upgradability and tower size important considerations?
These are just some of the many questions that'll cloud your mind. It is imperative to find the right answers before investing a substantial amount of your money in a gaming PC system.
Here are a few quick tips that will steer your search in the right direction in choosing the right gaming PC for under 1000 Dollars:
If you can afford it, aim for a gaming PC with an Nvidia 10 or AMD 500 series graphics card. It'll give you seamless, smooth gameplay at astounding frame rates even for most recent games.

You can buy a great gaming PC at $1,000 price point but if you really do your research well, you may even find a good rig with decent specs to support your gaming needs at $700.

Since a gaming PC is not something you'd like to replace every couple of years, it is best to aim for one that is future-proof with capabilities such as VR-ready system or has scope for scalability.

For the same reasons, you need to look for an upgrade-friendly system so that you can install new tools and features as they are rolled out.

Be open to replacing elements such as Graphics Card, CPU or SSD. It makes for a more economical approach for staying ahead on the technology curve. Look for a gaming PC – even in case of pre-built ones – that has scope for replacing these integral elements

Pay attention to finer details such as Thunderbolt and USB Type-C ports, as these features will expand the bandwidth of your gaming PC performance and open up possibilities like connecting to several 4K monitors simultaneously.
Related: Best gaming desktops under $1000
Best Gaming PCs Under 1000 for 2020
Now, let's look at some of the best gaming PCs in different price segments under $1000:
Cyberpower Gamer Dragon ($900-1000)
Cyberpower is a trusted name when it comes to delivering well-performing gaming PCs on a budget, and the Gamer Dragon is no exception. It is one of the best gaming computers at the sub- $1000 price point.
Despite being an entry-level gaming PC, it has surprising capabilities that can match the performance of high-end systems priced twice as much.
The Cyberpower Gamer Dragon is built upon an over-clocked AMD processor that propels the system's performance for the better, matching and on certain occasions outdoing the capabilities of costlier systems running Intel processors.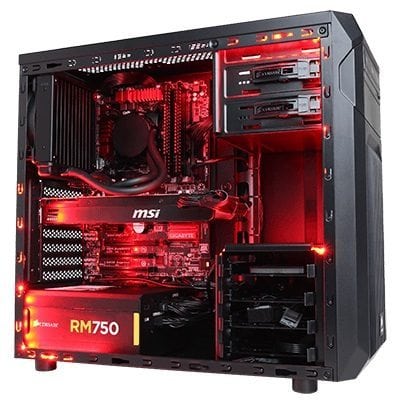 In terms of design, the Cyberpower Gamer Dragon sports a standard Cooler Master chassis in black. The casing of this gaming PC is utilitarian but without any frills or embellishments for that eye-catching appearance.
It is what's inside the chassis that's both interesting and impressive. If you are someone who likes to toy with their machines, the Gamer Dragon will have you hooked to its insides as it comes loaded the scope to expand its external and internal specs.
The Gamer Dragon has enough space to accommodate anywhere around two to six hard drives, two memory SIMMs, two optical drives, 3 PCI slots, a PCIe x1 card slot, and a spare PCIe x16 graphics card slot.
It is hard to miss that despite having room for six hard drives, the motherboard here comes with just four SATA ports.
If that arrangement has you confused, there is a small workaround to even out the math – employ an additional PCIe or PCI controller card and you can get to the magic number of six hard drives with ease.
The inclusion of four SATA ports is remarkable in its own right, as the standard is to have two.
The 650W power supply to the system is adequate to support an additional graphics card, should you need one.
There is certainly a lot of promise in what you can build the Gamer Dragon to be, but what it comes loaded with is equally impressive too. It rocks an AMD Phenom II 1055T processor, a 1TB hard drive, 4GB of memory, and a combo drive that doubles as a Blu-ray player and a DVD burner.
The inclusion of the mid-range Nvidia GeForce GTX 460 graphics card along with the overclocked AMD Phenom II six-core processor helps the Gamer Dragon deliver great frame rates, graphics loading ability, and 3D capabilities.
What's on the inside is enhanced manifold by the overabundance of connectivity options in this Cyberpower offering – 11 USB 2.0 ports, two USB 3.0 ports, two eSATA, and two FireWire.
The inclusion of USB 3.0 does not only support faster data transfer speeds but also supports newer accessories and drives.
The SATA ports also add the same element of versatility to this gaming PC.
Another remarkable thing about the Gamer Dragon is the complete lack of bloatware, which is one of the expected benefits of a smaller system builder anyway. Unlike a big-box system, you don't have to lead with uninstalling a bunch of redundant software.
In that sense, it is a plug and play device, rearing to go straight out of the box.
The Cyberpower Gamer Dragon checks a lot of boxes vis-a-vis gamers' expectations from a gaming PC – you've got a scope for expansion, over-clocked performance, and complete absence of bloatware.
Cyberpower has successfully delivered a gaming PC that offers marked improvements in specs and features not only over other systems in its price bracket but also some of the more expensive options.
If you have a grand to spare to fan your penchant for gaming, you do not need to look beyond the Cyberpower Gamer Dragon.
SkyTech Shadow AMD-1060-I Desktop Gaming PC ($800-900)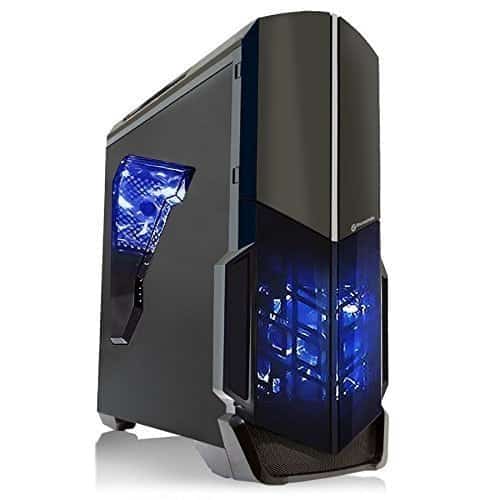 The SkyTech Shadow is a powerful gaming desktop computer that rides high on superior technical specs that have the ability to make it a powerhouse machine capable of delivering great performance, both in the realm of gaming as well as other everyday tasks.
The SkyTech Shadow comes with an eight-core core AMD FX-8350 Vishera Blak edition processor that has garnered itself an enviable 8,940 CPU benchmark points and is capable of rendering a processing speed of 4.0GHz, which is on par with the fastest and latest Intel i7 processor.
In addition to this, you also get 8GB DDR3L SDRAM that is ideal for supporting multi-tasking capabilities of this gaming PC allowing you to run several programs and apps at once, a whopping 120 GB of SSD space instead of a regular SATA drive for snappier, speedier performance, 1 TB of Serial ATA HDD with a rotating speed of 7200 rpm and the 64-bit Windows 10 Pro operating system pre-loaded.
As if these specs weren't jaw-dropping enough, SkyTech tops it up with an impressively efficient GTX 1060 graphics that comes with its own 3GB of dedicated GDDR5 memory, making it one of the most potent GPUs available in the market today.
Heavy-duty games, 4K resolutions, faster frame rates – you name it and the SkyTech Shadow is equipped to handle it and deliver a smooth, fast and bump-free gaming experience.
Once again, there is no bloatware installed here, so you can start operating this system as soon as you get it out of the box and finish setting it up. The SkyTech Shadow can support up to four monitors at a time.
It is also a WiFi ready machine and comes with a dual-link DVI output, a 24x DVD±RW Optical Drive, an HDMI output, three Display Ports, seven USB 2.0 and two USB 3.0 ports.
SkyTech has tried to make the keyboard ergonomic in design but has ended up compromising its quality in the bargain. The keys are smaller and do not offer good travel.
All these specs boil down to one thing – the SkyTech Shadow is a powerhouse machine capable of running the most demanding and latest games at optimum resolutions and settings and high per second frame rates.
Lags, pixilation, buffering and slow loading time are the least of your concerns when running games on this computer.
The 8GB of internal memory may not suffice if you wish to make the most of this computer's multitasking abilities. The four memory slots take care of this issue, allowing you to upgrade its storage capacity by adding DDR4 memory cards to it.
The design and style of the SkyTech Shadow perfectly match its high standards of performance. The casing is chic and modern, and the overall aesthetics of this system are easy on the eyes and also designed to support the smooth run of the hardware inside.
It is also a pleasantly quiet device and the efficient cooling system on the inside prevents it from heating up even with hours of uninterrupted gaming. If you have the audio on to go with your gameplay, you won't even notice this gaming PC buzzing in the background.
In keeping with its multi-tasking abilities, the audio quality is strikingly good and works well to enhance the experience of watching movies and playing games on this system.
Given all these high-end specs and features that SkyTech has managed to squeeze into the Shadow, the price point is surprisingly low, in a good way. This gaming PC has value for money written all over it, one that you wouldn't regret investing in.
Dell Inspiron Gaming Desktop ($700-800)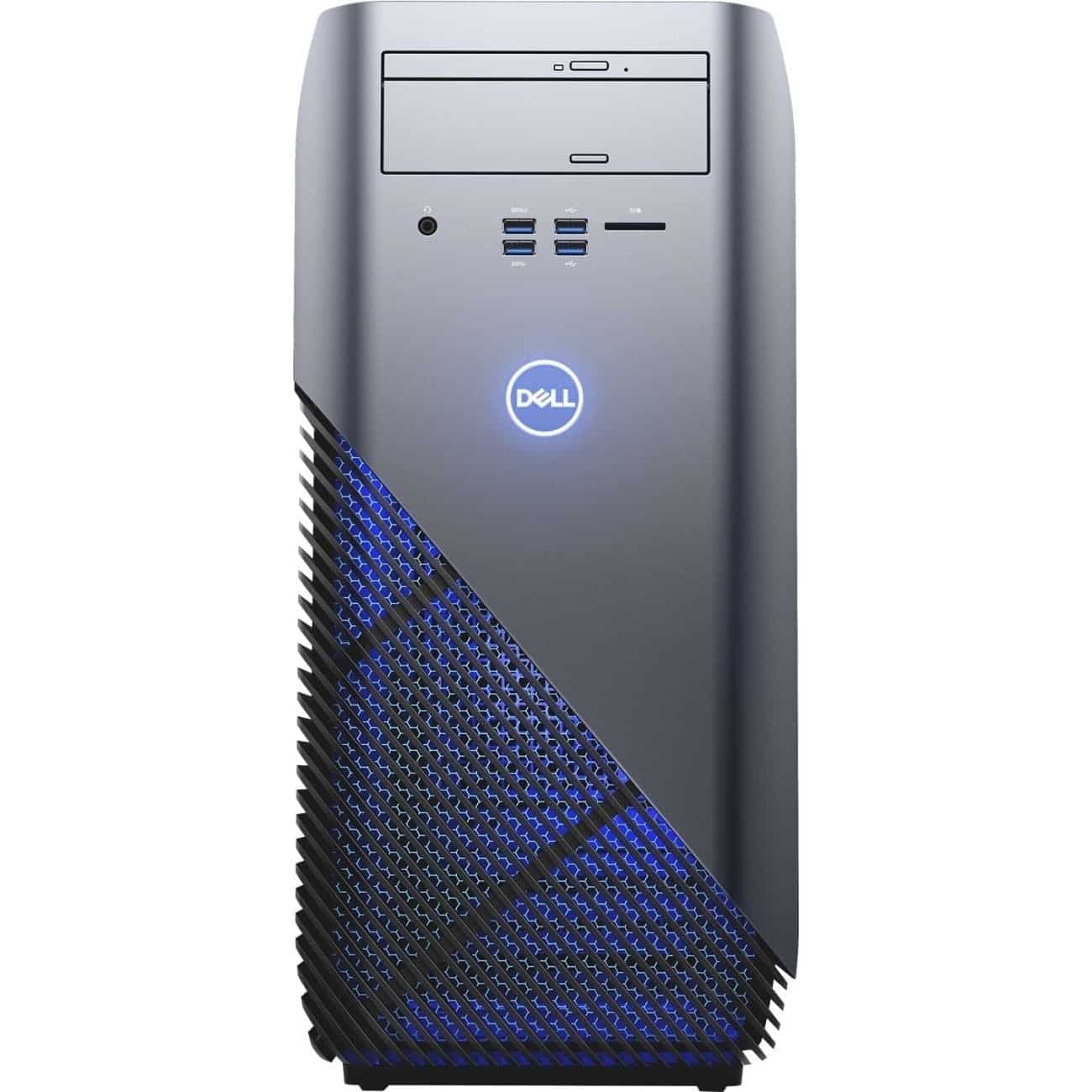 Anyone serious about packing a punch with a gaming PC in this price range would argue strongly in favor of building it up from scratch. This is easier said than done.
Most people looking for a budget gaming PC are beginners who are still sort of testing the waters and would, therefore, prefer a pre-built device with plug and play functionality.
If that's exactly what you need, the Dell Inspiron Gaming PC is a solid system to consider.
With the latest Intel 'Coffee Lake' processor and an Nvidia GeForce GTX 1060 graphics card under its hood, it is designed to offer a smooth gaming experience even in full HD and is proficient enough to handle other computing tasks with no fuss.
On the design front, the Inspiron offers a fine mix of restraint and style, so it has a character of its own without being too experimental in its looks.
The chassis is diagonally divided into zone distinct zones – one sporting a smooth matte finish in silver and the other a black plastic casing with a cut through ventilation stripes and blue LEDs simmering underneath.
When looked at from the right angle, the grating of the interior and the vent shape work well to add a cool glow to the gaming PC. It is a tasteful PC that's neither too drab nor too flashy for any taste.
The panel is held together by two screws on the rear and you need a screwdriver to get to the insides of the Dell Inspiron, which, by the way, does not make for a pleasant sight.
It is, in fact, quite a messy arrangement for a pre-built PC but, in its defense, it has been put together keeping the functionality in mind.
So, you'll spot a dedicated air cooler on the CPU, a cooling fan for the case on the rear and a bracket running through the middle right under the graphics card, perhaps to hold it in place.
In the midst of all this, there is a mess of hanging, visible wires all over, so you really need to navigate your hand carefully should you want to reach any specific part.
The impressive spec, however, more than makes up for this lack of aesthetic in the interiors.
You have an Intel Core i7-8700 CPU, an Nvidia GeForce GTX 1060 graphics card, a 128GB M.2 SSD, 8GB of internal memory, a 1TB hard drive and a 460-watt power supply firing up the Dell Inspiron.
Supporting these specs is an eclectic mix of ports that include two USB 2.0 ports, SuperSpeed USB 3.1 ports, SuperSpeed USB-C ports, and an audio jack.
You also get a dedicated DisplayPort for motherboard video beside three other DisplayPort connections and an HDMI port for the graphics card, and an Ethernet jack.
On the wireless connectivity front, you have the standard WiFi and Bluetooth 4.1 support. This gaming PC ships with a keyboard and mouse that can be linked via USB ports.
The Coffee Lake processor markedly improves the speed of the Inspiron, especially for multi-core-reliant tasks.
The real prowess of this computer shines through in media tasks that require the involvement of a large number of cores to deliver fast multithread speeds.
As for the processor, the GeForce GTX 1060 definitely isn't the most powerful card from Nvidia, however, it is powerful enough to support gaming in full HD at 1080p. It'd be a stretch to expect more for this price point anyway.
On the flip side, if you are aiming for a resolution higher than 1080p, you'd have to be prepared to deal with some very visible dip in the frame rates from the standard 60 frames per second.
You can correct this with a few tweaks to the settings and set yourself up for a smooth sailing gaming experience.
The Inspiron is a pretty solid gaming PC capable of running games at 60fps in full HD, comes loaded with an array of storage options and connectivity ports, sports a stylish design and can be configured to suit your personal requirements.
Yes, the interiors here need some tidying up, but at this price, it would be churlish to expect the Dell Inspiron to deliver a boutique-PC build. This one is definitely a winner in its own price segment.
Cyberpower Gamer Xtreme GXIVR8020A4 ($600-700)
The Gamer Xtreme from Cyberpower comes loaded with a host of latest components, right from a Kaby Lake Core i5-7400 processor to an AMD RX 580 graphics that help this gaming PC deliver enviably solid performances on both productivity and play fronts.
It is a VR-ready desktop PC that can hold its own in terms of handling processing tasks even when pitted against PCs that cost substantially more.
All these impressive features are nicely packaged inside an aesthetically appealing casing.
The gaming PC has a signature look with a lot of useful ports and connectivity options lined up.
The case sports an all-aluminum black body on the front and top with abundant perforations to support airflow and underlying signature lights.
The tinted tempered glass doors on the sides as well as the front offer a good view and easy access to inside components.
The Gamer Xtreme has a nice snazzy feel to it. The use of lighting right under the casing adds a serious, mature touch to the looks and enhances the visual appeal of this gaming desktop.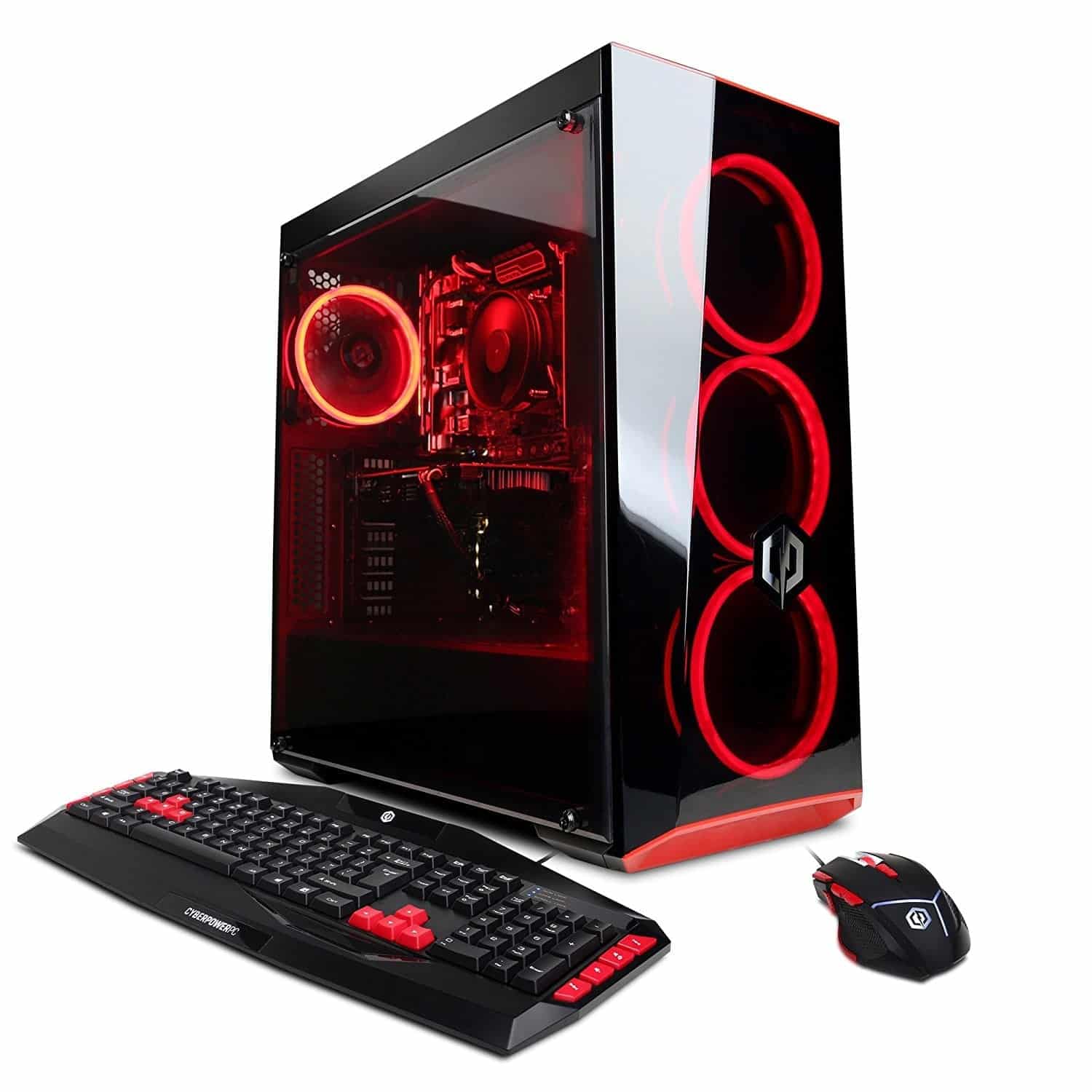 The Gamer Xtreme boasts of impressive specs that include an Intel Core i5-7400 3.0GHz processor, AMD Radeon RX 580 graphics card, 8GB DDR4 memory and 4GB of RAM, besides 1TB of HDD and 64-bit Windows 10 operating system built-in.
On the networking front, you have an array of easily accessible functionalities on the upper deck, such as the power button, reset button, headphone and microphone jacks, and two USB 3.0 ports.
On the rear, there are four USB 3.1 Type-A ports, an Ethernet port, audio ports, two USB 2.0 ports, besides a DisplayPort and an HDMI port for connecting the system to external devices.
The Oculus Rift and HTC VIVE support VR-ready functionalities of this system and for wireless connectivity, you have WiFi support.
Clearly, the AMD RX 580 4GB graphics card, the new mid-range GPU from AMD designed to offer direct competition to the Nvidia's GeForce GTX 1060 graphics card, is the clear strong point of the Cyberpower Gamer Xtreme.
The AMD RX 580 4GB graphics card is capable of delivering a 1440p resolution with ease. In the case of gaming computers, a desktop's graphics impact the end performance more than the processor and other specifications, and the Gamer Xtreme is a fine example of that premise.
Pairing it with the Intel Core i5-7400 processor and 8GB RAM delivers a configuration that sets up this device as a multi-tasking powerhouse, capable of handling gaming and other tasks such as video encoding and photo editing with equal effortlessness.
In its budget range, the Gamer Xtreme stands out as the most bankable option and can even outdo many of its costlier cousins both in terms of specs and performance.