Is the Samsung Galaxy Tab A7 the best 7-inch Tablet for 2020?
The concept of tablets with 7-inch screens was brought into the mainstream by the iconic Nexus 7.
Until then, the devices in this category were few and far between and the ones that existed were struggling to earn a spot for themselves.
It was the Nexus 7 that gained huge traction on account of the powerful features it packed in a compact design and at an affordable price, making this genre of tablets appealing to buyers.
Sadly, the Nexus 7 is now dead but while it lasted it did its bit in giving the 7-inch tablet market a much-needed push.
Over the past few years, the marketplace has seen an influx of tablets that not just match but exceed the performance and specs of Nexus 7.
Here we give you a detailed rundown of the best seven-inch Android tablet you can pick out from this wide spectrum of promising devices. But before that let's understand why 7-inch Android tablets are all the rage suddenly.
What Makes 7-inch Tablets So Sought After?
As mentioned before, this fairly new segment of Android tablets has catapulted in terms of popularity over a short span of time. The ergonomic design of these devices is one of the prime factors governing this rise in popularity.
Here's how the design and build of these tablets have contributed to their user-friendliness, thus, making them so sought after:
Mobility
Most customers decide to buy this range of tablets owing to their body size. The mobility of a device is a decisive factor when buying a gadget and 7-inch tablets bring in a great element of mobility.
Unlike most other tablets on the market, these are not chunky, broad and heavy.
You do not need an extra carrier to lug them around, as these can easily slide into most purses and bags.
Affordability of the 7-inch tablet
This is another crucial factor governing buying choice. Obviously, the 7-inch tablets are more economically priced as compared to their 8-inch or 10-inch counterparts. The cost-effectiveness definitely makes these a preferred choice for students and youngsters.
7-inch tablets are Suitable for e-reading
Considering how comfortable these are to handle and hold in one hand, 7-inch tablets are far better suited for e-reading. For anyone who likes to read a lot in the e-format or students who rely on e-books and the internet for studying, these present a more comfortable alternative to full-blown tablets.
Better suited for kids
Irrespective of growing concerns about young children being hooked on to gadgets, the truth is that more and more parents are putting tablets in their kids' hands. It is an existential hazard of our time.
The compact and light design of 7-inch Android tablets make them fit tiny hands better and allow children to hold them at a great distance from their eyes as holding these does not tire out their arms.
Samsung Galaxy Tab A 7

– the Best in its Class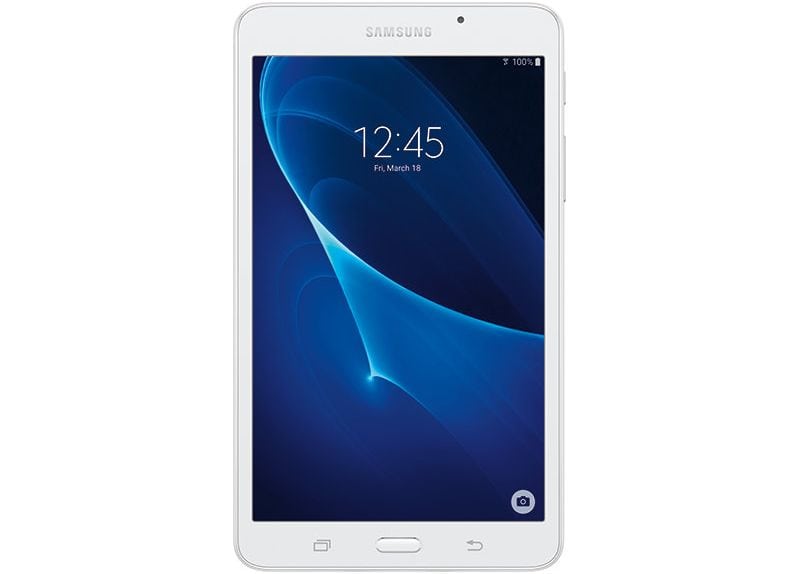 South Korean giant, Samsung, has left a lasting stamp of its ingenuity in nearly every segment of gadgets and its tablets are no exception.
With the 7-inch range of tablets becoming popular, the electronics manufacturer has, of course, come up with more than a few enviable offerings that users have lapped up and how.
The one that truly stands out for its performance, design, features, and specification, and remains much in demand even in the third year since its release is the Samsung Galaxy Tab A 7.
Related: https://www.androidtipster.com/category/tablets-on-sale/
Overview
Comfortable to hold and easy to slide into your pocket, the Samsung Galaxy Tab A 7 checks all boxes in terms of mobility and ease of handling.
The light-weight build makes it easy to carry this tablet around without even noticing its presence, whereas the slim design makes it a device that you can easily operate and hold in one hand.
In addition to this, the tablet boasts of an attractive 7-inch display that is convenient for playing games, web surfing, reading and more.
The screen offers a display resolution of 1280×800 pixels, which is a clear improvement in comparison to other devices in this range.
The tablet is also fitted with a solid 5MP primary camera on the rear that delivers high-quality pictures in line with the standards expected of a device by Samsung.
The A 7 is fired up by a quad-core Snapdragon 410 processor and 1.5GB RAM that work well together to deliver adequate power for everyday tasks. The internal memory of the device is 8 GB, which may feel inadequate to a lot of users.
However, Samsung has got you covered on the account by providing an option to expand the storage capacity up to 256 GB with the help of a microSD card.
The tablet was originally running the Android 5.1 Lollipop OS that is well-equipped to handle several multi-tasking requirements at once. The A 7 also comes with a commendable battery backup of 11 hours on a single full charge.
All these advanced features packed in under $100 definitely make the Samsung Galaxy Tab A 7 a lot more appealing.
Design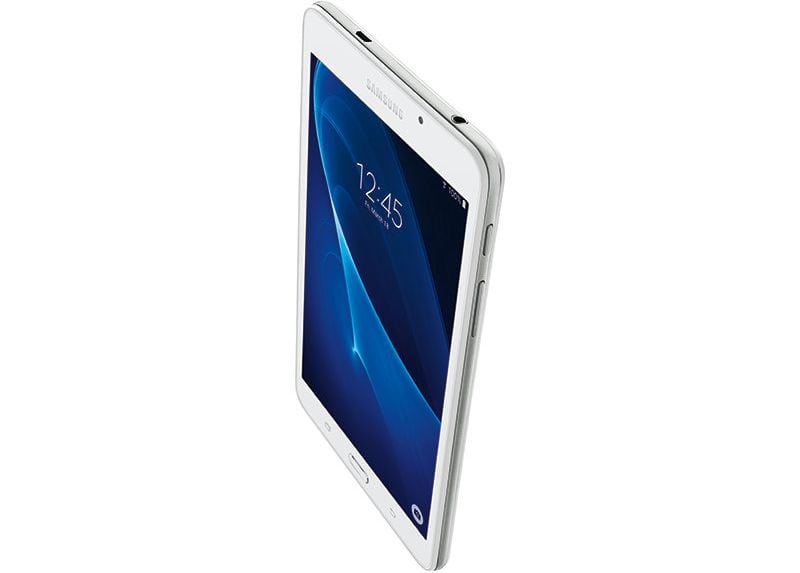 The Samsung Galaxy Tab A 7 is a sleek, light-weight device with an extremely portable and handy design.
The front of the tablet is covered with glass whereas the rare casing is made purely of plastic, featuring a non-slip finish that also contributes to its ease of handling.
The transition from the glass-covered front and the plastic body at the back is rather seamless and the rounded edges add to the compelling build quality of this device.
The only aspect of the build that you wish Samsung had done better is the gap between the display glass and casing, as there is a lot of room for dirt to accumulate in those gaps over time.
The MicroSD slot is tucked beneath a small flap that can be flipped open with a fingernail.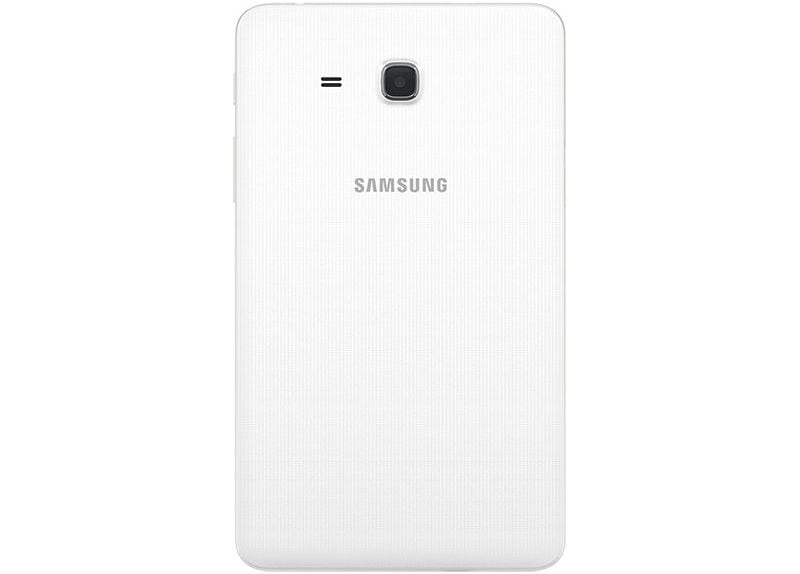 Another great feature of the design is the narrow bezel around the screen. The 108.8 millimeters of bezel running around the screen is just right for a 7-inch tablet that has been built on the premise of portability.
The tablet has a sturdy, stable feel to it. It does betray some amount of flexibility. Fortunately, this does not add any unpleasant cracking or creaking noises in the tablet.
Display
The Galaxy Tab A 7 sports a 7-inch IPS screen capable of a display resolution of 1280×800 pixels in a 16:10 aspect ratio and a pixel density of 216 PPI, which is not just higher than other competing devices in this segment but also some of the bigger tablets from Samsung itself.
These elements work well together to add a fairly sharp display quality on the Galaxy Tab A 7. The brightness is adequate for indoor use but appears to be lacking for comfortable usage in an outdoor setting.
Samsung has added a separate outdoor mode to take care of this drawback in the screen display.
However, this feature has to be activated manually, as the device lacks ambient light sensors.
Performance
The Galaxy Tab A 7 has a Spreadtrum SoC under its hood as well as four Cortex A7 cores that can clock a top frequency of 1.3 GHz.
This coupled with a quad-core Snapdragon 410 processor, 1.5 GB RAM, ARM Mali-400 MP2 graphics card make the Samsung Galaxy Tab A 7 a device capable of delivering enviable performance, irrespective of the usage you put it to.
With such top-of-the-line features firing up its performance, it comes as no surprise that the Galaxy Tab A 7 leaves behind not only other devices in its category but also bigger tablets released by Samsung, the Galaxy Tab E 9.6 tablet, for instance.
The Tab E 9.6 has nearly identical specs as the Tab A 7, however, the latter beat its sister model in terms of performance owing to different build sized and different OS versions.
The compact tab delivers a somewhat average performance when it comes to web browsing, especially when you are aiming to surf on multiple tabs at the same time.
Clearly, it is not the strong point of the Galaxy Tab A 7, and there are other devices in this segment that can offer a speedier browsing experience.
You need to be patient when multi-surfing the web with the Galaxy Tab A 7, as a few seconds lapse between opening multiple URLs and the pages loading is inevitable.
On the storage front, the Galaxy Tab A 7 may be found lacking with its 8GB of internal memory that can turn sluggish more often than not as you load your data on the device. However, the provision of expanding this storage space up to a whopping 256 GB with a MicroSD card takes care of that problem.
If you want to use your Galaxy Tab A 7 for storing eBooks, music files, photos, and video, in addition to installing gaming apps, expanding the internal storage is going to be inevitable.
Verdict
The Galaxy Tab A 7 is a 7-Inch Android tablet that can be easily mistaken for an oversized phablet, given its compact, lightweight design.
However, as you work with this device, you discover the immense potential it holds under its hood, delivering a performance that can compete with some of the more advanced tablets in the market.
Of course, in keeping the tablet affordable and compact, Samsung has had to cut a few corners.
Despite those concessions, there isn't much about the Galaxy Tab A 7 that'll leave you wanting for more.