A review of the Chuwi Aerobook laptop
The electronics market is undergoing a paradigm shift in terms of availability and access ever since Chinese manufacturers entered the mainstream with an aggressive pricing strategy that involves undercutting the value of established brands by rolling out laptops that deliver on the promise of advanced features and specs at almost unbelievably affordable price points.
That strategy has started yielding results by putting a dent in the market share of legacy brands such as Samsung, Sony, LG, Microsoft, Dell, and even Apple. While this rapid rise in popularity was once limited to smartphones, thanks to Xiaomis and OnePluses, ripples are now being felt in the laptop space as well.
If there is one name that can be credited with creating this disruption almost single-handedly, it is Chuwi. This small brand operating out of Shenzhen has earned itself global recognition by simply putting out robust and affordable laptops in the market that make the ones from established big players look unreasonably overpriced.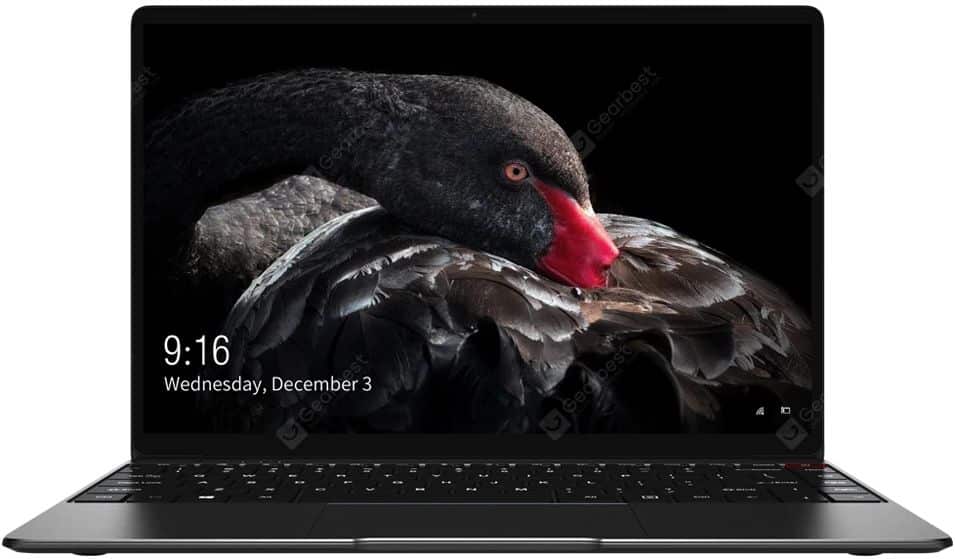 Chuwi was one of the computer manufacturers from China to ride the crowdfunding wave and use it to successfully finance different line-up of products. After remaining mostly dormant through 2018, Chuwi has made its presence felt in the market by rolling out the Chuwi Aerobook in April this year. A sleek business laptop, the Chuwi Aerobook seeks to bowl over affluent buyers with its impeccable combination of impressive design, performance, affordability, and power.
Let's look at this bundle of looks, power, and productivity up close:
CHUWI Aerobook Ratings
Design 4.5/5
Sleek, feather-light device with its own design identity.
Display 3.5/5
A 13.3-inch near bezel-less display that offers great aspect ratio, pixel resolution, color gamut, and contrast but is found lacking in brightness levels.
Performance 4/5
A fast, powerful device capable of handling all day-to-day computing tasks.
Features 4/5
Stellar design, fast performance, and good battery life are its strongest suits.
Overall 4/5
A bargain for anyone looking for the perfect mix of a Windows laptop with a Macbook-esque appeal.
Where the Chuwi Aerobook laptop wins
Great performance for its price point

Impressive battery life

Cool and quiet device

Dual-channel memory configuration
Where the Aerobook loses
eMMC storage

Lack of DDR4 RAM

Limitations on handling multi-threaded computing tasks
A Quick Overview of the Chuwi Aerobook Laptop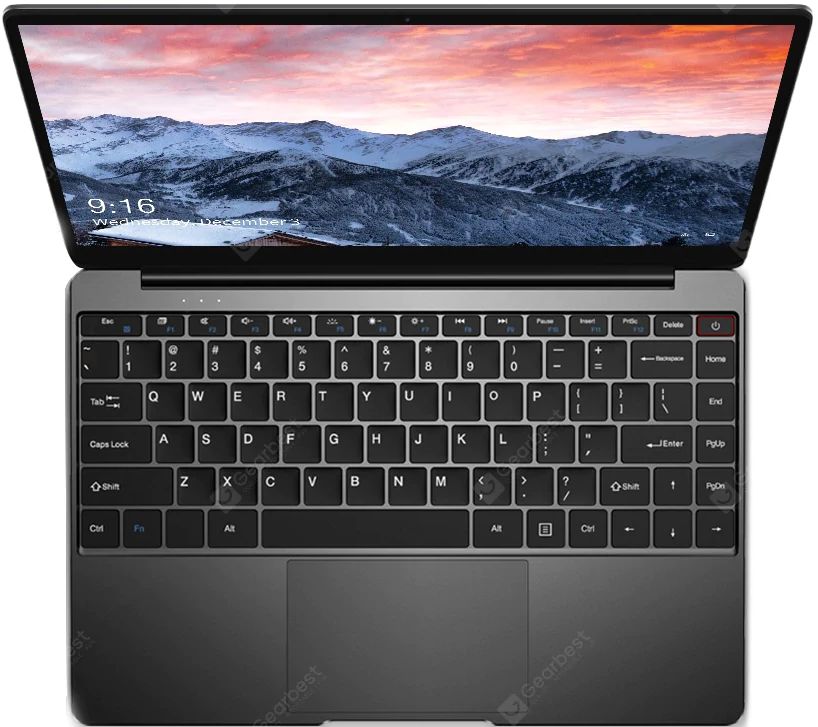 Chuwi has never ceased to amaze its target buyers with top grade devices that check all the right boxes in terms of looks, design, performance, and pricing. The Chuwi Aerobook laptop is no different. This brand new offering dazzles with its bezel-less design.
The Aerobook laptop sports micro bezels, running only 5 mm wide, on both sides and packs a screen-to-body ratio in the ballpark of 80 percent. This means the Chuwi Aerobook is designed to immerse you in a boundless experience despite its sleek design.
The overall size of the Aerobook is 20 percent less than the typical laptop specifications in its class. Its precise interior structure, coupled with the use of durable aluminum-magnesium alloy, makes it a feather-light laptop that weighs a mere 2.76 lbs. A full-size backlit keyboard with 3mm uniform spacing between keys facilitates accurate and comfortable input experience.
The Chuwi Aerobook laptop also hits a lot of right notes on the specification front. It sports a processor capable of delivering impressive power surge. The Intel Core m3 -6Y30, 64-bit Dual Core 0.9GHz with Turbo Boost 2.0 can clock top frequency of up to 2.2GHz, which is 40 percent higher than its predecessor. The large-capacity 8 GB internal memory plays a key role in the smooth functioning of the laptop even when multitasking on multiple projects.
The Aerobook is also equipped with 128 GB of internal memory, which can be upgraded to a whopping 1 TB.
The battery performance of Chuwi Aerobook is equally impressive. The high-capacity 38 Wh lithium-polymer battery offers a run time of eight hours on a single full charge, thanks to its low power consuming CPU. The laptop also comes with enough connectivity ports and interfaces to help you build up a personalized workstation around it.
The Aerobook Laptop's Design
The evolution of Chuwi's design story is evident in its latest offering. After sticking to safe model of rolling out iterations of popular laptops and notebooks such as the MacBook Air and Microsoft Surface Book in all its previous devices – right from the Chuwi Hi12 to Hi13, Hi10, SurBook, SurBook Mini, LapBook Air, LapBook 12.3, LapBook SE and the HeroBook – the Chinese maker is finally coming into its own on the design front as well.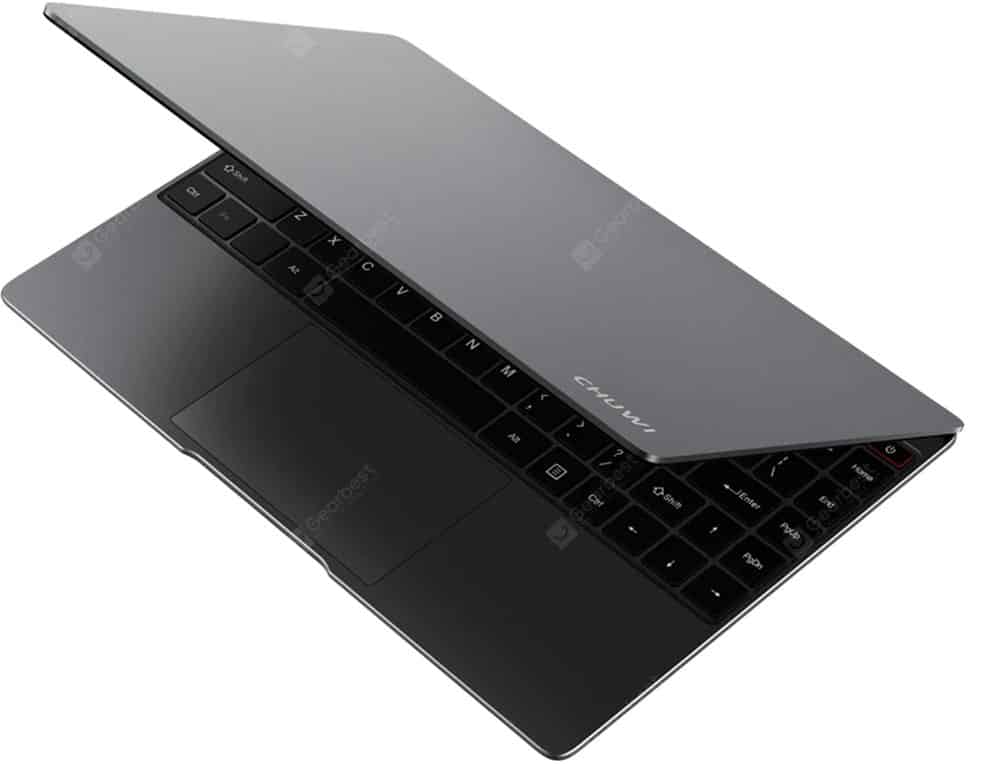 Chuwi is seeking to forge its own identity with the Aerobook's look and appeal. Even though the laptop still embraces the broad design strokes of the MacBook family, the space grey color scheme and brush metal finish give it a distinct identity of its own. Chuwi has also refrained from the tendency to go to extremes for cutting down on dimensions on this one. Yet, with measurements in the range of 310x209x16 mm and a weight of 2.76 lbs, the Chuwi Aerobook laptop is one nimble device.
Chuwi has also made good use of the extra space to play with by using it up for going big on expansion capabilities and connectors. The removable cover of the laptop has a M.2 slot tucked underneath, which obviously comes in handy for anyone looking to expand the storage capacity of this laptop. In addition to this, you get a full stack of connectivity options, which includes one USB Type-C connector, two USB 3.0 ports, one mini-HDMI, one microSD card slot and an audio jack.
The Chuwi Aerobook laptop, however, is missing a Kensington lock. The USB Type-C connector is typically used for charging; however, here Chuwi has also astutely included a proprietary charging port, which is powered by a compact brick power supply unit with a 12V, 2A capacity.
The laptop rests on four round, black rubber feet placed along the corner on the bottom of the body to give it an elevated look. The absence of air vents makes sure that the Chuwi Aerobook laptop is a quiet machine that operates in silence even under immense load. The absence of air vents, however, does not impact the laptop's heat dissipation abilities. That's taken care of by its aluminum alloy shell that doubles as an enormous heat sink.
Chuwi has chosen to do away with its distracting lit-up logo on the back panel in favor of a more subtle, low-key design. The departure from flashiness with a focus on quality is just another example of how much Chuwi has evolved as a manufacturer.
Chuwi Aerobook Specs
Caching: 4MB
Core: 0.9GHz,2.2GHz
CPU: Intel Core m3-6Y30
CPU Brand: Intel
Graphics Chipset: Intel HD Graphics 515
Graphics Type: Integrated Graphics
OS: Windows 10
Power Consumption: 4.5W
Process Technology: 14nm
The Chuwi Aerobook laptop does not come with the latest gen processor under its hood but an older Skylake 6th generation version Intel Core m3-6Y30 with 14nm dual-core. This strange choice could be explained by Intel's ongoing CPU stock supply issues, which is the most plausible reason behind Chuwi having to rely on a processor that is now four years old.
The dated nature of the chipset, however, is not a reflection on its strength and speed in any way. Add to that a 4.5W TDP, and the Chuwi Aerobook emerges as a cool device that consumes much less power than its counterparts running on processors such as Intel's Celeron N4100. This, in turn, translates into a better battery runtime.
On the flip side, the Intel Core m3-6Y30 comprises older integrated graphics – a factor that may impact the laptop's ability to run applications designed to thrive on multi-core. The number of cores here has been halved – down to two instead of four. This means the laptop isn't best suited for supporting graphically intensive games at high frame rates but can handle basic tasks with ease.
The choice of m3-6Y30 also impacts the memory of the device, as the Chuwi Aerobook laptop uses a LPDDR3 RAM instead of a more energy-efficient and faster DDR4. That said, you have to hand it to Chuwi for configuring the RAM in dual-channel mode to turn its choice of LPDDR3 on its head for improving the memory bandwidth. You also get a 128GB eMMC and a 128GB SSD internal storage memory on the Aerobook.
The laptop sports a 13.3-inch IPS LCD display panel with a 1920×1080 pixel resolution and an aspect ratio of 16:9. The color gamut and contrast are impressive but the brightness leaves something to be desired. The screen works just fine indoors but using the laptop outdoors in a sunny setting proves to be challenge. The glossy finish on the display does not make things any easier.
On the connectivity front, the Aerobook comes loaded with options – a single USB-C port, two USB 3.0 ports, an HDMI port, a SD card reader and a 3.5mm headphone jack. Both the HDMI port and the SD card reader are a welcome addition, considering that these ports have become such a rarity in present-day devices.
The Aerobook's Performance
The choice of a dated processor and a slower RAM may look below par on paper but don't let it doubt what this laptop is capable of. The Chuwi Aerobook is faster than any N4100-powered device you could lay your hands on. Most of the applications here have been fine-tuned for single-threaded computing, resulting in an impressive performance that not only lives up to but outdoes most benchmarks. It is the multi-threaded tasks that place the Aerobook under duress.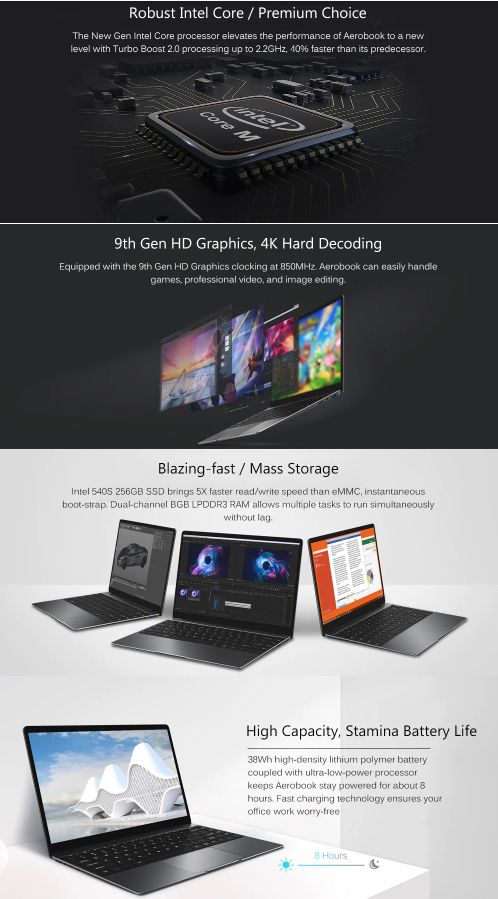 It is true that the Intel M3 processor user in the Chuwi Aerobook laptop is no world beater, but does its intended task of handling everyday computing tasks seamlessly. You can run up to 10 tabs on Google Chrome and simultaneously watch videos online without experiencing a shred of sluggishness.
The pre-installed Windows 10 Home software in the Chuwi Aerobook is clean without any bloatware to weigh it down. The laptop also comes with dual-band AC-WLAN support, which is a clear improvement in the Chinese manufacturer's choice of the network card.
The performance of the 13.3-inch IPS Full HD display throws up a mixed bag. The glossy display with next to no bezels and a generous screen-to-body ratio offers a more than decent color gamut and contrast. However, the brightness of this 'fully laminated' screen is quite the dampener and considerably restricts its usage, since it is near impossible to see anything at all in outdoor, sunny settings.
The Chuwi Aerobook laptop comes with a full-sized keyboard with a slightly concave design. The evenly spaced out backlit keys look impressive and have good travel and feedback. The power button on the keyboard comes with a red border – a design decision aimed at preventing users from accidentally shutting off the device. The keyboard is coupled with a generously sized touchpad – roughly the size of two credit cards – which is quite sensitive and smooth to work with. It also supports the Windows 10 gesture control.
The speaker, located near the hinge above the keyboard, offers decent sound quality as long as the volume is kept at 80 percent or less. The sound starts to exhibit noticeable distortions beyond that. The headphone jack in the Chuwi Aerobook offers a far more impressive audio output. The performance of its 38Wh Li-polymer battery, which can offer a maximum runtime of up to 8 hours on a single full charge, is more than satisfactory.
Verdict on the Chuwi Aerobook
There is no room for contention that the Chuwi Aerobook laptop is a great device. It may not be the perfect fit for gamers, designers and developers, but it is a top-of-the-line choice for students, people with work-from-home career profiles and business professionals who work on-the-go. At $400, the Chuwi Aerobook isn't the most affordable laptop rolled out by the Chinese manufacturer but this slightly elevated price comes with corresponding performance upgrades.
The laptop is targeted at users who want Windows laptops with a slice of Macbook DNA. Yes, the Chuwi Aerobook has its share of niggles but this keenly priced laptop with a killer design is still more than a bargain.
Where to Buy the Chuwi Aerobook
The Chuwi Aerobook laptop is currently available at a huge on Amazon.