The Xiaomi Air 13 Laptop
If you want a notebook that combines both power and portability, look no further than the Xiaomi Air 13 Laptop.
We've previously reviewed the Xiaomi Air 12 laptop that offers the style and compactness of the MacBook Air in a package more designed for casual users. But today, we're at a laptop that doesn't skimp on power.
A look at the Xiaomi Air 13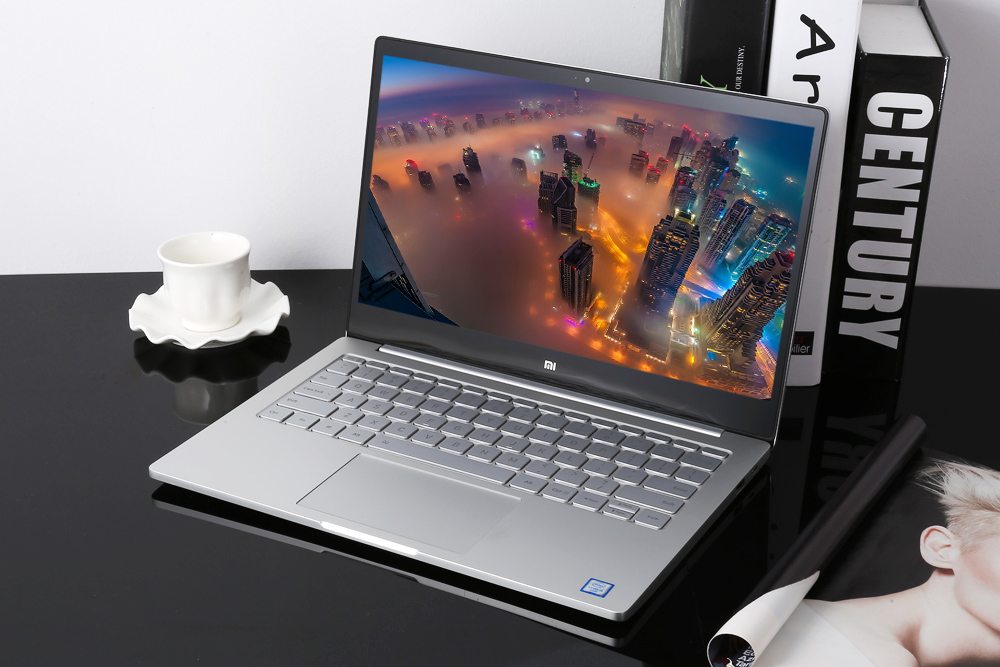 As far as value is concerned, Xiaomi has certainly provided the competition with a run for its money. There is no better deal out there than the Xiaomi Air 13.
It might be priced like an economy product, but it's styled like a luxury item. From the thin aluminum design to the tasteful visual elements, this laptop is certainly a treat for the eyes.
But underneath, its shiny exterior is some powerful hardware that's ready to take anything you throw at it.
The Air 13's Design
The first thing you'll notice about the Air 13 notebook is its stunning packaging. Xiaomi has focused on creating a positive user experience from the minute you receive it.
You'll get a well-constructed box, and lifting the cover reveals a plastic insert that makes the laptop look as if it's floating on air.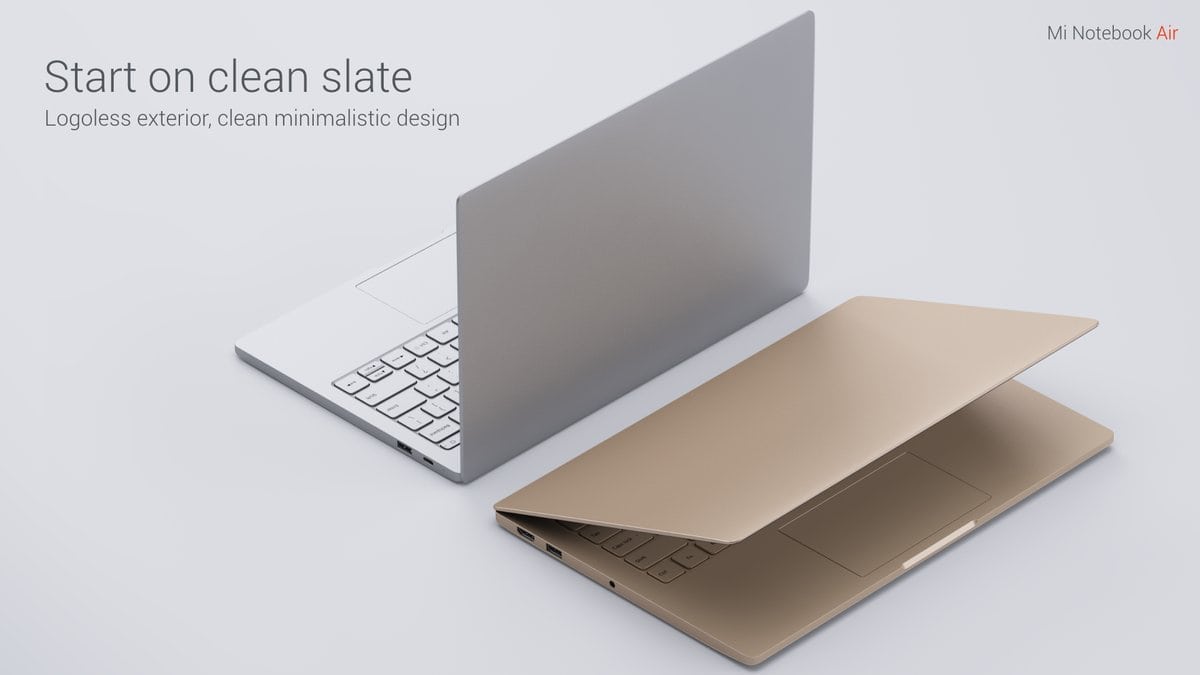 The Air 13 itself appears like nothing more than a thin slab of well-polished aluminum. But once you lift the squared lid off, your eyes will be graced with one of the most attractive laptop designs we've seen to date.
Everything from the keys to the touchpad has a polished look to it, and everything feels well laid out. Although the design is similar to the MacBook Pro, it's got a sharper edge that makes it feel a little more executive.
The only time they broke away from the aluminum design was when they designed the screen. Its glorious HD display stands out with striking color against the deep black of the border.
With the entire screen covered with a solid sheet of glass, every surface of the laptop shimmers with a premium feel.
The Air 13's Build Quality
As is to be expected with an all-metal laptop, the build quality is simply amazing. Each of the keys is properly weighted, so it actuates with a solid 'click.'
With so many low-grade keyboards on the market, anyone who spends a lot of time typing will really appreciate the tactile feel if this model.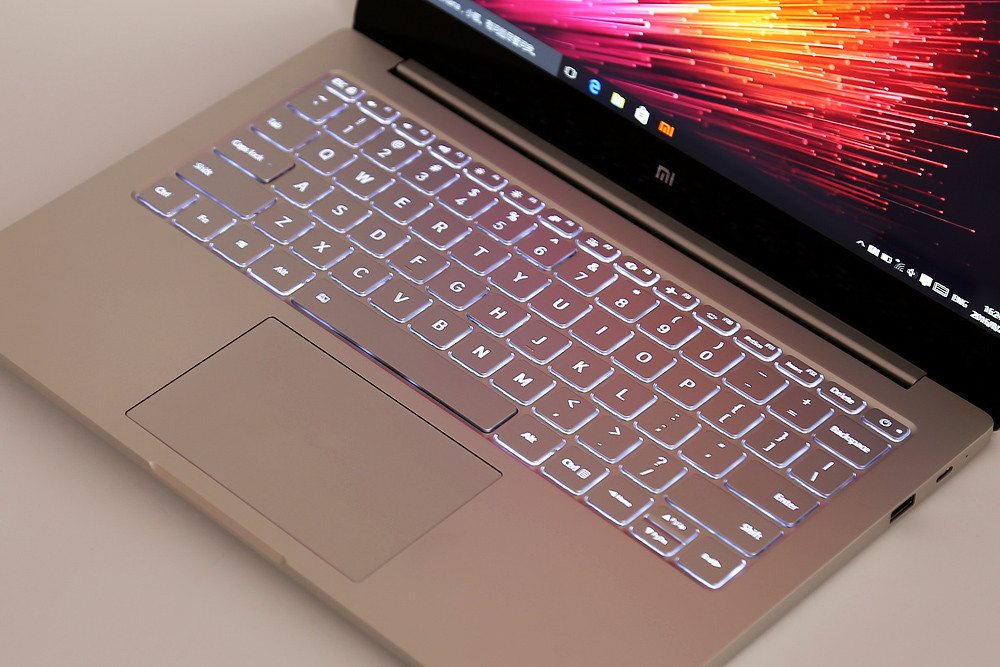 Another impressive note is the way the display moves. It's not loose and wiggly like you get with plastic laptops. The motion is incredibly smooth and feels intentional.
Even though the display is coated in glass virtually edge to edge, it's still protected in two ways. First, they used a hardened glass that has a Mohs hardness rating of 7.
This will prevent any cracks or scratches just as effectively as Gorilla Glass.
The glass is also receded into the shell, so you've got a layer of aluminum keeping it safe from bumps and spills.
Even when you lift it by the corner, the Xiaomi Air 13 Laptop doesn't flex or creak at all.
This really is one of the most solidly built laptops we've tested, so you shouldn't have any worries about throwing it in your bag when you leave the house.
Xiaomi Air 13 Performance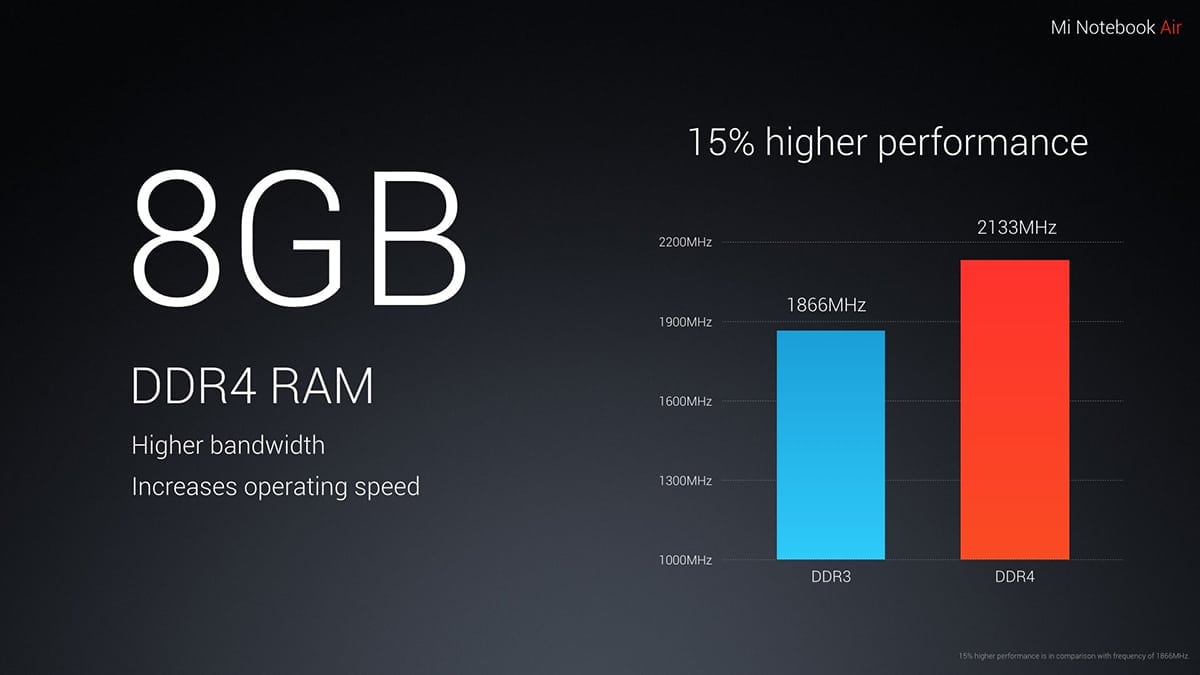 When we reviewed the Air 12, we found that it was competitive with the MacBook Air in every way except performance. For those of you who need a mobile powerhouse, you'll be very impressed with the specs of the Air 13.
For starters, it's got a full-size Intel i5-6200u dual-core processor running at 2.3Ghz. Combined with the 8GB of onboard ram and 256GB SSD, this is truly a powerful computer.
We ran all kinds of performance software to test it out. Adobe Photoshop ran very well, same with Premier. There is no question about basic tasks such as web browsing, emailing, or editing documents – those programs are easy.
But where the performance impressed us was with the challenging tasks. No matter what we threw at it, the Air 13 performed very well.
The only area that needs improvement is gaming. There is a GeForce GT 940MX graphics card in place, which is certainly capable of some general games. In fact, it's even more powerful than the one in the MacBook Pro.
However, serious gamers will want to take a look at a laptop designed for gaming. Beyond that one hiccup, there is very little that the Xiaomi Air 13 Laptop cannot do.
Xiaomi Air 13's Display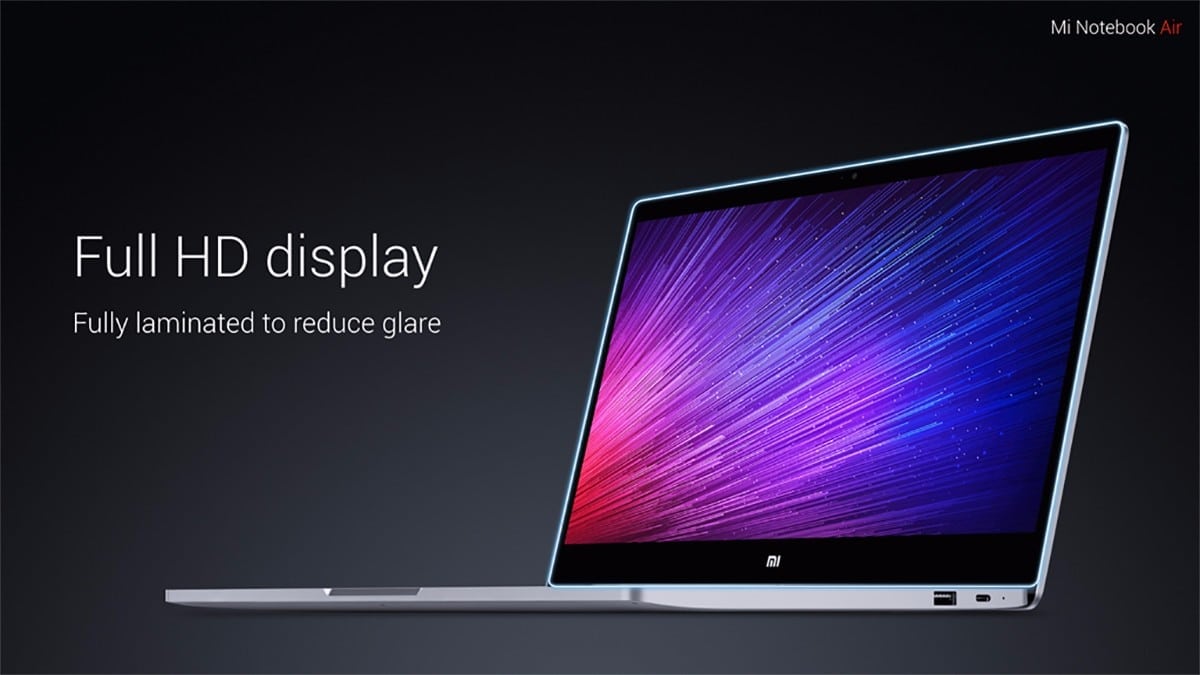 The IPS display is simply incredible. It produces the brightest, most vibrant colors you can imagine. Images are clear, crisp, and simply stunning. It's a full 1080p display, so you can enjoy full HD content with no scaling.
Depending on how you view it, this is the only specification that did not beat the MacBook Pro. It's worth noting, however, that Windows computers are still not quite ready for high-density displays.
There are many circumstances of software being too small to see, or websites displaying incorrectly. A 1080p display is still incredibly sharp and guaranteed to be compatible with all of the software you use on a daily basis.
Audio Quality
The sound system in the Xiaomi Air 13 Laptop was designed by AKG, a very popular German headphone manufacturer. As is to be expected, the sound is surprisingly good for such a small laptop.
It's got a good bass extension, and virtually no distortion at all.
The Air 13 uses the same technology found in many Bose speakers called "virtual surround sound." Each of the speakers is positioned at a slightly different angle and the volumes of each can be adjusted to project a certain image.
Once you hear it, you'll be amazed. The sound seems to envelop you from all around, something that was not often thought possible of a laptop.
Who Should Buy the Xiaomi Air 13 Laptop?
If you spend a lot of time on the computer and are considering another high-end model, you should really give the Air 13 a look. It's powerful enough to handle anything you throw at it, and the premium design is simply something to be desired.
It's certainly not the cheapest laptop we've reviewed, but you're paying half the price you would from another manufacturer.
The only downside to this laptop is the language. It ships with a Chinese version of Windows 10 installed. Fortunately, there is a quick fix.
All you need to do is follow this simple process, and your laptop will be set up for English. If a quick 3-minute procedure can save you 50% on your next laptop, we'd say that it's a pretty good deal.